What's the first thing you do when you return from a road trip? You tell the story of your trip to your friends who couldn't make it and your family that welcomes you back home. And what's a good road trip story without some great music to accompany it? A great song is like a juicy chapter in a book; it makes you wonder what's next, and works best when experienced as a part of a collection. Much like a road trip. When telling your story to your friends and family, you don't mention one state you passed through or one great dish you ate – you mention all of them, from beginning to end. The best albums tell a story, and the best road trips are full of great memories that were inevitably catalogued into photo albums. Here are ten albums that will make your next road trip that much more memorable.
15. FutureSex/LoveSounds, Justin Timberlake (2006)
On first glance, the first album on this list belongs in a club rather than the open road. And while Justin Timberlake's music does work well on a dance floor, it works just as well in a car stereo, with a backseat full of buddies ready to sing and dance along to the sexy sounds of the future. Backed by first single "SexyBack", FutureSex/LoveSounds is sexy and futuristic, thanks to super producer Timbaland's funky grooves and Timberlake's feathery falsetto. The album is a perfect soundtrack to a summertime road trip; let "My Love" serenade you as you pull up to a pit-stop at the beach, and "What Goes Around" fuel your fire as you reminisce about an old flame. It's breezy all the way through and sure to keep your tank full for miles.
14. Rubber Soul, the Beatles (1965)
In 1965, a year which represented a turning point in the Beatles sound, it was hard to turn on a car radio and not hear a song by the fantastic four. They had conquered radio. Every single they released burned up the charts. But in terms of a full body of work, an album that could be played from front to back, Rubber Soul marked a first for the band. From "Drive My Car" to "Run for Your Life", this 14-track collection incorporates sounds from R&B and folk, to psychedelic rock and classical Indian instruments. It's 35 minutes of sugary McCartney melodies and introspective Lennon lyrics, a perfect combination and length for the opening leg of a cross-country jaunt. Embarking on a long journey while listening to "In My Life", it's nearly impossible to not feel warm nostalgia for the people and places you cherish most.
13. The Joshua Tree, U2 (1987)
U2's 5th album must have been recorded with the open road in mind, or at least a vast, never-ending space, which in fact it was. In Niall Stokes's book, U2: Into the Heart: The Stories Behind Every Song, bass guitarist Adam Clayton said of the album: "The desert was immensely inspirational to us as a mental image for this record…because you can actually do something with a blank canvas, which is effectively what the desert is." Whether you're driving across the desert of the American West or the flat plains of the middle states, The Joshua Tree is sure to keep your eyes wide and hopeful. It's full of catchy, stadium ready hooks that will get stuck in your head for the duration of your trip. Bono's introspective lyrics will have you looking in the rear view mirror at yourself and the world around you. Sometimes a road trip is the best time for self-reflection, especially when it comes in the form of great music.
12. channel ORANGE, Frank Ocean (2012)
Road trips are full of unexpected turns; things that make you appreciate a new place, but also remind you to appreciate where you're coming from. Frank Ocean's debut album feels the same way. He spins tales of a disillusioned, globe trotting youth who seeks a home ("Lost"), of unrequited love ("Bad Religion") and of a dream girl that can only last for so long ("Golden Girl"). The music is a mash up of soul, funk and electronic, resulting in a wonderfully diverse and never boring listening experience. It'll keep your fingers snapping all the way to your destination, either to the slow burn of "Pilot Jones" or the sparkling 10-minute epic "Pyramids". There are so many layers to Ocean's stories and the music that the minute it's over, you might just play it again.
11. Greatest Hits, Tom Petty and the Heartbreakers (1993)
Great road trips usually have a greatest hits, memorable moments that stand the test of time to be passed down through generations. Tom Petty and the Heartbreakers owned the Americana roots sound in the late 70s and 80s, and this is a compilation that collects their hits from that time period. The band's sound is the sound of freedom, of howling wind and an endless horizon. If you're the type to take a solo road trip on a motorbike, then this record will sound even better. 1979's "Don't Do Me Like That" is on here, as are the hits from 1989's Full Moon Fever, "I Won't Back Down" and "Free Fallin'". If you were alive when these songs were at the top of the charts, then Greatest Hits will take you back in time. But even if you only know this band from "Into the Great Wide Open", let down all of the windows and let the sounds of Petty's Americana rock take you to another time and place. With music like this, a road trip can feel like time travel.
10. Bridge Over Troubled Water, Simon & Garfunkel (1970)
Simon & Garfunkel's 5th album is a totally different vibe from the rest of the records on this list. It's best experienced when the sun has dipped under the horizon and it seems like you're the only car on the road. Art Garfunkel sings like an angel and late at night, when you're debating whether to keep on trucking or stop at a hotel, when countless stars twinkle overhead, that's when this album should be listened to. Your friends are all asleep in the backseat, and "The Only Living Boy in New York" makes you feel like you're the only living driver in the world. The title track will have you thinking of your loved ones back home, and "Cecilia" will have you thinking of a lost love from a past life. It's a beautiful album, with beautiful melodies and beautiful lyrics, and it is a great way to pass the time in the late night hours of your drive.
9. Mothership Connection, Parliament (1975)
Mothership Connection is the record that could soundtrack a journey through space. Listening to this album is a funky ride, and though you feel the tires of your car hugging the pavement and you can see the mountains up ahead, it'll feel like you're in a UFO on a foreign planet. George Clinton, the ringleader of Parliament, is considered, along with James Brown and others, to be the father of funk, and his band's 4th album is a touchstone of the genre. Mothership Connection will have you feeling as cool as the guy in the convertible who sped past you a few miles back, only instead of just looking the part, you'll genuinely feel the funk deep in your bones. Recline your seat a bit, open the window all the way, and let the funk take you on a ride.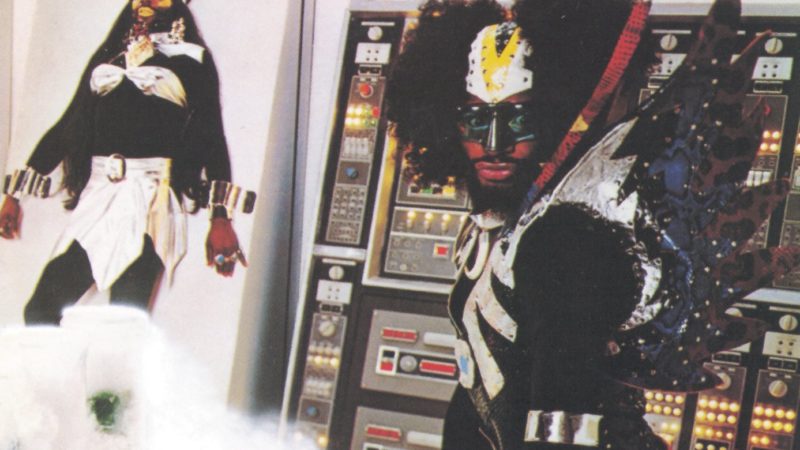 8. All Eyez on Me, 2Pac (1996)
Most people correlate rock n' roll music as the best type of music for the road. And while this tends to be true, there are exceptions. 2pac is perhaps the most well known rapper of all time, a transcendent, complex figure that took the genre to new heights and brought the ills of Compton, California (and America as a whole) to the rest of the world. Ironically, George Clinton (from Parliament) is featured on this album, 2pac's 4th. The west coast bounce of "All Bout You" and "Got My Mind Made Up" are ideally listened to with the volume turned all the way up, while the more introspective tracks-like "Life Goes On" and "I Ain't Mad at Cha"-will hit just as hard at any volume. All Eyez on Me is a long listen, the two discs clock in at over two hours, but 2pac's mix of west coast gangsta rap flavored tales and soulful poetry will make you wish it were longer.
7. Rumours, Fleetwood Mac (1977)
This album makes the list on the strength of its power pop hooks and melodies that will stick with you for the rest of the trip. You'll find yourself humming "Dreams" while pumping gas. Four of Rumours 11 tracks reached the top 10 in the U.S., and even the album's deep cuts that weren't singles are fun to sing along to. There is something about Stevie Nicks's voice that brings about images of a long adventure, like she's seen all there is to see, and she's reporting what she learned in the form of beautiful pop ballads. It's folky and poppy all at once, but however you choose to label it, hearing it while speeding (not actually speeding, of course) toward the unknown is hearing it in its peak form.
6. Thriller, Michael Jackson (1982)
Michael Jackson is not the first artist to come to mind when selecting which records to take with you on the road. Maybe if you're curating a dance party, but not a road trip. But the truth is, Jackson's disco pop, and his finest album Thriller sounds even better turned way up in a car. Dancing wise, you might be limited, but this album is full of hit after hit after hit, and the lack of dance floor space will have you appreciating Jackson's voice that much more. From "Thriller" to "Beat it" to "Billy Jean" to "P.Y.T.", Thriller is jam packed with high-energy hits. After a midday coffee stop, pop this disc in and let the King of Pop power you through the next stretch of your trip. If you just have to dance along, make sure to keep your eyes on the road!
5. Goodbye Yellow Brick Road, Elton John (1973)
Elton John is another name that one wouldn't quite expect to land a record on this list, but Goodbye Yellow Brick Road, a far cry from the classic piano balladeer sound that defined his sound before its release, definitely belongs in the top five road trip records. For his 7th album, the Englishman brought his soft-rock sound to new heights. The big hooks are still there, supported by high-octane piano chords and guitar licks. "Bennie and the Jets" is one of the best songs of any album on this list, and it is the highlight on an album full of them. Music is at its best when it moves you, something that is even truer when applied to a road trip soundtrack. Goodbye Yellow Brick Road is the most emotional album from an emotional artist, and its 17 tracks are guaranteed to move you, if not emotionally, then physically. Sing at the top of your lungs, you're on a road trip after all.
4. Crosby, Stills & Nash, Crosby Stills & Nash (1969)
Folk rockers David Crosby, Stephen Stills and Graham Nash (and sometimes Neil Young), were the super group of the 60s. All belonged to other successful bands prior to the formation of CSN in 1969, and though their time together was short, they produced a number of hits and a few classic albums, the best of which shares a title with their band name. As "Marrakesh Express" hints at, this album is perhaps best experienced on a cross-country train ride, but a road trip is the next best thing. "Judy Blue Eyes" and "Guinnevere" are beautifully sung odes to two different women, but that hardly matters when you're singing along in your car. Pop this album in the CD changer on your way home, when the newly formed memories are still fresh in your mind, and the comforts of home await you.
3. Exile on Main Street, The Rolling Stones (1972)
The Rolling Stones sound is tailor made for a road trip. The Stones were a band with attitude and swagger, two things that any captain of a road trip certainly feels at some point on their journey. Exile on Main Street was the band at their most rebellious, full of rump shaking blues like "Rip This Joint" and "Shake Your Hips", as well as anti-establishment anthems like "Sweet Black Angel" and "Turd on the Run". Listening to this album while on a road trip will have you feeling like an exile yourself, on the run from those who want to keep you down. Let Mick Jagger and Keith Richards "Shine a Light" on you as you race toward wherever it is you're going. This album is a prime example of how an already stellar album can elevate to new heights when heard on the move.
2. Highway 61 Revisited, Bob Dylan (1965)
Not only is Bob Dylan's 6th studio album his best, it sounds even better with the wind blowing through your hair and nothing but the endless horizon in front of you. From the rollicking organ licks of "Like a Rolling Stone" to the ominous piano chords of "Ballad of a Thin Man", Highway 61 is varied enough sonically to keep you pushing through each and every rest stop. If you're on the road alone, you'll find yourself lost in Dylan's poetic and sometimes confounding lyrics, and if you're with friends you'll all be singing along to Dylan's scratchy (and catchy) melodies. Besides, how could an album named after a highway that cuts through some of America's most stories musical landmarks (most notably, the Mississippi Delta) not sound great on the road?
1. Abbey Road, the Beatles (1969)
The open road is like a blank canvas, an empty vessel waiting to be filled with the color that each traveler brings. There is no more colorful album than the Beatles 10th, Abbey Road. The album will transport you to places near and far. It's impossible to listen to "Come Together" and not feel a certain bond with your karaoke companions. Try listening to Ringo Starr's children's tale "Octopus's Garden" and not feel like a kid again. "Here Comes the Sun" will brighten your day even if a thunderstorm looms up the highway. It's a beautiful album that unfolds as quickly as your first hour on the road; it'll be over before you know it. Emotionally, it runs the gamut, and it's hard not to shed a tear when the last notes of "The End" fade away, but like taking that last exit on your way home, there's something comfortable about it too.