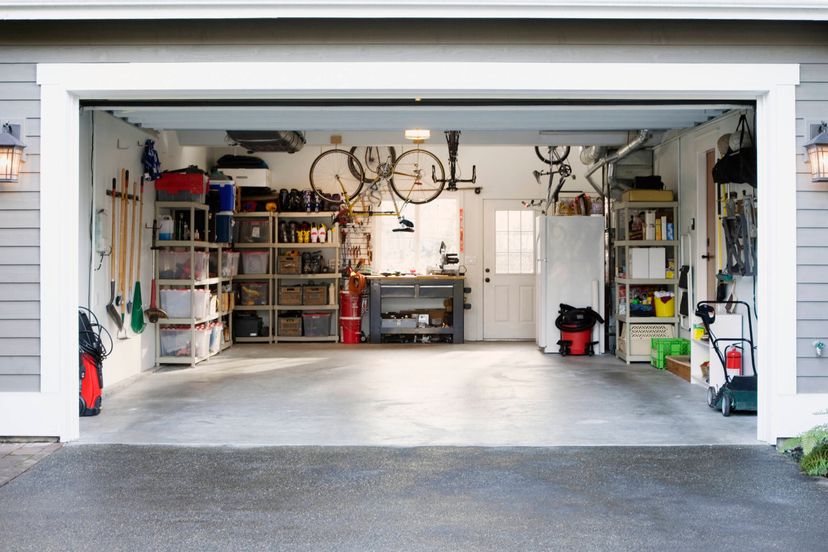 The garage is a dumping ground for anything that does not fit in your house. In case you have a lot of things in your garage, you can't find a tool or anything which you need while you are doing some repair or other work — you are not alone.
We would like to help you, with these 15 brilliant ways to organize your garage in a proper manner that can be helpful in organizing your tools, vehicles, and other stuff so you can find them easily whenever you want.
Get the Right Toolbox
At the heart of a well-organized garage is a terrific toolbox. This simple piece of equipment will keep all of the tools you want in one place, in good condition, and has the benefit of making them more portable. Based on how big your garage and what equipment you require, you may think about consider a lot of options. For bigger spaces with lots of tools to save, you may choose to install a cabinet for tools. For extra utility, this cabinet could have brakes on its base, letting you pull it around or even outside the garage.
Ceiling Storage System
Make better use of your garage space and store things off the ground with this DIY project. It costs about $75 and is a great way to put away seldom-used things.
Set up Proper Lighting
A well-lit garage is important for best use. Employing the ideal garage light will make it a lot easier to get your tools, and enable you to do the garage projects you want without straining your eyes. Overhead lighting that is installed properly can be a real space saver compared to plugged-in lamps that can also be a hazard.
Utilize Wall Space for Storage
You don't have to spend hundreds of dollars to get a good garage storage system. You can save money by making it yourself. You also get to make it precisely the way you'll need it. Just adding a couple of shelves can help immensely with storage problems – always a good solution for any home renovation project.
Draft Your Garage Floor
Most manufacturers of garage-organizing systems offer space planning, so utilize their services. Before investing in this, take down your garage's dimensions and see how positioning and the dimensions of windows, doors, switches, and receptacles, in addition to how much space your vehicle takes up, affects your garage's floor plan.
Items that you utilize together, such as gardening tools and yard implements, should be kept alongside each other. Set bulky equipment, such as lawnmowers, in corners, so they will not get bumped or knocked over by your vehicle. Place frequently used items, such as bikes, near the garage door. Stash seasonal or rarely used items at the hardest-to-reach spots.
Invest in Good Door and Window Locks
Break-ins usually happen when the garage door is left open, or the door is left unlocked. Always secure the entrance door and keep garage windows locked. Put in a garage-door lock that bolts the door and use it when you're out for an extended period. And consistently close the garage door, even if you're just mowing the lawn.
Install a Pegboard
Pegboards make organizing a breeze. They work in garages of all sizes, letting you efficiently use every piece of square footage. Several strands and hooks can hold tools and paint supplies for simple organization.
Install Cabinets
Cabinets are not that difficult to put in yourself, and also you also can save a fortune. Cabinets are great for storing things and keeping the garage tidy; and depending on the cabinets that you purchase, you might find a way to put away everything so that your garage always looks completely clean.
Garage Corner Shelves
Although you already have shelves in the spots that are obvious, what about utilizing the corners? This corner shelf unit reaps the benefits of existing studs and is fast, easy, and inexpensive. Utilize garbage plywood or oriented strand board to make shelves that fit between your corner studs. These corner shelves are perfect for keeping smaller items such as oils, glues, waxes, and polishes that can get lost on bigger shelves.
Install a Ball Ramp
If there is one kind of thing that always seems to be in the way, it's balls! Footballs, soccer balls, basketballs; all could contribute to a dreadful trip and mess up your garage too. One genius solution for storing these is to put them in a simple ball. These are fundamentally angled shelves, created from a board of wood gearing upward. They can be set up anywhere, even in small spaces. Kids are likely to get behind this particular storage method, as it's easy to take balls in and out of those slots.
Install a Foldable Workbench
Think you don't have a space for a workbench? Think again! You might have room enough to install a simple Murphy-bed style bench, which folds away if it is not in use. A decent DIY enthusiast can construct their particular fold-away workbench cost-effectively and readily. However, you can also purchase one from a hardware store.
Paint the Garage Floor
Painting the garage floor requires organizational strategy, but it is crucial to making the most of one's garage. A standard floor has some serious drawbacks, including the way the irregular surface may let in leaves and bugs, and how readily it stains. You can apply an Epoxy coat for approximately $60, which is easier to clean and will improve the look. It is possible to coat the ground of the garage easily.
Hang the Bikes
Hanging bicycles from the rafters or walls can be an excellent way to save garage space. But hanging bicycles can also take up a bunch of room. The Saris Cycle Glide is a cool, space-saving product that puts a fresh twist onto the small bike hook (around $245). They can be slid near to the wall onto the glides that mount perpendicular once the bicycles are on the hooks. And because the pins slide forward and backward on the set of slides, the bicycle can be nestled together, taking up a whole lot less space. This system also makes it simpler to take the bicycles out once they're hanging. That's because you can pull or push bikes clear of any obstruction before you lower it.
Use Open Baskets or Bins for Frequently Used Items
Garages can become cluttered, which is why I don't use a lot of containers, but there are always a few things where I've found that they are helpful. I use these net baskets (designed from the IKEA ALGOT system) to store hockey pucks that the boys use outside, and frequently used sports equipment.
Use Lockers
In case you leave your garage door open or even have a garage that does not have a doorway, a locker is an excellent investment for any garage. Besides, this is a superb way to maintain possible threats from chemicals to kids and pets. Lockers can protect them as well as store things safely.