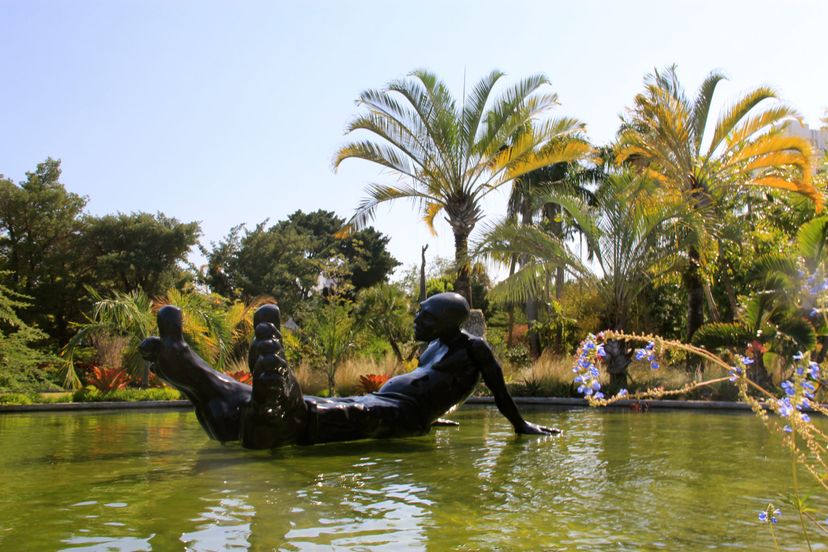 As the veritable playground for billionaire types, Miami might not seem like the cheapest place for entertainment, but beyond the glitter and glam of VIP rooms and velvet ropes there are lots of events in Magic City that are absolutely free. Just bring your own snacks, a blanket and drink of choice for a cheap but fun night (or day) out.
15. Blackbird Ordinary
Blackbird Ordinary is a laid-back bar in downtown Miami and a favorite watering hole for locals who live or work in the neighborhood. People come for the chill atmosphere and cocktails with fresh muddled herbs straight from the giant wall gardens on the terrace. The outdoor area is a great place to relax with friends over some after work drinks or to get your dance groove on with DJs spinning electronica. They don't have big acts, but they do frequently host FREE concerts featuring indie bands like Rob Riggs, Pase Rock, and Gerry Co. Concerts typically start at 10 pm, making it the perfect pre-clubbing spot before heading to the downtown clubs like Steam or E11even.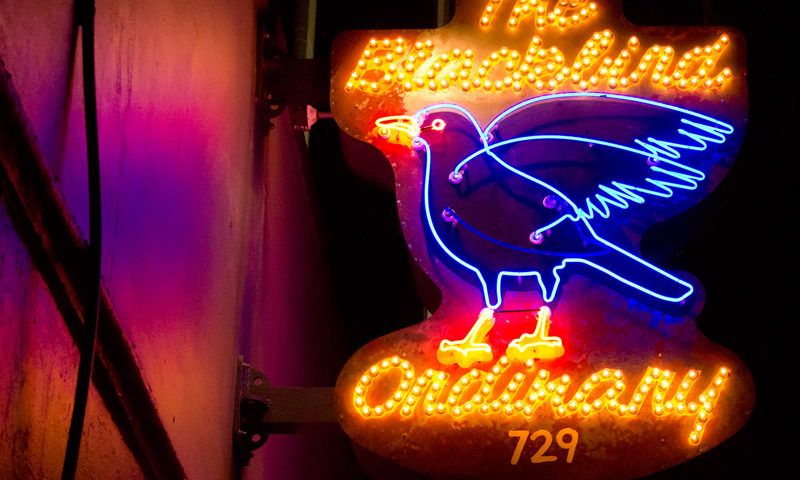 14. Museum of Contemporary Art
Situated in the heart of North Miami at 770 NE 125th St., the Museum of Contemporary Art is a great place to take a break from partying under the hot Miami sun and get some culture of the international postmodern variety. Cool off in the AC and peruse their exhibitions of Ars Memoria, which features favorites from MoCA's permanent collection. Even better, view the sublime sculptures of Polish artist Jerry Kedziora. Best of all, they have free live jazz or folk music starting at 8 pm every last Friday of the month. Ocean Drive might have cocktails served in giant fish bowls and an all night party scene, but for a serene respite from party central, MoCA is the perfect antidote. Built in 1996 in a postmodern design by Charles Gwathmey, the museum also has art programs for the little ones throughout the year to inspire future artists.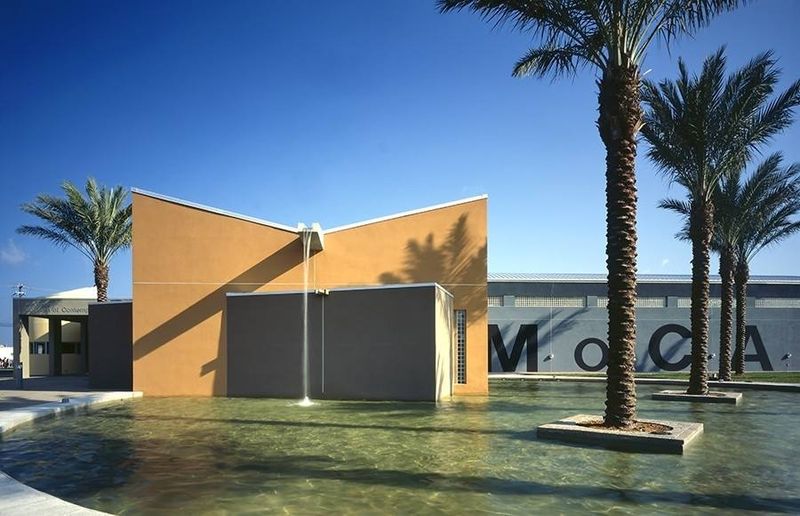 13. Free Yoga in the Park
Miami might attract people from all over the world for its legendary upscale debauchery, but if you need a break from the all night party scene, head to the Tina Hills Pavilion at Bayfront Park for a free yoga class. Starting at 6 pm on Mondays, Wednesdays, and Saturdays, get ready for some downward dogs and sun salutations in front of the beautiful views of Biscayne Bay. It doesn't get much better than free yoga in paradise. If you happen to be in Miami Beach, Green Monkey Yoga hosts a free yoga class in Collins Park every Monday at 6 pm. All you need is a yoga mat, some water, and an hour to unwind and stretch stiff muscles. After a yoga class, you'll be ready to take on Miami with full force.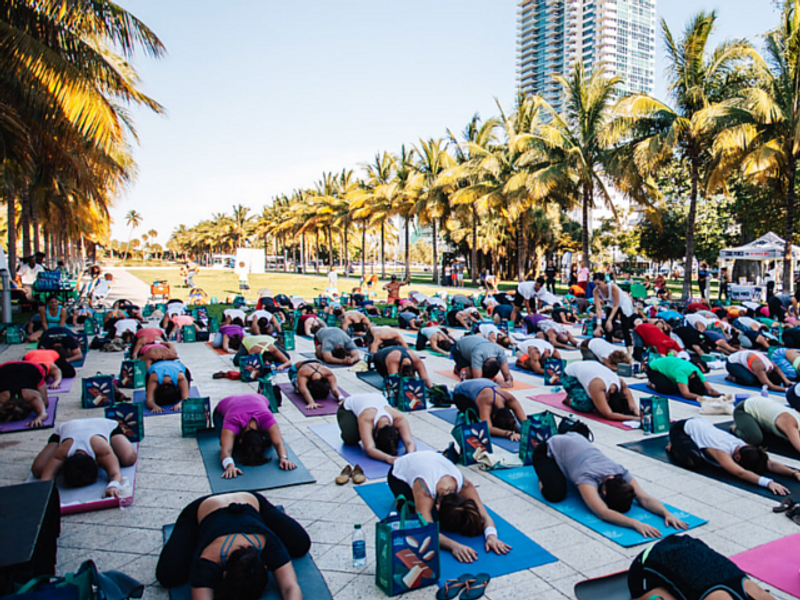 12. Perez Art Museum
With its spectacular postmodern addition that was added in 2013, the highly anticipated Perez Art Museum is finally open and with rave reviews. Located downtown off Biscayne Boulevard, the museum boasts an eclectic collection of 20th and 21st century art that captures the essences of Latin America and the cosmopolitan influence of Miami. They offer free admission every second Saturday of the month, a great time to get out of the heat and discover the diverse cultures of local and international artists in the ongoing and seasonal exhibitions. If you have kids, even better because the art classes are perfect for inspiring potential artists of the future. The new building is also a hit with its shaded veranda and three-story structure situated on a platform below a relaxing canopy perfect for outdoor events and receptions.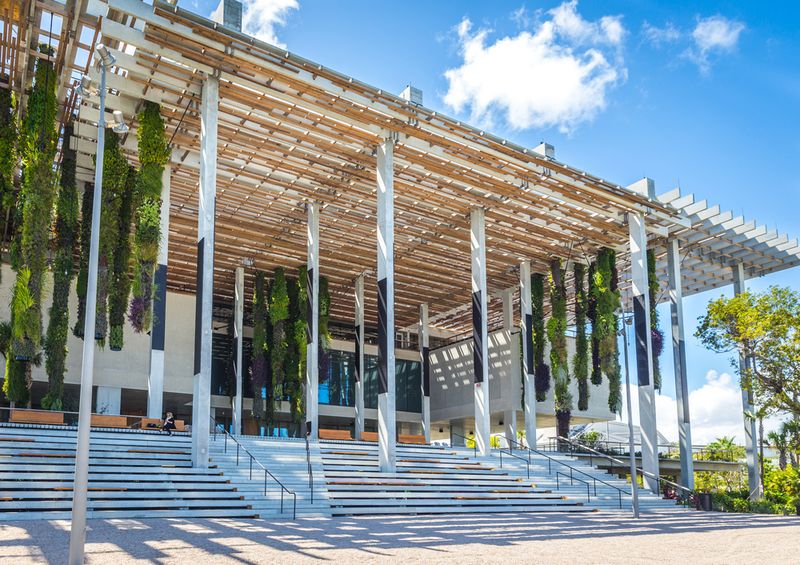 11. Free Metromover
Serving the Downtown/Brickell area, the free Metromover stops at all the popular tourist destinations for locals and visitors. With a series of three one-way loops that arrive every five to 10 minutes, hop on and off to hotspots like the Performing Arts Center for a ballet performance, Broadway show or to the American Airlines Arena for a concert or Miami Heat game. It also stops at Bayside Marketplace, a nice spot for upscale dining and the Miami Herald building. A popular route to follow is a quick bike ride over the Venetian Causeway along the bike path, which will lead you right to the Metro. That way, you can easily get to all the downtown spots without the hassle of overpriced parking fees. Plus, it's got WiFi in case you need to do some research on the go.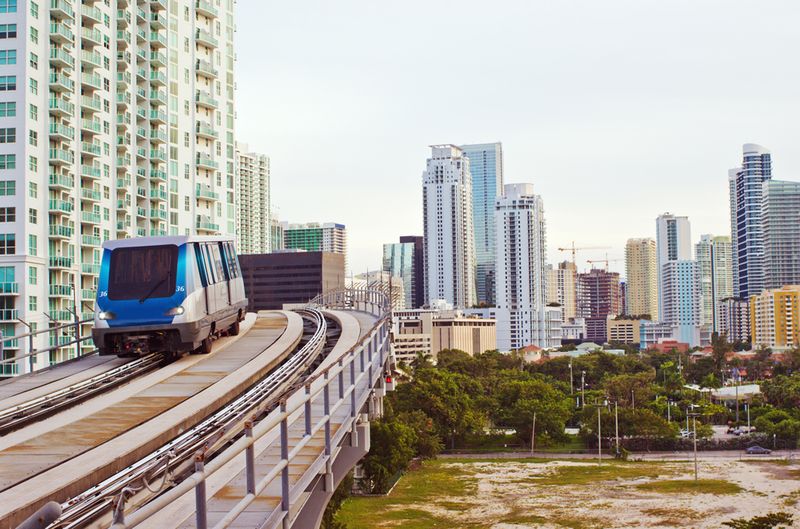 10. King Mango Strut
A beloved Coconut Grove tradition for over three decades, the King Mango Strut is a lively parade that starts at Commodore Plaza and Main Highway in South Miami. Every December, locals and tourists kick off high season with street side cocktails and food truck snacks while cheering on the girls competing in the Little Miss Mango Pageant. With live music, free drinks, and dancing in the street, the King Mango Strut puts the nut back in Coconut Grove. The parade also features local artists selling their wares and bands playing jazz, blues, and rock. And of course, it's not an event in Miami without a DJ. December is also a great time for outdoor events because with the crisp air, it's the perfect time to take your stylish jacket out for a walk.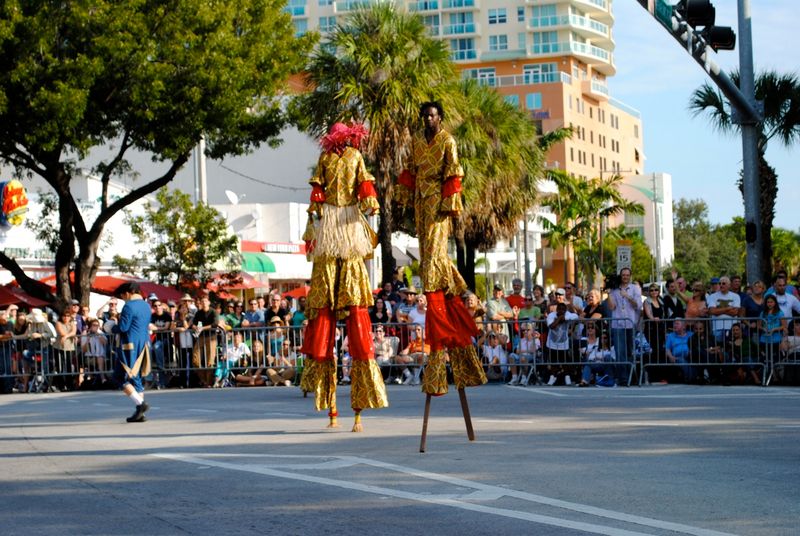 9. Wolfsonian
If you happen to be in the art deco district in Miami Beach, cool off at the Wolfsonian Museum at 10th and Washington Ave. Even better than the cold AC is the free admission every Friday after 6 pm. The FIU museum, library, and research center features rotating exhibitions of internationally renowned artists and historical artifacts, depending on the season. The space is an art lover's delight, but the Wolfsonian's strong suit is the building itself. Founded in 1996, the Mediterranean revival building was formerly the Washington Storage Company in the 20s and still has its original, well-preserved exterior and vintage elevator. With its peacock feather sculpture and detailing over a fountain, it's an elevator ride that will transport you to the 1920s.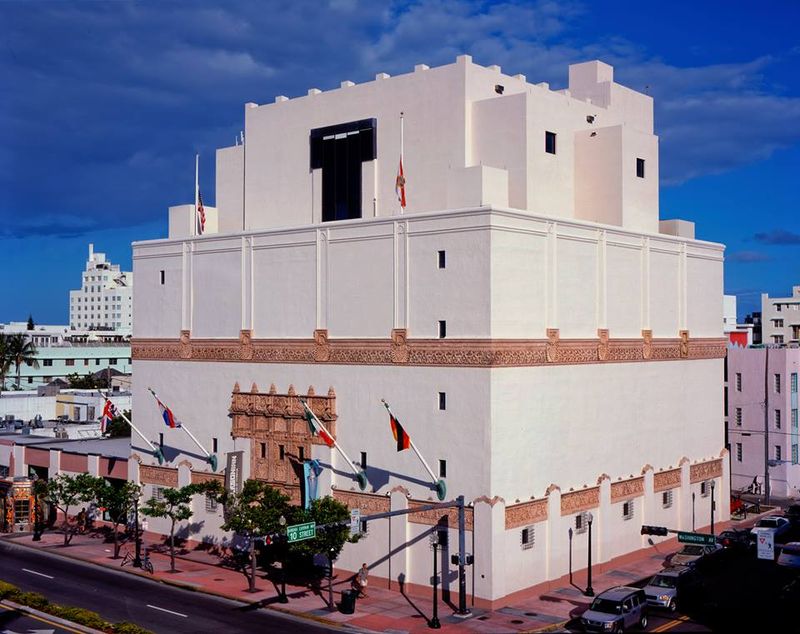 8. Fire on the 4th Festival
Time to get out the sparklers and flag t-shirts because every 4th of July, the city of Miami hosts their Fire on the Fourth Festival. Starting at 73rd and Collins Ave and then all the way to South Point, take advantage of free beach yoga, DJs spinning your favorite Top 40 dance jams, and free concerts at Ocean Drive. Miami's favorite food trucks will also make an appearance, including the famed gourmet grilled cheese at Ms. Cheezious and Cuban comfort food at Latin Burger. Then after sunset around 9 pm, pack up your beach blanket, champagne, and snacks, and settle in for the spectacular fireworks show on the beach. Linger a little longer and drink bubbly under the stars with your family and friends.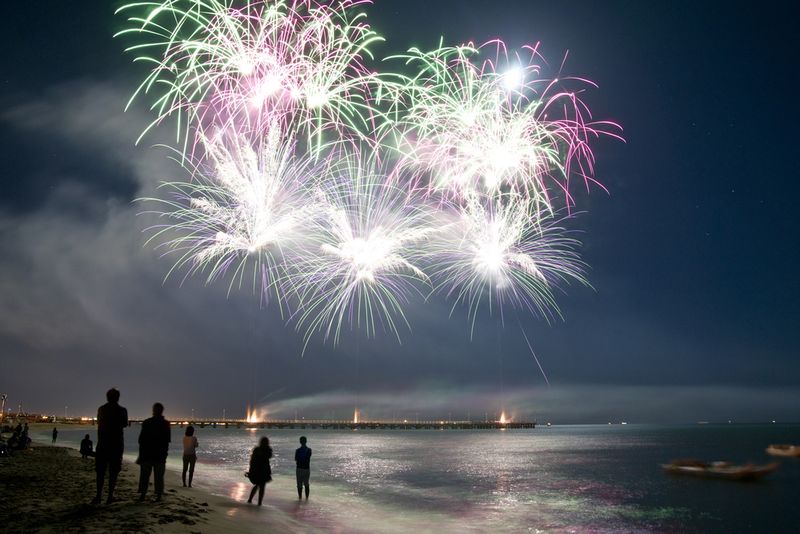 7. Wynwood Art Walk
In the last five years or so, Wynwood, the trendy Design District in Midtown Miami, has put the city on the map as one of the hottest places for contemporary art and design. Every second Saturday of the month at the Art Walk, shops and galleries open their doors for an evening of art, drinks, and dancing in the street. New bars and restaurants are constantly popping up in the neighborhood but don't forget about the football field off of 2nd Ave full of food trucks with all types of homemade junk food. A local favorite is gourmet ice cream pops dipped in chocolate. If you keep walking down the avenue, you'll know it when you see it. After your fill of refreshments, the Wynwood Walls is a must see. The outdoor space features street art by Lady Pink and Shepard Fairey among others, plus local DJs spinning dance jams all night.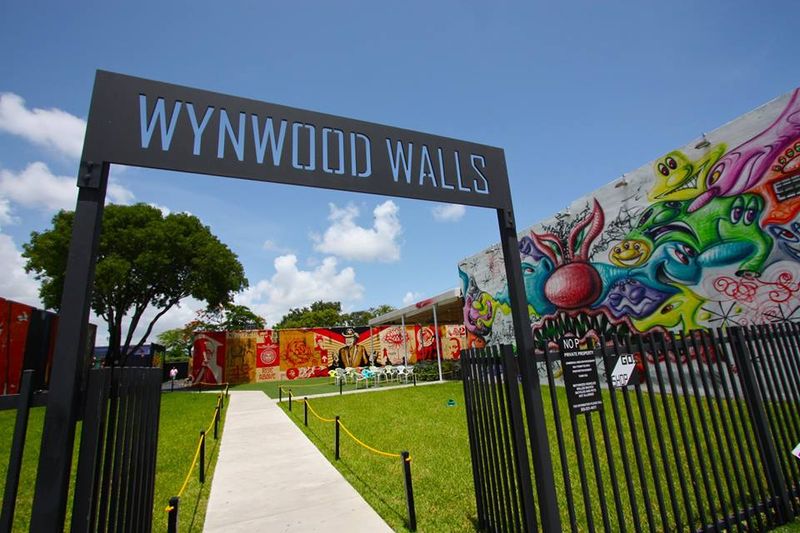 6. Carnaval on the Mile
Locals and tourists flock to Miracle Mile in Coral Gables for upscale dining, bridal boutiques, and European style cafes in the lively village-like area of South Miami. Every March, the city hosts the Carnaval on the Mile, an epic street fair with live music and local artists. With over 120 artists and 40 performers playing funk, rock and folk jams, head to Coral Gables for a day of free fun and entertainment for the whole family. Kids and pets are also welcomed and should be well entertained with art activities and even a Canine Café. What a glorious, and free, way to kick off the end of high season.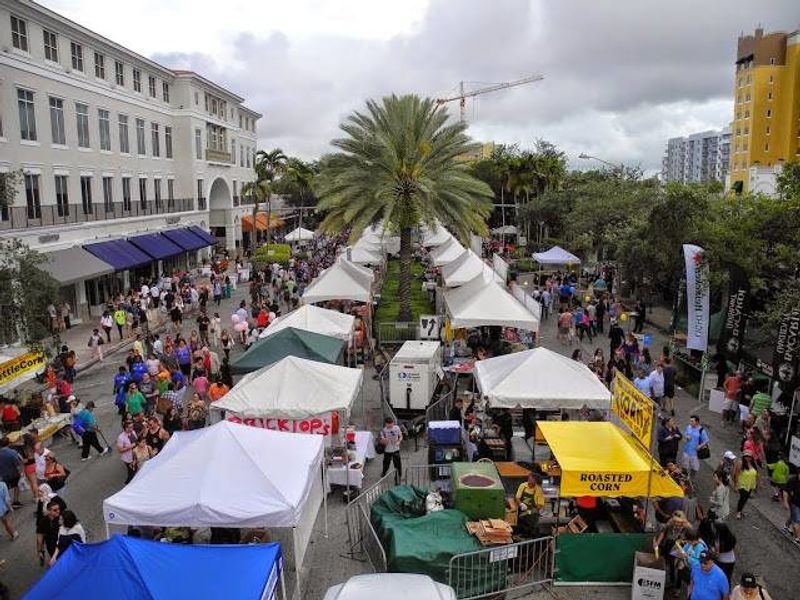 5. Art Deco Weekend
For history buffs and vintage design aficionados, Art Deco Weekend is a little slice of heaven on Ocean Drive. Every January, step back in time and take in the live swing music and large tents filled with well-preserved furniture and knickknacks from the 20s and 30s. Thanks to the Miami Design Preservation League, the event has been a Miami tradition for decades. After perusing art deco treasures from back in the day, head down the strip between 13th St and 5th and immerse yourself in the heart of the action. Keep walking and you'll find lots of food trucks selling comfort food from around the world, plus local artists and designers selling accessories, clothing, and unique artwork. For the interior designer with discerning taste, the Art Deco Weekend is a chance to update your space with some classic pieces.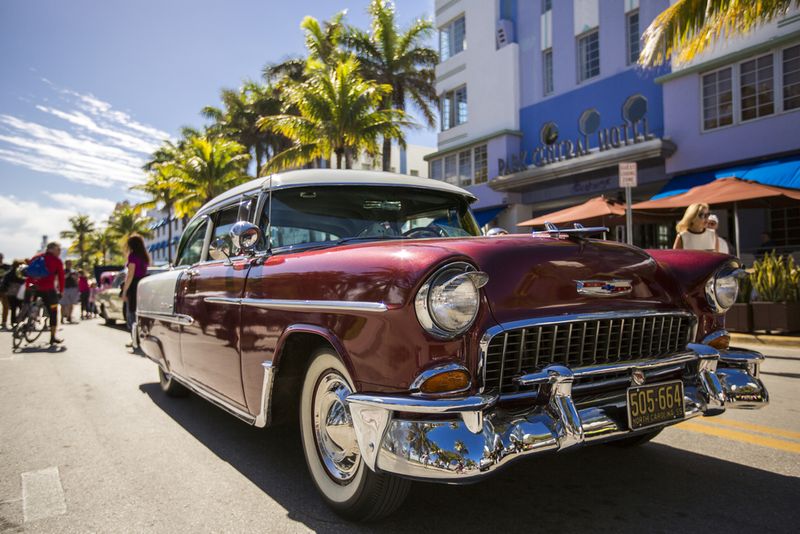 4. Patricia and Phillip Frost Art Museum
Situated on the FIU Campus, the Patricia and Phillip Frost Art Museum always offers free admission. On a rainy day or one of the many sweltering Miami afternoons, find serenity in the cold AC and the 2008 postmodern building designed by internationally renowned architect Yann Weymouth. The huge three-story glass atrium and suspended staircase should get you in an artsy, intellectual mood. And then there's the art, which consists of artists that capture the heart of the diversity of Latin American culture, including photographs from around the world and postmodern art inspired by remote locations in Cuba.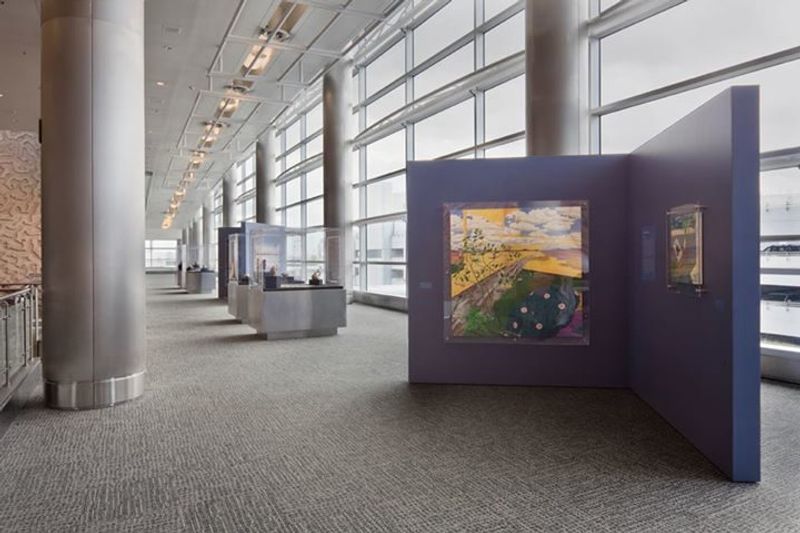 3. Beachwalk
A Miami vacation isn't complete until you've tried fresh coconut juice right off the tree. If you walk along the Beachwalk, an oceanfront foot and bike path starting at Niki Beach in South Point, you will find locals selling coconuts from shopping carts for a buck or two. The path goes all the way to 23rd St where it turns into a foot only path on a wooden boardwalk. Sunset is the perfect time to meander along for people-watching, an after work run, or a pre-dinner stroll. Take the path all the way to South Point Park and watch the cruise ships embarking from Port Miami to the new pier. Along the way, stop off in Lummus Park to take in Ocean Drive and its iconic Art Deco hotels. For a day in paradise, the Beachwalk is a great place to start.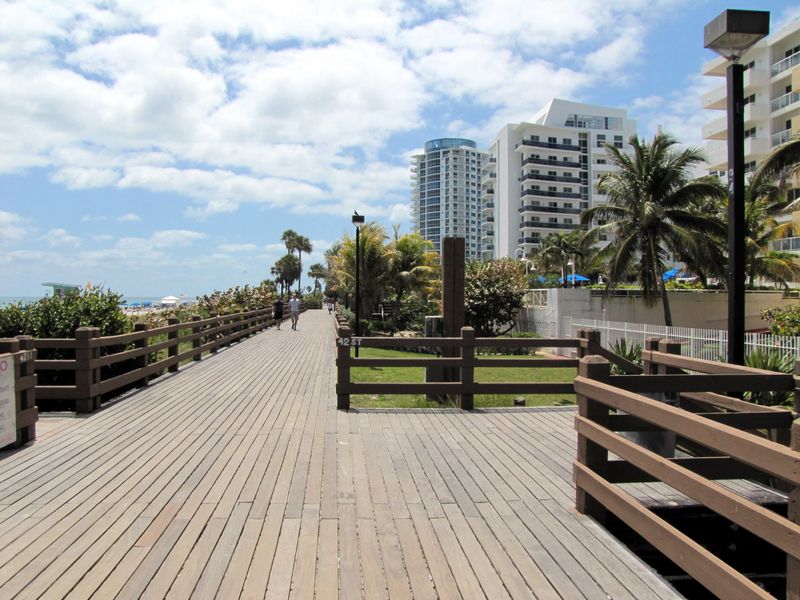 2. Free Movies at New World Center Lawn
For the cheapest date in Miami Beach, head to the New World Symphony park on Washington Ave near Lincoln Rd, the popular shopping district in South Beach. Starting in October, the peak tourist season, Citibank hosts its free Soundscape Cinema series featuring new releases and classic movies on the symphony's 7,000 square foot projection wall. Sit back in a comfy lawn chair, cozy up with friends on a blanket, and break open that bottle of vintage red to enjoy a movie under the nighttime stars. For a schedule of upcoming movies, visit http://www.mbculture.com/scroll.aspx?id=81 for updates.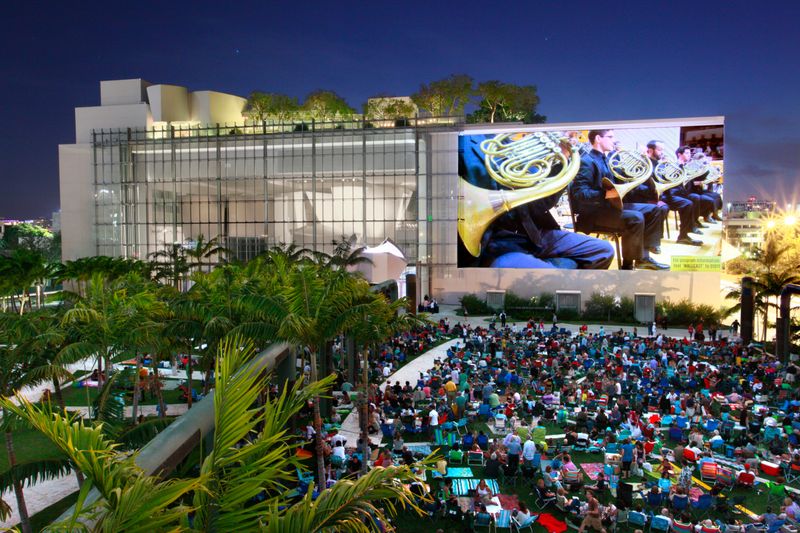 1. Botanical Gardens
After a day of shopping or sunbathing, enjoy a break from the asphalt jungle and hustle of the city at the Miami Beach Botanical Garden in South Beach. Across the street from the Convention Center at 2000 Convention Center Drive, the 2.6-acre green space was designed by landscape architect Raymond Jungles. Under the shade of palms and flowering trees, explore the edible garden filled with herbs and the many orchid varieties near the fishpond. The garden also features a gazebo in the woods and a small Japanese style garden, a serene place to get centered and hide out from the sweltering Miami sun.