What's one of the first things you check out while visiting a new city? If your answer isn't 'a local museum' then you definitely need to read this list! We're exaggerating a bit, but while a museum might not be your first stop, it's long been a favorite activity of travelers and tourists alike. It's a great way to explore the history and culture of any city or country and help get a better understanding of its people. Many museums also feature beautiful architecture making them a must visit for those photography enthusiasts. With so many amazing establishments all around the world, choosing a museum can be difficult (although you can always visit more than one) so here's a quick look at some of our favorites from major cities around the globe:
Museum of Anthropology –Vancouver
Located on the University of British Colombia (UBC) campus, the MOA is home to more than 40,000 ethnographic objects from around the world including the South Pacific, Asia. Europe, Africa and the Americas. The museum offers educational school programs, facility rentals for special events, a Native Youth program, and serves as a research facility for UBC students. Located just 20 minutes from downtown Vancouver, the museum is easy to get to by car or public transit. Admission is $16.75 CAD for adults and children under 6 are free.
Royal Ontario Museum –Toronto
The Royal Ontario Museum or 'The ROM' as it's affectionately known, is located near downtown Toronto and is among the world's leading museums of natural history and world cultures. With constantly changing exhibits and galleries, one visit to the ROM is never enough as this facility strives for dynamic education and entertainment. Adult admission is $16 CAD, $13 for children age 4-14, or visit on Friday's after 4:30pm for special discount rates.
The Guggenheim –New York
With so many amazing institutions to choose from in this city, it's hard to pick just one to visit; but The Guggenheim Museum located in Manhattan's Upper East Side is a real stand-out. Most notable for its unique architecture, the 'teacup' design was created by the famous architect Frank Lloyd Wright. Opened in 1959, visitors to this art institution can experience special exhibitions of modern and contemporary art, film screenings, performances, lectures and tours. Admission is $25 USD for adults and children under 12 get in for free.
Field Museum of Natural History –Chicago
Where can you meet a scientist to learn about nature and history, or sleep over among creatures from prehistoric times? Chicago's Field Museum has all this and much more. This museum inspires curiosity about life on Earth while exploring how it came to be and how we can work to make it a better place. With traveling exhibits on subjects from Indigenous peoples, to prehistoric mammals, even the history of chocolate…there's something for everyone to enjoy. Basic admission to the Field museum is $18 USD for adults and $13 for children.
Los Angeles County Museum of Art –Los Angeles
Also known by its acronym; 'LACMA' is the largest art museum in the western United States today. The museum boasts a collection of over 120,000 objects ranging from antique artifacts to modern objects of today, which represent the entire geographic world and nearly the entire history of art. It's clear that this museum strives to be best in class. Located in the heart of LA, it's situated on 20 acres known as Hancock Park. General admission to LACMA is $15 USD for adults and children under the age of 18 are free.
Niterói Contemporary Art Museum –Rio
Another museum that may be most famous for its recognizable architecture, the MAC Niterói is located in Rio de Janeiro, Brazil and serves as one of the city's most famous landmarks. Designed by Oscar Niemeyer, the 16 meter high structure includes 3 floors and is surrounded by a beautiful reflection pool. Inside you will find many works of contemporary art from influential Latin artists as well as those from around the world. Adult admission is $10 Brazilian Real or about $3.20 USD, with children under 7 in for free.
The British Museum –London
Founded in 1753, the British Museum located in London brings history and art to life in England. This was the first national public museum in the world and offered free admission to guests since its beginning; a tradition that continues even now. Nearly 6 million people a year come to visit this museum and explore the interesting architecture and fascinating exhibitions which range from ancient mummies, to works of aboriginal art, to ancient Greek statues.
The Louvre –Paris
One of the most recognizable museums in the world, no trip to Paris is complete without a visit to the Louvre. This French landmark is the largest and most visited museum in the world drawing nearly 10 million visitors each year. Museum exhibits are grouped into 8 categories including Egyptian Antiques, Islamic Art, Sculptures, and Prints and Drawings. All-access admission is €16 or about $17.50 USD.
Vatican Museums –Rome
What world-wide list of museums would be complete without including the famous museums of the Vatican in Rome, Italy. The collection is made up of 54 galleries with the world famous Sistine Chapel being the very last gallery in the museum. The galleries display works of art built up by the Popes through many centuries including some of the most renowned sculptures and pieces of Renaissance art in the world. Admission to the Vatican Museums is €16 or about $17.50 USD for adults and €4 or about $4.50 USD for students.
State Historical Museum –Moscow
Many people know Moscow's Red Square as the home of the world famous Saint Basil's Cathedral, but this colorful landmark isn't the only sight worth seeing in the square. The State Historical Museum is also a most recognizable structure with its grand size and deep red color. The museum is an homage to all things Russian history and the total number of objects in the collection is said to be in the millions. Admission is 300 Russian Rubles for adults which is about $5.30 USD.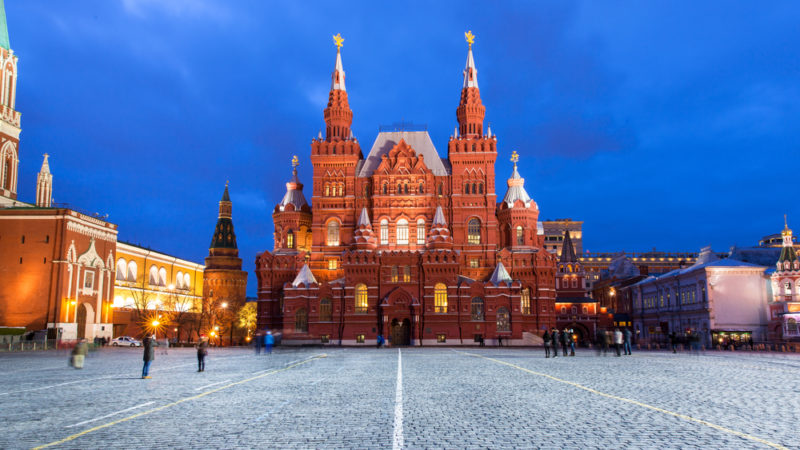 ArtScience Museum –Singapore
What first might look like some sort of lotus flower structure is actually Singapore's ArtScience Museum, located at the Marina Bay Sands Resort. This newer attraction opened in 2011 and is the world's first ArtScience museum; featuring 21 gallery spaces in over 50,000 square feet. Inside you'll find permanent galleries as well as intriguing temporary exhibitions that change throughout the year. All access admission to the ArtScience Museum is $25 Singapore Dollars or roughly $18 USD for adults and $12.50 USD for children.
Hong Kong Museum of Art –Hong Kong
The Hong Kong Museum of Art seeks to preserve the cultural heritage of China while promoting locally produced works of art. Established in 1962, the museum's collection contains over 16,000 pieces including paintings, calligraphy works, and antique treasures. Located in historic Victoria Harbour, a trip to the Hong Kong Museum of Art is a great way to learn more about the history and future of Chinese art. Standard admission is $10 Hong Kong Dollars or about $1.30 USD.
Tokyo National Museum –Tokyo
Located in Tokyo's Ueno Park, the Tokyo National Museum is a peaceful escape from the hustle and bustle of the city. Established in 1872, this is the oldest national museum in Japan as well as the country's largest art museum. The museum collection focuses primarily on Japanese art and antiques but also includes art from other Asian countries and along the Silk Road. Adult admission is 620 Japanese Yen or around $5.20 USD while those under the age of 18 get in for free.
Museum of Contemporary Art –Sydney
Located in The Rocks district on the edge of Sydney's famous Circular Quay, the Museum of Contemporary Art first opened its doors in 1991. The MCA operates with the goal of exhibiting, interpreting and collecting contemporary art from all over Australia as well as around the world. The permanent collection includes over 4,000 works by Australian artists, while the museum also features ever changing temporary exhibits. Regular admission to the MCA is free of charge, though special temporary exhibitions may require a small charge.
National Gallery of Victoria –Melbourne
Located in Melbourne's CBD, the National Gallery of Victoria -or more commonly known as the NGV, is the oldest public art museum in Australia. The organization operates 2 distinct sites: On the South side of the Yarra River you'll find the NGV International where you'll find an extensive collection of art from all over the world including Asia, Europe and America. North of the river in Federation Square is the NGV Australia, also known as The Ian Potter Centre where you find both aboriginal and non-aboriginal art from all over Australia from the colonial period to present day. General admission to either site is free of charge.