It's the red, white, and blue, the old tried and true. A country that's so happy about its patriotism, that it took more than a flag to tell you about it. It took thousands of flags, tons of poems and songs, landmarks, countless t-shirts and other paraphernalia, and they're still not done telling you about it. At the bottom of all that pride, however, rests several perks to the American way. One of which is the ability to travel and see some seriously amazing sights. Ones that were put into place to honor the very country they reside in. From former presidents' faces that were carved into a mountain, to a statue made to welcome traveling immigrants, to national parks that were put into place just to preserve the area's incredible nature, here are five top American landmarks that without a doubt, deserve a visit of their own.
5. The Statue of Liberty
For decades, this green lady welcomed all who sailed in to the United States. Located off the coast of New York City, she faces just outside of Ellis Island, where immigrants were funneled through once traveling to America. Her tall torch represents a land of freedom, while her book shows a freedom of religion and speech. Once colored copper (as it's made from that very metal), she's since turned green with years of weather and sea exposure. A change that has since helped further her iconic state. Visitors can travel up inside this massive monument, check out the museum, or even head over to the Ellis Island welcoming center and look up relatives' information. As a strange bonus fact, the statue is actually French; it was a gift from the country to America handed off in 1886.
4. The National Mall
Like its name might suggest, this collection of landmarks has nothing to do with shopping. Instead, it's a compilation of national monuments in the country's capitol, Washington, D.C. Some of the most memorable sights include the Washington Monument, the White House, the Lincoln Memorial (with reflecting pool), and the Vietnam Memorial. The mall is free to visit, and is accompanied by a number of educational buildings, such as museums. Many of which are also free to attend. Many tourists take several days in order to take in each stop. But no matter how many you choose to view up close, the collection can be seen from miles away. It's even a favorite among air travelers, who get an aerial view when flying in to the nearby Ronald Reagan airport.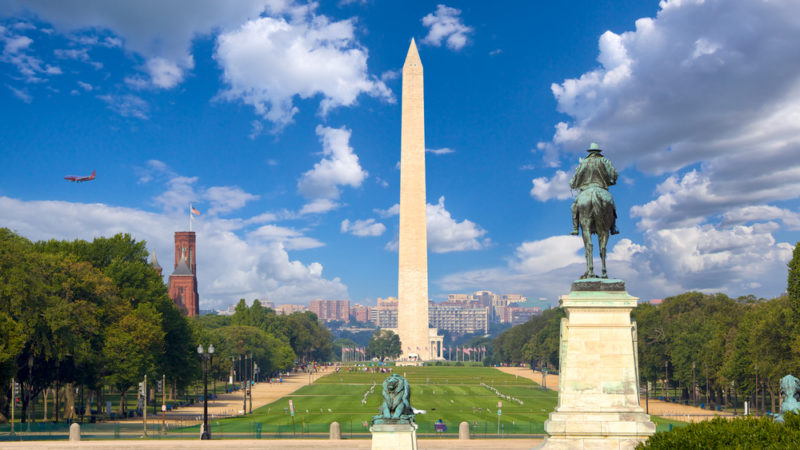 3. Mount Rushmore
It's massive, it's bold, and it hosts the faces of some of America's greatest presidents. Including George Washington, Thomas Jefferson, Theodore Roosevelt, and Abraham Lincoln … in that order. And though they face slightly different directions, there's no denying the impressive carving that spans 60 feet in height across a South Dakota mountain. A project that was accomplished by a father and son sculpting pair in the 1930s – one which took roughly seven years to create. Put into action as a way to draw tourists (which totally worked, by the way), Mount Rushmore draws in thousands each year. There's also a museum and gift shop duo, and a series of lights that fall upon its side at night to create an even more epic view of this longtime national favorite.
2. Hoover Dam
Talk about a huge piece of construction, the Hoover Dam is something you won't soon forget. Located just outside of Vegas on the Nevada and Arizona border, it's a landmark that's as impressive as it is functional. Since the 1930s, it's a structure that has held back the Colorado River and Lake Mead, allowing water and natural powered electricity for multiple states. The dam hosts some unique archeticural traits, some of which had never been tested at the time of building, including an arch-gravity design, which allows the force behind the water to be placed back into the canyon. It also includes a cement wall that ranges from 45-feet deep at the top, to 660-feet at its base. And if you think that sounds like an incredible amount of concrete, you're right. Many visitors claim sheer awe even after having seen the structure in person.
1. The Golden Gate Bridge
Getting its name from its unique design and its waters below, a bridge that hosts ladder-like posts and a bridge that is entirely golden in color, it's become a go-to San Francisco staple. A design that was put into effect to mirror the Golden Gate strait. In laymen terms, it's a sight of pure beauty. And in technical terms, it's a suspension bridge that spans an entire mile of water (a gap where the Pacific Ocean meets the San Francisco Bay). The passage has been open since 1937 and is one of the most recognizable symbols in the entire country. As well as the world. Visit and gaze from afar, or actually drive across the golden beauty. Fun fact: it's painted "international orange" to provide better visibility to boats in intense fog, which takes place frequently in the city of San Fra.