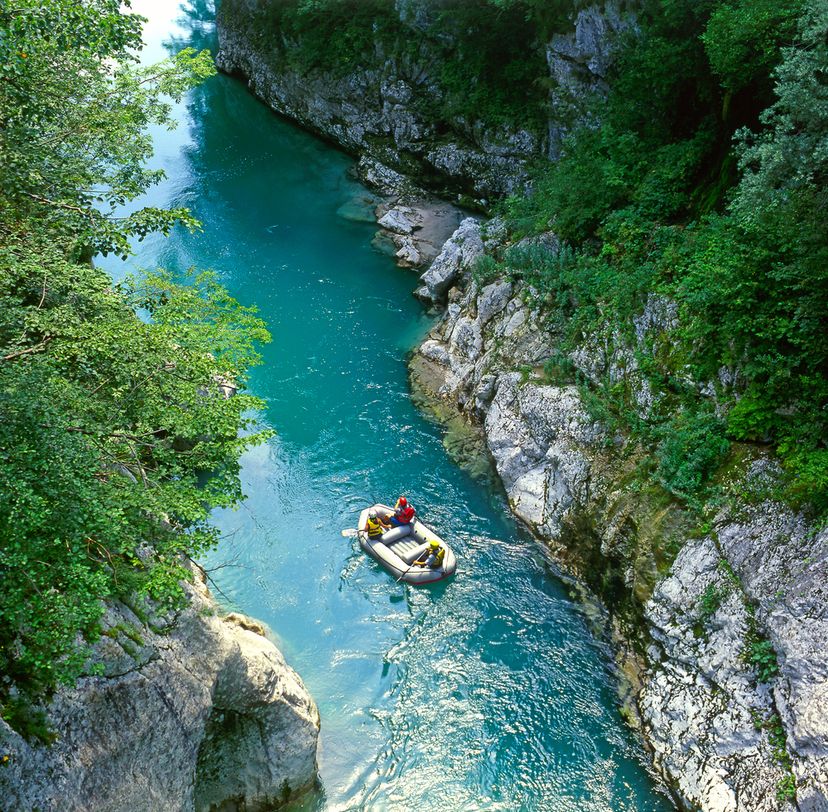 Tucked away in between the more often visited Croatia and Italy is a small Eastern European country known as Slovenia that is rapidly gaining popularity and for good reason. It may be a small country, but it has no shortage of dramatic landscapes, historical towns, delicious cuisine and inviting people. As a country with such unique and bountiful natural wonders, Slovenia is becoming known as the country for adventure activities. Since it is still somewhat of a mystery, the crowds are minimal, the prices are still reasonable and due to its size, one could easily pack in a multitude of activities in a few days. But, Slovenia won't be unknown for long; it is already thought of as one of the best countries to visit for adventure seekers. Spend a week in Slovenia and you will for sure be coming back time and time again!
5. Lake Bled
After Slovenia's capital, Lake Bled is the most visited destination; the image of the church in the middle of the Lake is iconic and picturesque. The town of Bled itself is small and lacking in dramatic architecture (although a visit to the Cream Cake is a necessity), but the lake and the lifestyle are what far exceeds people's expectations. The lake is motor-free, but it is a haven for canoers and kayakers. There are spots all around the lake where you can rent a canoe and paddle to the island, on a small like such as this it's a quick trip there and back. At one end of the lake, during the summer months, is a fun toboggan race track; grab a few friends and race to the end! For true extreme sport seekers, 3glav Adventures is best. They rent bikes, offer horseback riding, lead diving expeditions of Lake Bled, offer rafting and kayak trips and, if you can stomach it, provide paragliding and skydiving experiences where, from the plane, you can see all of Slovenia. There is something for everyone at Lake Bled; from relaxing and eating, to swimming, hiking and skydiving, it is hard leaving this quaint Slovenian lake, especially during the summer months.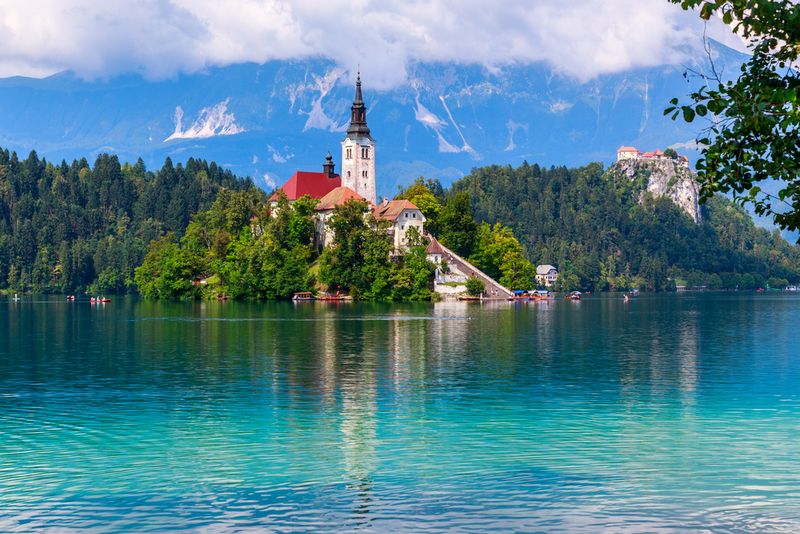 4. Triglav National Park
Located in the north-west of Slovenia, in the Julian Alps, Triglav National Park is the only National Park in Slovenia. The park was named after the highest mountain in Slovenia, Triglav, the summit of this mountain reaches 2864 m. The park offers many beginner day hikes and guided tours for those who would rather not venture off on their own. For the more advanced hikers, there are three possible ascent routes to the summit of Triglav; The Prag Route is the most popular but requires climbing experience as the use of equipment and an alpine axe are compulsory. Adventure companies offer day trips (and multiday trips) into the park; canyoning, hiking and kayaking are just some of the activities this National Park provides. If you wish to visit on your own, camping in the park is allowed, however, only at designated camping areas. The landscapes and natural sights in this park are unique and beautiful, and there are information centers and signs all over for your information and exploration.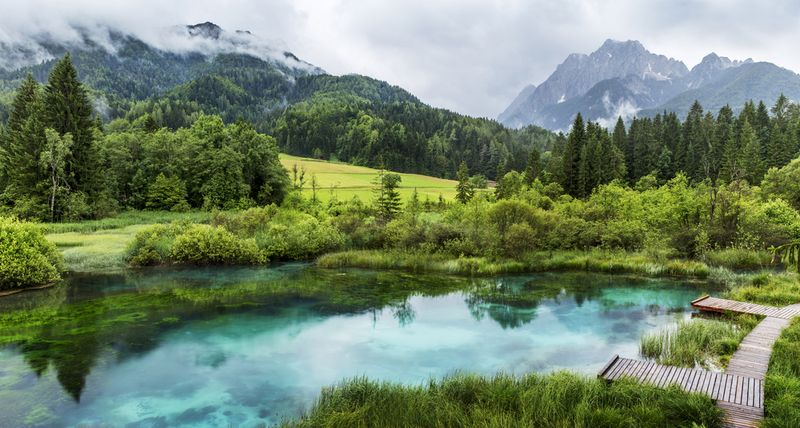 3. Karst
The Karst: the land between the Trieste Bay and the Vipavska Valley, and also the name for the more than eight thousand known caves and potholes covering nearly half the area of Slovenia. The rock formations created by the constantly moving underground waters are an interesting and picturesque landscape; a variety of underground springs and lakes, caves and dry sinkholes are available for exploration in Slovenia. The Postojna Cave is the most visited cave in Europe and is a maze of 20 kilometers of underground chambers; expert guides will lead you through the cave, beginning aboard a cave train, where you can marvel at the unique geology and interesting caverns and rock formations. There are other popular caves, such as the Škocjan Cave, protected by UNESCO, the Križna jama Cave, home to fascinating underground lakes, and the Divje jezero Lake, among many others; so grab an expert guide and head out to explore these natural mysteries – it is a beauty found nowhere else on earth!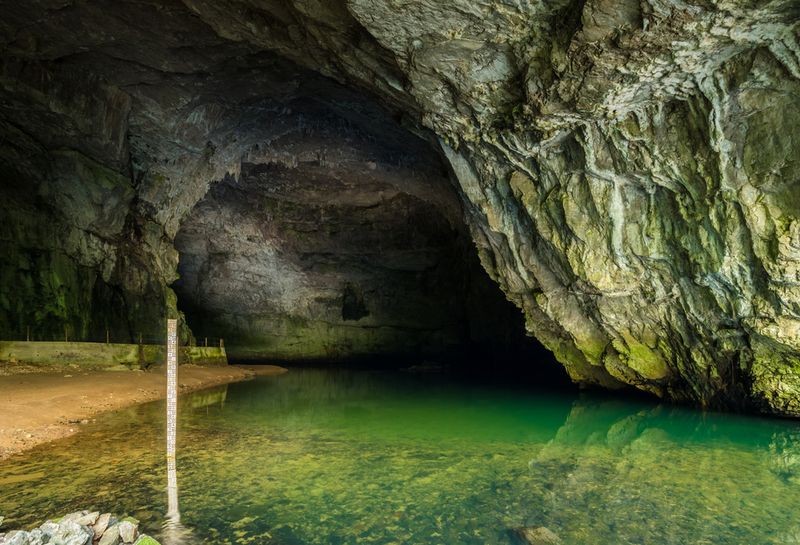 2. Soca Valley
The Soca Valley: a natural, breathtaking beauty and a paradise for adventure lovers and active lifestyle lovers. It is pretty special when you can be face deep in white water, rafting down the river, and the only thing on your mind is the amazing scenery around you, but such is the case in Soca Valley. There are so many things to do here that it would be near impossible to pick just one. White Water Rafting down the sparkling emerald colored waters of the Soca River is a thrilling experience; experienced rafters and beginners come away from this with grins plastered on their faces and stories to tell. If water isn't your thing, you can do zip lining across the canyons, or hiking in the valley; the views are nearly indescribable and are always worth it –be sure to visit Tolminka Gorge, a gorge with stunning colors. If none of those activities inspire you to head to the region, mountain biking, skydiving, bungee jumping, bouldering, paragliding, horseback riding… pretty much any activity you desire is available here. And in a part of the country with such incredible beauty, there is no reason not to visit!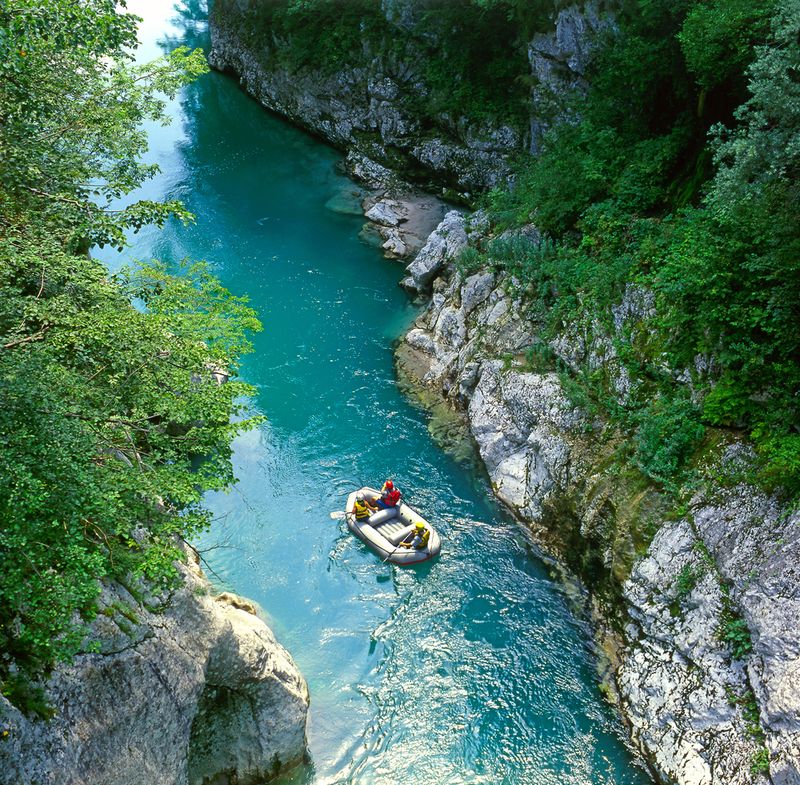 1. Piran
If what you are looking for is a charming medieval seaside town with dramatic coastal views, bright sand, and jagged cliffs, then Piran is your Slovenian destination. Water sports are popular here; cliff jumping, stand up paddleboarding, fishing, boating, diving and snorkeling are just some of the fun activities offered on the Adriatic coast. While Slovenia's coastline is just 46 km long, it certainly is not lacking in beauty and quality of attractions. And Piran is a great town if you are looking for some reprieve after a week of adventure activities; the cuisine is Italian influenced with plenty of fresh seafood, and the streets and architecture are unique and beautiful. Visitors often miss the Slovenian coast, opting instead for the mountains or the capital, but Piran can hold its own and should not be missed.