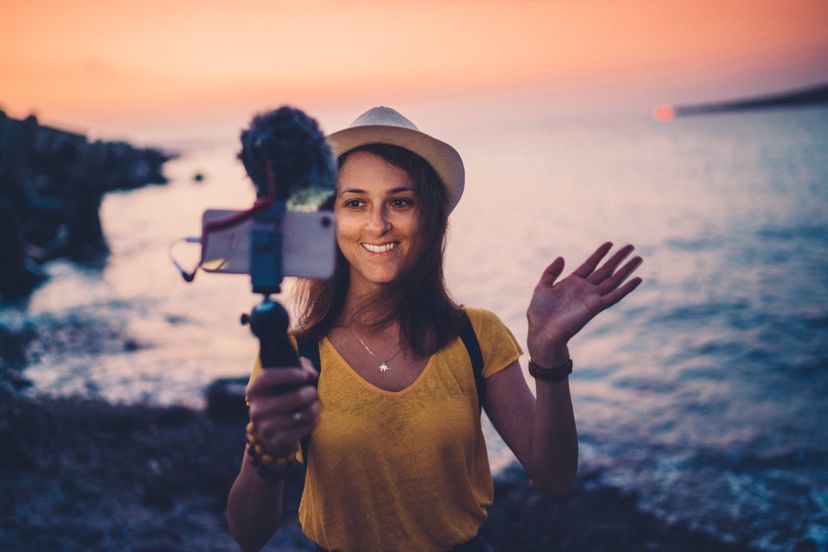 he list we've put together is our favourite bloggers who have inspired us, and hopefully, you, to travel more!
Kinging-It
A couple of months ago after wasting another hour or so on YouTube watching travel videos, we stumbled across a channel called Kinging-it. After watching one vlog we were hooked. Welsh couple Aimee and Craig have nailed it, their vlogs are not only interesting and informative but bloody funny and inspirational. After overcoming cancer (Aimee) and a broken neck (Craig) they set off on an awesome round the world trip visiting countries such as Japan, Thailand, Hawaii, plus a year living and working in New Zealand — all the while catching it on camera and producing some amazing vlogs.
Since they've returned, the vlogs have kept coming mainly showcasing the beautiful scenery of Wales and the adventure activities you can partake in.
Also recently they've taken an 8 day trip to Iceland where they drove a camper van around Iceland's ring road (the whole country) vlogging their adventures and Iceland's stunning scenery, Check out all 8 of the Iceland vlogs below, you won't be disappointed. We can't wait to see what they have in store for their channel next.
Kara and Nate
Just behind Aimee and Craig from Kinging-it, American couple Kara and Nate are one of our favourite travelling couples. They are currently on a massive round the world trip which started in Tokyo in January 2016 and has so far taken them to southeast Asia, Nepal, Australia, New Zealand and Africa. As they go they are documenting their travels and producing near-daily vlogs of what they've been up to. One thing you will pick up on in the vlogs is their love for travel but especially food and coffee; if they don't inspire you to travel it will definitely make you hungry!
Psycho Traveller
Alyshia is the name behind the face of Psychotraveller (great name) and she's been slowly travelling around the world (after leaving University before her degree finished) for the last three years capturing the real and sometimes unseen side of travel on her YouTube channel and hasn't looked back.
Her vlogs are some of the most useful and insightful we've seen — she's not scared, to tell the truth, that travel is not glamorous all the time as some people are led to believe. The information she provides on her channel is valuable to first-time travellers looking to set off and explore the world; follow Alyshia's tips and you won't go far wrong.
Because We Camp
Lynn and Noah Camp left their home in Washington state in 2013 to travel the world for over two years, visiting 12 countries along the way including a year in Thailand. What makes their vlogs so great and enjoyable to watch is the relaxed style and honesty that comes across in the videos. There's also some great laughs and top tips chucked in along the way as well.
We originally found their channel by watching one of the vlogs from their trip to Mongolia and that is still our favourite playlist of the channel, check it out below. Lynn and Noah are currently back in Washington for a year saving for their next adventure, we can't wait to see what's next!
Karl Watson Travel Documentaries 
His YouTube channel originally started out with trips to places such as Scotland and Switzerland but really took off when he uploaded the HK2NY Hong Kong to New York backpacking documentary which was an epic 12 part series documenting his round the world trip with his best friend James.
Since that trip Karl has carried on travelling in between work and has made films of his trip to Canada, Tibet and Nepal and teaming up with James again for a 7-week trip travelling through Panama, Colombia and Venezuela aptly named Backpackers of the Caribbean.
But the travelling didn't stop there and has been to India, back to Nepal to complete his quest for Everest. He's well and truly living the dream and we can't wait to watch the videos of his recent travels. He's currently backpacking through Central America.