One of the most fitting ways to explore the ins and outs of Norway is by traveling along any one of the country's national tourist routes; well established drives that open the doors to some of the finest, most breathtaking scenery in Europe's most majestic, northern areas. Here the landscape is wild, shaped only by the elements outside of the mostly-small-but interesting towns and villages. Extraordinary mountains, plummeting valleys, hairpin turns, historic bridges, northern lights and midnight sun—it's all here in Norway across tourist routes that beg to be driven over again and again.
6. Havøysund National Tourist Route
Follow the ocean across wild terrain and into the farthest reaches of Norway's northern edge toward luminous Arctic light along the Havoysund National Tourist Route for an incomparable Nordic journey. Legendary Arctic glow from the winter's mind-blowing Northern lights to summer's midnight sun can be experienced in this raw and stunning landscape. The abrupt change in this northern getaway spans from fjord and coast to mountains and plateaus. The fishing industry sustains locals here, evident at almost any point where you come into contact with people; bring along a rod and reel and try out an authentic and world-class experience. History here begins about 6,000 years ago, when the hardiest of people settled the land. Don't miss the tiny village of Havoysund, which presents some unexpected bustle among barren backdrops. Set on the Finnmark shore, arts and crafts, fishing, and tourism keeps this hamlet thriving.
5. Jaeren National Tourist Route
Boundless ocean expanses, broad horizons, and bursting skies define Jaeren National Tourist Route along the southern stretch of Norway. If undulating sand dunes and golden beaches sound idyllic, make time for this iconic drive, interrupted only by salmon-filled rivers and massive boulders. For 40 incredible miles, you'll drive an expanse of road between the village of Ogna and all-time surfing favorite Bore, in Norway's Rogaland county in western Norway (also known as Fjord Norway). Enjoy respite from the cool-to-freezing temperatures of the north, trading them up for a mild climate and scenic views never devoid of an ocean backdrop. Historic shipping lanes existed here for merchants crossing the North Sea, where lighthouses dot the coast. Jaeren exemplifies one of the lowest lying of Norway's regions, where stretched out sandy beaches offer excellent destinations to unwind from a long drive, enjoy the backdrop, and witness spectacular sunsets.
4. Varanger National Tourist Route
As one of two northernmost scenic drives in Norway, Varanger National Tourist Route attracts intrepid tourists seeking out some of Norway's wildest terra firma and coastal edges. If you're looking for solitude, this is the place where companions are in the form of myriad bird species and the midnight sun is seen at its most breathtaking. Varanger is one of the longer routes, spanning almost 160 kilometers between the city of Varangerbotn and Hamningberg, an abandoned fishing village in Finnmark county. This most northeasterly road brings sky and sea into view and follows the shore toward the icy and treacherous Brents Sea where rich bogs and dense birch woodlands lead passengers to the lunar vista of craggy rock faces—it feels like the world ends here. The culture and people are fascinating being so near Russia, where Sami and Finnish traditions collide with Norwegian heritage.
3. The Atlantic Road
Anyone short on time but big on sightseeing will love the short but sweet 12 kilometer drive along Norway's Atlantic Road where natural vistas and abrupt turns create extraordinary road trips. Also based in Fjord Norway, the Atlantic Road careens by the urban center of Kristiansund and picturesque Molde, the two largest city centers in the area. The drive crosses note-worthy bridges and features Hustadvika Bay, next to a perilous ocean spot famed for dramatic, unearthly storms. Outside stormy season, stop and scan the water for seals and whales swimming near the shore. Though short in length, this route leads through some interesting coastal towns ideal for a bite to eat, a look around, and perhaps an overnight rest. Just 30 minutes separates Kristiansund from the Atlantic Ocean Tunnel, which after passing, links up with Averoy island where another breathtaking scene unfolds on the west side.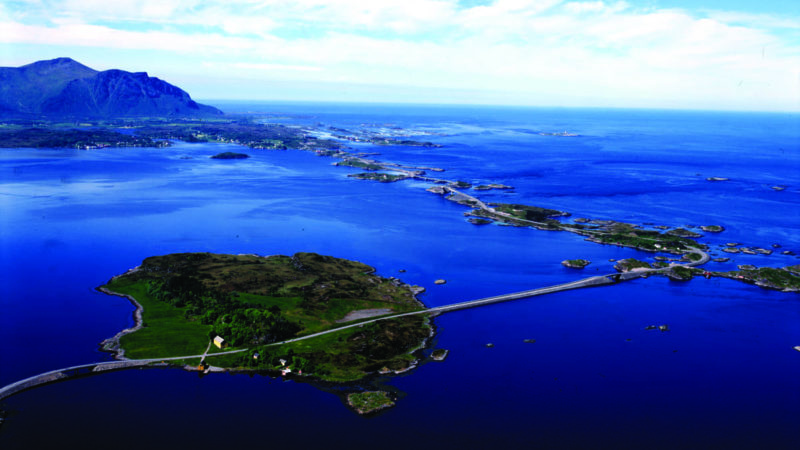 2. Sognefjellet National Tourist Route
For a mountainous Nordic journey, Sognefjellet fits the bill, running between its namesake town and Gudbrandsdalen Valley and traversing the Jotunheimen Mountains, spanning more than 100 kilometers. This is Europe's absolute highest mountain pass, serpentine and gorgeous all at once, especially where it peaks at 4,700 feet. The drive is record breaking in more ways than one: it's the largest glacier on Norway's mainland (Jostedalsbreen Glacier) and the world's second longest fjord, enduring for more than 200 kilometers. Cyclists from all around the world prefer to take this national route by bicycle, and what a magnificent (and grueling) ride it is. Thankfully the trail is dotted with plenty of well-needed and well-equipped rest areas (and hiking trails) that also boast great views. On route, main points of interest include Lom Stave Church, and Lom itself, renowned for its culinary indulgences.
1. Senja National Tourist Route
The 102-kilometer long Senja National Tourist Route is striking, dramatically stretching out into the indomitable Norwegian Sea. Technically the route is only 88 kilometers long but is expanded an additional 14 kilometers or so via detours to both the village Husoya and coastal Mefjordvaer. Along the route, mountains plummet downward into the ocean, creating breathtaking scenes and the journey's most outstanding attractions. The narrow road carves in and around twists and turns alongside icy waters flanked by beautiful fjords. Some of Norway's most beautiful beaches are set along this coast but unless you're as tenacious as the Finns with their hot saunas followed by ice-cold plunges, leave the swimming for a place where temperatures are at least slightly warmer. Continuing on, you'll pass houses perched in surprising locations and small fishing villages where narrow roads wind through dramatic landscapes like the views across dazzling Bergsfjord.