The UK is brimming with cities full of medieval architecture, breathtaking cathedrals, lively green spaces and fascinating history. Indeed most people flock to the cities of London, Edinburgh, Manchester and Liverpool where they fight crowds of tourists and visit overrated attractions. The secret of visiting the UK is to find the hidden gems, the underrated, the beautiful and the closely guarded. From England to Scotland to Ireland, we have discovered 7 of these cities, who offer a slew of incredible attractions and beautiful buildings.
7. Lincoln, England
Back in the day this city was actually a pretty big deal, in fact it housed the world's tallest cathedral for over 250 years, along with a castle, two universities and plenty more attractions. Visitors will want to pay a visit to the incredible cathedrals as it boasts amazing stained glass windows, an interior full of intricate carvings in stone and wood, and the ruins of the Bishop's Old Palace beside it. It is here where you will find 14th and 15th century medieval buildings as well as the oldest bridge in England to have houses built upon it. Don't miss out of 'Steep Hill', a street full of small independent shops. Lincoln is also home to one of the only four surviving copes of Magna Carta, dating back to the 13th century and visitors here should plan a trup to Lincoln Castle and discover a piece of human history.
6. Cardiff, Wales
It is one of the most pleasant cities in the UK, boasting a magnificient castle, innovative architecture and great people. This Welsh capital once started as a Roman fort and since the 11th century the Cardiff Castle has held court where the fort once stood. It has not been considered a pretty city by any means in the past but times are changing and major regeneration projects have been occurring over the past decade. Think a brand new performing center, a revamped waterfront and a 74,000 seat stadium; just to name a few. The free National Museum Cardiff should absolutely be on your list of things to do in this city, as well as attend one of the infamous rugby matches. Markets, awesome dining options, impressive accommodations await visitors to this city which is becoming more beautiful as time goes on.
5. Sheffield, England
This city isn't known for its castles, souped up riverside docks, cobbled streets or typical tourist attractions, but there is a lot to Sheffield that makes it both unique and fun to visit. Plan on arriving here by train where you are greeted by a stunning waterfall just outside the station. Visitors will want to head to the Winter Garden-the largest urban glass house in Europe-home to over 2,000 plants from around the world. There also happens to be more than 250 parks, woodlands and gardens throughout the city, giving this city the highest ratio of trees to people of any city in Europe. Did we mention that it is also home to the world's oldest football club? Throw in the medieval Anglican cathedral, two theatres, a slew of restaurants and pubs and some of the friendliest people in the north and you have yourself one pretty epic city.
4. Belfast, Ireland
It has been avoided, forgotten and underrated for the better part of half a century. But this city is slowly making a new name for itself as it reinvents itself with award-winning architecture, a vibrant restaurant scene and lovely locals. This small and walkable city encourages visitors to stroll through its beautiful botanic gardens and the cobbled Cathedral Quarter that teams with restaurants, pubs and arts venues. Visitors will not want to miss a visit to the Metropolitan Arts Centre which is a shining star in terms of stunning architecture, an asymentrical tower of brick and volcanic stone that houses seven stories of high-ceilinged galleries and unique reading nooks. Massive regenerations projects have improved the old dockyards, Victoria Square and the waterfront, which boasts some of the most impressive nightlife in the UK.
3. Chester, England
This city is more than 2,000 years old which means plenty of history, culture and architecture await visitors here. Chester boasts the more complete city walls in the country, the largest undiscovered ampitheatre in the UK and a slew of breathtaking medieval buildings. It is easy to walk around this city as the Roman grid pattern of streets have survived the years, and trust us you will want to walk in order to take in the historic towers and gates that adourn the Roman walls. Chester Cathedral is located in the heart of the city and deserves a visit, as does the beautiful River Dee, Roodee Racecourse and the pretty Grosvenor Park. Hit up the independent galleries and boutiques, dine on local Cheshire produce and stay in anything from a luxury hotel to a quaint cabin in this beautiful, yet highly underrated English city.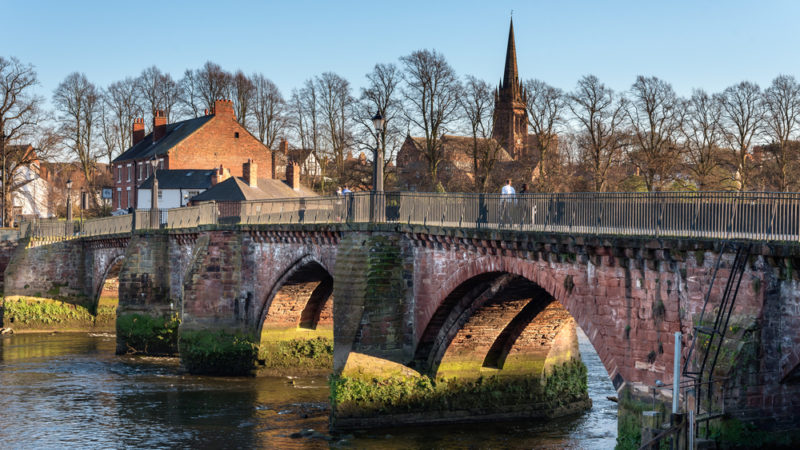 2. Nottingham, England
It is best known as the home of Robin Hood, but that is about it and tourists tend to skip by this charming English town. The men in tights are long gone in this city and instead you will find a castle, which sits atop a labyrinth of ancient tunnels, England's oldest inn- Ye Olde Trip to Jeruslaem- which is built into a cliff face and is said to have a chair that makes any woman pregnant, and much more. Visitors will want to head to the Galleries of Justice Museum where you can explore the gruesome history of crime and punishment. Or how about the City of Caves, where you will descend far below street level and discover just a few of the 500 man-made sandstone caves that date back to medieval times. Beautiful buildings include Wollaton Hall, Newstead Abbey and Nottingham Castle.
1. Stirling, Scotland
Stirling is Scotland's heritage capital, a place where the Wars of Independence were fought and won and where for three centuries monarchs ruled in regal splendor. This cobbled old town in much quieter than Edinburgh and offers much in the way of history, architecture, culture and attractions. Visitors will find themselves winding their way up to the dominant castle which offers an incredible view for miles. Keep your eye out for the Wallace Monument, a Victoria Gothic creation that was made to honour the legendary freedom fighter of Braveheart fame, and looks so gothic it deserves at least a a few circling bats. Take a ghost walk, visit the museum and gallery, go whisky tasting or hang with the monkeys at the safari park. Whatever you do though, don't miss exploring the Old Town and the picturesque path that encircles it.