People often think that in order to see castles they have to travel across the pond, but in fact the very opposite is true. In America alone there are hundreds of castles, just waiting to be explored through guided or self-guided tours. From the hilltops of California to a heart-shaped isle to a university campus, these castles are scattered across the United States. Discover these seven castles that you may not have known are literally in your backyard, from ancient to new, these beautiful buildings and grounds will have your jaw dropping in no time.
7. Hearst Castle -San Simeon, California
This castle attracts millions of visitors every year who flock here to discover the numerous styles of architecture, the 61 bathrooms, 127 acres of gardens and pool and world's largest private zoo. Designed for newspaper magnate William Randolph Hearst, this castle features museum quality artwork and incredible antiques. There are a number of tours that visitors can choose from including the grand room tour, upstairs suite tour, evening tour and cottage and kitchen tour. Each one is designed to show visitors a different part of the castle, and all promising to be incredible. One of the features of this castle is the Neptune Pool, located on the edge of the cliff and offering an incredible view of the mountains. Although the pool is under renovation visitors now have the chance to see the stunning white marble floor of the pool and ancient Roman Temple front.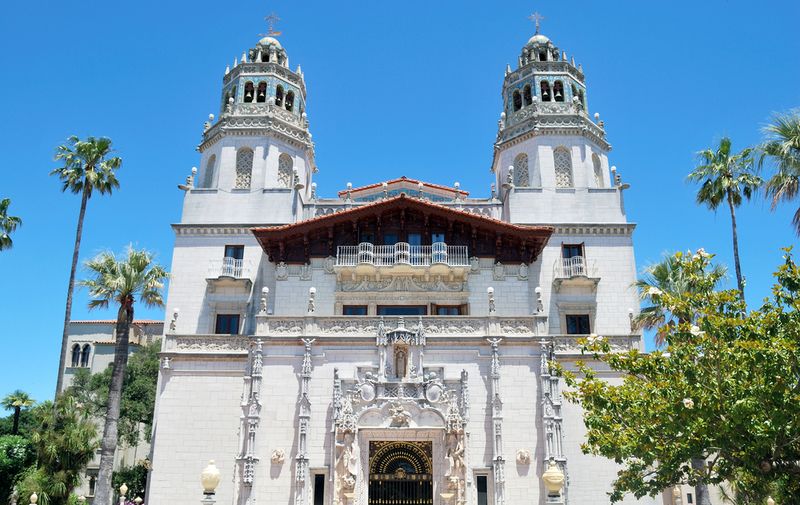 6. Hammond Castle -Gloucester, Massachusetts
This castle was constructed between 1926 and 1929 and sits high atop a rocky cliff overlooking Gloucester Harbor. The castle was home to John Hays Hammond Jr, an inventor who was a pioneer in the study of remote control and built the castle as a gift for his wife. Nowadays the castle is a museum that houses his collection of Roman, medieval and Renaissance artifacts. Visitors can take a self-guided tour through the great hall, indoor courtyard, Renaissance dining room, two guest bedrooms, the inventions exhibit room, the library, the War room, the kitchens and several passage ways including a secret passageway. Visitors are welcome to explore the gardens, beautiful castle grounds and gaze out at the Atlantic Ocean from one of the benches. If you really want a special experience make sure you visit during October when the castle is turned into a Halloween haunted house.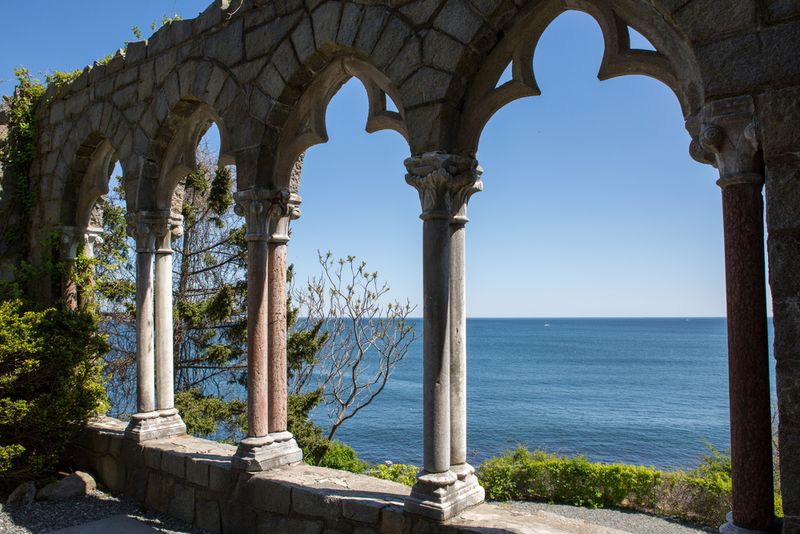 5. Oheka Castle -Huntington, New York
This gold coast castle is located on the highest point of Long Island and is one of the most prestigious wedding and event venues in America. Currently this castle is a historical hotel with 32 guest rooms and suites on the upper floors. This castle was built from 1914-1919 as a country home for investment financier and philanthropist Otto Hermann Kahn and his family. The castle is set on an impressive 443 acres featuring a sunken French garden including beautiful flowers and water terraces, a golf course and of course the beautiful castle. Daily tours can be booked in advance and feature the interior of the estate and the formal gardens with a guide. Sitting at 115,000 square feet and featuring 117 rooms, this castle is not only a breathtaking place to tour but an unforgettable wedding location.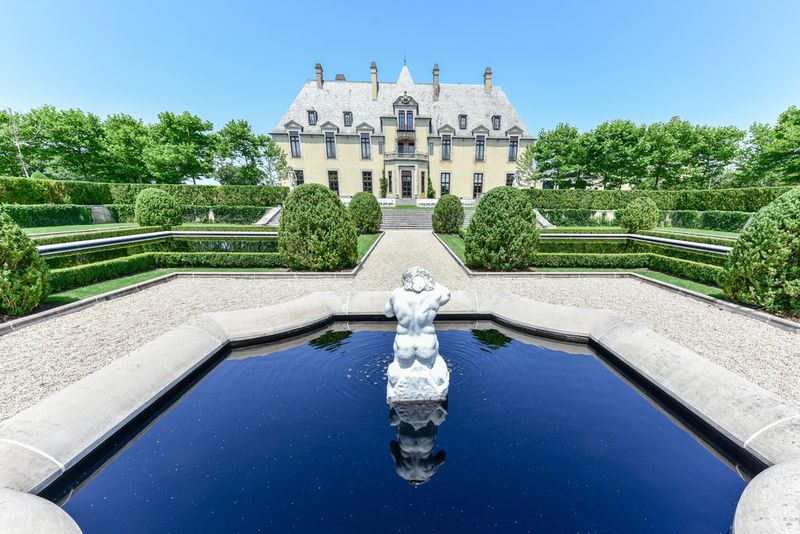 4. Castello di Amorosa -Calistoga, California
In the heart of Napa Valley's wine country sits this impressive 13th century inspired Tuscan castle that opened in 2007. The castle features 107 rooms both above and below ground and features such things as a moat, torture chamber, drawbridge and great hall with coffered ceilings. The best part about this castle may just be the fact that it is actually a winery as well and touring the castle means having access to some incredible tastings. It would be the perfect place to hold a wedding but alas Napa County has put restrictions on that. For now, visitors can explore multiple levels of the castle, slide up to one of the tasting bars, and visit the Front Ramparts, Chapel, Great Hall, Courtyard, Stables, and Knight's Hall.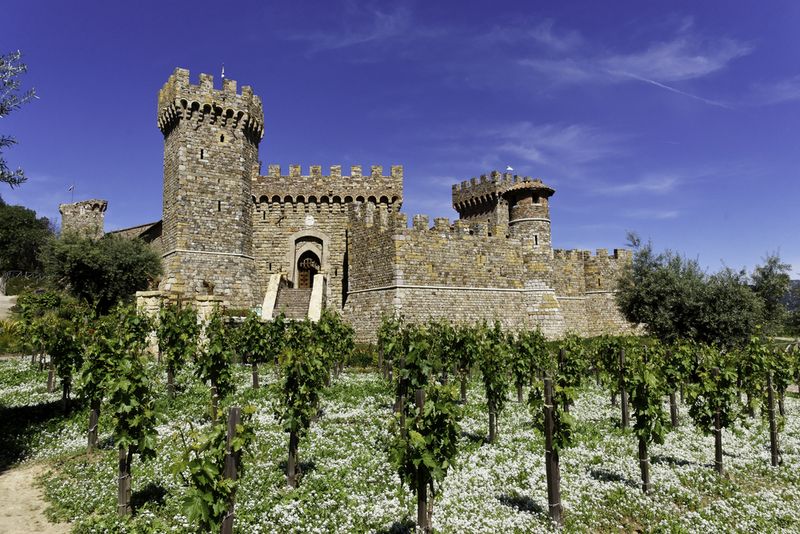 3. Boldt Castle -Alexandria Bay, New York
When industrialist George Boldt came across a heart-shaped isle in the Thousand Islands the only thing he could think of doing was building an epic castle for the love of his live. Boldt hired over 300 stonemasons, artisans and carpenters to build a six story castle complete with 120 rooms. In 1904 when Boldt's wife tragically paced away, construction was halted on the castle, for a whopping 73 years. Luckily for visitors the castle was restored in 1977 and now guests can enjoy self-guided tours throughout this beautiful masterpiece. Expect to be blown away by the hand carved doors, decorative windows and a first flow that replicates what it may have looked like if Boldt had ever finished it. Many people choose to get hitched in the stone gazebo here and it's easy to forget you are actually still in America.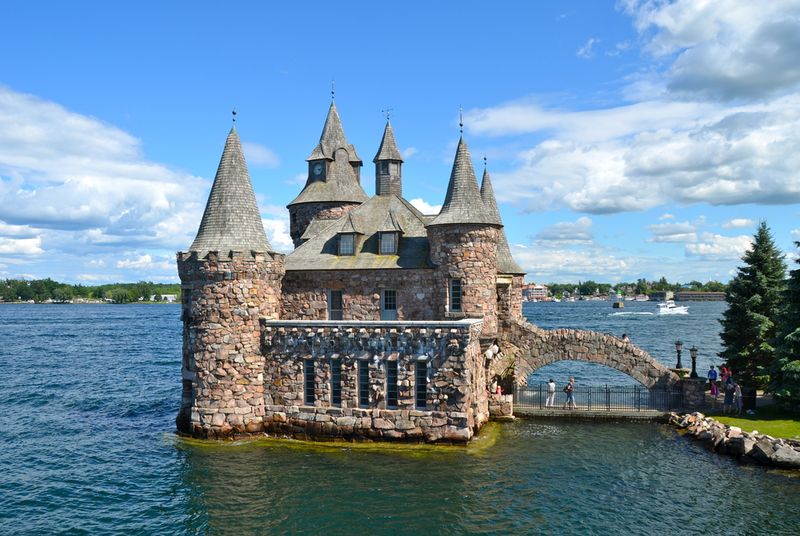 2. Grey Towers Castle, Philadelphia
This castle is a registered historic national landmark and actually sits on the Arcadia University campus in Glenside, Pennsylvania. This 40-roomed castle was started in 1893 and modeled after the famed Alnwick Castle in England. There is a lot of speculation behind this castle and staff and students of the University love to tell them. According to them in one of the third-floor bedrooms a mirror above the fireplace mantle had to be replaced because of a large crack. Yet, every time it is replaced it cracks soon after. The castle is also rumored to have been built entirely without the use of nails and is home to many secret passages that were used by the first owner of the estate William Welsh Harrison. Visitors will delight in the gilded ceilings, tapestries and hand carved woodwork throughout. Now the castle is used for administration and dorm rooms so visitors will have to take a self-guided tour when classes are in session.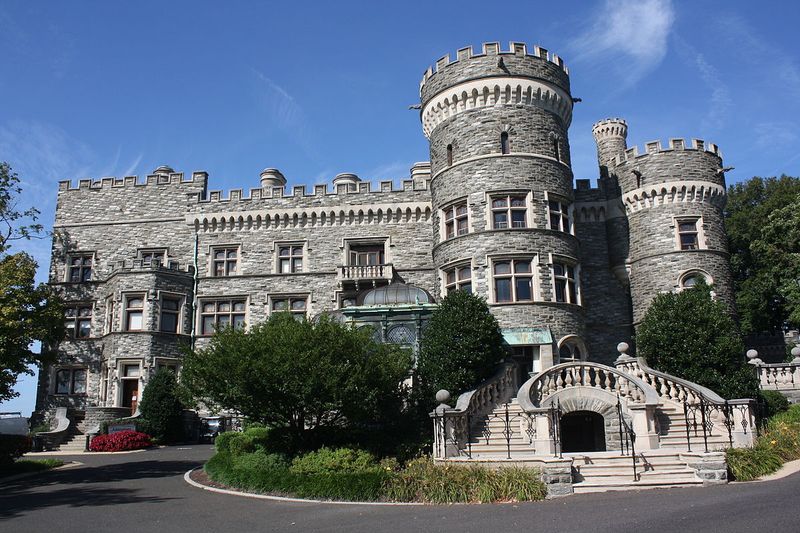 1. Château Laroche, Ohio
Also known as Loveland Castle, this incredible palace was built by Sir Harry Andrews brick by brick, and all on his own. It took Andrews over fifty years to build this incredible castle, pulling stones out of the Little Miami River and when that supply was gone, molded bricks with cement and quart milk cartons. Andrews was a Boy Scout troop leader and when he passed away in 1981 left the castle to his Boy Scout troop the Knights of the Golden Trail (KOGT) who have extensively renovated and upgraded the castle. Today is sits as an expression and reminder of the simple strength and rugged grandeur of the men who were part of the Knighthood. Visitors are welcome here throughout the year and can discover the stories of hauntings, four different types of towers and an impressive collection of swords and weapons on display.