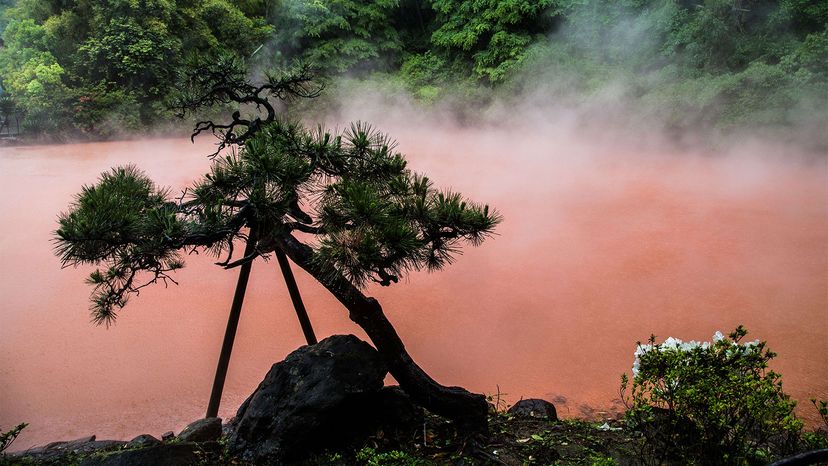 It's not often that people associate the word "hell" with a relaxing vacation, but visiting the hells of Beppu is more like taking a trip to ecological heaven than to hell — as long as you admire them from a safe distance, that is. The hells of Beppu are a set of seven geothermal springs (called onsen in Japanese) that are located in the small resort town of Beppu on Japan's Kyushu island. Beppu is known for its abundant hot springs and volcanic activity. While there are close to 3,000 onsen in Beppu, the seven hells are famous for their intensity and individual characteristics. Legend has it that they got their Japanese name, jigoku, which translates to "hell" in English, due to locals being afraid of how hot and powerful the bubbling gas and water was — and still is.
Hot springs are caused by tectonic plates, but the island of Kyushu is on top of a subduction zone, meaning one plate slides beneath another. As the plates expand, cracks form in the ground, allowing water to flow deep beneath the surface where it's heated by volcanic magma and then rises again due to pressure.
The seven hells each have their own peculiar qualities ranging from spouting geysers, feisty crocodiles and waters that are stunning shades of Caribbean sea-blue, gray and blood-red. Calling these springs hot is a bit of an understatement — the water temperature can reach over 212 degrees Fahrenheit (100 degrees Celsius), making them obviously unsuitable for bathing. But just because these famous onsen are too hot to enter, it doesn't mean you won't have the chance to take a dip while in Beppu.
According to Audley Travel, there are many other hot springs that are available for bathing — these are typically found at ryokan (a type of traditional Japanese inn) where clients can stay and enjoy the onsen, as well as at public baths that you can visit during the day. Additionally, onsen and public baths are plentiful throughout Japan, so even if you don't make it to Beppu, you can still ensure hot springs are part of your trip.