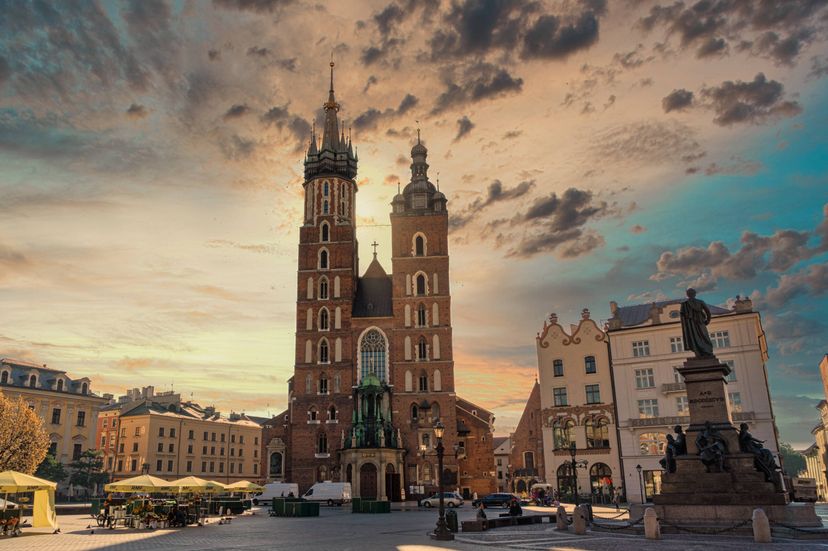 If you're planning a weekend getaway or a longer European adventure you should definitely have one thing on your itinerary and that's to visit Kraków.
If you believe the folklore, legend has it that Kraków was founded from a defeat of a dragon, and while you may or may not believe this, when walking around the medieval old town you can easily become submerged into the history and start to think about the whole dragon tale could be true!
From the gothic Wawel castle towering over the old town to the impressively vast Rynek Główny market square (the largest in Europe), you can see why Kraków is quickly becoming a must-visit European city. However, there's more to Kraków than just the castle and market square. If you visit Kraków you will be immersing yourself in a city full of history, stunning architecture, and thriving nightlife.
Visit Kraków for these great reasons…
Budget Friendly
Even though prices have risen in the last few years, compared to western Europe, Poland is still very cheap. With its budget-friendly accommodation, alcohol, and food it's become a popular destination for long-term travelers and affordable weekend getaways.
There are many great budget-friendly hostels in central locations of the city, just read up to where you are booking because some are party hostels which attract stag and hen do's. If that's not your cup of tea, stay clear! We recommend Chilli Hostel with its relaxed atmosphere and central location. If staying in a hostel is not your thing, there are plenty of hotels in Kraków old town covering all types of budgets.
Some other tips to keep you on the budget is to make use of the free entry to many of Kraków's museums and to catch the public bus to and from the airport. If you catch a taxi, expect to pay around €20 and if you take the public bus you pay only €2, a great saving to be had in our opinion.
Amazing Food & Drink
Kraków is home to some amazing restaurants and bars. From local cuisine to international chain restaurants you can almost find any type of food for any budget and taste. But if (like us) when you visit a new country you want to try the local traditional dishes, Poland has some great ones. Bigos, Kotlet Schabowy, Gołabki and of course Pierogi are the most famous and best-tasting dishes. Pierogi is our favorite, a type of dumpling that can be served with a sweet or savory filling and can be found in almost every cafe and restaurant. We also loved Kielbasa, a polish hot dog that can be bought from food vendors for about €2.
Top tip: Like most places, if you eat around the touristy areas you will pay more for the food, head down the side streets away from the main square and you will get more and usually better food for your money.
The Biggest Market Square in Europe!
Rynek Glówny dates back to the 13th century and it's thought to be the largest medieval square in Europe. Surrounded by historic townhouses and gothic towers of St. Mary's Basilica the center of the square is dominated by the Cloth Hall. The Cloth Hall is split in two with the ground floor arcades housing stalls and shops mainly selling souvenirs and upstairs being home to the Kraków National Museum.
There are many shops, cafes and restaurants surround the square which makes it a very touristy place, but it's still a great place to hang out. With street entertainment in every direction, you look and horse-drawn carriages lined up ready to take you on a tour there is plenty going on, you can spend hours sat down at one of the local cafes enjoying a drink and just watch what's going on around you.
Easy to get around
One of the most appealing things, when you visit Kraków, is that it's so easy to get around on foot. With a lot of the main attractions all located in close proximity, it's easy to explore in a short space of time and one of the best ways. If you've had enough of walking or want to explore a bit further out from the center, Kraków's public transport system is very easy to use and cheap. While you can catch taxis to your destination we recommend hopping on a tram, running between 05;00 to 23:00 it's an easy and great way to get around the city.
Another great option is to use the KMK bike scheme (think London's Boris bikes) with 13 docking stations across the city and expanding, it's a great way to rent a bike for a few hours and explore parts of the city you wouldn't walk to.
A city steeped in a Diverse History
Visit Kraków and you will immerse yourself in a city steeped in history. Every corner you turn and street you walk down will have history attached to it and a story behind it. While a lot of people who visit Kraków take the Auschwitz-Birkenau tour which is definitely a must, it's actually an hour west of the city and will take most of the day to visit. If you don't have time to fit it into your itinerary, don't worry there's still plenty to see within the city of Kraków.
Some of the must-visit places are:
'The Ghetto Heros Square'
A cobbled square with 70 large iron chairs in place as a symbol of possessions lost when the Jewish Ghetto was 'liquidated'.
'Schindler's Factory'
While Schindler and his factory features in the museum, the main part of the original factory house the museum of Kraków under German occupation. You can follow the six-year journey of Kraków under German occupation including the Jewish Ghetto's.
Other highlights are the Jewish district and The Barbican.
Wawel Castle & Cathedral
Wawel Castle & Cathedral
A short walk from the main square, Wawel Castle, and Cathedral dominates the skyline overlooking Kraków old town and the meandering Vistula river. Entry to the Castle and surrounding grounds is free, however, there are 5 exhibitions inside that require a small fee to enter which include the Crown treasury and Armoury and the Royal chambers. Even if you don't want to pay to enter the exhibitions (we recommend the Armoury if you had to choose one) Wawel Castle is still definitely worth the visit to stroll around the grounds, enjoying the views over the old town and river.
If you do decide to visit the exhibitions we definitely recommend getting a tour or audio guide as there is hardly any historical information on the show and sometimes you're not overly sure what you're looking at.
Entertainment!
Surrounding the main market square is the largest concentration of pubs per square kilometer in the world. With so many bars, pubs, clubs, restaurants, and cafes you will not be short on entertainment when you visit Kraków. With an impressive music scene covering a wide range of music genres and a lively club scene, you can see why Kraków has earned a name for its party atmosphere. If that isn't your cup of tea, surrounding concert halls play host to a wide range of classical music performances.
Kraków is also home to two top Polish football teams Wisła Kraków and KS Cracovia who have a fierce rivalry and some very passionate fans! Definitely worth a visit to watch a game if you like football.