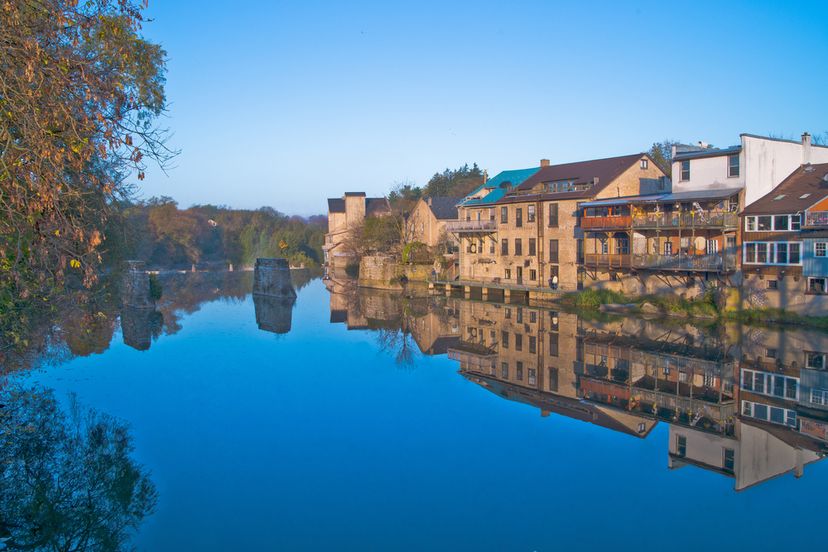 Ontario is Canada's most populated region, filled by big cities buzzing with activity and laden with attractions. Grand, cosmopolitan cities like Toronto and Ottawa draw millions of annual visitors ready to pack their holidays with urban adventures, but it's the province's small towns that are most captivating and offer indulgences no big city ever could. "Charm" is the staple word here, amid these cozy, enchanting, and layered communities filled with unique stops and awash with interesting things to do and see. Find out which small, Ontario towns are loaded with appeal below:
7. Collingwood
Collingwood is a unique, small town in Ontario with endless appeal in every season. In the winter months, the Blue Mountain Resort is where X marks the spot for great skiing, snowboarding, tubing, and the après ski culture throughout the village where there are shops, outdoor fire pits, and lots of events. The spring and summer bring a whole new landscape to life: there are zip lining excursions, caving, eco adventure tours, and a slew of different cruises along beautiful Georgian Bay. There are long stretches of sand, golf courses, and the famous Apple Pie Trail where the Niagara Escarpment and Georgian Bay join forces to create perfect growing conditions along an extensive 37-stop trail through to nearby Meaford (where fishing is outstanding). Summer brings another special, world famous event, The Elvis Festival. The annual homage to Rock and Roll's pioneer is held each year in July.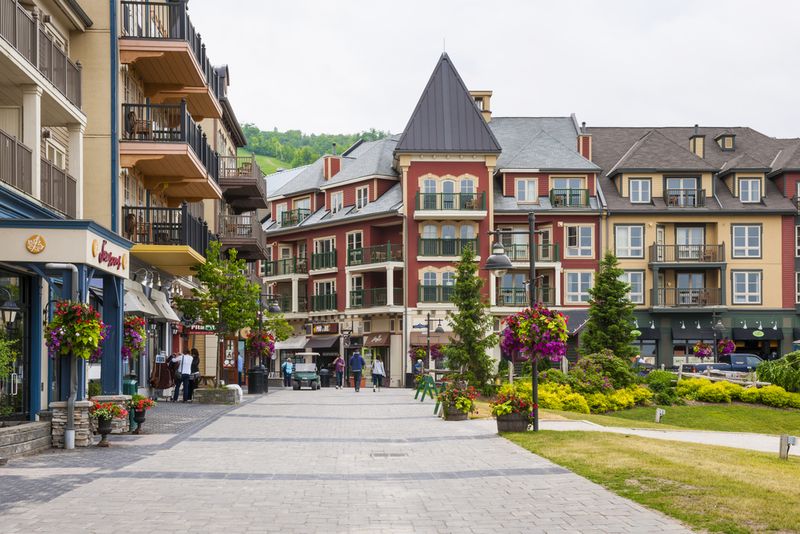 6. Gravenhurst
In Ontario's Muskoka region is the lively town of Gravenhurst, ripe with cottagers staying for the dazzling landscapes and legion of lakes. The town is filled with opportunities to take in galleries and arts, antiques and vintage wares, and all kinds of interesting specialty items. The community is tight-laced and always hosting something fun, from Cinema Under the Stars (a weekly community film night) to special events downtown. The Muskoka Wharf is a sweeping, lakeside area dedicated to Gravenhurst's diverse and unique history. The conglomeration of shopping, dining, and town heritage is put together magnificently in the waterfront retreat where there's a featured Farmer's Market, the annual Dockside Festival of the Arts, and Music on the Barge on Sunday's in summer. Year-round there are special events, plays, and concerts at the Gravenhurst Opera House and also a bounty of parks with great swimming, public docks, and convenient facilities.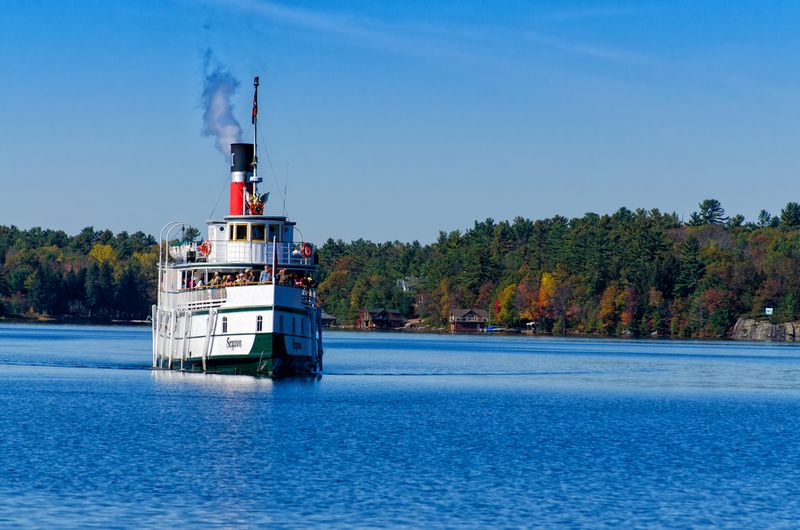 5. Creemore
The town of Creemore looks like any small farm town in Ontario when just driving by. It might not seem like anything special—and it is quite small—but there's more than meets the eye here. Old Victorian homes line streets, filled with mom and pop shops of all types, and where friendly is the name of the game. Set on the edge of the stunning Niagara Escarpment—a World Biosphere Reserve—and close to many fun destinations, Creemore wins almost anyone over. The handful of excellent art galleries combine perfectly with book shops, a small brewery, and super cool artisan shops (lots of creative types here). Scenic drives are the way to see rushing rivers, rolling hilltop farms, and perfect views of Georgian Bay. Bike, hike or walk the Ganaraska or Bruce Trail in the warmth or hit the cold for excellent snowshoeing and backcountry skiing.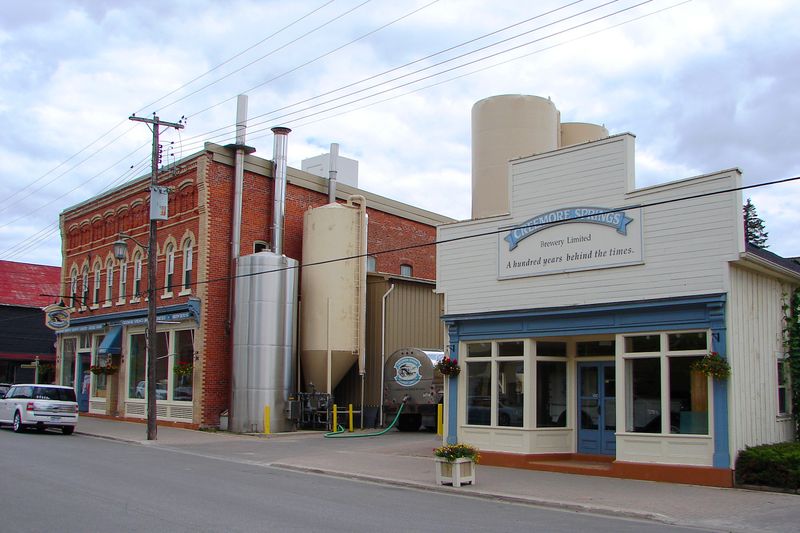 4. Cobourg
The historic port town of Cobourg sits on the shores of Lake Ontario less than 63 miles from Toronto. The Northumberland County border of Cobourg is made up of forests, lakes and trails. If you like to shop, there's the famous auction house or check out one of the cute, vintage shops around for a rare find, like at Vintage Legacy, where you'll uncover tons of curiosities including old TV and film set props. Up-and-coming (and established) craft breweries, wineries, art shops, hiking and "treetop trekking" in Ganaraska Forest, and an array of restaurants add to Cobourg's appeal. The beach and marina are popular during steamy summer months—the best place to soak up some Vitamin D. Daytime hours are wiled away with kids at the shores, playground, and splash pad, and there's a boardwalk that makes for perfect starry night strolls before calling it a day.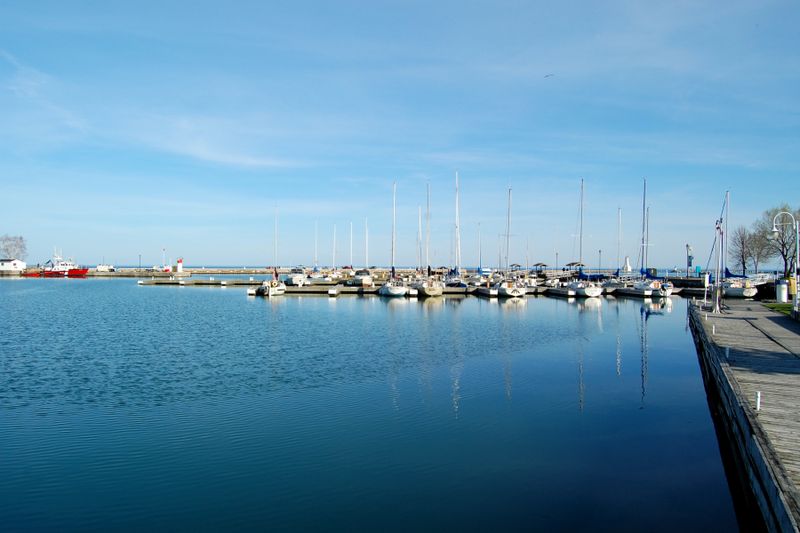 3. Elora
There's so much beauty in the village of Elora, throughout charming downtown and centuries-old buildings, in the arts around every corner, and the outskirts filled with striking scenery. Set on the Irvine and Grand River banks on the fringes of magnificent Elora Gorge, the village is a hotbed of artists, culinary pioneers, and gracious innkeepers. The shopping is unique, the food to die for, and just a few overnighters is perfect for taking it in. There's a lot happening here but nothing at too quick a pace. A great way to see Elora is on one of the many shady, gastro pub patios with a local brew in hand. But if you're adventurous, there's world class fly fishing, river tubing, climbing, and cycling. Toss in a ton of music and arts festivals, fantastic camping and swimming, and plenty more outdoor pursuits, and there's a pretty priceless combination to explore.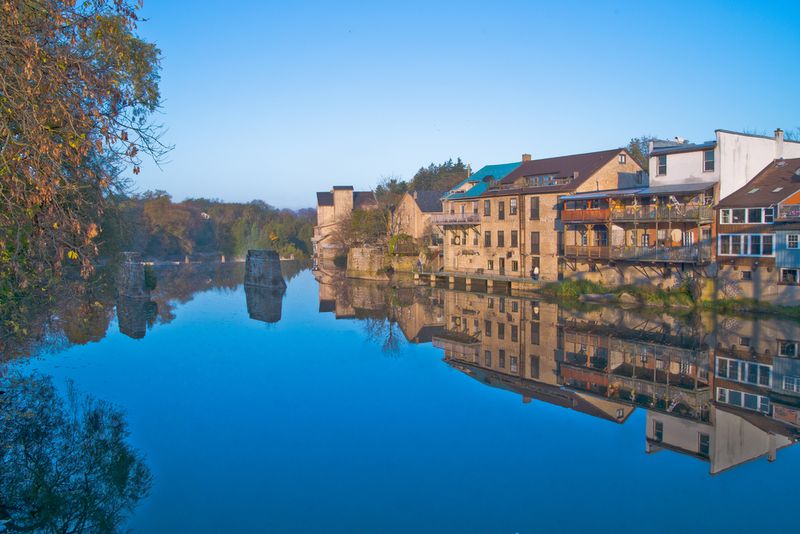 2. Niagara-on-the-Lake
Pretty, tree-lined Niagara-on-the-Lake is one of the most popular small towns in Southern Ontario, famed for wineries, breweries, and eateries but also for a picturesque setting and moderate climate that makes everything grow with fervor. One of the most popular things to do, for those moderately physically fit, is a cycling wine tour, a great way to sample (and buy) award winning regional wines. You'll get a bicycle and comprehensive map and hit the circuit of lush vineyards, enjoy many samples, and have all your goods picked up and delivered by the end of the trip. If that's too exhausting, wine is available throughout an eclectic mix of restaurants and pubs, where the food is just as pleasing. Enjoy theater shows during the annual Shaw Festival, explore several historic area forts, and savor the outdoors throughout three nearby provincial and state parks.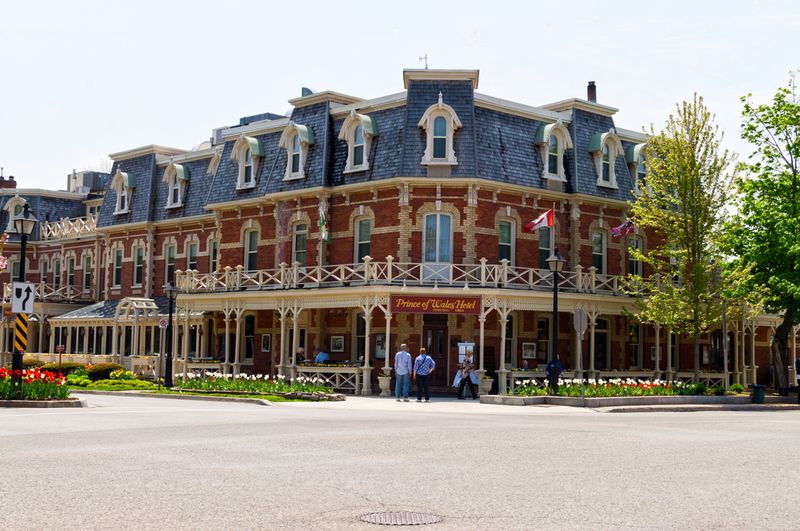 1. Picton
Picton is a small, scenic town in delightful Prince Edward County and adjacent to gorgeous, dune-laden Sandbanks Provincial Park. Outside winter months, Picton thrives with tourists who love its lovely landscape and friendly locals, but also everything it offers. With scores of art galleries and studios, quirky souvenir shops, world-class wineries, and excellent beaches, Picton is a holiday destination where you won't need much else than what's there. It is renowned for historic, architecturally-significant buildings (many found along Main Street flanked by unique shops), award-winning restaurants, and small, cozy tent vendors in the summer months. Downtown's Regent Theater plays host to the summer jazz festival and plenty of small theater shows, documentaries, and films. Each year brings more than forty arts, culinary, and cultural fetes across the region but in the summer, most people laze away the days around the marina, dunes and impressive beaches backed by substantial dunes.