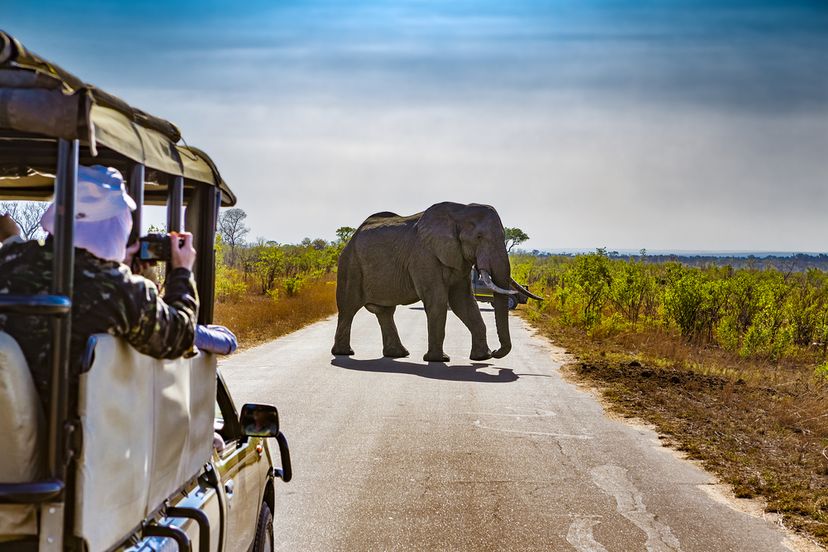 Recently named by Lonely Planet as one of the places to get to in 2015, Botswana is hopping onto people's radar like never before. Botswana earned the top spot because of its incredible landscape and wildlife, along with its travel benefits such as direct flights into the country. It is indeed one of Africa's last unspoiled wilderness and much thanks should go to the government for its protection of this wilderness, through conservation efforts. It is here where you can visit National Parks and Sanctuaries that allow you to get up close and personal with wildlife, it is here where you can stay in luxury safari lodges and it is here where you will have the most incredible wildlife experience of your life. Discover 7 of the best experiences in Botswana.
7. Visit Chobe National Park
It is rated as one of the best wildlife and conservation areas in Southern Africa and no trip to Botswana would be complete without visiting here. It actually covers four distinct eco-systems and the Savuti Marsh, in particular, offers some of the highest concentration of wildlife in Africa year round. One of the most popular ways to see the wildlife here, especially some of the 120,000 elephants that reside here, is to hop on a safari cruise, especially as the sunsets.
The best time to visit this national park is from May to September when it is the driest and the coolest. Herds of zebra, buffalo, giraffe, and wildebeest congregate here. You can access this park by driving your own car, but it is recommended you have a 4X4. Otherwise, the lodges and camps offer three-hour safari drives, three times a day in open-top vehicles.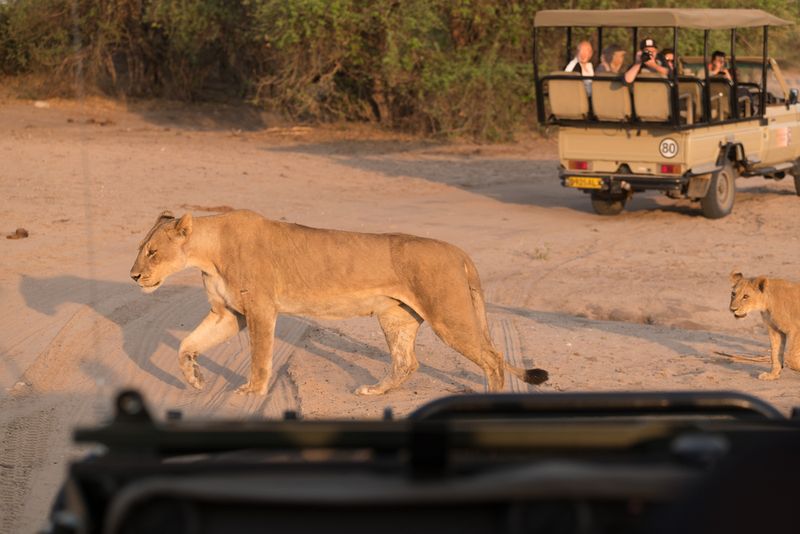 6. Visit Tsodilo Hills
The Tsodilo Hills are a UNESCO World Heritage Site that consists of rock art, rock shelters, depressions, and caves, and is home to more than 4500 rock paintings. It is considered a sacred sit by the Bushmen who inhabited it for more than 100,000 years. It is recommended you take a guide with you to this site to fully experience the magic of this place. They will join you on such walking trails as The Rhino Trail, Lion Trail, and Cliff Trail.
Two of the most famous images are the rhino polychromes and the Eland panel, the Eland panel situated on a soaring cliff that overlooks the African wilderness. It is a mystery that has plagued historians as to what the meaning and symbolism behind the rock paintings are, but they are sure that there were religious rituals performed here and the spirituality that oozes from this place is undeniable.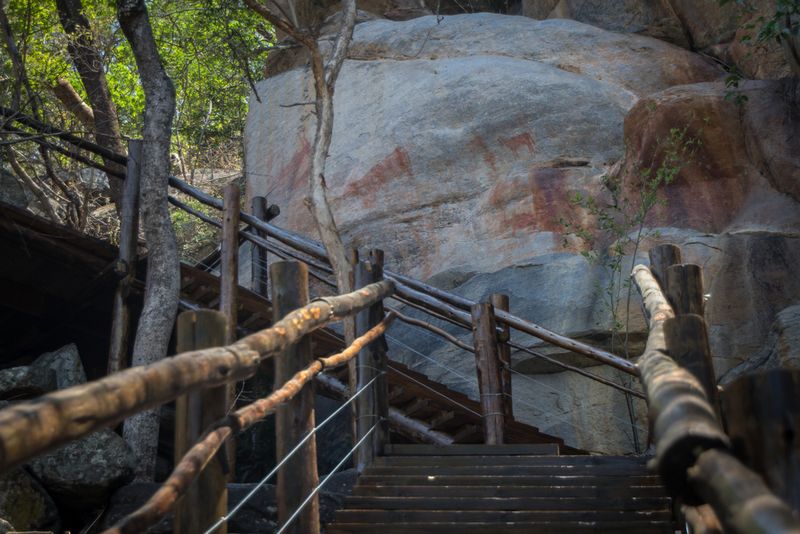 5.  Visit Mokolodi Nature Reserve
This educational reserve is the perfect place for families or a starting point for a safari adventure. The animals housed on this reserve cannot be released back to the wild for some reason or another and they enjoy wandering the protected are while visitors have the chance to come up close with them. It is here you will find elephants, rhino, cheetahs, a multitude of birds and other species. The animals here are used to people and have no fear of cameras, allowing the budding wildlife photographer to snag some incredible shots.
The guides here are also entertaining and knowledgeable. There are two awesome experiences to try out at this reserve, the first being their rhino tracking tour. Beginning in a vehicle with a guide, visitors will start tracking the rhino by its tracks. Once you get close you actually get outside your vehicle and track the magnificent beast by foot. Coming up close to one of these endangered animals on foot is truly awe-inspiring. The best part about this reserve; the cost of the visit goes back into support conservation for the people and the animals.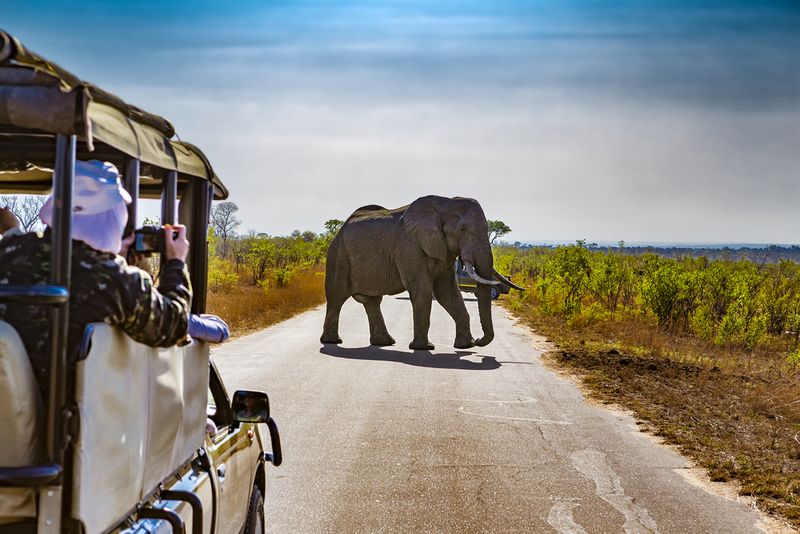 4. Visit the Khama Rhino Sanctuary
Speaking of rhinos, there is no better place to see a multitude of these endangered species than the Khama Rhino Sanctuary, a community-based wildlife project that is dedicated to protecting them. The sanctuary provides prime habitat for both black and white rhinos, as well as other animals and birds. It is also one of the most budget-friendly ways to see some of Africa's awesome wildlife. You can come just for the day; hours are 7am-7pm where you can drive yourself around the park (maps are provided) or hire a guide to take you out.
If you choose to stay overnight, there are plenty of options including a campground and private chalets. Early morning drives seem to be the best in terms of wildlife spotting and waking up at the crack of dawn and joining a knowledgeable guide is totally worth the experience. One of the best parts of this sanctuary, not only do you have the chance to see the elusive rhinos but the profits go back into supporting local Botswana communities.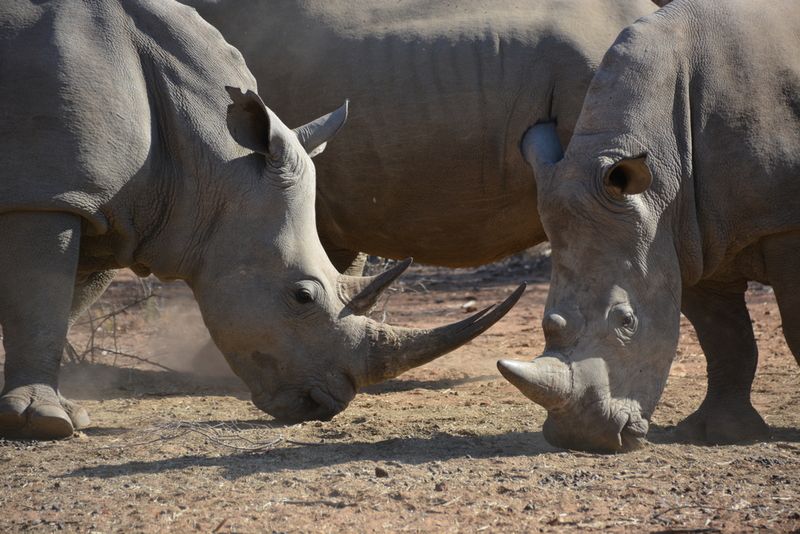 3. Take an Okavango Delta Canoe Ride
The makoro has become somewhat of an iconic symbol of the Delta, and is one of the most popular ways to explore the Okavango while on safari. What exactly is a makoro though? It is a traditional canoe-like vessel that was commonly used as a mode of transport, originally constructed from tree trunks which were painfully hollowed out using hand tools. Nowadays the modern makoro is made from fiberglass, still retaining its authentic feeling. Each makoro can only carry one or two passengers and the boat-man stands at the stern using a long pole to navigate the waters. It is the most peaceful way to experience a safari and the best way to capture some stunning images as there is no motor to scare off the animals. As you glide peacefully through the water and happen upon an elephant, ear deep in the water, happily munching on reeds, it is then you will understand why this is a must on any trip to Botswana.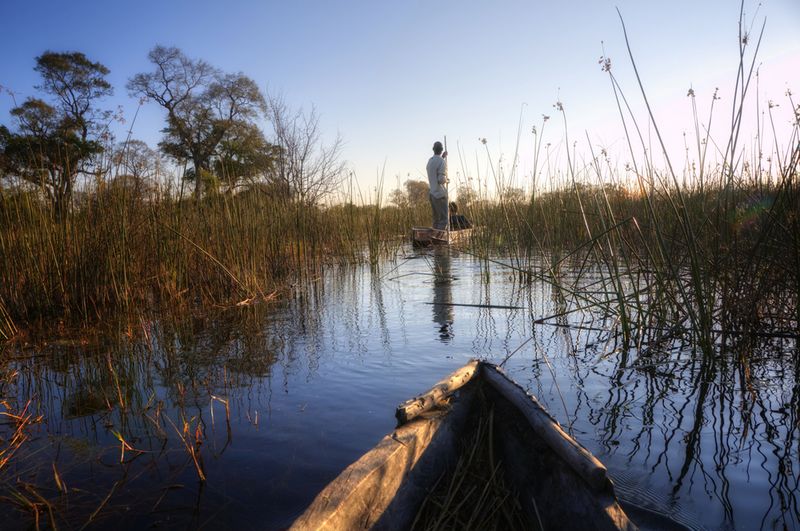 2. Splurge on a Luxury Safari Camp
Botswana is arguably the best place in Africa to take a safari, it remains one of the last unpopulated wilderness and conservation efforts include low-volume/high-revenue tourism and significant measurable benefits for local communities who live among the wild animals. There are only about 50 small camps in the Botswana wilderness but boy oh boy are they luxurious. If you are looking to dig deep into your pockets and experience the utmost luxurious safari camp, it is here you should head.
Mombo Camp is one of the most popular, and most expensive featuring enormous walk-in tents complete with beautiful furnishings, open-roofed look out points, exceptional cuisine and cocktails and a location which boasts some of the best animal's year round. Or visit the Duba Plains camp where a modern gym, Swarovski binoculars and a slew of other amenities.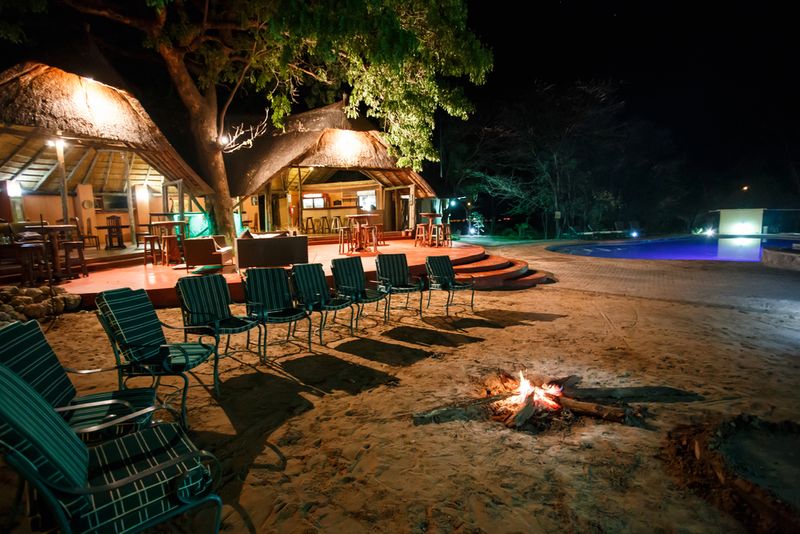 1. Safari in the Okavango Delta
We have talked about what sort of camp you should stay in but where should you go for a true safari experience. There is only one answer in Botswana and that is to the Okavango Delta where the Okavango River flows into the Kalahari Desert and large groups of animals call this place home. Here you will have the chance to take a riding safari, walking safari, self-driven safari and more.
It is important to note that hunting has been banned in Botswana so all safaris are photographic. It is home to some of the worlds most endangered species of large mammal including the cheetah, white rhino, black rhino, African wild dog and more. Explore this beautiful area that teems with wildlife by joining one of the reputable tour guides and have the experience of a lifetime.