Age is just a mind set but your body, on the other hand, can deal out something a little less easygoing than attitude when you start getting up in numbers. While there's really no ideal age to get up and take a crack at some of the world's most adventurous destinations, tackling some of the following trips can be a lot easier in your 20s than in later years, especially when you might have a family in tow. Being single, young, and without boatloads of responsibility makes these endeavors some of the best to take in your 20s.
7. Mountain Bike Lake Tahoe's Rim Trail
Encircling North America's biggest alpine lake, Tahoe Rim Trail spans more than 260 kilometers and offers some of the best vistas from any single track. With more than 128 kilometers open to mountain bikers, Tahoe Rim Trail presents an epic ride with the track between Spooner Summit and Tahoe Meadows one of the best riding trails in the country. Bring your A-game here, where fast descents and gritty, skyward climbs bring a heart to the brink while offering rewards of spectacular Nevada desert views. Beginning at Spooner Lake campground, ride nine miles until splitting off to adjacent Flume Trail, a 35 kilometer run which technically isn't part of the trail but is the Rim's signature ride. When the lake comes in to view, the scene is breathtaking–keep your eyes on the single track though and stop to let them wander across the great landscape.
6. Explore Namibia's Skeleton Coast
On Namibia's North Atlantic Ocean coastline is the Skeleton Coast, referred to by the Portuguese as The Gates of Hell and by Namibia's bushmen as The Land God Made in Anger. The name stems from the book Skeleton Coast, written by John Henry March in 1944. It chronicled the Dunedin Star shipwreck of 1942, just one of many floundering off the Namib Desert Coast for the treacherous, rocky conditions. The landscape is barren, desolate, and stories abound of seafarers wandering endlessly in search of water and food. If you're not a sailor, you've got nothing to worry about, only a surreal environment best known for the scattered bones of seals and whales, and possibly even a few ancient human remains. The Skeleton Coast is one of the most remote areas in southern Africa. Adventure tours take groups through, exploring the world's biggest sand dunes, tracking endangered Black Rhinos and elephants on foot through the desert, and meeting Namibia's indigenous tribes.
5. Climb Huayna Potosi, Bolivia
A mountain climbing trip in your 20s is somewhat a rite of passage so why not aim for Bolivia's Huayna Potosi, a 20,000-foot high mountain surpassing all the U.S.A's highest peaks by at least a mile. Huayna Potosi is in Cordilla Real and though to climb it you'll need ice axes and crampons, you won't need any other technical experience, just basic equipment. Choose one of dozens of guided trips to Potosi in Paz, where you can't pass a door front without someone shouting a climbing deal at you. The most common route is a no-nonsense glacier ascent. The first day is usually spent setting up camp, hiking to the glacier base, and practicing a variety of techniques, from walking to rescue. Day two is go time, but it's on day three, when the peak is reached that the rewards are reaped with astonishing views of La Paz, Lake Titicaca, jungle valleys, and the entire Cordillera Real expanse.
4. Yacht Week
Yacht Week requires no special skills–there are no glaciers to scale, mountain bikes to ride, or anything that takes more than just having a good time. Yacht Week is a seven-day adventure aboard a luxury yacht, hanging out in the trendiest spots, and exploring the best place to get a tan. It's really quite perfect for anyone in their 20s. First, you choose a destination: Croatia, the British Virgin Islands, Italy, Greece, or Thailand. Next you choose a yacht type and then begin the journey with a boatload of friends and international personalities. On each of the seven days, a new destination is reached, with up to 20 yachts in tow, and every night, all the Yacht Week people party together at exclusive events. You don't even need to know how to sail, though bonus points if you do because you won't have to pay for a skipper.
3. Burning Man, Black Rock Desert, Nevada
Started in 1986 by two friends who burned an effigy on a beach during the Summer Solstice, Burning Man has grown through the years to become one of the biggest and most unique events in the United States, from a mere few hundred people throughout the 1980s to more than 60,000 people in 2015. The event is based on ten specific principles."Burners" are inspired by the values echoed through these principles and endeavor to pursue a more connected and creative existence. How this is actually achieved is what's so incredible about Burning Man. Tens of thousands of people gather to create "Black Rock City," a makeshift society solely based on self-reliance, art, and self-expression. Each year there is an annual art theme, scores of special events, creative circles, and of course, the burning of the man on the final day within the temporary community. This is the place to completely let go of inhibitions.
2. Motorbike through Vietnam Highlands
Riding a motorcycle through Vietnam isn't an act of madness, nor one of bravery. Vietnam's cities do have some crazy, hard-to-manage roads but all you really have to know is how to cross a road in the country and the motorcycle part all slips into place. If there's a gap in the road, traffic will swarm there. Once you learn that, and how to take it slow, everything is so much less daunting. One great route is to begin in Ho Chi Minh City (formerly Saigon), explore the Mekong Delta via a boat ride, and continue on through the Vietnamese highlands by motorcycle. Make your way up and down the gorgeous countryside, stay in friendly, traditional villages, and meet like-minded people en route. Independent travelers can rent or buy a motorbike easily (if you buy one, it's no different than haggling over a used car and you can easily offload it on another potential sightseer, often for what you paid).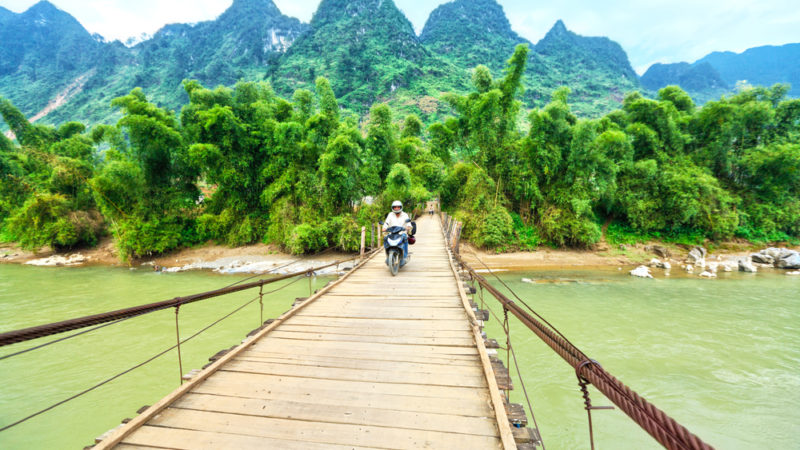 1. Trek to Machu Picchu via the Sacred Valley
If pleasantly meandering, centuries-old trekking paths between traditional Peruvian villages sounds good, read on. If you're yearning for a look at the alpine ruins of Machu Picchu, taking the alternative hiking route through the stunning Sacred Valley is the way to go. Yes, the Inca Trail is a classic and it's definitely an incredible route but today, with no independent treks permitted, all you'll see is mostly large groups of tourists ambling their way forward, with porters lugging their gear. But where the Inca Trail is a solid four to five day hike, the path through the Sacred Valley is ten, with about six hours of solid hiking each day at altitudes crossing mountain passes at well over 13,000 feet. Though it sounds a little rough, it's a beautiful walk for anyone even moderately fit. The best part is the chance to explore and visit the village of Cachiccata and many other small, Peruvian alpine villages.