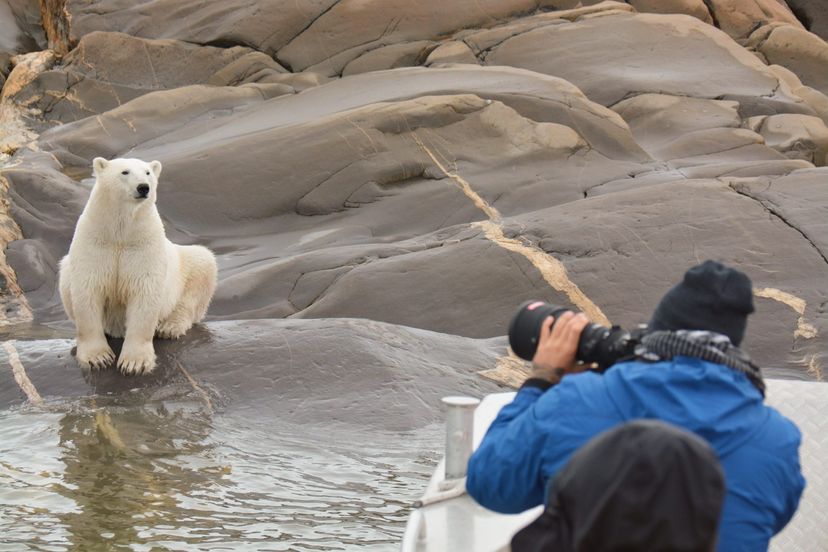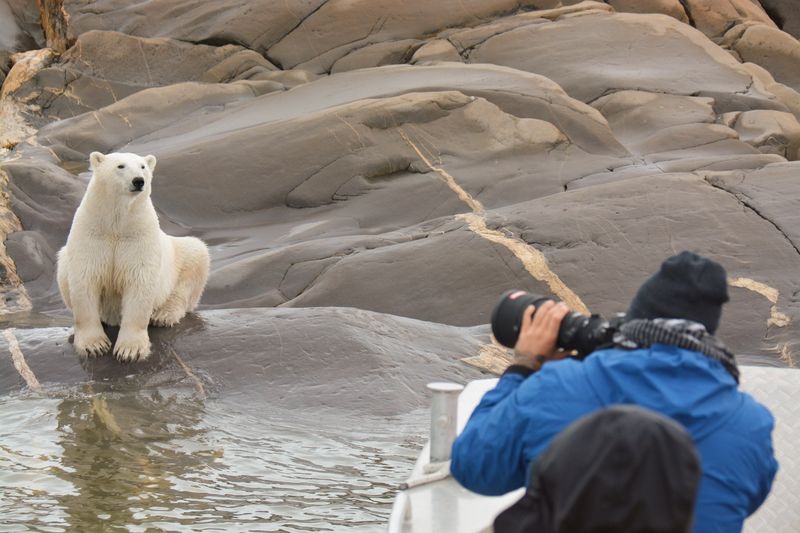 Photo by: Lazy Bear Expeditions
When many people picture a summer getaway, it probably includes palm trees, flip flops and drinks with tiny umbrellas. But for those of us with adventure in our veins, summer promises ample opportunities to get outside and see a whole other side of nature.
Given that it's known as the polar bear capital of the world, it's easy to think of Churchill, Manitoba, as a prime winter destination. Don't get us wrong: Churchill is gorgeous during the colder months, when the snow-swept plains reflect the rainbow lights of the aurora borealis. But all of the things traditionally associated with this Manitoba town's winters are still available in the summer — plus many more warm weather-specific wonders that you have to see to believe. Here are seven of the most spectacular sights and experiences Churchill offers to summer adventurers.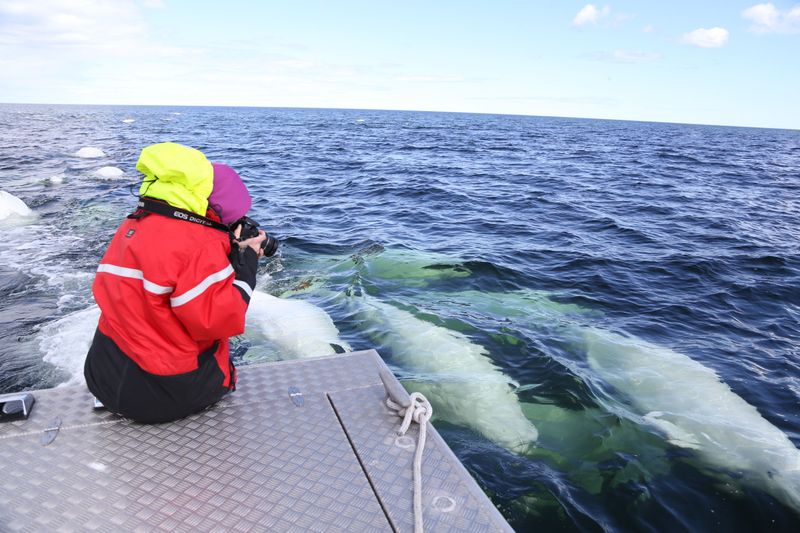 Thousands of beluga whales flood Hudson Bay in the summer months. Photo by: Lazy Bear Expeditions
1. Migrating Belugas
Not just a haven for polar bears, Churchill is also a summer home to as many as 60,000 migrating beluga whales. The area offers a rare opportunity to see these beautiful, talkative sea mammals in their natural habitat. Of course, it's important to respect that habitat, which is why we'd recommend an experience like Lazy Bear Expeditions' Beluga Whale Dream Tour. Rendezvous with these "sea canaries" via jet boat as they feed on schools of fish. If you want to be even closer to the action, consider paddling alongside them in a kayak or AquaGlider. Since an AquaGlider is essentially just a large surfboard, this option is only recommended for those who wouldn't balk at having whales poke their heads out of the water to take a peek at them.
2. Polar Bears Among the Wildflowers
When they say Churchill is the polar bear capital of the world, they mean it. With an estimated 1,000 bears roaming around, the odds that you'll see one are actually pretty good. But remember that polar bears are, well, bears, and that approaching them on your own isn't the safest idea.
For this reason, embarking on a Lazy Bear Expeditions safari is the best way to safely guarantee that you'll be able to get up-close-and-personal with polar bears. Their Ultimate Arctic Summer Adventure is probably the best opportunity you'll have to get close to these majestic creatures, who can be spotted swimming in Hudson Bay and lounging in wildflower-filled fields in the summer months. Lazy Bear guides will take you to a remote viewing area on the west side of the Bay. Depending on the wildlife and weather conditions, you might even be able to disembark from the boat and walk where polar bears roam.
The windswept shores of Hudson Bay. Photo by: Renato Granieri, Courtesy Lazy Bear Expeditions
3. An Untamed Part of the World
Accessible only by air and rail, Churchill is remote in the truest sense of the word. Though it's tucked away on the northeastern edge of Manitoba on the shores of Hudson Bay, don't mistake its solitude for a lack of excitement. Churchill's remoteness gives it a sense of wonder that you can't get from a big city, as well as a different level of access to nature. If you're not sure where to start, the Lazy Bear Lodge offers a range of expeditions for all ages and interests.
4. A Jail for Polar Bears
On paper, "polar bear jail" sounds like a recycled joke from an old Hanna-Barbera cartoon, but the unique Churchill landmark is actually a key component of the town's commitment to keeping the bear population safe. A conservation effort in the truest sense, the jail was opened in a converted (and closed) aircraft hangar that's since been retrofitted with almost 30 cells. It was created in an effort to prevent hungry bears from venturing into town, for the protection of both humans and the bears themselves.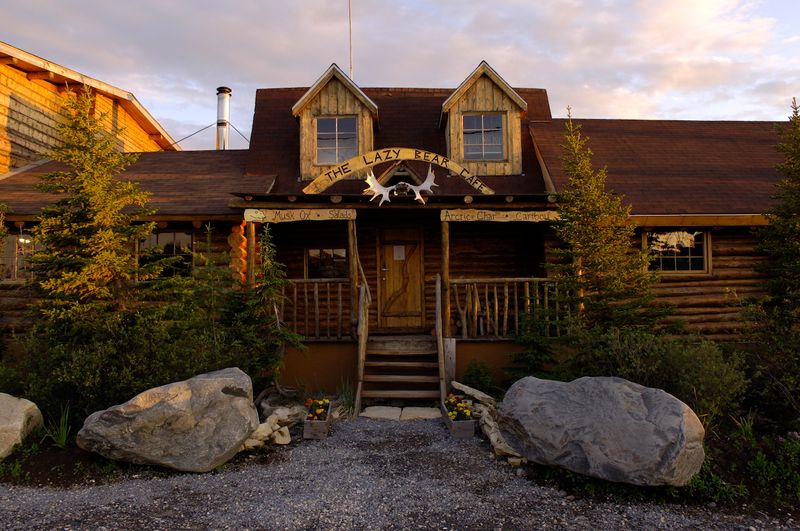 The cozy Lazy Bear Café. Photo by: Travel Manitoba
5. Early Canada's Unique History
Churchill is bursting with history. We recommend going ashore for a walking tour of the historic Prince of Wales Fort. The ruins of what was once a bustling Hudson's Bay Company fur trade fortress, this beautiful location isn't just a way to reflect on the past, but also a great site to see passing beluga whales.
6. Summer's Spectacular Wildlife Migration
If you can believe it, belugas and bears are far from the only beautiful species you can see in Churchill. The town is a haven for bird-watching, with hundreds of species passing through when migrating and countless others calling the tundra their home year-round. From falcons and snow owls to the ultra-rare Ross's Gull, Churchill should be on the bucket list of every amateur ornithologist (of course, professionals are more than welcome, too). If birds aren't your thing, that's okay: Churchill is also a habitat for Arctic Sik Siks, foxes, hares and seals.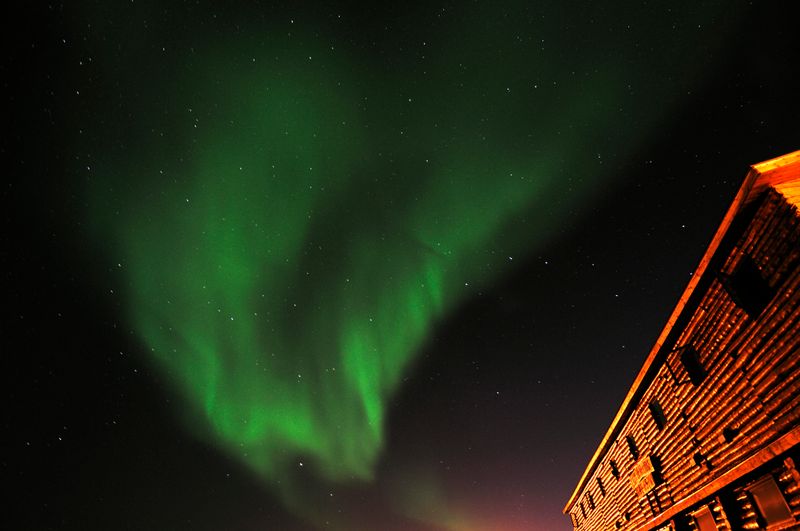 The shimmering northern lights above Lazy Bear Lodge. Photo by: Lazy Bear Expeditions
7. Northern Lights in Summer
We think of the northern lights as a winter tradition, and for the most part, that's true. But Churchill's aforementioned remoteness and resulting lack of light pollution throws that notion to the wind. The aurora borealis is actually visible here up to 300 days a year. Churchill sits directly beneath the aurora oval, so when conditions are right, you can see the lights dance.
Arctic tourism is on the rise, and Churchill is one of the best places in Northern Canada to see why. More than just a novelty, the town's rich history, culture and wildlife uniquely position it to be a once-in-a-lifetime visit. With the right guide, a trip to Churchill is a sustainable and breathtaking experience you won't soon forget.