After suffering through a long winter, Canadians love to get outside and soak up the sun during the all-too short summer. We also like good company and good music, and we know a good party when we see one. It's no surprise then that there's a rockin' summer music festival circuit in Canada's most populous province, Ontario. Whether you love country or you're hardcore into rock, Ontario's diverse festival scene has something for everyone. From Toronto to Ottawa, from Barrie to Sudbury and everywhere in between, 1 of these 8 summer festivals is sure to get you on your feet.
8. Palmer Rapids Twin Music Festival
Thirty-five years ago, on the banks of the Madawaska River in a place called Beachburg, a music festival was born. Originally an homage to that folksy genre great, bluegrass, the Palmer Rapids Twin Music Festival has evolved into a 4-day, 2-stage event. On one stage, Canadian country musicians take the spotlight. On the other, the down-home twang of bluegrass bands will have you clapping and stomping your feet. Inducted into the Ottawa Valley Hall of Fame, the music festival has attracted Canadian greats and international artists alike; the 2015 edition of this tradition features the comedy of Bowser & Blue, along with Albertan country singer Bobby Wills, American bluegrass bands and a host of local talent. Some people might turn up their nose at folk music in an out-of-the-way location, but if you like good tunes, good company and enjoying the best of Ontario's summer, there ain't no better place.
7. North by Northeast
You've heard of South by Southwest (SXSW), now get ready to be rocked by North by Northeast (NXNE). More than just a music festival, this Toronto event is now in its 21st year. Taking over various venues in the downtown core of Ontario's capital, NXNE hosts showcases, panels, film screenings, art installations and much more over the course of 5 days each June. The 2015 line-up boasts rapper Tink and perennial Canadian indie favorites The New Pornographers amid a mix of up-and-coming talent and local artists. The festival also plays host to a comics fair featuring the work of Toronto artists and a number of screenings for select films, often with a focus on music—such as Amy, the heartbreaking documentary about British singer Amy Winehouse, in its Canadian debut—and presentations by people like Louis Black, co-founder of SXSW. Time to give the Northeast its due!
6. All-Canadian Jazz Festival
Prepare to snap your fingers and tap your toes as you bob your head to the infectious, horn-filled rhythms and sultry sounds of jazz in scenic Port Hope. Located on the shores of Lake Ontario, savor the last few days of the short Canadian summer on September 11, 12 and 13. Now in its 14th year, the All-Canadian Jazz Festival celebrates the Canadian jazz scene, connecting fans and a select list of Canadian jazz musicians, such as the Brownman Electryc Trio and Elizabeth Shepherd. While other festivals have moved away from their roots and added artists spanning genres, the All-Canadian Jazz Festival is exactly what it advertises, staying the course to bring you the best of the best. The Canadian jazz scene might be small (and under-appreciated), but the talent is mighty. The intimate, small-town Ontario setting of Port Hope serves as the perfect venue for showcasing Canadiana.
5. Veld
Long weekends are made for partying and the organizers behind the Veld Music Festival in Toronto knew that when they picked their dates. On the Civic Holiday long weekend, Downsview Park will host some of the biggest names in electronic dance music; Deadmau5, Kaskade and Hardwell, just to name a few. Even though the festival's only in its 3rd year, it has quickly established itself as a staple of the Toronto summer music scene. The festival grew in 2014, and future editions are likely to attract even more star DJs, which gives Ontarions another great alternative to international festivals like Coachella and Ultra—and provides an alternative for anyone who has to miss Digital Dreams in June. Festivals like Veld show that Canada is a world-class venue for world-class talent—and that Toronto can party just as hard as LA, Miami and countless other major cities around the world.
4. Boots and Hearts
A lot of music festival goers will tell you that the circuit seems to have been taken over by large-scale EDM festivals, and Ontario is no exception to that trend. Enter Boots and Hearts, the remedy to DJ-overload. Now a staple in Barrie, north of Toronto, Boots and Hearts features performances by today's hottest country stars. With more than 30 acts performing over 4 days, country fans don't want to miss this! Since 2012, the festival has played host to stars like Tim McGraw and Carrie Underwood and shows no signs of slowing down. For 2015, the festival welcomes Brad Paisley, a host of new acts and old favorites. The festival is more low-key than some of the high-energy EDM parties, but the laid-back atmosphere fits perfectly with the soundtrack. If camping, cracking a cold one and kicking back sounds like your ideal weekend, this is the place for you.
3. Ottawa Bluesfest
Not much can match the sound of the blues, with foot-tapping rhythms and smoky crooning. That's why in July 1994 Bluesfest took place in Canada's capital city, Ottawa. Every year since then, blues lovers have descended on the city's downtown, with growing crowds helping make Bluesfest the largest blues festival in Canada and the second-largest in North America—more than 300,000 people attended the two-week, multi-stage festival in 2014. Despite shifting away from its blues roots to embrace the tradition of festivals like Bonnaroo and Coachella, Bluesfest is still going strong 21 years after its inception. This year, downtown Ottawa's premier music festival welcomes international artists like Iggy Azalea and Kanye West, classic rock acts Deep Purple and Canned Heat, Canuck bands the Tragically Hip and Marianas Trench, and many, many more artists representing just about every genre under the sun! Bluesfest remains the number one summer jam in Ottawa.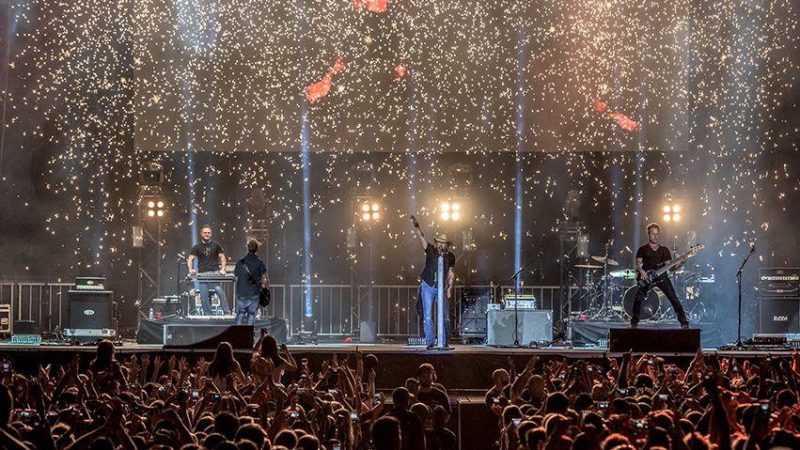 2. Digital Dreams
Yes, another festival for the EDM crowd. Digital Dreams, much like Veld, attracts some of today's hottest DJs to the heart of downtown Toronto for 2 days of partying. Billing itself as Canada's largest EDM party, the 2013 edition attracted 60,000 music fans on Canada Day weekend and the event has only grown since then. Past years have seen performances by DJs such as Tiesto, and 2015's line-up includes Martin Garrix, ZEDD and Deorro—and many more. The Molson Canadian Amphitheatre, near Echo Beach on the Toronto waterfront, serves as the venue for this festival. Although some people ask which is better—Digital Dreams or Veld—the truth is that EDM fans will want to hit both of these festivals.
1. Hillside
Over 30 years, Hillside Festival has become something of a legend among festival-goers. Though the festival has expanded over the years to include other aspects of art and culture—such as food and local artisans—Hillside remains primarily a music festival. Focusing on musicians and singers, Hillside has a folksy, down-to-earth vibe, but isn't afraid to experiment and innovate. The atmosphere is welcoming for people of all ages, whether you're looking for a day-trip with the kids or spending the whole weekend camping in Guelph Lake Conservation Area with your besties, and there's plenty of activities to participate in. Past festivals have included performances from Tegan and Sara and Hollerado, and the 2015 line-up includes the reunited Constantines as well as Michael Franti and Spearhead. Let the music form the soundtrack of your weekend and between performances, listen to spoken word poetry, participate in a workshop and sample some fare from the international food bazaar.