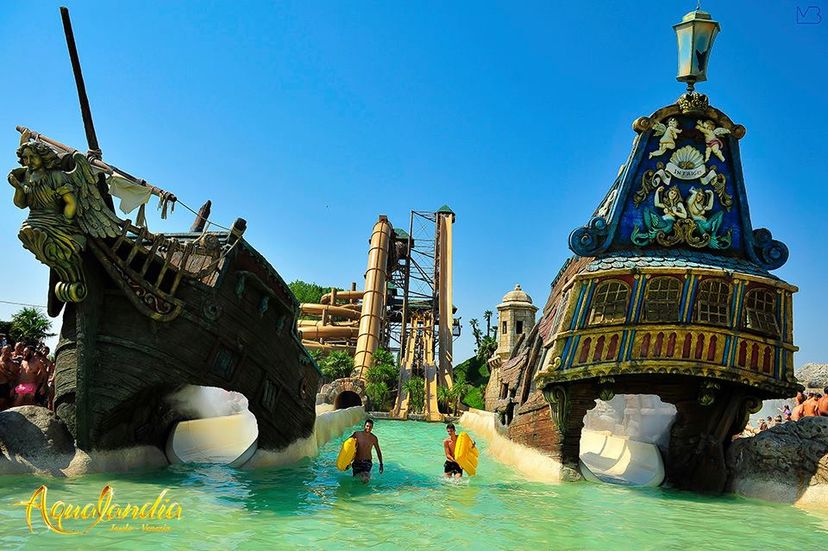 While Europe may be better known for rich history, numerous landmarks and noteworthy food and drink, there are other, slightly more slippery attractions to lure the tourists. So if you're touring Europe this summer, and care to stop off for a sliding, splashing good time, here are some of Europe's best waterparks.
8. Siam Park, Spain
This huge waterpark located in Adeje, in the Tenerife region of the Canary Islands. Siam Park has  a Thai flavor, complete with dragon-themed rides, a children's splash park called "Sawasdee" (Thai for 'welcome'), a "Lost City" water fortress, Mai Thai Lazy River and a raft ride that simulates being in an erupting volcano. There are a couple of highlights: they claim that their wave pool spins the biggest wave in the world, reaching 3 meters high, providing opportunity for surfing and wave riding. The Tower of Power, a high-speed waterslide jets out over an 85-foot drop that includes a ride in a tube through an aquarium that is home to a variety of marine life- including sharks.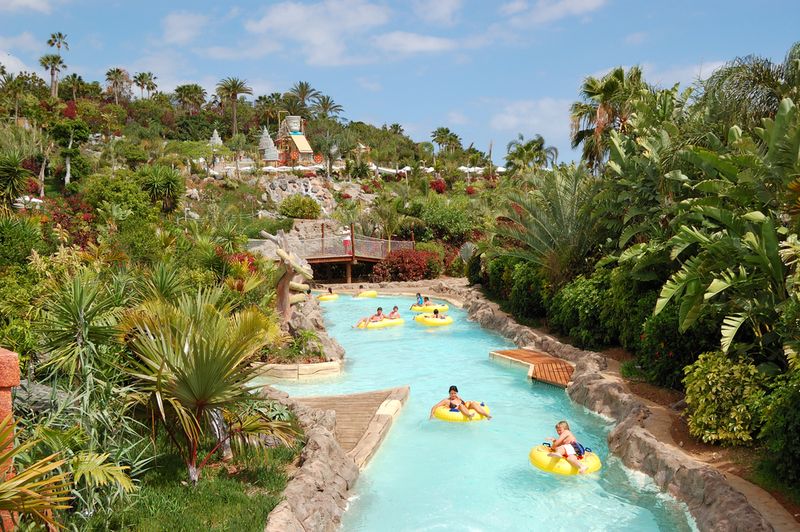 7. Costa Caribe Aquatic Park, Spain
Located about an hour from Barcelona, this park spans about 50,000 square meters, and is lush with nearly 4,300 tropical plants that landscape the area. There is a Caribbean vibe, with palm trees, grass huts and Reggae music. You can race your friends down a multi-laned water toboggan on the Rapid River. Kids (big and small) will have fun living out pirate adventures on the Pirate Galleon, with water cannons and abundant slides. Anchoring the park is the Bermuda Triangle (the wave pool).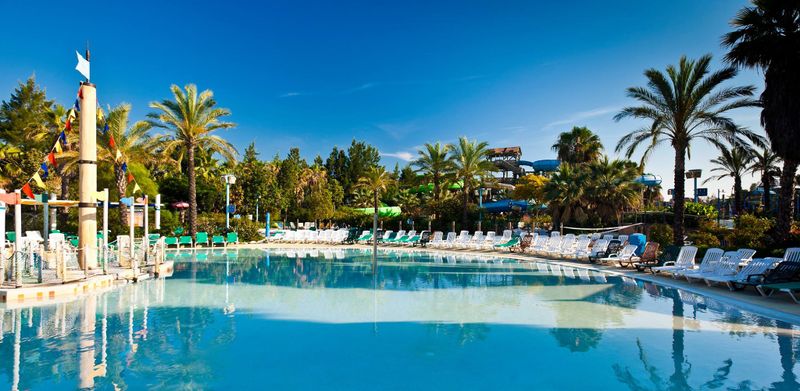 6. Aquapalace, Prague
This indoor waterpark combines a "waterworld" as well as sauna, fitness and spa facilities. It is known as the biggest aquapark in Central Europe. Three steep water slides, children's wading pool, as well as a number of other twisty-turny rides provide all kinds of year-round water fun. There is also an outdoor component, with the "wild river" that connects through a large outdoor pool complex.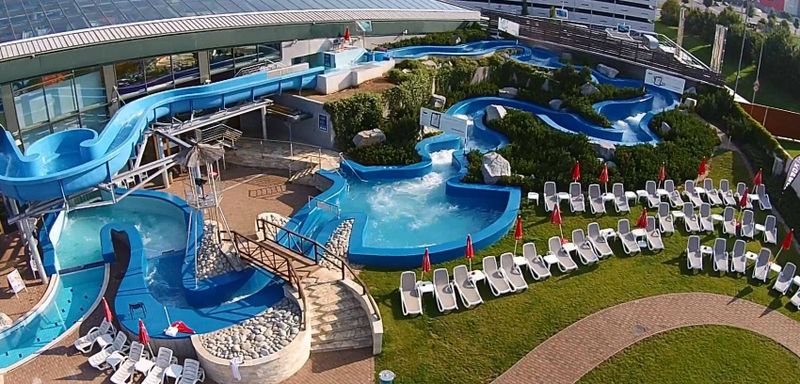 5. Aquapark Biscarrosse, France
Located outdoors on Lac Biscarrose in Port Maguide, France, this fun-filled, inflatable aquatic adventure is open seasonally, from June through September. Attractions include huge inflatable slides, jumping pillows, obstacle courses, water trampolines, and balancing challenges, climbing walls and aquatic body zorbs. Recently, they've even opened a giant catapult, which flings guests through the air, landing in the lake below.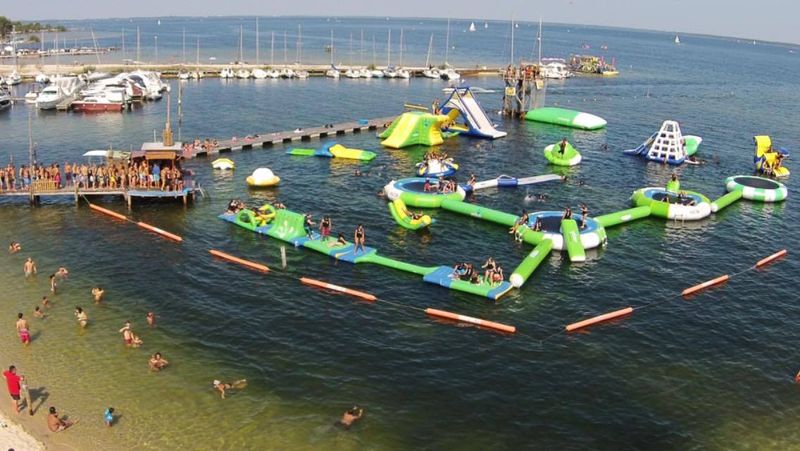 4. Serena Waterpark, Finland
This indoor/outdoor waterpark is the largest in Scandinavia. Indoors, guests can try their hand at the whirling Tornado ride, which circles them around the bowl before dropping through a chute to the pool below- and you can compete with your friends as to who completes the most laps. There are also several other slides of varying lengths, heights and pitch, offering a lot of variety, according to your thrill level. There is also a ski jump (this park is adjacent to a ski hill, after all) that lets you ride straight into the pool. Outside, again with the ski/snowboard theme, is the half-pipe, which lets riders swish side-to-side along a wide open halfpipe. For the truly daring there is the free fall- which is exactly as it sounds- a nearly vertical free fall down a swiftly moving slides.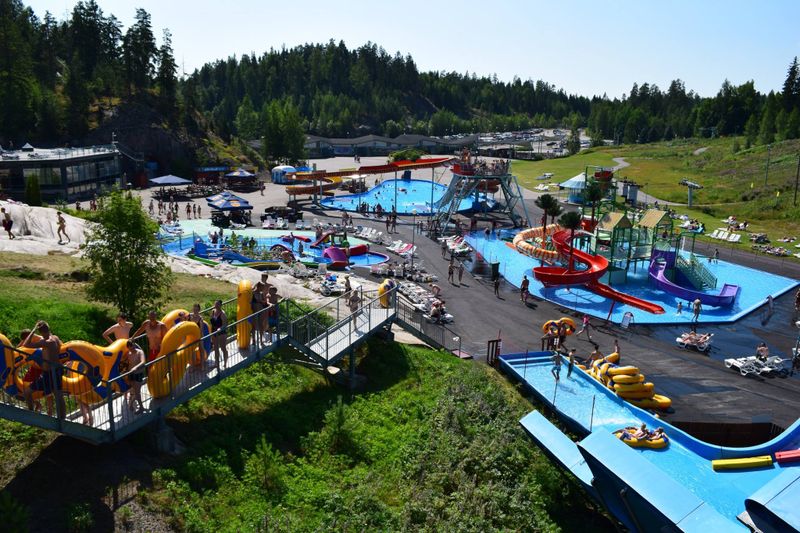 3. Fasouri Watermania, Cyprus
Designed with a Polynesian theme, this laid-back waterpark has a wide variety of family friendly attractions, making it appealing to those with younger kids. Some highlights include paddle boats, baby bungee swings (which is a cool water play experience for kids up to three years old) and a Tarzan swing that lets you gather speed and then swing yourself out across the water, letting go for a big splash. There are your traditional waterslides, that let rider pit themselves against rider in a toboggan race to the bottom, and shriek-worthy raft rides. Guests can pretend they are human cannonballs, letting themselves be propelled through the air by 1000 liters of water a minute on the Black Cannons. You can try your balancing skill climbing to the top of "Wet Bubble, Big Orange", using a rope, which is easier than it looks.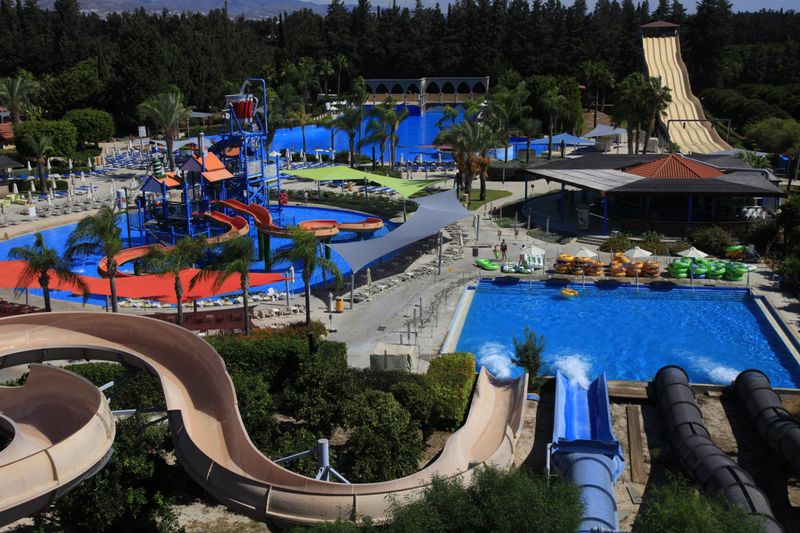 2. Aqualandia, Italy
This park promotes itself as "a Caribbean isle, just a few steps from Venice". In addition to a wide selection of waterslides, Aqualandia offers Latin Dance lessons, a watergym, water spinning and aquatic entertainment. The architecture is done in homage to the Caribbean influences seen in Key West, Florida, beginning with the entrance, fashioned after Port Hemingway. Highlights from this park include the only wave pool in the world with a sandy bottom and a sandy beach. Riders can pitch themselves in rafts down a 60 degree slope on Captain Spacemaker. There are numerous steep and swift slides to choose from. There is also a Mayan-inspired pyramid, through which riders can race their friends on the Apocalypse. Other attractions include bungee jumping and rock climbing.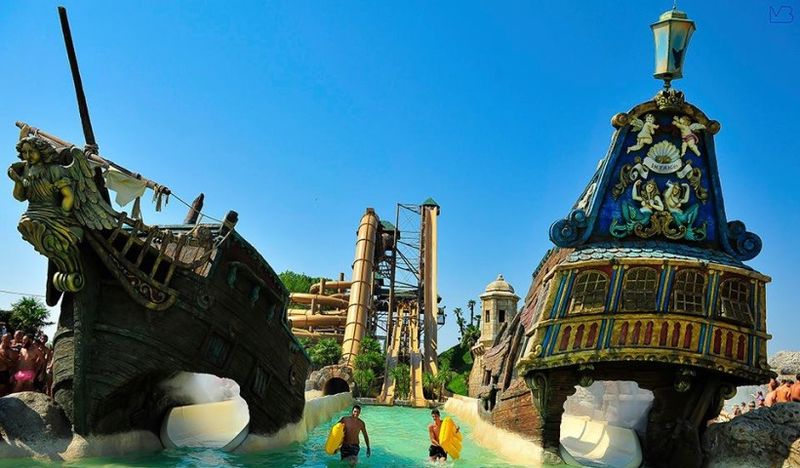 1. Tropical Islands, Germany
This huge entertainment complex, located in Brandenburg, Germany, houses a tropical rainforest, stage shows and mini-golf in addition to a sizable waterpark. Love a day at the beach, but concerned about the weather? The Tropical Sea is the size of three Olympic swimming pools and has a sandy beach (which they say is the largest indoor beach in the world). The air is maintained at 28 degrees Celsius, which means a perfect beach day, every day. A lagoon with waterfalls, lush vegetation, and a network of water slides make for an interesting swimming locale. Waterslide towers throughout offer a series of tube waterslides of varying lengths and speeds, upping the thrill factor for ride enthusiasts.