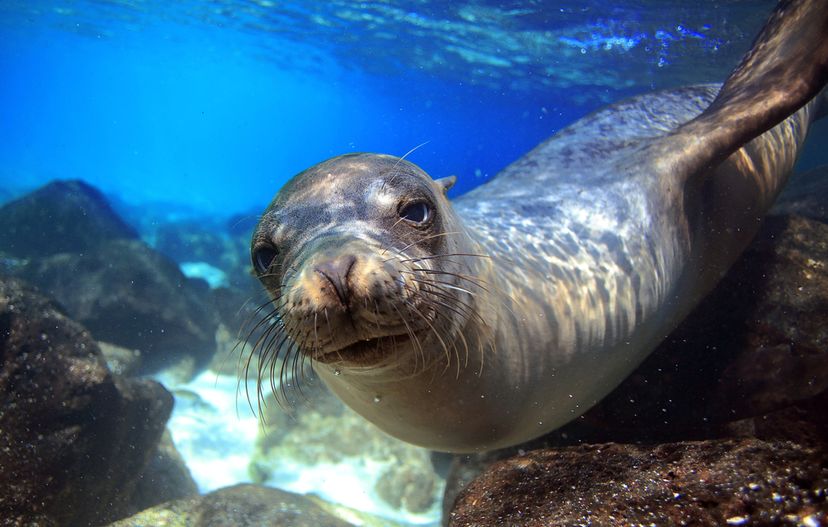 Vacationing in the Galapagos Islands is a dream shared by countless outdoor adventurers and wildlife enthusiasts. Like any vacation, a trip to this Darwinian dreamscape can be planned on a fairly limited budget, after all the biggest attractions are naturally occurring and available to anyone with a little ambition and a good pair of shoes. There are even beachfront areas allowing camping with park permission which can take the heat off your wallet. One of the most promising items to pack is a decent snorkel and mask–snorkeling opportunities abound.
8. Bird Watch at Las Tijeritas
Las Tijeritas is one of the best places for bird watching in the Galapagos Islands and within walking distance of Port Baquerizo Moreno, the former home of a fishing community named La Predial and in operation between 1952 through 1960. Approach to Las Tijeritas is via the main avenue leading to Playa Mann. There's a 5.6 kilometer hike here–easily done without a guide–which showcases some of the fantastic outdoor island scenery. The loop varies in elevation and there's a great cove on route to enjoy some snorkeling and cool off from hiking in the hot sun. The cove is home to several species commonly found in the Galapagos Islands including sea lions, a wide variety of birds, and turtles. The main attractions is the Frigate bird colony; this is one of the only island spots you'll witness two nesting colonies in the same place.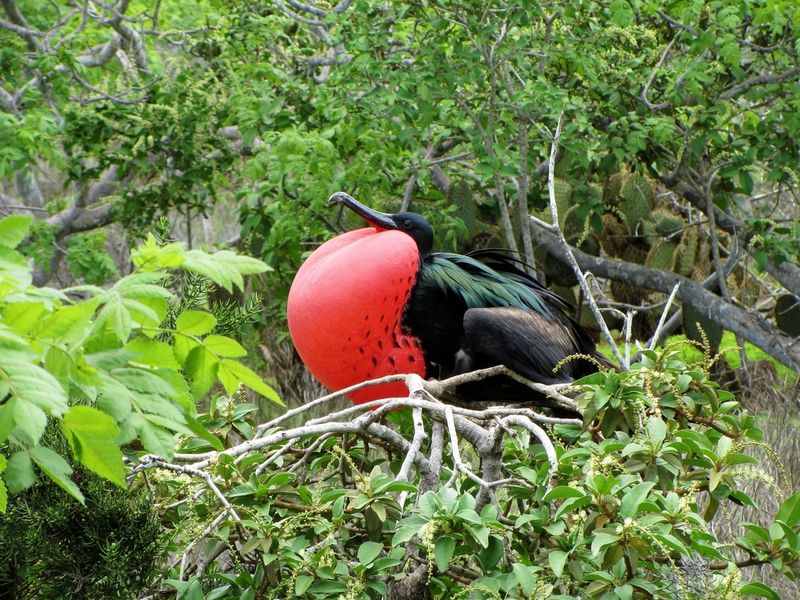 7. Visit Jacinto Gordillo Giant Tortoise Breeding Center
The Jacinto Gordillo Giant Tortoise Breeding Center on Isabela Island is the perfect place to spend a morning or afternoon in the company of the monstrous turtles the Galapagos Islands have become famous for. The onsite museum is a well-planned education center where visitors can learn about the mating process and also see baby tortoises. To get there, walk through the wetlands of the town, which is an interesting experience in itself. The route winds through the wetlands, passing pink flamingos and sunbathing iguanas, some quite large in size. The tortoise center is located in a thick, lush forest, a natural habitat of the giant animals. Jacinto Gordilla's mission began following a severe decline of the giant tortoise population; the center allows turtles to live in a natural habitat cordoned off for protection from predators.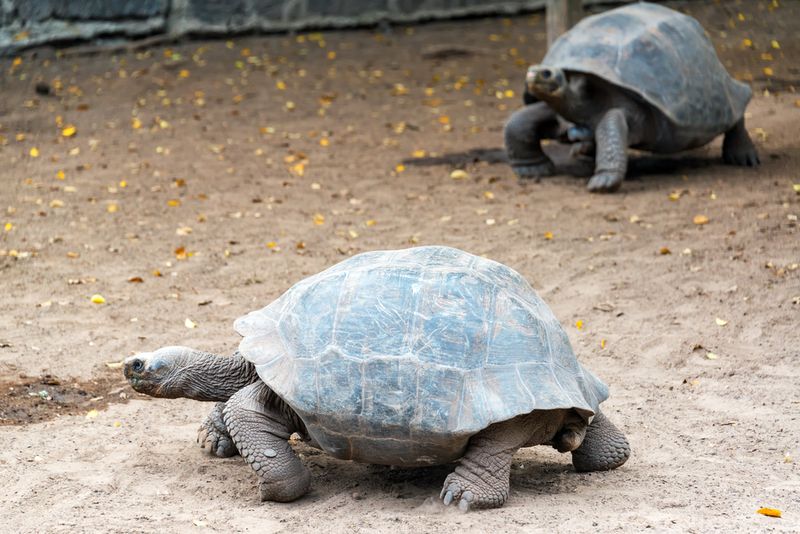 6. Hike Volcan Sierra Negra
Isabela Island's five volcanoes are big attractions, with Sierra Negra the most popular one for hiking. Aside from Yellowstone, Sierra Negra is the biggest volcano with a cauldron-shaped top which is a natural feature (usually created by collapsing earth) fittingly called a caldera. Sierra Negra, (a shield volcano rupturing every three to six years) is largely flat and reminiscent of a knight's shield laid horizontally on the ground. The volcanic eruptions aren't film-worthy explosions blasting piping hot lava from the top but more ash and gas ejecting at a steady pace. For some, its anticlimactic.  Almost 100 fern species and the 16-foot candelabra cactus are just two of hundreds of fascinating plants growing across the volcano. Expect the hike to last around two hours and involve some strenuous exercise over a gradual but persistent incline; then prepare for some gorgeous, 360-degree island vistas.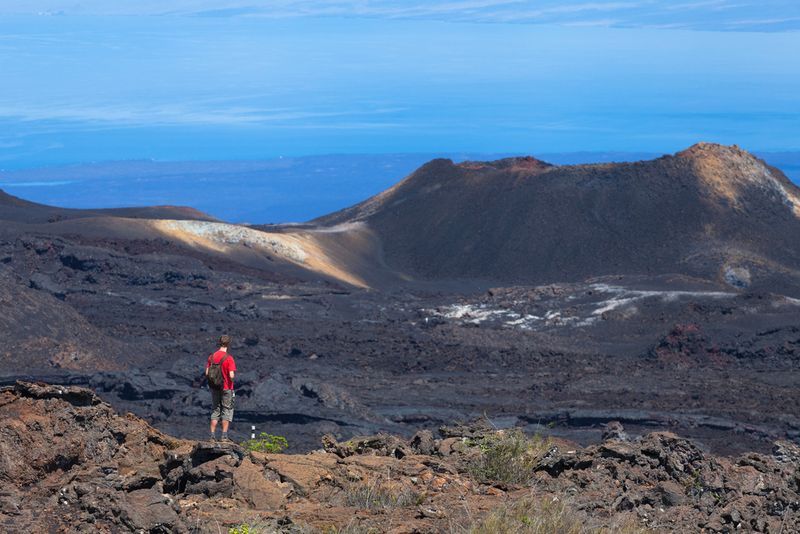 5. Spot Sharks at Night in Puerto Chino
Located on the southeast side of San Cristobal Island where land starts to careen northward, Puerto Chino is a small port town and home to a small and quiet beach where, with permission from national park officials, visitors can camp overnight. A bit of a trek from the main town of Puerto Baquerizo Moreno, the long walk is still worth the effort of getting there. The beach itself is stunning though many skip the sunbathing, swimming, and snorkeling and come instead around sunset to crowd around the ship ports where sharks congregate at night. If night-time shark viewing sounds interesting, this is one of the best places to do it. The lights shining along the port for the arriving and departing ships can attract dozens of sharks to the water's edge where you'll get excellent views of the majestic mammals.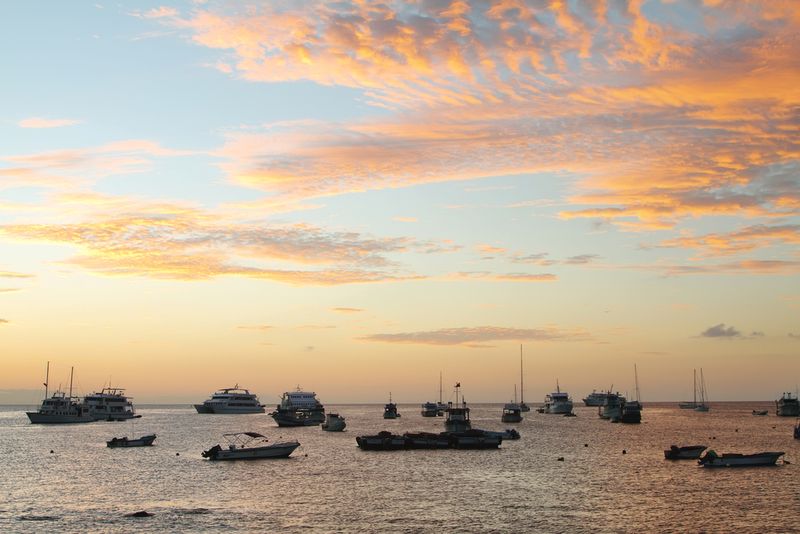 4. Explore Puerto Villamil
Remote Isabela Island is home to less than 3,000 people, most who live in this small, peaceful, and interesting town. Tourism has increased but at a fairly slow pace. Traditionally a fishing and agricultural town, the harbor is a busy spot and a great place to people-watch. The town's resident's are friendly and the atmosphere quite enchanting. It's a great place to chill with the locals, explore small shops and eateries, and enjoy an easy walking tour. To the southwest of town is a long boardwalk constructed by the park which carves through a mangrove forest dotted with saltwater lagoons home to pintails, common stilts, flamingos, and other birds combing the mud in search of saltwater brine. The boardwalk ends at the Tortoise Breeding Center. There's also a great beach nearby and good shark viewing in the channels between a series of small islets southeast of town.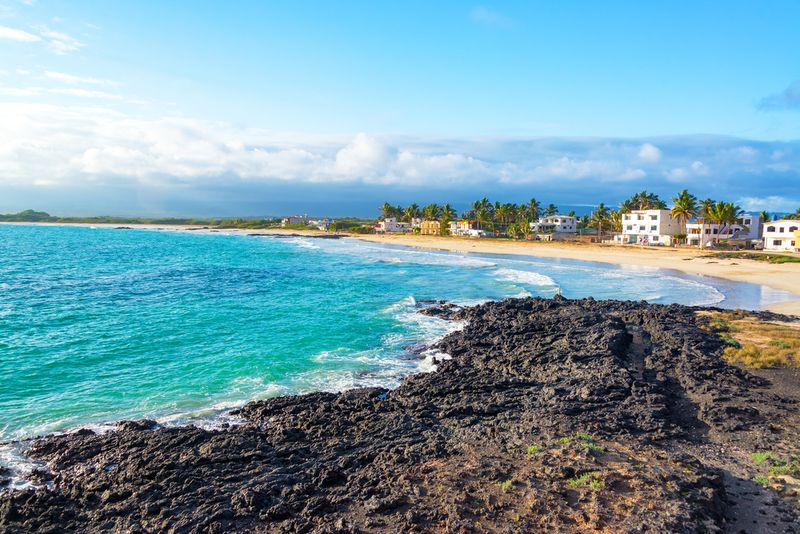 3. Cliff Jump at Las Grietas
Las Grietas, meaning crevice in Spanish, is a popular spot for cliff jumping on Santa Cruz Island. The rocky, escarpment is accessible via a hike featuring scenic lava rocks and salt water lagoons and requires solid shoes with good grip. The fjords of Las Grietas extend from Estrada Point to Academy End. Between the crevice is a body of water that is a mix of rain and sea water, a few kilometers deep, and comprising a one-of-a-kind ecosystem. The hiking is fairly easy but increases in difficulty when it comes time to descend a steep and rocky staircase onto a section naturally made of rocks–a slow and steady climb is key here. The cliffs can become really crowded with tourists so try to make your way over earlier in the day rather than later. Take a snorkel and enjoy some magnificent underwater views.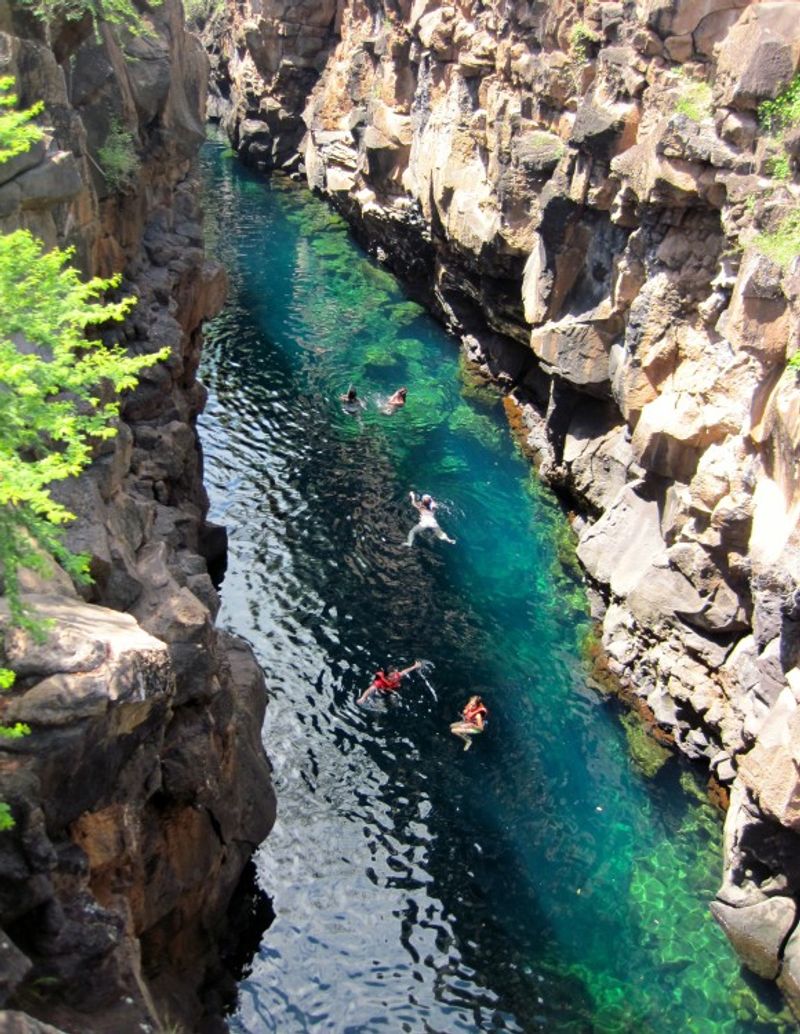 2. Sunbathe on Playa Mann
Centrally located and convenient to many places throughout San Cristobal Island, Playa Mann is on San Cristobal Island, the most easterly of the Galapagos Islands. San Cristobal is just ten minutes from Puerto Baquerizo, the island's capital, and a good place to use as a base for exploring. Though not quite as developed for tourism as some of the other island towns, tourism, along with fishing, are the main industries. Across the way from the University San Francisco‑Gaiás, Playa Mann's biggest attractions is the unfolding scene of lazy, lounging sea lions coming shore for a break and lounging along the beach and rock formations in the shallower waters. Exceptionally clear water and white sand are also stars of this waterfront backdrop and with such clear water, snorkeling is ideal. Fishing, diving, and surfing are also possibilities but require renting equipment.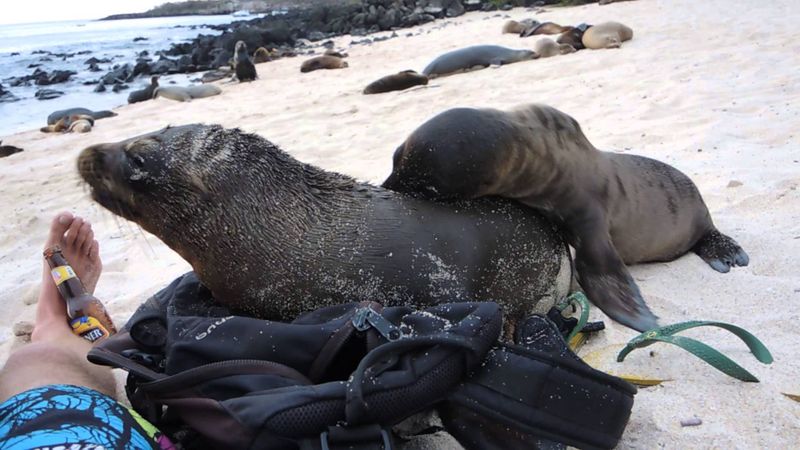 1. Watch Sea Lions at La Loberia
Exceptionally playful sea lions are all around the Galapagos Islands. Healthy in population, they can be seen in great numbers at a large majority of oceanfront areas, especially beaches with rocky outcrops providing ideal spots for these sunbathing beauties. You might go for the sea lions but what you'll find is a scenic crescent bay on San Cristobal Island and fantastic snorkeling. Roughly a forty minute walk from Puerto Baquerizo Moreno, this is another stunning island beach with a pristine backdrop and a perfect spot to wile away the day kicking back on the sand and exploring the forest fringes.  The sea lions are so accustomed to people they'll curiously swim around you in the shallows and have no problem catching a nearby nap while you snap away. Keep a lookout for yellow warblers, lava lizards, frigate birds, and immense iguanas.