In a city that's just as renowned for a round of sensuous rooftop cocktails as it is for a twinkling midnight walk around ancient ruins, Rome provides a panorama of lights, dancing, dinner, culture, history, and beautiful people all in one city. So let these nighttime delights enchant you—whatever you're up for, Rome offers the gamut of evening merriment.
1. Stroll among the Ruins
Couples will delight in a romantic walk through ancient Rome—try taking the route on Via dei Fori Imperiali south and follow the welcoming glow of the Colosseum. Or alternately, traverse down Michelangelo's steps to adjacent the Theater of Marcellus, and the ruins of the Octavian Gate. At night you'll find less tourist hustle and bustle as most of Rome's ruins are left bare and mystical without the dressings of daylight.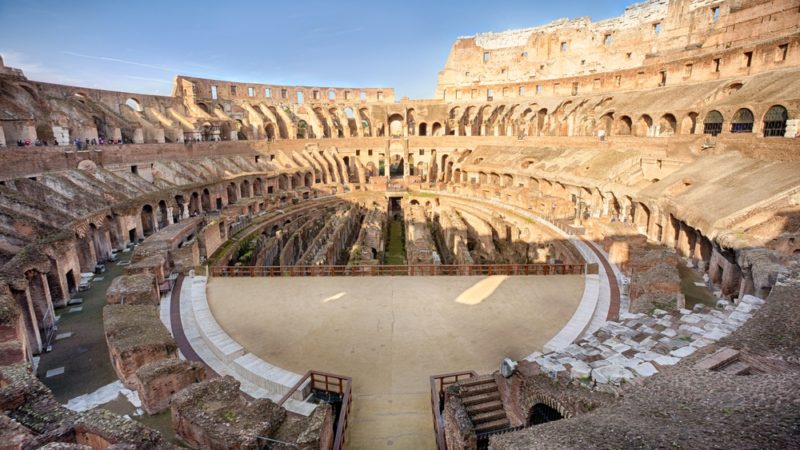 2. Shop
Luckily, if you don't get your shopping in during the day, you can take advantage of doing so on Via del Portico d'Ottavia, the Jewish Ghetto, in the comfort of nighttime temperatures. In this area, shopping traffic still thrives well into the evening hours, where you can shop until your feet ache then take a rest at the lively Fountain of the Turtles at Piazza Mattei and take inventory of your loot.
3. Take a Poetic Moment
Piazza di Spagna and its famous steps drew poets from all ages. Goethe, Joyce, Byron, Shelley and Keats all visited and pondered on the spectacular view. You never know, you might think up the next great prosaic work of our time.
4. Dive into a Movie or Concert
In August, when the temperatures soar, many Romans and tourists alike seek solace at the Ostia Lido, the nearby beach, which hosts many nighttime, outdoor plays, concerts, and festivals draped in the cooler temperatures of evening.
5. Explore the Vatican
An unforgettable nighttime exploration can be had at the Vatican Museum, where small, private groups can take advantage of an after-hours tour of galleries, drawing rooms, and the Sistine Chapel. Admission is pricey at 250-euros, but the personal guide and lack of crowds make it worth it.
6. Take in a Festival at Tiber Island
The main summer festival scene takes place on Rome's Tiber Island, starting each June and coming to a finale in September. This island, once the home of plague victims and condemned criminals—is home to the Rome Film Festival and ripe with restaurants, bars, markets, artesian handicrafts, pubs, hookah cafes, and outdoor cinema on a comfy blanket.
7. Theater at the Forum
English-speaking visitors will get a giggle out of the Miracle Players, a tongue-in-cheek theater troupe that showcases historical plays with a Monty Python-style twist starting at sunset with the Forum and the Colosseum as a brilliant backdrop.
8. Drink on a Rooftop
If money is no object and fancy cocktails are the goal of the evening, get swanky and head to the rooftop bar at Grand Hotel de la Minerve, where you can brush elbows with the beautiful people as you swill fancy drinks and overlook the nearby, night-lit Pantheon.