Prince Edward County (or "the County" as the locals call it) is one of those best kept secret destinations. The Taste Trail winds its way throughout the countryside, offering wine aficionados the chance to stop and savor the scenery and the wine at their leisure. It's vibrant food and drink scene, as well as temperate clime near the shores of Lake Ontario, provide favorable conditions for producing great wines and making this an excellent choice for foodies looking for a holiday.
8. Prince Edward County Wine Tour
Want to tour the wineries, but don't want to drive yourself so that you can sample properly at each stop? Consider joining in with an organized wine tour. Prince Edward County Wine Tours offer half and full day tours, both including pick-up and drop-off at your hotel, transportation to various wineries and the commentary of an experienced wine guide along the way. You can also combine wine tours with accommodation at select local hotels and inns.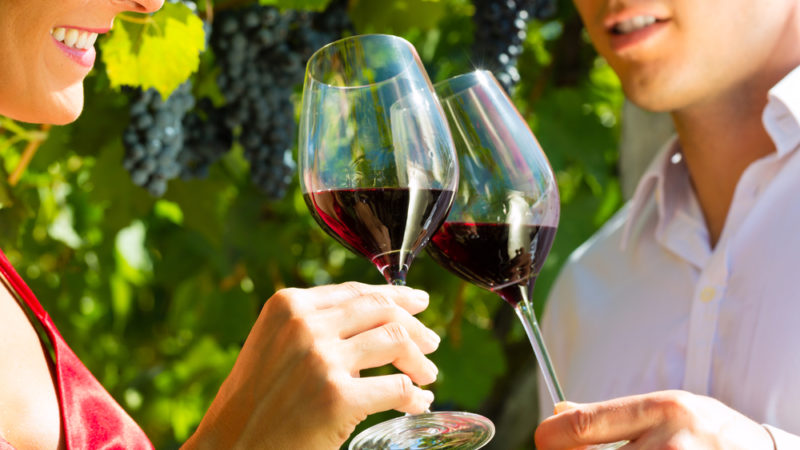 7. Sandbanks
Locals will tell you about the shallow, sandy beach that goes on for miles, and has fine sand that you'd usually see in more southern climates, but this provincial park has other claims to fame: It's home to the world's largest baymouth dune formation. With grasses and dunes lining the beach from behind, and sandbars out as far as the eye can see, one might think that they were somewhere along the Atlantic Seaboard. This is the kind of beach that beckons for a great book and blanket.
6. Hinterland Winery
The only thing better than the wine produced at this winery is the owner's absolute passion and belief in their product. Winemaking is not for the faint of heart, as it takes so many years of investing time and money before you have product to sell, and this grass roots winery has emerged as a winner. They specialize in sparkling wines- and they do it very well.
5. Claramount Inn
If admiring Victorian architecture and receiving spa treatments is your idea of a blissful vacation, then the Claramount Inn and Spa should be on your list. There is a full-service spa on site, with a heated saltwater pool. There are lots of different accommodation packages, including meals, and spa treatments. Clara's restaurant is located here as well and they specialize in local, seasonal cuisine.
4. Angeline's Inn
This Victorian "quirky inn" in the village of Bloomfield has character rooms to fit every size and budget. The smallest rooms, the Walter Economy, are located in what was originally the Coachman Inn, the first motor inn in Prince Edward County. While these rooms are decidedly no frills, they are newly renovated and crisply decorated. If your tastes are grander, there is even a 1300 sq ft log cabin for rent on their property. Angeline's is also home to one of the best (and most well known) restaurants in the area- the Hubb Eatery. They are well recognized for their "signature bites" and "chalkboard bites."
3. Norman Hardie Winery
This place combines out-of-this world wine tasting with a completely, down-to-earth tasting experience. Picture standing in the midst of the the vineyards, glass in hand with the vintner himself, pouring small tastes of wine amongst your group. You taste, you talk and then go back for more. This winery is well known for their spectacular Pinot Noir and lovely Chardonnay.
2. Huff Estates
Huff Estates produces some of the best wines in the County, and they have one of the sleekest tasting rooms. This is a place where you want to spend the afternoon, or ideally the night. This place is contemporary cool, with modernly styled rooms at the adjacent Huff Estates Inn. This is one of the only wineries in the area that offers tours of their facility itself and provides education on their process. They produce excellent Chardonnay, Pinot Gris and Pinot Noir out of this winery. There is also an impressive art gallery onsite, as well as a restaurant that serves lunch only (open during summer months).
1. The Waring House
The Waring House in Picton is part boutique hotel, part conference hotel and part cooking school. It's a bit of a cornerstone in the culinary circles of the county. This country inn runs high on charm and is a great home base for travellers looking to do the winery circuit. The Waring House is home to some of the best restaurants in the area, including Amelia's Garden and The Barley Room (where there is a great selection of craft beer on tap). This hotel offers numerous packages with their accommodations, including ones that offer the gastro-tourist classes in their famous cookery school, and wine various tour packages.