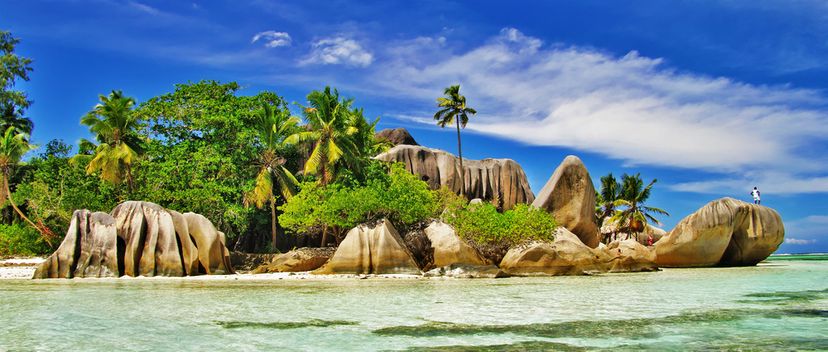 There are few more beautifully exotic destinations on the globe than Seychelles Islands. This archipelago is made up of 115 coral and granite islands and sits between 480km and 1600km off of the east coast of Africa in the Indian Ocean. First settled by the French in the 1700s, it was later claimed by the British. During the 1800s the Seychelles set up a vibrant trade settlement, with the establishment of numerous different plantations, which contributed largely to its population growth over the following century. The Seychelles were granted independence in 1976 and remain a member of the British Commonwealth. Today, it is a major draw for tourists. It is lush, tranquil and opulently beautiful, with pristine white sand beaches, unique topography set against lush tropical rainforests, and miles of turquoise waters winding through this island chain. It's also home to two UNESCO World Heritage Sites.
1. Seychelles 101
This diverse group of islands fall into two categories:  the inner islands are tall and mostly made from granite. The outer islands lie more flat, and consist of cays, reefs and atolls (an atoll is a ring or horseshoe shaped coral reef, usually with a lagoon in the center. They usually sit atop an extinct seamount or volcano). In terms of accommodations in this group of islands, only 16 of the 115 islands currently have hotels, with a wide range of choices, from luxury resorts to guest houses.  In terms of getting there (and getting around) there are a number of direct flights from Johannesburg to Mahe International Airport in Seychelles' capital, Victoria. To get between islands, there are domestic flights, charters and ferries.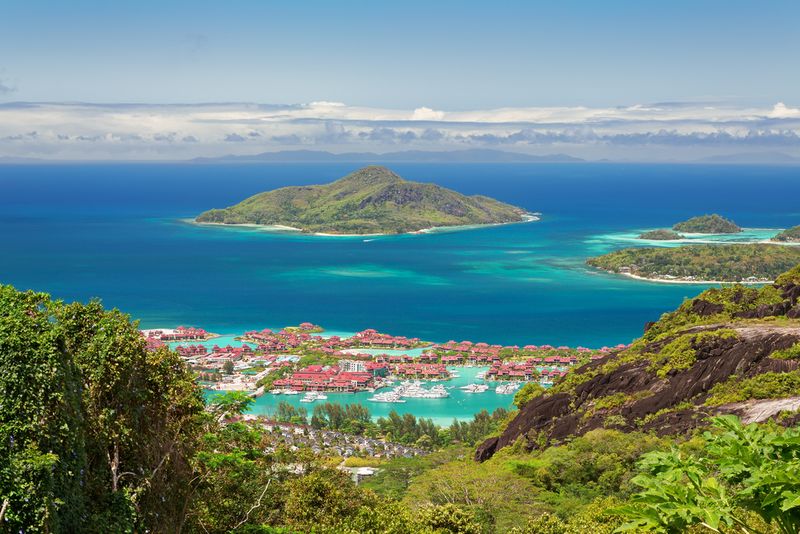 2. Mahe
Mahe is the largest inhabited island in the Seychelles. It has over 60 beaches as well as a mountainous countryside that is covered in rainforests and jungles.  Mahe is appealing because of its variety; travelers can relax on their choice of beaches or explore caves and coves, discovering bays and waterfalls. A hike up the mountainous terrain can be grueling, but will offer views that make the climb well worth the effort and then some. Kayaking and snorkeling are popular here as well. The island is populated with small towns and villages, great for wandering and exploring. There is a decidedly Creole influence on Mahe, reflected in the food, architecture and culture.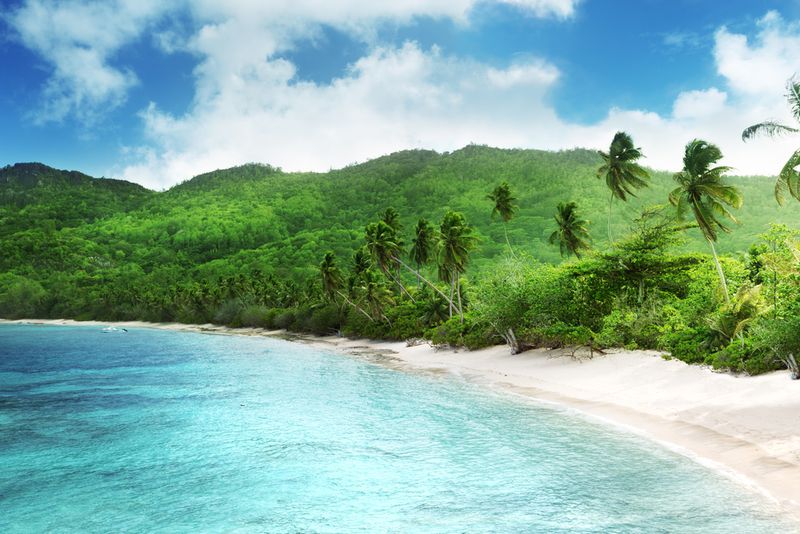 3. Morne Seychellois National Park
Morne Seychellois National Park is the jewel of the mountainous interior of Mahe, with lush vegetation and absolutely staggering views of the rest of the island and surrounding waters. This park covers a remarkable 20 percent of the entire Mahe land mass and is comprised of a wide variety of vegetation and terrain. Think mangrove forests on the coastlines that climb up through jungle covered mountains to reach the highest peak in the country. The park is only accessible through walking trails, so a hike through this lush part of the world is immersive and connective with the natural beauty that surrounds you- without distraction.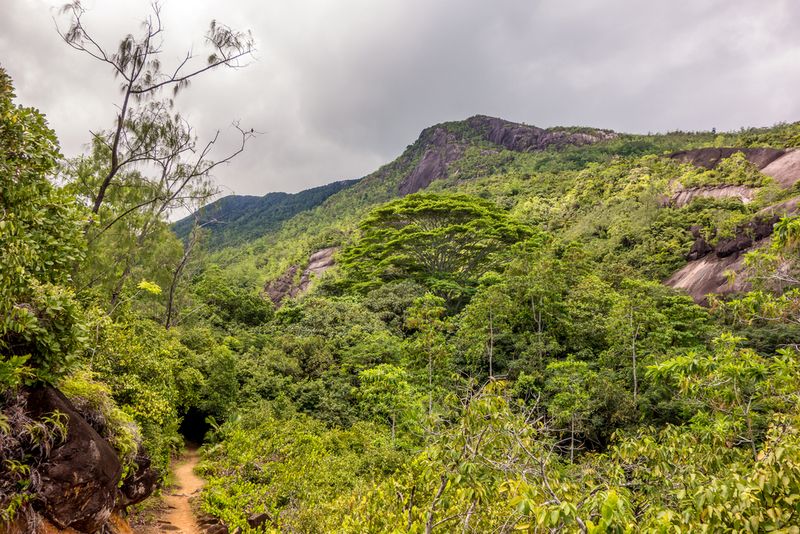 4. Praslin
Praslin is the second largest island in the Seychelles and promotes an unpretentious, chilled out vibe. Like its island neighbors, Praslin rolls with miles of forest on the interior, wrapped with miles of white sand on the coastline and has loads of beaches to choose from. Two of Praslin's beaches (Anse Lazio and Anse Georgette) are frequent members of top beach lists in the world. Golfers will want to make Praslin their island of choice, with the only 18 hole championship golf course in the Seychelles at the Constance Lemuria hotel.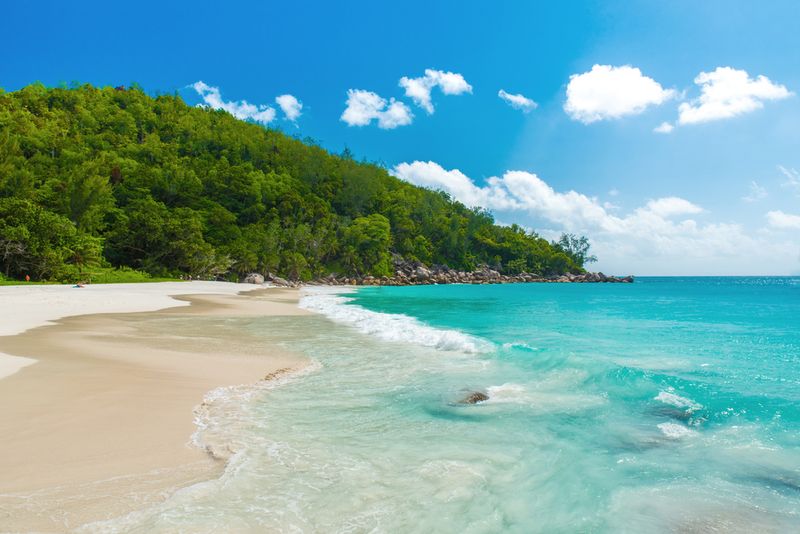 5. Vallée de Mai Nature Reserve
The story goes with the Vallée de Mai Nature Reserve on Praslin Island that the vegetation is so lush, colorful and varied that it was once seriously considered to be the original Garden of Eden. In the midst of this expansive reserve is a natural palm forest, preserved in its near original state for centuries. This palm forest is also home to the "Coco de Mer" (which is the largest seed in the plant kingdom). The Coco de Mer, which resembles a female pelvis in shape, was considered proof that this reserve was indeed the Garden of Eden by British General Gordon.  This reserve is a UNESCEO World Heritage Site.
6. La Digue
This lush paradise with coastline characterized by sandy beaches, inlets and secluded bays, set against a backdrop of rolling green hills populated with jungles and towering trees is like a snapshot from a travel brochure. It's that pretty.  This is the third largest of the Seychelles inhabited islands, but feels intimate and secluded.  There is no airport on La Digue, but is accessible by ferry and private boat. It's not far from  Mahe and Praslin, so many people either use La Digue as a home base to island hop, or come for a day trip. There are a number of hotels here to suit any budget. Cycling is the best way to see this small island, soaking in the outdoors, and enjoying the ocean breezes.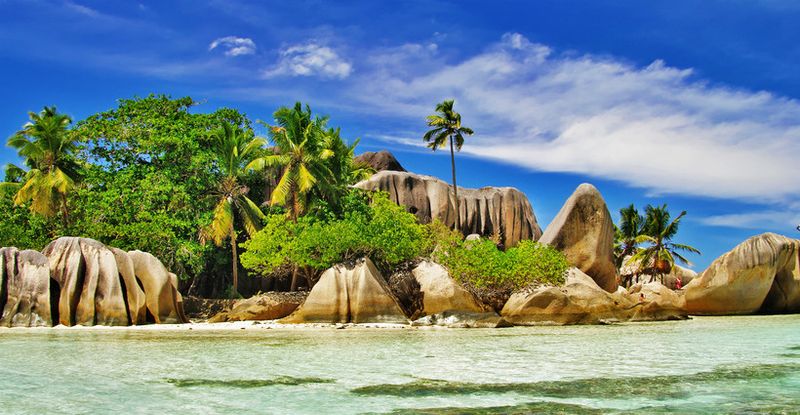 7. Anse Source D'Argent
Located on the south side of La Digue, Anse Source D'Argent is one of the Seychelles' most beautiful beaches, hands down (and that's quite a title, given the striking beauty of the dozens of Seychelle beaches). It is reportedly the most photographed beach in the world, and understandably so. It's a total reflection of what you see in your mind's eye when you picture tropical paradise, beach-style. It's not just the rolling white sands that meet up with clear turquoise water; the beach is buttressed with sculptured granite boulders that have literally been shaped by the hands of time.  As far as photo ops go, it's hard to replicate the quiet, natural beach beauty captured here.
8. Aldabra Atoll
This is another of the Seychelles UNESCO sites.  The Aldabra Atoll is the world's largest raised Coral Atoll (an atoll is a ring or horseshoe shaped coral reef, usually with a lagoon in the centre. They usually sit atop an extinct seamount or volcano). This atoll is comprised of four coral islands that encircle a lagoon. The geographic composition of this atoll has made it isolated which has removed it from human influence, which impacted its native ecosystem.  As a result, there are well over 150,000 giant tortoises inhabiting this area.