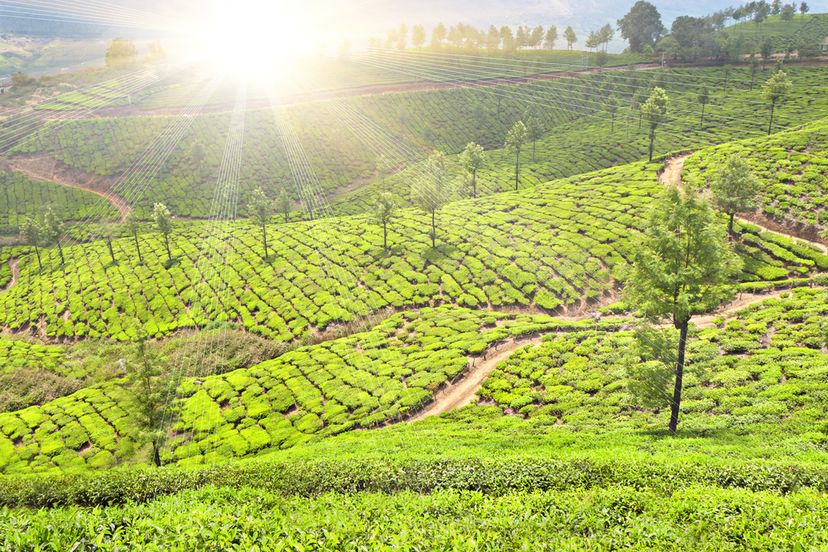 A slip of coastal area in the deepest southern reaches of India, Kerala state is shaped by gleaming, unhurried backwaters, tea and spice-covered hills, beaches, and meandering Arabian Coast. Tradition and culture is distinct, found in extravagant temple festivals, Ayurvedic philosophies, and neighborhood snake boat races. The feel is a million miles from Delhi's manic frenzy, where wild elephants roam and exotic birds fly overhead—they don't call it "God's Own Country" for nothing. Kerala eases the mind and quenches the soul, having its way with your mindset, and sends you off in dreamy disposition.
8. Periyar National Park
Periyar National Park is one, giant exhibition of Kerala's most important natural treasures. Within the Thekkady district, it is one of India's most prominent, southern-based national parks and a leading tourist destination. Open throughout the year, even through sodden monsoon season, Periyar is renowned for one of India's most treasured animals: the elephant. Here, there are languid jungle tours perfect for observing the park's rich wildlife and safaris by traditional boat across Periyar's magnificent lake. There are plenty of options for entertaining eco-activities offered onsite by knowledgeable, friendly guides.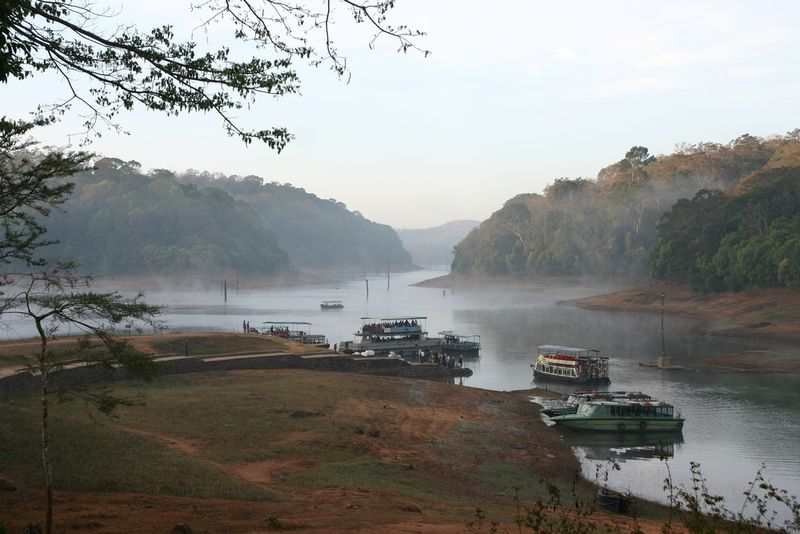 7. Yoga & Surfing Retreats
Kerala is famous as an incredibly chilled-out area and the perfect place to get your mind and body in sync. A great way to achieve balance is to look up one of the surf or yoga retreats in the area—yoga practice dates back centuries in India so why not perfect your downward dog in Kerala? Get your warrior on with Kalari yoga, practice ancient Ayurvedic methods, feel the heat with Ashtanga, or go super-chilled with Hatha. There are daily classes, lengthy courses, and several well-known resorts offering different types of yoga in Kerala. Surfing off the coast and on the waves of the Arabian Sea is a different mindset entirely and easily done in Kerala, where the uncommon pairing of surfing and yoga has become a prevailing combination and available through several Kerala-based surf + yoga retreats.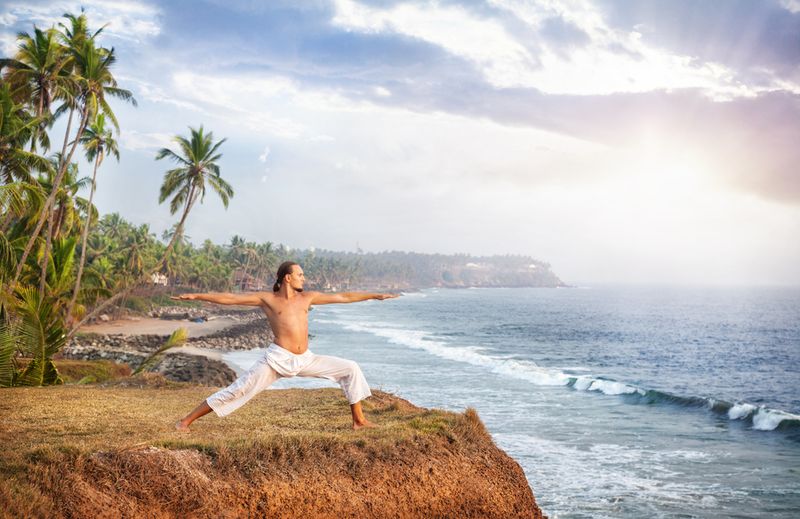 6. Vembanad Backwater
Vembanad is India's longest of lakes, and one for drifting languidly for days on end. In nearby Kochi they call it Kochi Lake and in Kuttanad it's known as Punnamada—it seems everyone wants a small piece for themselves. Vembanad is part of the dreamy backwaters raved about in this southern region—the setting is a page ripped out of an entirely different book than most of India. Vembanad is part of 900 kilometers of backwaters: myriad canals, streams, rivers and five massive lakes—both natural and manmade-are strewn with natural islands. This is a unique ecosystem rich with estuaries, lagoons, and deltas. Kerala features three distinct backwater regions: Alapuzha, Ernakulam, and Kottayam—the latter is the best-known and most impressive. Hit the helm and hire a boat for a few days to traverse the transcendent backwaters and languorous lifestyle (not to mention your own cook and navigator).
5. Mattancherry Palace
Mattancherry Palace occupies an important historical place in India's past. The palace was an offering, a gesture of goodwill from the Portuguese to the Raja of Kochin in the mid-16th century. About 100 years following, it was remodeled by the Dutch and renamed Dutch Palace. From afar, Mattancherry Palace doesn't live up to expectations of grandeur, but rest assured there are important things to see. The exceptionally preserved murals of Hindu origins depict colourful scenes from the Puranic, Ramayana, and Mahabharata legends in exquisite detail. Located in Kerala state's endearing Cochin (Kochi) City, the palace is constructed in the state's traditional architectural style called Nalukettu, featuring a central courtyard with a diminutive temple dedicated to the Kochi royal family's protective goddess Pazhayannur Bhagavati. Two temples flank the palace, one dedicated to Lord Siva, the other to Krishna. Take a tour for an insightful side trip while in Cochin.
4. Kovalam
Kovalam is the most developed resort area in Kerala and centered around three crescent-shaped beaches. Restaurants and hotels abound on Lighthouse Beach along the coast while further north, Hawa Beach is the main attraction, filled with sunbathing sightseers and local fishermen heading in and out from sea. Kovalam is a great place to take in a yoga class, unwind with an Ayurvedic treatment, try out the rising surf, and have a little waterfront fun. On the southern end, the un-missable Vizhinjam Lighthouse—a working beacon—brightens up the shore even more with its candy cane stripes and fantastic views following a steep climb skyward. Even further north, just a few kilometers down, is Samudra Beach, defined by several upscale restaurants, resorts, and a calm but abrupt beach leading to the water. Even for the many amenities, this is the quietest and most relaxing strip of Kovalam.
3. Wayanad
Wayanad is within the Western Ghats, an expansive mountain range cutting across India's west side, almost parallel to the coastline. Lush, green, and thick with lofty pinnacles, dense forests, and coconut palms, the area is scenic and positively magnetic. Adventure-seekers are drawn to the varied terrain where the Meenmutty Falls and Chembra Peak each present excellent trekking opportunities. Edakkal Caves is ideal for climbing, the ancient Jain Temples perfect for pondering, and the wildlife sanctuaries of Tholpetty and Muthanga great for spotting India's finest specimens. Homestays abound here, and there are some really fantastic ones with amazing hosts that will help navigate the far-flung forests spilling into Karnataka and Tamil Nadu where verdant rice paddies, coffee and rubber plantations, aromatic fields of ginger are just the start of an epic  and unforgettable landscape. For a gratifyingly remote and wonderfully natural, unspoiled area within Kerala, Wayanad definitely takes top prize.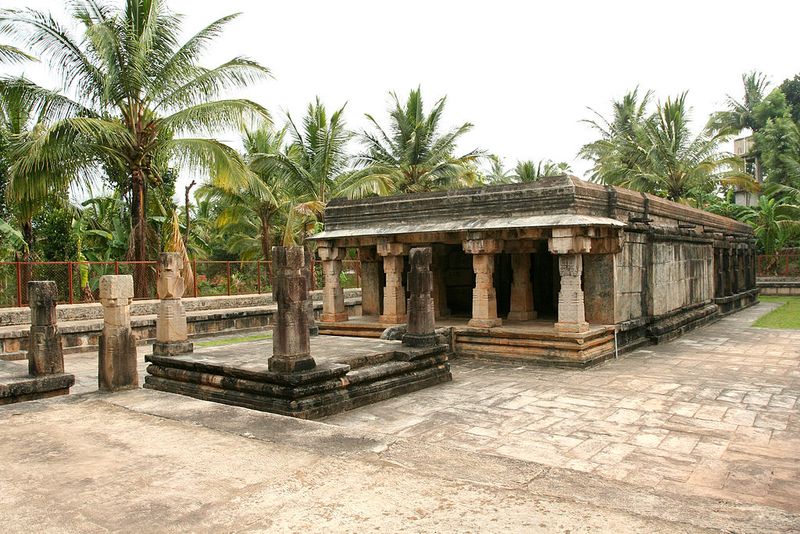 2. Munnar
Just search for a picture of Munnar and you will instantly understand its appeal—there is no brighter, more beautiful green than the colour of Munnar's tea plantations. Munnar is Kerala's finest hill station, and the greatest example of the importance of tea to the people's livelihood and India's economy overall. Munnar is at the junction of the Kundala, Mudrapuzha, and Nallathanni mountain streams perched more than 5,000 feet above sea level. Storybook towns, sweeping tea plantations, misty hilltops, and picturesque, meandering lanes are all here. Anamundi is southern India's highest peak, and a climb worth slugging through if you want some incredible views of the Munnar region. It's also a great spot for rock climbing in lower areas and paragliding across the skies.  The best area attractions include Eravikulam National Park, Mattupetty, and the Tea Museum.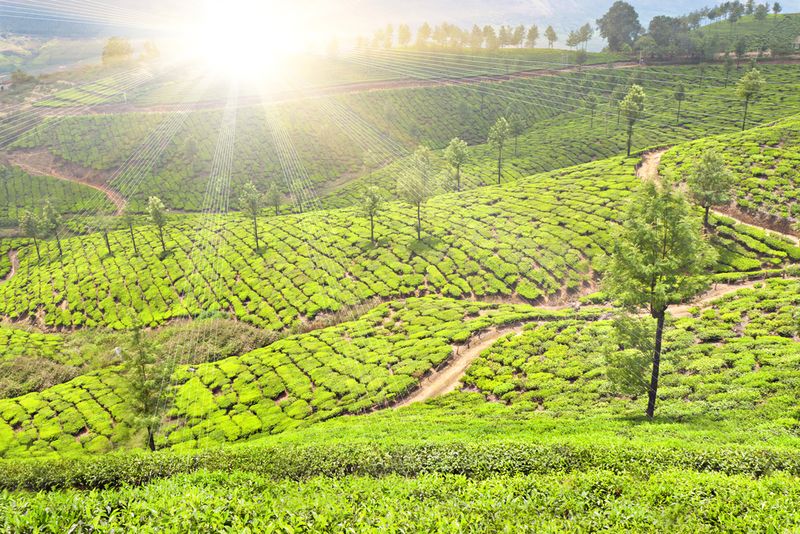 1. Kochi (Cochin City)
Kochi, Kochin, Cochin City—several epithets exist for this wonderful city in central Kerala. For more than six centuries, explorers and traders have been arriving in Kochi, a tranquil and lovely city where you'll spy a fascinating blend of sights: ancient mosques, massive Chinese fishing nets, Portuguese residences, and the British Raj. The product of such diverse sights is reminiscent of Holland, Portugal, and England combined and with a heavy dose of Indian culture and traditions. Settled onto the Malabar Coast, Kochi is a destination written of by famous authors perfectly capturing the unique, whimsical atmosphere  seen throughout the historic settlements of Mattancherry and Fort Kochi (one of Kochi's most captivating neighborhoods). In Ernakulam, another Kochi district and busy modern hub, life is a little more hectic—it's the base for most of Kerala state's commercial activity—but there's lots of urban delights to indulge in.