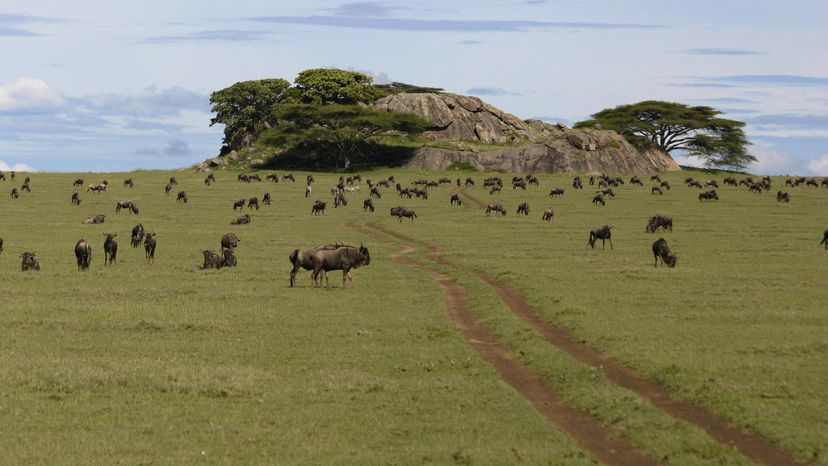 Africa's Serengeti National Park in Tanzania is one of the most famous parks in the world and the ultimate destination for game drives or witnessing the astounding, annual Great Migration. Boundless plains punctuated with spiky acacia trees, Serengeti kopjes, hippo and crocodile-laden rivers, and a landscape home to the Big Five (lions, leopards, rhinos, buffalo, and elephants) and more than 475 bird species–it's no wonder the Serengeti precedes its reputation as a wildlife haven. Overnighting in a safari tent under the stars can be an exhilarating experience itself .
9. Book a Game Drive
Games drives are the quintessential experience in Serengeti National Park and hands-down the best way to catch sight of the Big Five along with scores of other animals and absorb the magic of the plains. The options are endless it seems when searching for the right drive (be sure to do your research and catch up on plenty of reviews before booking). Making a sight-seeing priority list is a great way to narrow your focus down to what you want to see–not all areas of the park are the same and some take longer to get to than others. Roads are rough and distances long so visitors should note that the African massage is almost inevitable at some point. Professional guides can make a great trip into a fantastic one with their skill for spotting wildlife and explaining the ecosystem and animals in depth.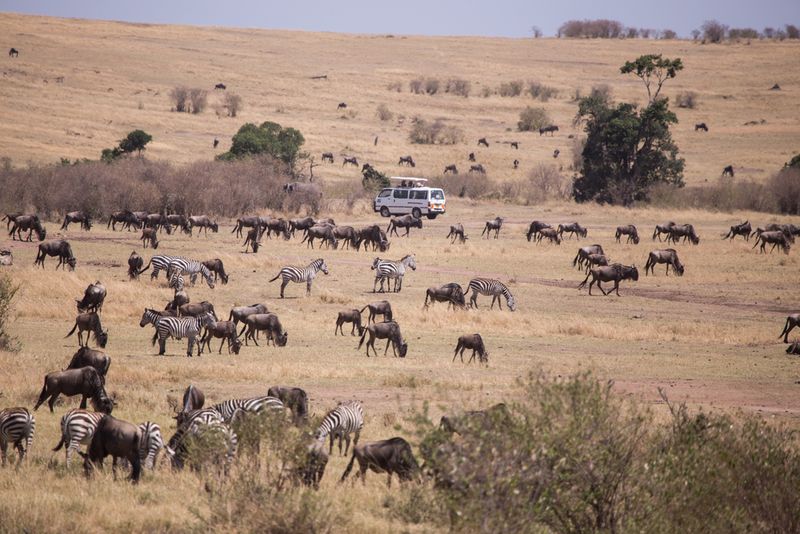 8. Explore the Serengeti Visitor Center
Visitors' centers can be a treasure trove of information but sometimes get left out of the picture because so many are very underwhelming. The Serengeti Visitor Center features a walking path for self-guided walks where exhibits and detailed signs educate on Serengeti history, its wildlife, and the ecosystem. There's also a very good chance of spotting wildlife on route and a wealth of smaller critters like vibrant agama lizards and birds. The center also offers a really nice picnic area with tables with thatch umbrellas for shade, washrooms, and a gift and coffee shop at the Seronera Park headquarters. The center is a great place to stretch your legs, burn off some energy, and enjoy some insight into the history of the plains.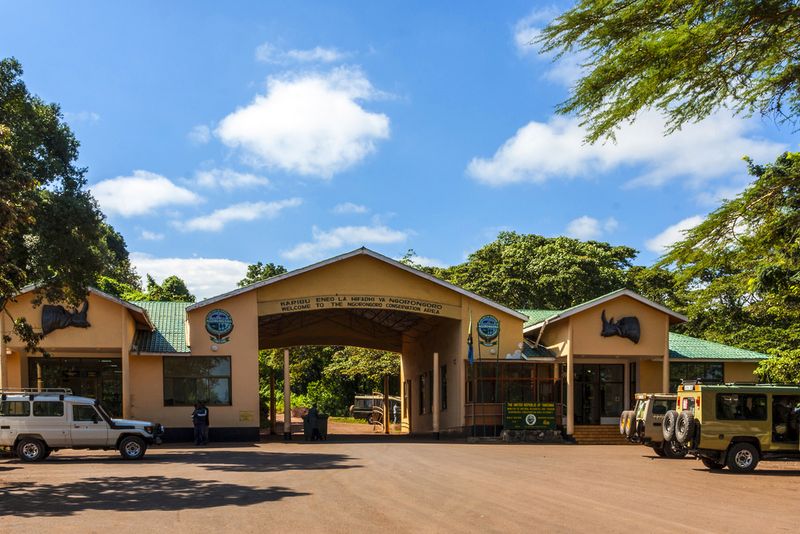 7. Explore a Maasai Village
The semi-nomadic Maasai people, who live in the Great Rift Valley along northern Tanzania and southern Kenya, have a long history with the Serengeti plains and ecosystem. They are East Africa's most renowned tribe because of their villages' close proximity to many favored game reserves, they're dedication to traditional practices, and their vibrant and unmistakable attire. The villages, called bomas, are open to visitors–the Maasai are friendly people–who are engaged by learning about the Maasai way of life: traditions, customs, and lifestyle. A typical village visit generally includes a look at a local school, a short dance ceremony, and the chance to peruse and buy some locally made traditional handicrafts (an important source of income for the Maasai). While some visits might be fairly authentic, some can feel choreographed and commercial. This is one activity that requires some thought before committing.
6. Take a Night-Time Game Drive
The Serengeti is filled with nocturnal animals that cannot be seen during daytime game drives. Booking a night drive is the only way to see the extensive number of nocturnal animals living throughout the area include aardvarks, civets, bush babies, nightjars (birds), and maybe even some hunting predators (now that's an incredible sight!). There are also hyena, jackals, impala, giraffes, foxes, and zebra–there's quite a list of night-loving animals. Night drives aren't permitted directly in the park yet some outfitters have permission to operate them on the very outskirts of the park, offering a much different perspective. Without any park fencing, the outskirts still afford great opportunity to see the likes of almost any animal found within park boundaries. The thrill of glowing eyes and the sound of wildlife at night is pretty spectacular and also a terrific way to beat the heat.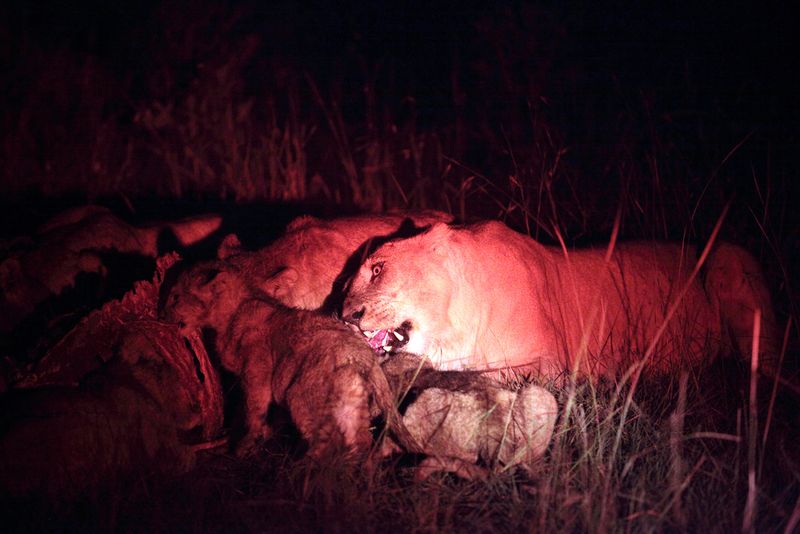 5. Witness the Moru Kopjes
The plains of central Serengeti are home to Moru kopjes that look like miniature mountains or small islets in an ocean of grass. Bushes, trees, and vines rise out of these interesting, seasoned, and massive rock formations which provide small pools of water, shade, and a necessary vantage point for hunters like cheetahs, lions, and leopards. The Moru kopjes are the most popular and most often visited kopjes, some which are adorned with paintings created by cattle herding Maasai. On game drives, guides are usually quick to point out the kopjes–grab a pair of binoculars and take a look as they're a great place to spot not only big cats but small mammals too. Kopjes are also a particularly favored spot of the black rhino and the kopjes are the best spot in Serengeti National Park to see them.
4. Hear the Call of the Wild
Staying overnight in safari tent can be an exceptional experience if sleeping outdoors isn't unnerving. Rustling elephants, chirping crickets, jackal's yelping, cries of African eagles, and the mighty roar of lions is just the beginning of the magical sounds to be heard when overnighting in the Serengeti. A basic tent will set you back approximately $50 USD for the campsite and accommodation or pay up to $1000 USD per night for the ultimate luxury tents with Egyptian cotton sheets, luxe furnishings, and a cook on hand–the location means much more than the tent though so going basic is good enough. There are plenty of to choose from: you can get settled after a day of game driving and enjoy a bush dinner onsite under the stars, and even take a night drive afterwards–choices broad and so is everyone's idea of a perfect safari experience.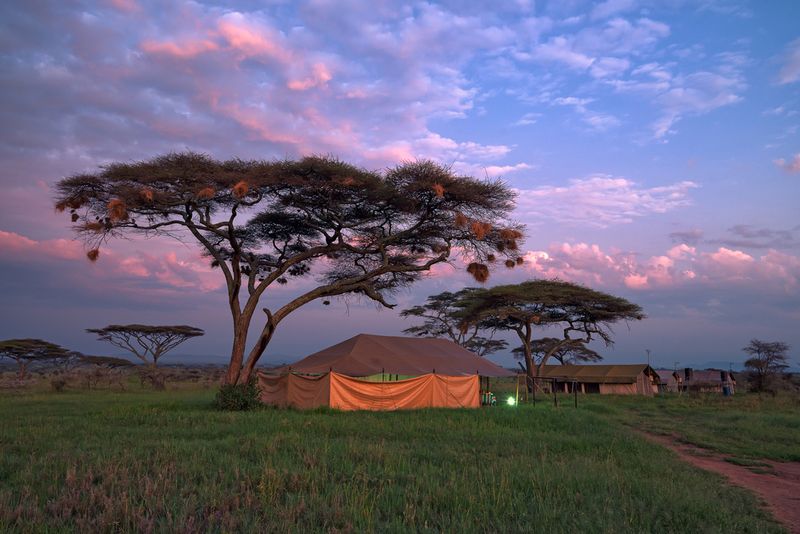 3. Visit Olduvai Gorge
In the Arusha region in the eastern part of the Serengeti Plains is Olduvai Gorge, a paramount paleoanthropological location where human fossils and ancient tools dating back more than two million years were discovered by famous anthropologist Louis Leakey in 1929. This discovery is said to have been invaluable in expanding our understanding of Human evolution. The extensive gorge was excavated thoroughly and more than 60 fossil remains of human ancestors were discovered. The gorge is located in the Great Rift Valley, a plummeting ravine spanning s48 kilometers in length–its just over 40 kilometers from another significant archaeological point called Laetoli where volcanic ash has preserved ancient human footprints. Just a few kilometers south of the park's border, Olduvai Gorge is a handy place to stop for anyone traveling between the Serengeti and Ngorongoro Crater.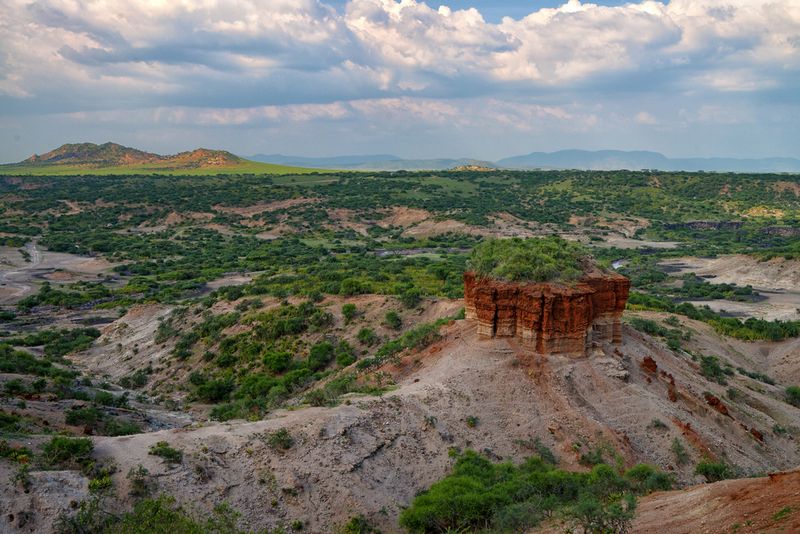 2. Take a Balloon Safari Over the Plains
One of the best ways for an aerial view of Serengeti National Park is to take a hot air balloon to the skies. The entire, magnificent park expanse is in sight, albeit, for a hefty price with the added "bonus" of a glass of champagne and a full breakfast. Hot air balloons take off at dawn–a great time to see lots of movement on the ground. The rides aren't too long but entirely worth it if you've got the means. Leaving at dawn, riders are afforded a phenomenal view as the sun rises over the plains and comes to an end when the sun starts really heating up. As it peaks out over the landscape, the balloon will come down and level but with the treetops for n excellent view of the animals before they seek shelter from the heat of the sun.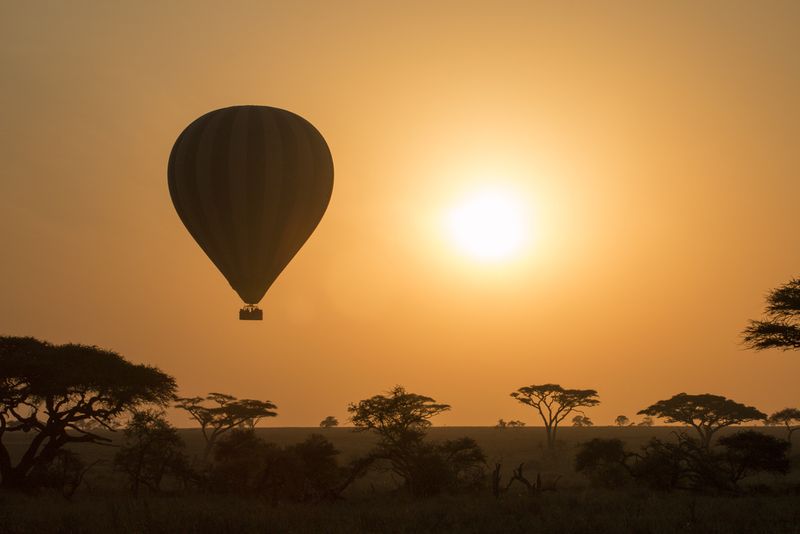 1. Observe the Great Migration
If planning a visit to Serengeti National Park to see the Great Migration at Mara River (the most dramatic event) is in any way possible, make it happen. This fantastic spectacle is a migration of herds of millions of ungulates (hoofed animals) including zebras, wildebeests, gazelle, and impala. It is do-or-die for the weakest and most unlucky can get dragged down by crocodiles, pulled from herds by predators, or just too young or feeble to complete the journey. This natural and epic occurrence isn't a one-time show but a cyclical, never-ending event that begins with calving season, then to searching for grasses, and on to mating. Then herds return to their point of origin in southern Serengeti and northern Ngorongoro Conservation Area. Be sure to let your guide know you want to see it since timing and movement are heavily dependent on weather and herds can be unpredictable.