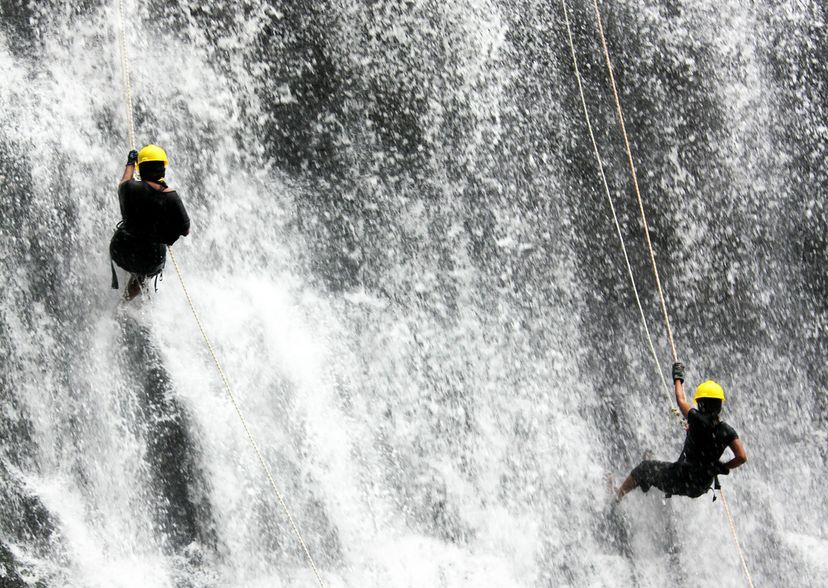 Though India is well known for its cultural heritage and as a wonderful tourist destination, its popularity for adventure sports is rarely addressed.  If you love to travel for adventure and seek new sports, here are the top 5 adventure sports in India.
1. Caving in Meghalaya
Boasting of the deepest and longest caves in India, Meghalaya is the first place one would want to visit for caving. It should be a group activity and there are trained and experienced people to guide through the caves. There are different types of caves with horizontal and vertical passages, caves filled with water till waist-length, with river openings, and many other surprises. Different types of formations like cave pearls, curtains, and flowstones inside these caves will leave us amazed. There are many packages available for caving in Meghalaya for a safe and guided experience.
2. Heli-Skiing in Himachal Pradesh Or Kashmir
Heli-skiing has gained popularity in India in recent years. It is downhill skiing which is done with the help of a helicopter through Snow Mountains. The helicopter provides an easy way to the pristine powdered form of snow which offers a unique experience. It is done in a certain suitable environmental condition and depending on the type of snow. It is preferred in winters because of the availability of the right kind of snow.
3. Waterfall Rappelling in Maharastra
If just watching the waterfalls doesn't give you the thrill and you are a watersports lover, then you should definitely try waterfall rappelling. Imagine descending the mountains through gushing waters with the help of ropes! Every step brings out the bravery in you. Maharashtra is the best place in India for this sport because the Western Ghats are filled with numerous waterfalls in monsoons.
4. Scuba Diving in Andaman
How about exploring the rare underwater species even if you don't know how to swim? Yes? Andaman offers many packages for fresher as well as experienced divers. The clean marine water in Andaman offers the best diving experience in India. One gets to watch rare fish species, coral reefs, jellyfish, octopus, and many other exotic marine species. Also, scuba diving certification courses are available if you plan to apply.
5. Flyingfox In Kerala
Jumping from one place to another at an altitude with the help of a narrow rope tied to the waist, just with the help of gravity, Flying Fox is a must-try for all brave adventure seekers out there. The rope is usually between two tree houses or bridges and is steep which confirms the effect of gravity. This is also available at Rishikesh over the river Ganges and promises to offer speed, excitement, and the best view of the river.
Due to its diverse climatic conditions and a wide variety of landscapes, it's not surprising that India offers a lot of destinations for adventure seekers to be thrilled. So, pack your bags and explore all these exciting opportunities.