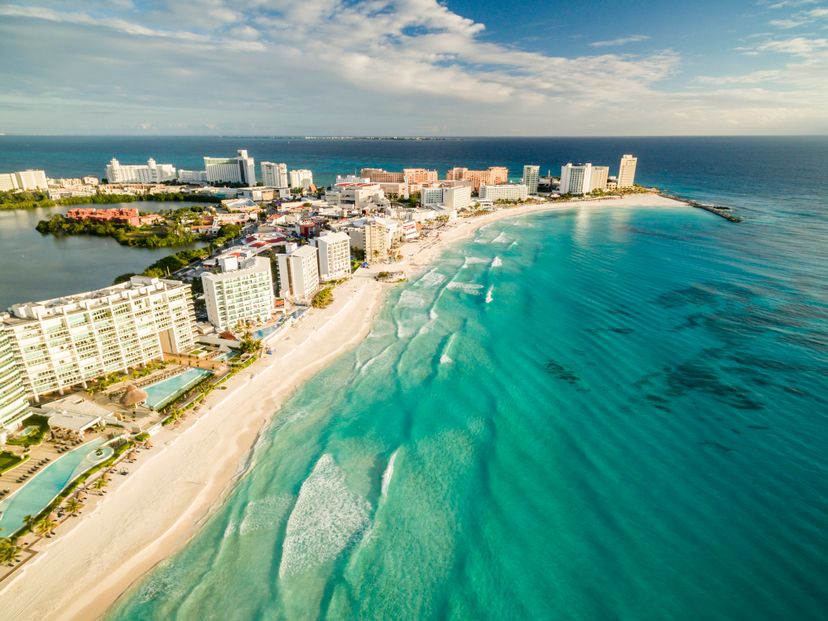 Cancún, Mexico draws in visitors from all over the world and for good reason. With breathtaking beaches, lavish hotels, incredible resorts, a bustling nightlife, fun attractions, and shopping centers, what else could you ask for from a vacation destination?
But with so many hotels and resorts to choose from how does one decipher which one is best? That's where we come in. We're here to help you find the best all-inclusive resort in Cancún that will suit your wants and wishes. Whether you're looking for relaxation, adventure, or family fun there is truly something in Cancún for everyone. Follow along as we unveil the best all-inclusive Cancún resorts you don't want to miss.
Moon Palace Cancún
If you're looking for a resort that is both luxury and family-friendly, then Moon Palace is the place to be! Conveniently located just 10 minutes from the airport, this luxury resort features over 2,000 accommodations. Each room comes with its own top-shelf drinks, free Wi-Fi, whirlpool tubs, and 24-hour room service.
Whether you're looking for relaxation, or to keep the whole family entertained there are activities for everyone! The resort offers its state-of-the-art playroom for kids and teens can enjoy the lounge designed just for them. You can all catch sun rays by the pool, or by the ocean, and then when you're looking to be pampered be sure to check out the AWE SPA®. When you're ready to quench your hunger, indulge in the delicious gourmet cooking and stay entertained all night long with the bustling nightlife and world-class entertainment.
Le Blanc Spa Resort
Perhaps you're looking for a quieter, less family-friendly vacation destination. If that's you add Le Blanc Spa Resort to your travel bucket list! This adults-only, all-inclusive resort will fulfill every desire you've ever had. Beachfront views, 24-hour room service, top-shelf drinks, delicious snacks, and complimentary Wi-Fi are just a few of the things that make this resort one of the best in Cancún. Better yet, according to TripAdvisor, this is the #1, top-rated resort in Cancún and boasts a 5.0 rating. The resort even won a Traveller's choice award in 2019!
Each room at the Le Blanc Spa Resort features a spacious atmosphere, inviting decor, and a breathtaking view of the surrounding landscapes. You'll also enjoy that the bathrooms are stocked with BVLGARI amenities. If you're able to pull yourself away from your room you can lounge by one of 3 the pools or by the ocean. When you're up for an adventure you can enjoy an array of tour options to explore the beauty in Mexico. You can also get pampered at the BlancSpa through a massage or hydrotherapy session! All in all your stay at Le Blanc Spa will surely be enjoyable and you'll make memories that will last a lifetime!
Hard Rock Hotel Cancún
Now is your chance to live it up like a rock star at the Hard Rock Hotel Cancún! The resort features ample opportunities to relax and plenty of ways to stay entertained. There are seven bars on the property, six Hard Rock restaurants, daily fitness classes, games, and plenty of live entertainment.
Even the accommodations will have you feeling like an A-list celebrity. Each room features modern decor, a 2-person hydro spa tub, satellite TV, a stocked mini-bar, and a balcony. When you're ready to be pampered feel free to drop the kids off at the Hard Rock Roxity Kids Club, and head to the Rock Spa. You'll also have plenty of opportunities to hit the lagoon-style pool or lounge on the beach.
Excellence Playa Mujeres
If a romantic getaway is what your heart desires, book a trip to the adults-only Excellence Playa Mujeres in Cancún Mexico. This luxury resort features top of the line amenities from Jacuzzi tubs to stocked minibars, private balconies, pillow menus, and more.
When you're ready for some adventures you can explore the dance lessons, cooking classes, and introductory scuba diving lessons that are all part of your all-inclusive package. There are also plenty of opportunities to relax from the seven swimming pools to the sandy white beaches, and the refreshing treatments from the spa. You'll also have your choice of 12 restaurants that will surely quench your cravings.
IBEROSTAR Selection Cancún
There is so much fun to be had at the 5-star IBEROSTAR Selection Cancún hotel. Kids can enjoy Star Camp which features many activities from cooking, making short films, treasure hunts, deciphering hieroglyphics and so much more. The kids can also enjoy Aqua Fun which features water slides, and pools designed just for them.
When you're up for activities you can enjoy sports tournaments, bingo, Zumba classes, workshops, live music, dancing, magic shows, and so much more! Sports enthusiasts will also appreciate access to the two tennis courts, basketball courts, volleyball courts, and the regulation FIFA soccer field. You can also get your workout in their equipment room which features the latest exercise equipment, and the most breathtaking view of the sea while you lift weights. Finally, guests will enjoy their luxury accommodations, the choice of 10 pools and six restaurants, as well as direct access to the beach. With so many activities, luxury accommodations, and great amenities, it's easy to see why IBEROSTAR is one of the best all-inclusive resorts in Cancún, Mexico.
Live Aqua Beach Resort Cancún
Live Aqua Beach Resort Cancún is situated in the middle of Cancún, Mexico's Hotel Zone. This adult-only all-inclusive resort has everything you need from luxury to relaxation, entertainment, fine dining, and more. According to TripAdvisor, this resort boasts a whopping 4.5 rating with over 12-thousand reviews. Previous guests have raved about their excellent service, amenities, and great prices!
There are also many personalized touches on the resort to ensure everyone's needs are met. For example, the seven pools (including the lap pools and infinity pools) all have varying temperatures that ensure there is a pool for everyone. Guests will also have their choice of three bars, a coffee shop, and eight restaurants which ensures you can try everything from Mediterranean cuisine to traditional Mexican dishes. The accommodations feature a stocked minibar, a flat-screen TV, and a spacious bathtub for relaxation.
Paradisus Cancún
Paradisus Cancún is packed full of fun for the whole family. From free golf to live daytime and nighttime entertainment, to swimming pools, a Kid's Zone, and tennis courts there is no shortage of activities for everyone.
Paradisus Cancún is where paradise meets luxury. Your All-inclusive packages include meals like delicious breakfast options to elegant dinners which are featured in both buffet style and a la carte restaurants. You'll also enjoy the all-inclusive drinks from unlimited domestic and imported beverages. Additionally, the resort is located just 5 minutes away from the city's shopping centers and 15 minutes from the International airport. Check it out for yourself and discover exactly why this is one of the best all-inclusive places to stay in Cancún, Mexico.