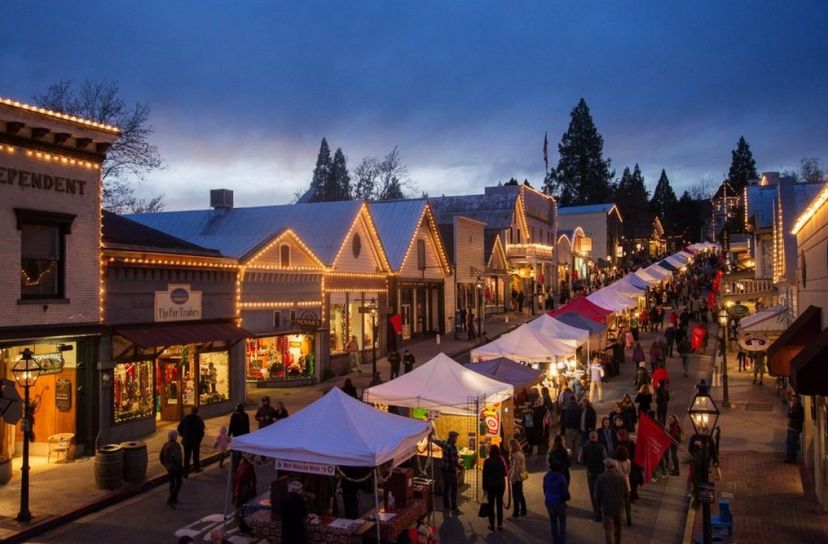 It's that time of year again, sleigh bells are ringing, Christmas lights are strung from rooftops and around trees, carols are playing over the radio and there is a feeling of holiday cheer in the air. Some towns in America take the holidays extra serious, with festive decorations, tree lighting ceremonies, parades, contests and more. From traditional Victorian Christmas Festivals to those that feature over 5 million lights, here are America's best towns to visit during the holidays.
10. Woodstock, Vermont
The air smells like pine needles, the ground lightly dusted with snow and the twinkling of lights shine down on this town during the holiday season. For the past 25 years this town has hosted Wassail Weekend, a pre-Christmas festival that is rooted in 19th century Norse culture and traditions. Wassail is a hot beverage, something like cider that is associated with Christmastime. The festival brings a parade of over 50 horses and riders that are in holiday costumes and period dresses, as well as wagon and sleigh rides. Don't forget about the feast and the tours of the most notable historic buildings as well. Add in local shops that decorate their windows and stay open late for shoppers during the festival, friendly locals and an old-world charm, and this may be the perfect town to visit this holiday season.
9. McAdenville, North Carolina
This small town just 20 minutes outside of Charlotte has actually renamed itself "Christmas Town USA" during the month of December each year. This small town draws an average of 600,000 people each year who come to gaze at the 500,000 lights that decorate this town. This town kicks off its holiday cheer with a tree lighting ceremony on December 1st where the big switch is turned on to reveal the 500,000 red, white and green lights. It takes about 375 trees to house all these lights and they light a route that is perfect for a winter stroll through the downtown. Along with these lights are homes that are lit up by owners, who all love to take part in this holiday celebration. Enjoy hot chocolate and kettle corn as you stroll through the downtown and down to the nearby lake which features 33 trees liming the perimeter and a 75 foot water fountain that is lit with vibrant colors. It's truly Christmas here all December long.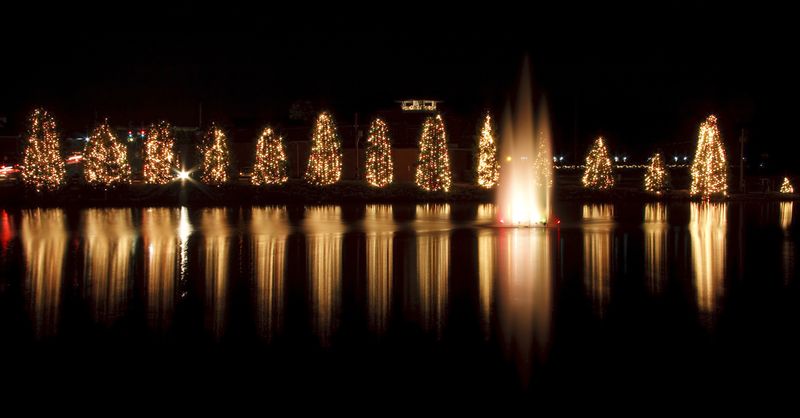 8. Ogden, Utah
Located in Northern Utah, this great railway hub of a town welcomes in the holiday season each year with their downtown Christmas Village. From the Saturday after Thanksgiving through January 1st the downtown area is aglow with magnificent displays and holiday lights. Every year thousands of tourists come to view the Christmas lights and replica cottages that are modeled after Santa's Village at the North Pole. To open the Christmas Village an Electric Light Parade fills the streets, loaded with elaborate floats, themes and performers. Santa also happens to arrive this day and flips the switch to turn on the lights and illuminate the village. Each of the 59 cottages have their own theme, including The Elf Workshop, The Grinch and of course, Santa's Castle. Ride on the Polar Express Train, shop at Santa's store and marvel at the millions of lights that light this village up.
7. Vail, Colorado
This town turns into a true Winter Wonderland when the holiday season hits. December brings the festivities of Snowdaze to the town, when fresh snow is celebrated with live concerts each night. The village is filled with sponsors and après parties and former performers include the Barenaked Ladies, Wilco and O.A.R. Vail also plays host to Holidaz, a celebration that includes the tree lighting ceremony, a New Year's Eve torchlight parade and some incredible fireworks. Enjoy outdoor skating, hot coffee from local producers and equally warming cocktails. This incredible winter destination has more than 5,2000 acres of ski and snowboard terrain and things only get better during the holiday season. Get here and discover why this is one of America's most loved towns, especially in December.
6. Nantucket, Massachusetts
The festivities in this town really started in the 1970's, as too many locals left town to shop in Cape Cod, and there needed to be a solution. This island town quickly came up with an annual Christmas Stroll, in which stores stayed open late and shop owners entertained shoppers with wine, hot chocolate, cider and Christmas cookies while they browsed. Nowadays this Christmas Stroll lasts for the whole first weekend of December and visitors can take part in walking amid dozens of seven foot Christmas trees that are illuminated at night and the 20-foot tree that talks to all visitors who visit it. Carolers sing at various downtown locations, live entertainment takes place, craft shows happen and Santa and Mrs. Claus always make an appearance.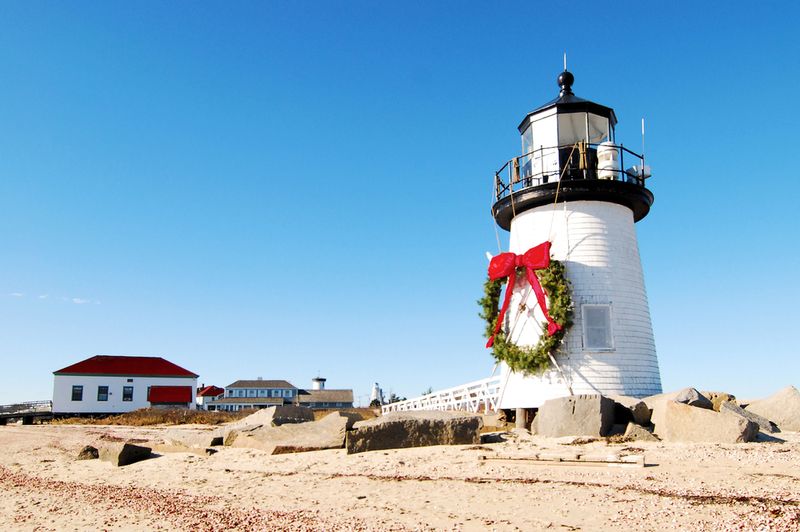 5. Ogunquit, Maine
It used to be an artist's colony but has transformed into a summer getaway, not the first place one would think of when it comes to the Holiday season. But visiting here during the holidays means lower prices, a laid-back feeling and enough festivities to keep you going. Christmas by the Sea Festival features a town tree lighting ceremony with caroling and warm drinks, concerts, a meet and greet with Santa, beer and wine tasting, nightly bonfires, Christmas craft making workshops and more. There are plenty of local shops for those last minute gifts and plenty of friendly locals, and great deals on accommodations and dining here.
4. Naples, Florida
If you want to avoid the snowy weather but still want to enjoy that festive feeling, there is no better place than Naples to head to. This snowbird-style winter wonderland lures visitors with its festive ambiance, luxury stores, fantastic dining and warm weather. The headquarters for the official Christmas tree is Third Street South where twinkling lights and red and silver decorations adorn the streets. It is here where Santa comes to visit, snow falls out of the lampposts and shows take place throughout the month. On Fifth Avenue South is where the Christmas Parade takes place, along with awesome shopping for the Holidays event, which features live music, dancing and dining. Those who still want holiday cheer but want to avoid the snow, this is the town for you.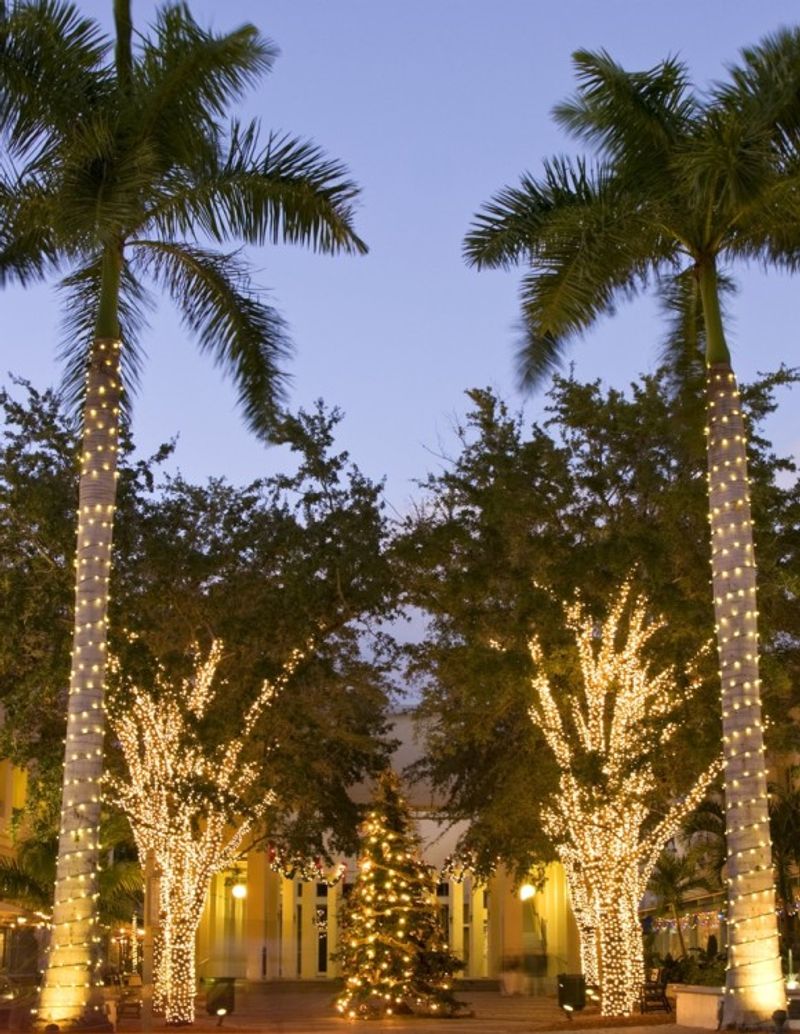 3. Nevada City, California
Nevada City is located about an hour northwest of Sacramento, population of just over 3,000 and it happens to take great pride in its annual Victorian Christmas Festival. Already picturesque all year round with its historic buildings and mountain surroundings, this town transforms into a beautiful picture perfect Christmas Card during the holiday season. The town brings in authentic gas lamps, twinkling white lights and carolers that dress up in Victorian apparel. The smell of roasted chestnuts and holiday food will fill the air as you wander through the streets that over-flow with Christmas treasures. Make sure to check out the famous walking Christmas tree and the living nativity scene, as well as take a ride in a horse drawn carriage. Visitors are also encouraged to dress up in period attire, complete with feathers, scarves and top hats.
2. Branson, Missouri
It is known as the Ozark Mountain Christmas here in this town, as Branson transforms into a winter wonderland complete with twinkling lights, live shows and plenty of shopping. Here in this town they don't even wait until thanksgiving has passed to start their holiday cheer, celebrations run from the beginning of November through New Year's Day. Branson is the live music capital of the world and visitors should plan on attending one of the famous events that incorporate traditional Christmas music. Visiting the Silver Dollar City's an Old Time Christmas Festival is a must when you are here, where 5 million lights, two live chows, 1,000 decorated Christmas trees and the awesome light parade all take place. Many of the hotels and resorts in this town pull out all stops for the holidays and expect visits with Santa, special activities for kids and lots of yummy treats.
1. Historic Georgetown, Washington, D.C.
It is Washington D.C.'s oldest neighborhood, beautiful already with its historic buildings that line the streets, but it really comes alive during the holiday season. With over 450 stores, restaurants and galleries, the streets come alive with Yuletide decorations. The Holiday Window Competition that takes place each year means visitors are privy to the gorgeous and innovative displays that shop keepers come up with. Think roasted chestnuts, horse-drawn sleigh rides, appearances by St. Nicholas, carolers in Victorian costumes, dancers and other entertainment.