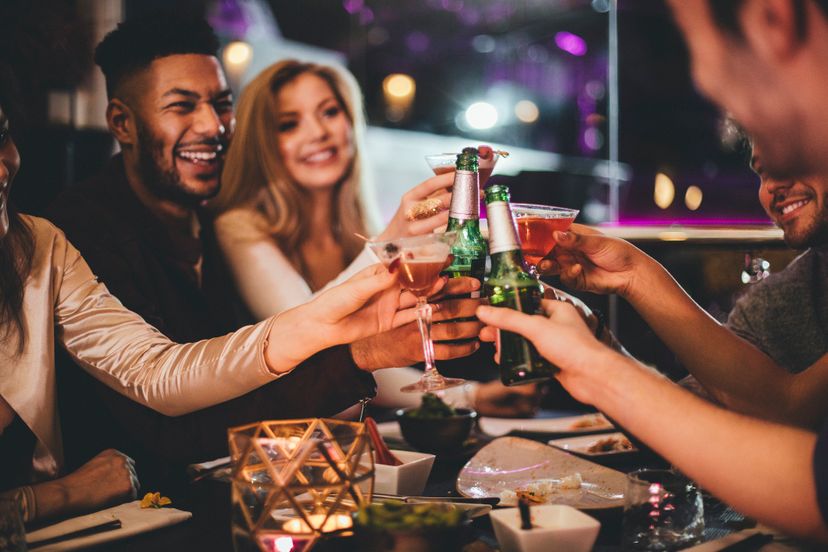 There are plenty of things to see and do in the Bay Area from hiking to surfing, crossing the Golden Gate Bridge and so much more. There really is something for every type of traveler. But aside from all the exciting activities and sites worth seeing, the bay area is known for its ample bar choices!
You will find everything from cocktail bars to video game bars, nightclubs, dive bars, tiki bars, rooftop bars, and beyond. That said if you want the best drinks and the best atmosphere be sure to check out of these hot spots. Follow along as we roundup the best bars in the Bay Area that will guarantee you have a good time!
Smuggler's Cove
When you visit the Smuggler's Cove, it is as if you've stepped onto the set of the Pirates of the Caribbean. The breathtaking interior features vintage tiki artifacts as well as historic nautical and rum elements that together provide a dramatic and captivating atmosphere. It may also be the perfect place to escape the hustle and bustle of the city! 
The bar has also established itself as one of the top rum and exotic cocktail destinations in the world making this a must-visit bar. Not only that, but Smuggler's Cove also boasts the largest rum selection in the United States. The cocktails are unique, innovative and of course, delicious! Come check out Smuggler's Cove, located Gough Street, at McAllister in San Francisco. It's open daily from 5 pm until 1:15 am but try to get there early to snag the 'crow's nest' seat — you won't regret it!
The Hidden Vine
The Hidden Vine is a gem of a wine bar on Merchant Street in the Financial District of San Francisco with a reputation for top-notch service and an extensive, carefully constructed wine list.  The laid-back, welcoming atmosphere makes The Hidden Vine an excellent place to enjoy the company of friends while sharing food and wine.  
If you're new to wine or interested in exploring multiple wines, be sure to grab a flight (3 2oz servings) or a comparison (2 3oz pours).  Their food ranges from charcuterie and cheese platters to flatbreads and sliders that showcase local ingredients. If you're up for some friendly competition then check out their outdoor bocce ball game! There really is something for everyone.
The Ice Cream Bar
Not your traditional bar, The Ice Cream Bar mostly serves its namesake ice cream, but for those 21+, they can partake in boozy fountain sodas, beer, and wine.  A fresh twist on an old classic, this would be a great place to grab some dessert and a drink on a night out in San Francisco. This potentially could be the perfect place for date night!
The Ice Cream Bar is noon to 10 pm daily. This unique spot is located in Cole Valley at 815 Cole Street.  Previous guests have raved about their waffle cones, be sure to try one if you're having ice cream! 
Rickhouse
If you're after cocktails, make sure you hit up Rickhouse next time you are in San Francisco.  The bar is conveniently located on Kearny Street on the border of the Financial District and Union Square, this bar is open nightly until 2 am and closed on Sundays.  
If you're in town on the weekend, Rickhouse has live music every Saturday from 10 pm – 1 am.  Their extensive cocktail menu has everything from the classics to the wild and alluring experimental creations of the talented bartenders. Basically, whatever you want, they have it!  Make sure you try a punch bowl for $50 that serves between 3 and 5 people!
The Trappist
A trip to Oakland isn't complete without a visit to the Trappist, a laid back specialty beer café on 8th Street.  The bar features a  rotating beer menu and the knowledgeable staff will satisfy even the pickiest beer enthusiast!  Snacks, sandwiches, and salads go above and beyond the typical pub food and take your experience to the next level.  
The Trappist is housed in an 1870's Victorian while the interior is inspired by their favorite cozy pubs in Belgium and the Netherlands. The bar features both a front and back bar seating as well as an enchanting outdoor patio where you can take in the views of the turn of the century buildings.  If you can't decide what to order, you can order a beer tasting flight to try out your tasty options.
 The Last Call Bar
The Last Call Bar, a cozy and friendly neighborhood bar located on 18th Street in San Francisco. As soon as you step inside you'll be welcomed by tons of smiling faces and great conversation that gives it an "Irish Pub" type of atmosphere. The bar is open from noon to 2 am every day, with a long happy hour from noon to 7 pm daily!
The drinks menu features cheap stiff drinks, and the jukebox is always playing with the best classics. If you're into sports, you can catch the football games which are shown during the regular season. You'll also appreciate the quality service and laid back clientele. Better yet, the bar features a fireplace where you can get warm and cozy especially on those damp, foggy days San Francisco is notorious for! 
Mikkeller Bar
With 42 choices of beer and a full menu that specializes in delicious house-made sausages, the Mikkeller Bar is definitely a place you want to visit.  On Mason Street in San Francisco, this trendy venue is fast becoming a pivotal part of the beer scene in the city.  
The kitchen is open daily until 11 pm and offers everything from shareable plates to tasty entrees. The bar is open from noon to 2 am Thursday through Saturday and noon to midnight Sunday through Wednesday.  It is always crowded at night time, but there is an overflow room in the basement to help pack in the crowds.
Zeitgeist
The bar and beer garden, Zeitgeist was founded in 1977 and has since become a historic legacy business in San Francisco. The bar is located on the corner of Valencia and Duboce and attracts both tourists and locals alike. Zeitgeist has a whopping 64 beers on tap and is also famously known for its Bloody Marys, Margaritas, and their full bar! 
Zeitgeist is open daily from 9 am through 2 am with a full bar, kitchen, and outdoor barbecue. The bar also features a giant outdoor patio — perfect for those nice warm sunny days. But when it's chilly and foggy, don't fret, the patio is heated making it a great place to check out no matter the weather! When you get hungry check out the restaurant's menu which features crave-worthy dishes like the Volcano Burger, Grilled Cheese as well as plenty of shareable plates.
El Techo 
If you love sunshine and you love margaritas you need to check out El Techno. The rooftop bar is conveniently located in the heart of the Mission District and above its sister restaurant, Lolinda. Even if the sun isn't shining,  the rooftop bar will keep its guests warm and cozy with heat lamps and windscreens. Better yet, the patio is equipped with a retractable roof to ensure they can serve their guest's rain or shine! 
El Techo is extremely popular and the seats are coveted so be sure to head here early to score yourself a spot! El Techo has a delicious cocktail menu and serves crave-worthy Latin American street food which by the way, is perfect for sharing! The bar also runs a happy hour from 4 pm to 6 pm which includes beer, margaritas, and bar bites at a great price! 
The Saloon
If you're in the mood for jazz, go to the Saloon in North Beach which also happens to be the oldest bar in San Francisco! The bar is open daily from noon to 2 am and is a great place to listen to some real jazz. 
Skip the bar during the day, but head there in the evenings when the jazz starts, just be sure to bring earplugs if you're sound sensitive so you can still enjoy the music. You'll also want to bring some cash for cover and drinks since they don't accept credit cards.  Enjoy cheap drinks and dance with people of all ages from all over the world.  Insider tip – when the band takes a break, head to the alley for some more live music!
Bootie SF
If you feel like dancing, make sure you check out Bootie SF.  This place has amazing mash-ups, a great sound system, and a casual dress code.  Leave the 5-inch heels at home, head to Bootie SF, and dance the night away. 
Keep in mind, there is a cover charge of 10$ before 10 pm, 15$ after 10pm, and 15$ online in advance.  This place is cash only so make sure you hit the ATM before you go. Bootie SF happens at DNA Lounge on 11th Street at Harrison.  If you find yourself hungry after an evening of dancing you can grab a slice of pizza next door! 
Cielo
If you're looking for a unique spot in San Jose head to Cielo. This rooftop bar is located atop the Valencia Hotel on the classy Santana Row for a night you won't soon forget.  
Watch the sunset, warm up with fireplaces and heaters if it's a chilly night, grab a cocktail, and split some appetizers.  If there are fireworks in the vicinity, you'll be sure to see them! Open seasonally from 4:30 – 9:30 pm Monday through Saturday, this would be a great place to start your evening.