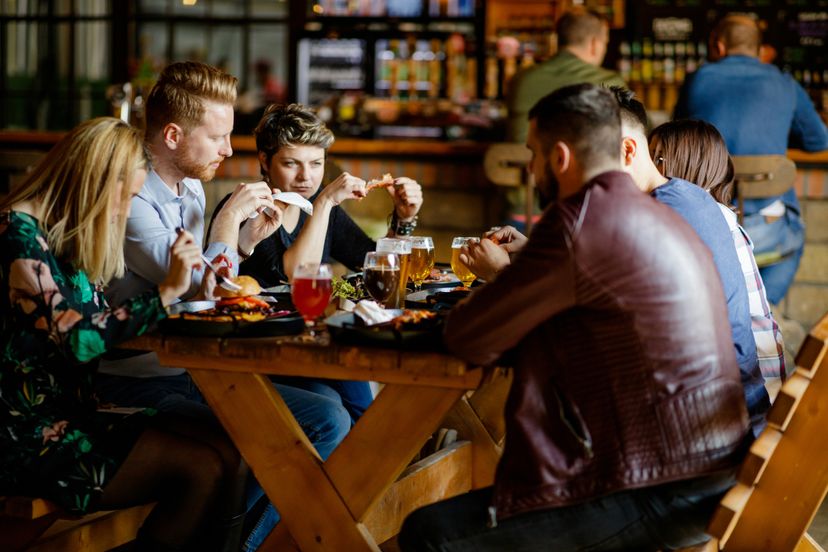 Americans really know how to prepare the best barbecue from juicy, smoked brisket and slow-cooked pork smothered in drool-worthy sauce, to chicken, and turkey. Some would even say that there is nothing more debated across the country than who has the top-ranked barbecue. Luckily for us, traditional American barbecue is expanding across the country which means you likely won't have to travel far to visit one of the best barbecue restaurants in America. Some restaurants use family-owned recipes while others have developed their legendary flavors through extensive research. But if you're looking for the best tasting barbecue in all the U.S. check out our list of the hottest spots you don't want to miss! 
Dinosaur Bar-B-Que -Syracuse, New York
Starting out in 1983 with a 55- gallon drum made into a smoker, owner John Stage and a couple of partners started selling barbecue meals at motorcycle rallies, fairs, and festivals. Later, in 1985 a place in downtown Syracuse was opened where John could serve up his high-quality southern-style barbecue. 
Since opening the original Dinosaur Bar-B-Que, seven additional locations throughout New York, New Jersey and Connecticut have opened. There is even a Dinosaur Bar-B-Que in Manhattan! The restaurant has been featured on Good Morning Today, as well as various Food Network shows and Travel shows. Dinosaur Bar-B-Que stays true to their calling, delivering consistently good barbecue. Be sure to pair your barbecue with one of their delicious side dishes such as collard greens, black beans, and rice or carrot raisin salad!
Snow's BBQ -Lexington, Texas
Fifty miles northeast of Austin, Texas lies the small town of Lexington. This is where you find Snow's BBQ, named best in Texas in by Texas Monthly annual BBQ rankings. In 2003 Owner Kerry Bexley along with Miss Tootsie Tomanetz as pitmaster opened the doors and things in Lexington haven't been the same since. 
Featured on various food shows, Snow's is open only on Saturday from 8 am until the meat sells out. If you want to try their barbecue we highly recommend you get there early! On any given day you can find regulars who make the one hour trip from Austin, while people from all over the US and even from other countries all come to Snow's to get Miss Tootsie's BBQ. Miss Tootsie is the young age of 85 years old, she works five days a week at the local school before smoking up brisket, chicken, ribs, and sausage.
The Joint -New Orleans, Louisiana
Owners Pete and Jenny Breen opened The Joint in 2004 and since then have been serving up some of the best barbecue in New Orleans. In 2008 the restaurant was featured in Guy Fieri's Food Network program 'Diners, Drive-ins, and Dives'. Soon after that, the restaurant built up a national reputation for consistently good food and service. 
The menu is full of drool-worthy offerings from smoked brisket and ribs to pulled pork, chicken, and locally made Cajun sausage. The pulled pork sandwich topped with coleslaw is a favorite along with the brisket. Regulars will tell you it is all good so you might need several trips to zero in on your favorite dish. Even the dessert menu is full of delicious offerings from pecan pie to key lime pie, and they're very special peanut butter pie. 
Smoque BBQ -Chicago, Illinois
Smoque BBQ all started because a group of guys fell in love with barbecue. One of the founders quit his job and traveled the country to learn all he could about various styles. When he returned, they all went into business together and started serving Chicago the best barbecue in the city! Settling on "Texas Style", where the meat is the start, not the sauce, and cooked "low and slow", Smoque serves top-notch barbecue that you do not want to miss.
In less than 10 years Smoque has been featured on Food Network shows, radio, magazines, and newspapers and has received top honors by Zagat. Not many barbecue places publish their barbecue manifesto on their website. These guys take barbecuing seriously. Ribs, brisket, chicken pulled pork, and sausage are served up with all the fixings! When you're ready for dessert be sure to try their peach cobbler.  
Pecos Pit BBQ -Seattle, Washington
Seattle isn't usually the first place that comes to mind when you think of great places for barbecue. That said, Ron and Debra Wise have been serving up some of the best barbecue in the US to the residents of Seattle since 1980. 
In a town where coffee bars and smoked salmon are the reigning champs, Pecos Pit has consistently satisfied barbecue fans. Slow-cooked, brisket, chicken, and hot links are served up in sandwiches and piled with mouthwatering sauce and on plates with proper side dishes such as beans, potato salad, and coleslaw. Be sure to try their legendary alder smoked, slow-roasted, beef, and pork! But don't expect fancy plates or silverware; this is a true BBQ joint with quality barbecued food.
Gates BBQ -Kansas City, Missouri
George Gates opened the doors of this family-run empire in 1946 and now Gates has six barbecue restaurants in the Kansas City area. According to Gates, the reason their restaurants are so successful is due to their famous BBQ sauce.  
The sauce was originally manufactured for barbecue restaurants but demand quickly grew and soon the sauce was being sold in stores across the area. From the minute you step in the door and are greeted by the trademark saucy smell, you know you are in barbecue paradise. From sandwiches to plates and party trays, Gates consistently offers high-quality barbecue that you need to try!
Interstate Barbecue -Memphis, Tennessee
In 1979 Jim Neely bought an old grocery store in a rundown part of town and started his journey to becoming a nationally known barbecue master. The restaurant uses a specially built barbecue pit that uses a combination of natural gas and hickory wood. This unique pit slowly cooks the meat without a flame ever touching them. What's even more impressive is that Interstate Barbecue can cook up to 500 slabs of ribs at a time!
Through extensive research, trial and error, Neely finally mastered the special BBQ sauce that has helped him in being recognized by publications like People, Vogue and USA today and has him being featured on the Travel Channel. While ribs are the specialty you might want to sample other local favorites like the Bar-B-Q Spaghetti, Bar-B-Q pork, spices and sauce mixed in with spaghetti pasta. 
Arthur Bryant's BBQ -Kansas City, Missouri
Arthur Bryant's BBQ began in 1930 and has served Presidents, celebrities as well as regular folks. Presidents Truman and Carter both stopped in and so have celebrities such as Robert Redford, Jack Nicholson, and a slew of famous athletes. 
After Arthur passed away in 1982 Gary Berbiglia and Bill Rauschelbach bought the restaurant keeping it true to tradition and maintaining the Arthur Bryant quality. People will stand in a long line just to get in the door to try their ribs, pulled pork, sausage, chicken, brisket, and their famous burnt ends. The food is so impressive that New Yorker columnist Calvin Trillin once called it "the best restaurant in the world".
Louie Mueller BBQ -Taylor, Texas
Not many barbecue joints can boast a James Beard Award-winning chef, but Louie Mueller's can! Honored in 2006 with America's Classics Award, Louie Mueller only uses salt and pepper to spice and slowly smokes the brisket for up to six hours in a 50-year-old pit. 
The restaurant first opened in 1949 and then was passed on to Louie's son Bobby Mueller in 1974. Bobby ran the smoker for over three decades for passing the restaurant over to his son (third generation), Wayne Mueller in 2007. The restaurant has been featured in three films such as 'The Rookie', two documentaries, and also the Food Network show 'Diners, Drive-Ins and Dives' hosted by Guy Fieri. Served on butcher paper, the slow-smoked brisket, sausage and ribs have won fans from all over Texas. Be sure to order the BBQ sauce on the side, because it's all about the meat here. You'll also enjoy their side dishes from pinto beans, potato salad, and coleslaw. Finish off your meal with their homemade peach cobbler with a scoop of vanilla ice cream. 
Franklin Barbecue -Austin, Texas
James Beard Award Winner for Best Chef in the Southwest, BBQ cookbook author, publications, television shows, and a host on the BBQ Pitmasters television show. All this came about when Aaron Franklin began selling barbecue out of a trailer in Austin in 2009. Today the trailer is gone, but not the legendary lines that show up Tuesday through Sunday from 11 am until the food is sold out. 
The restaurant has a strict policy of no one cutting in line. People will wait for two hours or more to get a taste of Franklin's slow-cooked brisket, sausage, ribs, pork, and turkey. You can even say Franklins has inspired at least one budding entrepreneur, a 13-year-old middle schooler has opened a business called BBQ Fast Pass where he will wait in line for you. For $50.00 he takes on one client per day and is fully booked a month in advance.
Big Bob Gibson Bar-B-Q -Decatur, Alabama
In 1925 Bob Gibson began serving barbecue from a makeshift pit in his backyard. Coworkers at the railroad told him "Your future is not in the railroad, but in Bar-B-Q". With that, the 6'4", 300 pound Bob Gibson began on a path that would endure for over 80 years and four generations!
Big Bob Gibson Bar-B-Q's menu features delicious pulled pork, chicken, ribs, brisket, and turkey! The restaurant quickly established itself as the best barbecue place around Decatur, Alabama. Evan a competition cooking team was put together and has since won numerous BBQ contests. Finally, be sure to save a little room for a slice of their homemade pie when you're finished!
Skylight Inn BBQ -Ayden, North Carolina
Since 1947 the Skylight Inn has been cooking whole hogs over open pits. The BBQ at Skylight Inn has been enjoyed by Presidents and politicians, featured in several magazines and the restaurant is a 2003 James Beard "America's Classics" winner. 
Further, the restaurant has also been featured on the Food Network, Travel Channel and History Channel. The restaurant is now run by the founder, Pete Jones, son Bruce, Pete's grandson Sam and nephew Jeff. Bruce is carrying on the legacy that Pete left serving up whole hog BBQ and chicken along with cornbread and slaw. You will get your choice of pork on a bun, with or without coleslaw, or in a paper tray with cornbread.