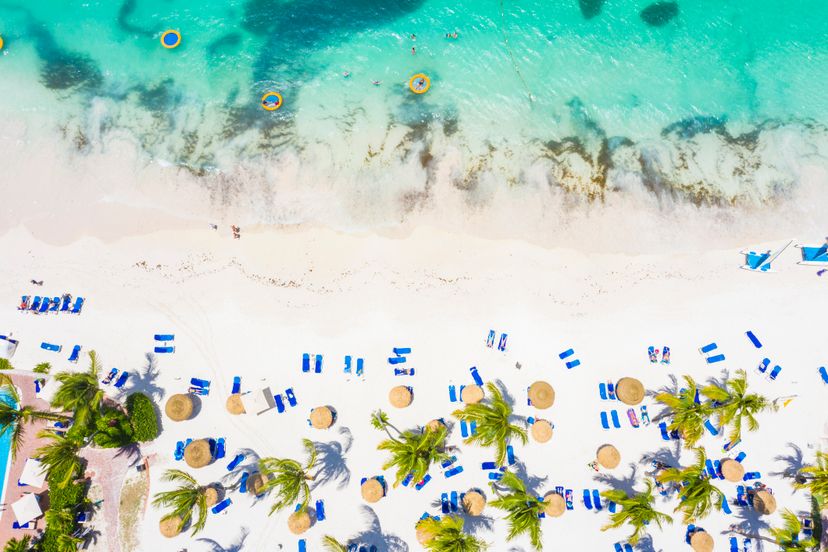 Antigua is one of the 2 main islands that make up the Caribbean nation of Antigua and Barbuda. Here you will find miles of some of the most gorgeous sandy beaches you'll ever experience. In fact, there are exactly 365 beaches on the island. If you're looking for a warm getaway where you can bask in the sun and relax by the water, Antigua is the perfect vacation destination for you. Antigua's beaches also provide you with ample opportunities to snorkel, windsurf, and swim, but you will also have opportunities to rent chairs and umbrellas if you prefer to simply lounge by the water. Before you go make sure you check out our list of the best beaches in Antigua. 
Deep Bay
This arched beach is perfect for a number of reasons and will have its visitors wanting to return again and again. Even though Deep Bay is just a ten-minute drive from St. John's, it remains largely undisturbed by large groups of tourists.  It's worth noting, there are not many amenities here but when you're hungry we recommend heading to Jimmie's Beach Bar to grab lunch. 
If you happen to arrive here by boat, it is the perfect spot to throw down your anchor because it is well protected from the rough seas. Many people come to this beach to snorkel and explore wrecks that lie right in the middle of the bay. The Andes, a ship from Trinidad, sank here nearly 100 years ago and its mast pokes out of the water still today. Many also choose to head to the island's north end where you can hike to the ruins of the 18th century, Fort Barrington. 
Dickenson Bay
Directly north of St. John's, lies one of the best beaches on the island, Dickenson Bay. Families and small children love that this beach boasts a wide strip of white powder-soft sand. The deep-blue, calm waters make this beach a perfect destination for swimming or water sports. 
Hotels, restaurants, and beach bars line the beach making it easy to grab a bite to eat. The range of water sport rentals here is seemingly endless from parasailing to banana boating to jet boating. The views from this beach are unmatched, from the rolling lush green hills to the stunning sunsets at night. You'll want to spend more than one day at this beach. If you choose to stay longer there are a number of private villas and luxury resorts as well as family-friendly accommodations close by.
Green Island
Green Island is arguably the best place to snorkel in all of Antigua. This beach is located just off the island's east coast and is accessible only by boat. It also happens to be one of the quietest beaches in Antigua which is perfect if you're looking for a relaxing getaway.
This humpbacked island offers several beaches with strips of soft luxurious sand and a backdrop of colorful foliage. If you are traveling with children it is important to know that there aren't any public washrooms. To get to the island you will either need to take a charter shuffle or a boat eco-tour. You can also book lunch at Harmony Hall, in which case they will shuttle you over for the afternoon. If your idea of a day on the beach includes plenty of relaxation, soft sand to sink your toes into, clear calm waters and deserted beaches, then you'll want to visit Green Island.
Carlisle Bay
This peaceful beach is located on the south coast of the island and beckons visitors with its clear waters and soft sand. It is here where the Atlantic Ocean meets the Caribbean Sea and offers visitors the chance to swim in the azure waters, sink their toes into soft brown sand, and be surrounded by towering palms.
If you're looking for the best snorkeling in Antigua that doesn't require a boat to get there, Carlisle Bay is where you want to go. There is an abundance of colorful fish just waiting to be seen. If you'd like to stay here, there is a luxurious hotel that sits atop a bluff overlooking the picturesque sand and water.
Half Moon Bay
Half Moon Bay is often proclaimed as the most beautiful beach on the island. This is probably because the beach features pink sand and stunning turquoise waters. The beach stretches nearly 1 mile along the southeastern coast and is only a 5-minute drive from Freetown village. It is here where the Atlantic surf is sometimes unpredictable and can be a little rough — perfect for those windsurfers who head out beyond the reef. 
That said, the large reef does help to protect the shore and calm the waters. But if you're traveling with your family and have small children you should still be careful. Even though this is a popular beach you will still find that it is slightly less busy than others. The beach also boasts a concession stand where food and drink are available. It is also important to note that there are no restrooms on-site here. 
Hawksbill
This beach was named after the unique looking rugged red rocks that protrude from the water just off the shore. Hawksbill features not one but four beaches. One is easily accessible to the public while the other three are reached by going through Hawksbill Resort. 
The first beach is the most popular because you don't have to be a resort guest to be able to enjoy it. Additionally, The beach also has soft sand, calm waters, and there is also ample parking nearby. The second and third beaches are mainly reserved for hotel guests and tend to be quieter. The fourth beach is the only clothing-optional beach on the island and stretches directly in front of Hawksbill Rock. There really is a perfect spot for everyone.