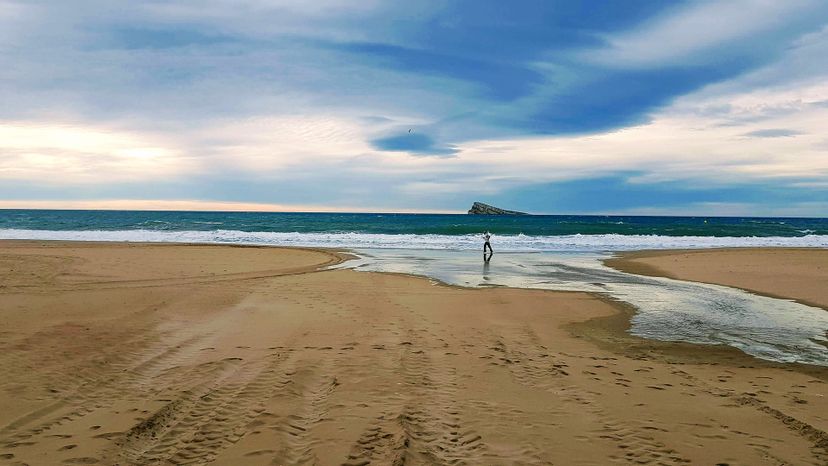 One of the liveliest spots on the Mediterranean coast, Benidorm is as tourist-focused as any destination you'll find. With beaches backed by towering hotels, 24-hour bars, chip shops, and bouncing nightclubs, Benidorm isn't a place you come to discover authentic Spanish culture. That being said, there are few better places to enjoy some sun, sea, and sand while getting away from it all. To help inspire you to take a trip to Benidorm, here are three of Benidorm's best beaches.
Playa de Levante
Not just one of the best beaches in Benidorm, but Playa de Levante is one of the finest beaches in the whole of Spain. Over a mile of gorgeous sand that is alive with buzz and activities all year round. With a promenade lined with restaurants and bars and a verve alive with endless possibilities, Levante is not a beach where you are short of things to do. Well-tended to, and cleaned every day, the beach is an ideal place for the kids to enjoy. There is no end to the activities on offer, and thanks to its position it is also a wonderful place to watch the sunrise.
Poniente
Slightly less busy than Playa de Levante, Poniente beach still offers plenty of excellent facilities to complement your beachside fun. Whether you want to catch some rays or make a splash this is fun and laid-back this is the place to do it. While a more sedate stretch of sand, Poniente is home to a brand-new promenade that has a number of bars, cafes, and shops for when you fancy a break from sunbathing.
Playa del Mal Pas
A much more compact and intimate beach, Playa del Ma Pas is found between the port and Plaza Castelar and Plaza Santa Ana. Given its position slap bang in the middle of Benidorm, you may be surprised by how quiet the beach is. With only a hundred meters of sand, the beach is cozy and has a lovely sheltered vibe, while being close to the cities amenities. Mal Pas beach is right next to the Balcony of the Mediterranean too, which offers some of the finest views on the coast.