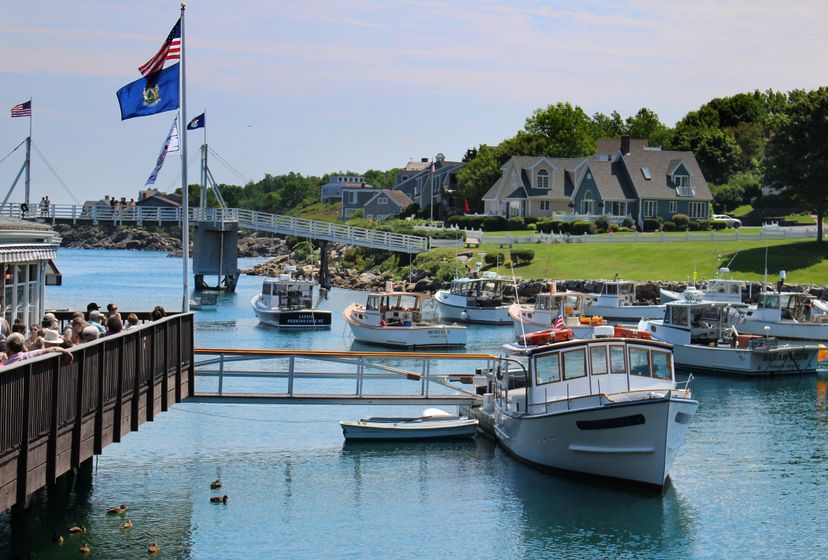 When someone says "East Coast", most people will think of cities like Boston and New York. However there are many other destinations on the waterfront that offer coastal charm and the promise of an adventure if you're looking to travel. While the big city has its appeal, sometimes it pays to step away from the bright lights and busyness and towards small town friendliness, sandy beaches, and quaint shops. In these towns, visitors step back in time, greeted with comforting cuisine, family-run inns, and quaint downtown shops. So whether you're looking for a seaside getaway or somewhere to spend your retirement, check out this guide to the 8 best East Coast towns.
Edgartown, Massachusetts
One of New England's prettiest communities – and the first colonial settlement on the Island – Edgartown has maintained its welcoming small town charm. This seaport village has been preserved from the 19th century and the stately white Greek Revival houses set the stage. While wandering the streets, visitors are greeted with giant pagoda trees, beautiful captain houses, churches from the 1800's and friendly locals. Tourists tend to spend a lot of time exploring the beautiful public beaches, especially South Cape Beach State Park, where sunbathing, fishing, swimming and hiking are popular.
If you happen to be a history buff, be sure to head to the Historical Society Museum, which features historical objects, maritime artifacts and genealogical collections that depict the lives of the area's inhabitants from 10,000 years ago to the present. Visitors will quickly fall in love with Edgartown's architecture, fine dining restaurants, trendy shops, and distinctive inns – the perfect ingredients for a charming stay.
Safety Harbor, Florida
Located about a 30-minute drive from Tampa, this quaint spot is one of Florida's best small towns that's great for those looking to detach from their busy lives. It's best known for the Safety Harbor Resort and Spa, which claims affordable luxury and a stunning view of the bay while you relax and enjoy a treatment, though there are many local-run B&Bs that offer visitors a charming place to stay.
Those living in the area love the Old Florida feel (think moss covered tree and brick lined streets) and visitors will enjoy strolling in Bayshore Linear Park and shopping along Main Street, as well as the many recreation opportunities that the town offers. It truly is a great place to visit if you're looking for feel-good small town experience.
Mystic, Connecticut
This town exudes New England charm and with a population of just under 5,000, it certainly is small! History meets modern amenities, including one of the main draws – the nation's leading maritime museum, Mystic Seaport. Explore American maritime history first-hand as you climb aboard historic tall ships, stroll through a re-created 19th-century coastal village, and watch a working preservation shipyard in action.
Kids will love the aquarium featuring beluga whales while adults can head over to Olde Mistick Village, a collection of small shops with unusual and unique merchandise. The town offers incredible dining options, a variety of hotels and B&B's, and enough activities to make you want to relocate here. Whether you're searching for a romantic getaway or family vacation; Mystic delivers big appeal and is truly one of the best east coast small towns.
Rehoboth Beach, Delaware
It has been nicknamed the "Nation's Summer Capital" due to its close proximity to Washington, but things couldn't look more different here in this small town compared to the country's capital. Instead of power suits, you'll find friendly, laid-back locals and instead of traffic, a mile-long beach boardwalk.
It's known as a town that inspires love and devotion, one that leaves lifetime memories, and visitors strolling through shady streets with colorful cottages and artsy boutiques will find it hard to return home. Fun funky restaurants, a beautiful 5-star beach perfect for sandcastle building, dolphin watching, swimming in the ocean, and an amusement park dating back 50 years make this the perfect small town. Tax-free shopping, day spas, delectable candy stores, and a beach bandstand have people of all ages coming to visit and settle down in this charming Delaware town.
Saint Michaels, Maryland
Rated one of America's best coastal small towns, Saint Michaels is home to just over 1,000 residents. Visiting here is done by boat or car and there is no shortage of excellent accommodations including cabins, inns, resorts, and B&B's. You'll find yourself winding your way through the streets amongst Victorian houses, electric boutiques, an inviting harbor, and incredible seafood shacks.
The St. Mary's Square Museum is a perfect place to get orientated with the town's historic streets but the main museum attraction is the Chesapeake Bay Maritime Museum. This museum includes an indoor/outdoor collection of items related to commerce & trade, navigation, fisheries, and waterfowling. Wineries, markets, and cycling routes can all be enjoyed here, as well as many festivals that take place throughout the year.
Rhinebeck, New York
This historic little town is nestled in the Northern New York Hudson Valley and offers stunning views of the Catskill Mountains and Hudson River. It's a mecca for art and culture, including visual arts and performing arts; as well as being named one of America's best gourmet towns. The village is absolutely stunning with tree-lined streets, unique specialty shops, and an abundance of restaurants. The best time to visit is during the Dutchess County Fair, one of the largest and most loved events in Rhinebeck.
Nationally recognized for its agriculture, food, and vendors, the fair draws crowds in the hundreds of thousands each year. Part of what makes this fair so unique is the dozens of themed gardens that fill the 162 acre fairground that feature such things as waterfalls and Koi ponds. Explore the beauty of this town by wandering the streets, chatting with locals, and staying in one of the quaint family-owned B&Bs.
Chincoteague, Virginia
This resort island is a serene escape from skyscrapers and crowded sidewalks. The population here sits around 2,800 people, although many more come to take it easy and play in this fun-filled town. The island is only 9.1 square miles, but there's plenty of things to see and do. Paved trails for cycling, nature walks, boating, crabbing, fishing, kayaking, and clamming top the list.
One of the most beloved pastimes here is to head to Assateague Island and view the herd of wild ponies that have lived there for centuries. With a slew of restaurants, accommodations, and markets; time will be well spent in Chincoteague. Historic Main Street is where you will find the local events and merchants working together to deliver an incredible experience.
Ogunquit, Maine
This tranquil small town is peaceful year round, no matter how many visitors flock here in the summertime. The population sits just under 1,000 full-time residents who invite visitors in with open arms. Here, there's one of the finest stretches of white sand beach in the east, where the sand flows wide and long and rocks are few and far between. Favorite activities include swimming, kayaking, and paddle boarding.
The small harbor boasts fishing and pleasure boats while the Village Center offers countless restaurants, art galleries, guesthouses, and shops. Visitors love to explore the Marginal Way footpath that winds its way along the vast Atlantic offering exceptional views of the rocky coast. Although this town has existed over 100 years, it has evolved without losing any of its charm, and once you've been here, you'll want to go back.