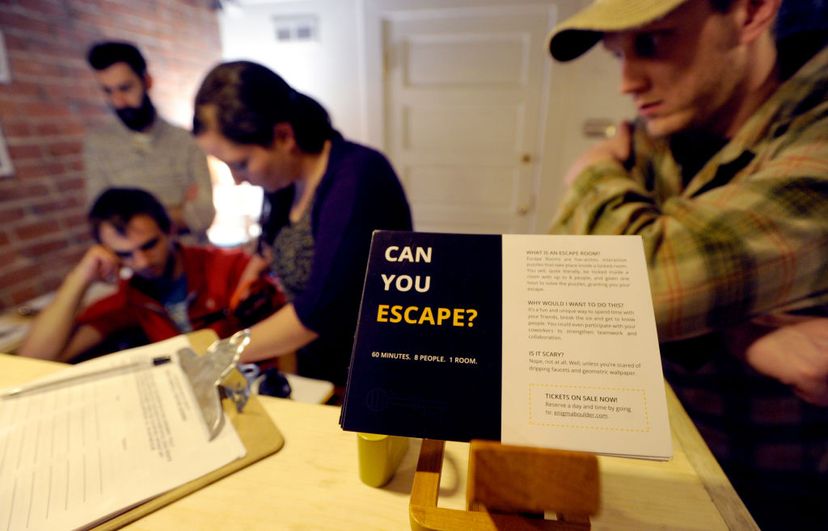 San Francisco attracts travelers from all corners of the world. The city is rich in history, full of energy, and located on the beautiful west coast of Northern California. When you find yourself searching for something fun to do be sure to check out one of their thrilling escape rooms! For those that haven't experienced an escape room, it's essentially a thought-provoking game where you and a team of players will discover clues, solve puzzles, and accomplish tasks in order to escape a room! Escape rooms are great for parties, corporate events, or simply for a fun date-night out. 
San Francisco's escape rooms feature everything from family-friendly games to terrifying themes to ensure there is something for everyone.  So go ahead and grab your significant other, friends, family members, or coworkers and prepare for an unforgettable experience! If you want to make sure you visit one of the best escape rooms in San Francisco check out our top list!
Clockwise Escape Room
Clockwise Escape Room has some of the best top-rated escape rooms in all of San Francisco. Grab a group of friends and check out one of their four immersive games. Each room has its own unique theme such as fantasy, scary, suspense, and comedy which ensures there is something for everyone! Previous players suggest The Incredible Machine and The Paranormal Experience if you're playing with a larger group of four to eight people. If you're looking for a fun date night for just two people you'll want to try Party in Vegas or The Asylum.
What sets Clockwise Escape Room apart from the rest is they ensure their rooms are fully equipped with professional set design and high tech elements that will truly immerse all players. This venue offers a variety of puzzles that include interactive elements, brain-teasing riddles, trivia, treasure hunts and so much more! Keep in mind if you're hoping to have a fully private game you'll need to reserve all eight tickets for your time slot. Otherwise, you can expect other players to join your adventure. Check out Clockwise Escape Room's website to learn more about their escape room themes and to book your escape! 
Palace Games
If you're up for a serious challenge check out Palace Games. Two of their games, The Great Houdini Escape and Roosevelt Escape are among the most difficult escape rooms in the Bay area! They also offer a couple of other games such as Edison Escape Room and Escape The Palace which are great options for larger groups of 30 to 125 players! 
It would be best to block off at least 2 hours for the whole experience no matter which game you choose!  Palace Games pays homemade to the alluring history of the Palace of Fine Arts. The venue also holds several titles from one of the Best escape room companies in the world by Top Escape Rooms Project to top 3 on TripAdvisor's Fun and Games in San Francisco. Collect your friends, and check out one of their thrilling games for yourself and you'll see why this is one of the best escape rooms in San Francisco!
Real Escape Game
Real Escape Game is located in the Japantown neighborhood of San Francisco and boasts a 4.5-star rating on both Yelp and TripAdvisor! There are plenty of challenging games to choose from that will accommodate 3 players up to teams of 10 players. 
If you like answering riddles, solving challenging puzzles, and are up for an adventure then Real Escape Game has a game for you! The challenging puzzles feature an array of different themes such as magic and Pacific Rim films. Tickets range from $26 to $36 per person depending on the game. You can check out the full list of games as well as their ticket prices on Real Escape Game's website. 
Startup Escape
At Startup Escape you and your team will have one hour to develop and launch a startup company! Each team is given $1 million (fictional dollars of course) and will have to work together to launch a company before the money runs out! To launch your company, you and your team will have to solve 5 clues in different categories like programming, design, DevOps, product, and marketing. Rest assured, you don't actually have to know any of these skills to solve the clues! 
This unique experience is unlike any other escape room in San Francisco and is definitely worth the visit! Startup Escape is located in the SoMa area in San Francisco and would be a great team-building activity, especially for companies! The challenging puzzles can accommodate anywhere from two to 12 players. Teams will need to demonstrate great communication and will need to work together while under high-pressure situations to be able to win the game!
EscapeSF
If you're looking to spice up your date night and are up for a challenge head to EscapeSF. This escape room venue features top-rated private escape games that are perfect for groups of two. You and your partner can try to Escape from Alcatraz where you'll be trapped in a tiny prison cell! But if you want a really hard challenge you may want to check out The Blind Tiger which is one of their most challenging puzzles. 
While most of EscapeSF's games are designed for two-six players they do have a few games that can accommodate larger groups. Space Bus can accommodate 8 adults (or 9 kids) and Sabotage can accommodate large groups of 20+ players! EscapeSF games require about 60 minutes to complete but it would be best to allocate one and a half hours to account for the introduction and an optional solution walk-through. You can learn more about their games and ticket prices on EscapeSF's website. 
Reason
Conveniently located downtown San Francisco in the SoMa neighborhood is Reason. Come experience one of San Francisco's best escape rooms which features two Sci-Fi themed rooms, high-tech puzzles, and innovative game design. This unique location also boasts 5-star ratings on both Yelp and Trip Advisor. 
Reason's games offer you hands-on experiences with technology such as virtual reality, 3D printing, robotics, holograms and so much more! This venue also offers private bookings so you don't have to worry about being matched with strangers. Just be sure to pick your teammates wisely!