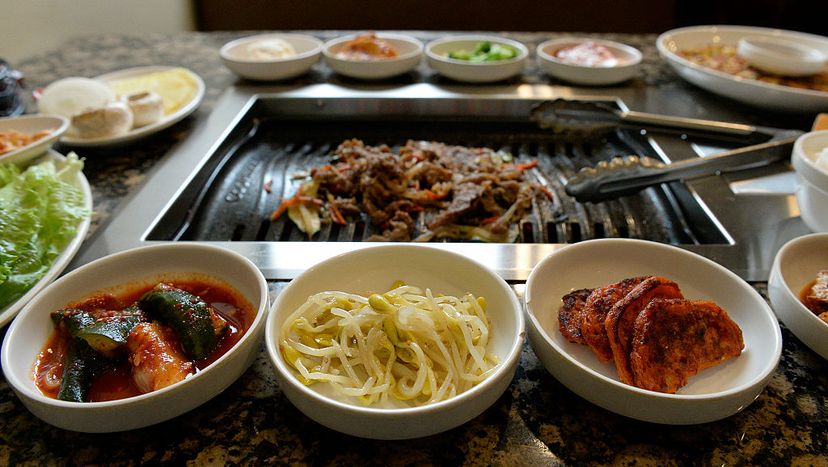 There are Koreatowns to discover all around North America, including Wilshire Boulevard in California, Los Angeles and West 32nd Street in Manhattan, New York, but today we're headed north to Canada to check out some exciting menus.
Koreatown restaurants are an ideal place to visit if you're in the mood for hot pot or bibimbap. Located in Seatown Village along Bloor Street between Christie and Bathurst, expect to find a wide variety of Korean businesses, including great places to eat that are serving up the best in Korean cuisine and more. So if you're in this Toronto neighborhood, check out our guide to the 10 greatest restaurants in Koreatown.
Korean Village
This Korean Barbecue restaurant is known for serving up some of the city's best bibimbap and pork bone soup. Since opening in 1978 as one of the first Korean eateries, the staff have offered exceptional service and consistently delicious classics, though the prices aren't quite at the level of "cheap eats", so be warned if that's what you're looking for.
Sunrise House
This traditional bun-shik, or "minute restaurant" has a menu packed with authentic Korean favorites at an affordable price. Consider ordering the Kimchi Seafood Pancakes, any of the steamed dumplings, and the spicy hot stone pot bibimbap at Sunrise House, though you can't go wrong with any of the menu items. Your order won't take long to arrive, so don't worry if you're in a hurry!
Home of Hot Taste
This Korean fried chicken restaurant has been serving up this newly popular trend for years already! If you're feeling brave, try their Blazing Fire Chicken or Squid. Otherwise opt for their original fried chicken (cheese is optional!) or prinkle chicken, which has powdered cheese sprinkled on it. Dine-in or takeout – either way, visit this Koreatown restaurant for some seriously good KFC.
Buk Chang Dong Soon Tofu
If you're a vegetarian, this Koreatown restaurant is definitely for you, though it's beloved by meat-eaters too. Known for their soft tofu stew, BCD Soon Tofu has six types of silky smooth tofu ranging from plain to extra spicy. Like many Korean restaurants, guests can expect banchan – a plate of vegetarian side dishes often consisting of kimchi, bean sprouts, sweet & savoury soy beans, and spicy pickled radishes. It may not be a flashy or exciting joint, but this resto serves up authentic Korean comfort food every time.
Hodo Kwaja
This restaurant's name translates to "walnut cakes", which is a typical Korean snack that's on the menu here. These tasty snacks resemble an actual walnut and either have walnut or almond pieces on the outer shell of the cake. There are three versions on the menu at Hodo Kwaja: Mashed potato filling with a walnut crust, mashed potato filling with an almond crust, and a red bean filling with a walnut crust. The owners of this little shop also sell Hotteok, which are Korean pancakes either stuffed with red bean filling or brown sugar, peanuts, sunflower seeds, and cinnamon. Stop in for one of these (or some of their other) treats while you're in Koreatown!
Kintaro Izakaya
Sushi-lovers will adore this Koreatown restaurant known for its yakitori dishes, which are charcoal grilled skewers in addition to their Japanese sushi. Ratings on Tripadvisor suggest that "this local gem" is the place to go for grilled meats in Koreatown. Their large chef prepared menu has a variety of items to choose from, from sashimi and rolls to deep fried Japanese chicken, so there's something for everyone. Count on leaving with a very full stomach!
Barrio Coreano
Mexican-Korean fusion cuisine is on the menu at Barrio Coreano and it's so good that this it scores the #2 rated spot for Koreatown restaurants on Tripadvisor! Unlike many of the restaurants on this list, the owners have paid close attention to decor and atmosphere with "exposed brick, miss-matched tile flooring, salvaged neon lighting, bowling alley floors repurposed into wood table tops" according to BlogTO. The menu focuses on small, shareable plates and items include Asian Pear Kimchi and Chicken Kampungki with rice flour battered chicken, kampungki salsa, wasabi aioli, sesame, and radish. They also have a great cocktail list with Kimchi Sours, Soju Sangria, and Goji Negronis available at the bar.
Tacos El Asador
If you're in the area but are craving something besides Korean food, hit up this family-run Latin-American resto that's been part of the Koreatown makeup for over 10 years. Here, you'll find popular Salvadoran and Mexican classics like burritos, quesadillas, tostada, and pupusas ($3.40), a Salvadoran specialty. The decor isn't anything fancy, but the food is good and the price is right at this Koreatown restaurant.
Kinton Ramen
Opening in Koreatown in 2012 as one of the first authentic ramen shops in TO, Kinton Ramen continues to woo customers with it's delicious food. Their signature soup base uses high quality pork and chicken bones and simmers for 20 hours to create rich, complex flavors (though they also have a vegetarian broth). With 17 different ramen bowls on the menu currently, there are options for everyone on this Japanese menu.
The White Brick Kitchen
Another great option if you're hoping for something else is The White Brick Kitchen where they serve American eats, including fresh doughnuts made in-house! If you're looking for breakfast, try the "Poulet Royale" with chicken tenders, easy eggs, ranch, and hickory sticks on a waffle or the Breakfast Poutine, with home fries, gravy, cheese curds, baked beans, 2 eggs plus your choice of meat or pickled hot peppers. It's got great reviews and 4.5 stars on Tripadvisor, so you know you can't go wrong with this Koreatown restaurant.