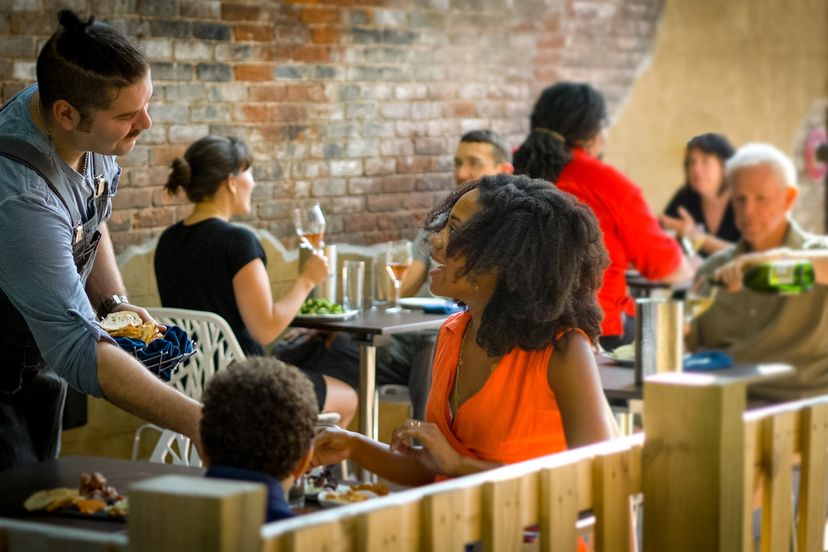 The city of Ann Arbor, located in the Lower Peninsula, is home to both the University of Michigan and a ton of great restaurants. While you might not have been able to get fine fares a decade ago, you now have endless drool-worthy options no matter what your budget is for a given meal. From high-end fine dining to all-you-can-eat brunch to cheap diner eats, the city is bursting with flavor! So to help you discover where to eat, we've reviewed and rounded up the 10 best Ann Arbor restaurants.
Aventura
This Spanish tapas style restaurant is near the top of most locals' list of favorites and is a definite "can't miss" in Ann Arbor. The modern-rustic vibe (and all the gorgeous Spanish tile!), menu with a fresh take on traditional recipes, and shareable, flavorful dishes will transport your taste buds to Spain in a warm, contemporary atmosphere. In fact, it's been reviewed and rated the #1 bar in Ann Arbor on Tripadvisor! Tapas are a great way to taste a variety of different items on a menu and make for a very social meal, so if you're looking for a restaurant to visit with a group, Aventura might be your most exciting option.
The Slurping Turtle
In the mood for Japanese food? This Ann Arbor restaurant, originally from Chicago, boasts delicious ramen and sushi dishes and an impressive sake menu. It's a low-key, budget-friendly option if you're not looking to break the bank on a meal while maximizing flavor. Most of the seating is communal, but there's no need to worry since slurping is considered polite here!
Isalita
This restaurant is probably the best Mexican food you can get in Ann Arbor, making it a great choice for Taco Tuesday while you're in the city. Think fresh and flavorful, not greasy, when it comes to Isalita's menu. The fare is a modern take on traditional Mexican food and the atmosphere is always bustling, so pull up a chair, order some tacos (the fajitas or quesadillas are also an excellent choice) and a margarita or two and get ready to dig into some seriously good eats.
Fleetwood Diner
Grab some breakfast 24 hours a day at one of Ann Arbor's most beloved little diners! It's self-proclaimed as hip and old-timey, with classic stools and walls plastered with stickers, magazine cuttings, and pictures. They serve up everything from burgers and milkshakes, to Greek fare and no compromise vegetarian options – all of it homemade. They're well known for their Hippie Hash – a melty dish of hash browns, veggies, meat (optional), and cheese – that you'll definitely want to order if you get the chance to pop in to this Ann Arbor landmark.
Sava's
Local, clean ingredients become flavorful and Instagram-worthy dishes at this beloved Ann Arbor restaurant. They're open for three meals a day, but are perhaps best known for their Sunday brunch buffet, that offers an all-you-can-eat spread including Cajun hash, a waffle bar, grapefruit tarts, and OREO cake – to name just a few dishes. If you can swing getting a spot at Sava's, you might just find your new favorite restaurant.
Zingerman's Roadhouse
Self proclaimed as "really good American food", Zingerman's Roadhouse is the place to go if you're craving a burger and fries or BBQ'd anything. They offer both table-service and takeout, with the takeout window (called the Roadshow Drive-Thru) operating out of a vintage Airstream trailer, giving you the option to stay or head back where you're staying. Zingerman's has been serving up comfort food at its absolute best since 2003 and has spent a lot of time developing full-flavored versions of classic recipes like macaroni and cheese and fried chicken, all using local Washtenaw County meat and produce.
Blue Tractor BBQ and Brewery
Look no further than Blue Tractor for craft beer and homemade barbeque! They serve up smoked ribs and wings, brisket, and pulled pork, as well as all the traditional sides like mac n' cheese, slaw, baked beans, and fries. Pair it with one of their best selling craft beers like the Smokehouse Amber or Pitmaster Porter brewed in house and you've got yourself the makings of a hearty, flavor-packed dinner! Whether you're looking for dinner for one or a party of 10, this Ann Arbor restaurant is a great pick.
Spencer
Spencer is a small (primarily) wine and cheese bar that focuses on quality with a frequently rotating menu because of seasonal and hyper-local ingredients. The entire restaurant is communal seating to encourage guests to share both conversation and good food, really creating a welcoming, community feel. The restaurant is both minimalistic and Instagram-ready and The New York Times said they serve "food of substance" that "feels San Franciscan". Plus, all the (incredible!) hand-picked wine you try in the restaurant is also available by the bottle in their in-house bottle shop!
Wilma's
Another Ann Arbor breakfast and brunch-specific restaurant known for its drool-worthy and Insta-perfect meals is Wilma's, the sister restaurant to Sava's (listed above). An oasis in a busy city, ingredients are always clean and nourishing, so you can feel good about what you're chowing down on. The space is white and bright with natural wood accents, plant life, high ceilings, and gorgeous pops of color throughout the restaurant, making it a fun place to brunch with friends and family.
The Raven's Club
If you're looking for an Ann Arbor restaurant with a speakeasy vibe, you'll be right at home at The Raven's Club. It has an upscale feel without crossing the line into fine dining. You can get all types of American cuisine, from pork belly buns to a New York strip loin, but drinks is where The Raven's Club really shines. It's got a robust traditional cocktail menu and 130 varieties of whiskey, so no matter your preference, there'll be something to wet your whistle with.