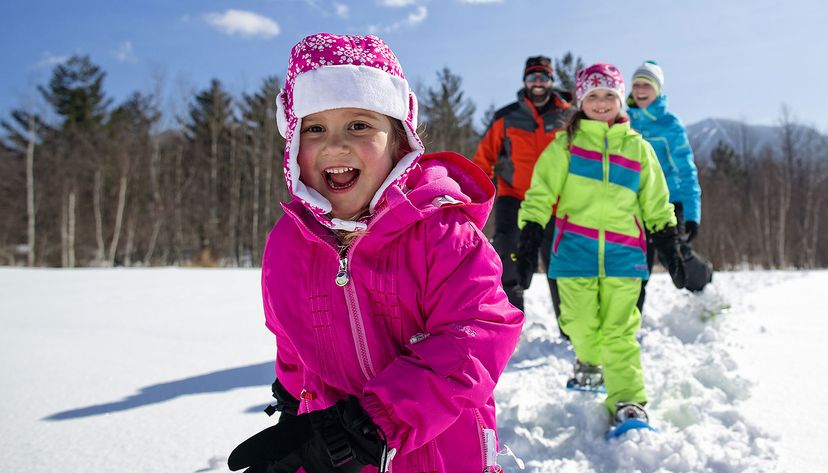 When you are looking for the perfect destination for a winter family getaway (that includes plenty of snowshoeing) there are so many options to consider. We have looked at hundreds of destinations and compiled a list of what we believe to be the best 10 snowshoe destinations for families. We examined factors such as location, ease of access to superior snowshoe trails, amenities for kids and parents and opportunity for guided and non-guided snowshoe treks. From luxury hotels to themed resorts there is a destination here to suit every families needs.
10. Ski Portillo, Chile
The first of two all-inclusive options on this list–Chile's Ski Portillo resort; this once-in-a-lifetime vacation destination is the perfect spot for families to relax, bond and snowshoe. Overlooking a pristine lake and situated in the Aconcagua Valley in the heart of the Andes, the scenery is enough to make you want to hop on a plane right now. But this destination offers so much more than just magnificent views and a ski hill. Portillo offers two excellent lodging choices for families. They offer two access trails to the mountain, along with numerous opportunities to trek around the base of Mt. Aconcagua. This all-inclusive resort includes meals, lift tickets for your entire stay (we suggest trying your hand at some skiing), accommodations, airport transfers and all amenities on site. From the dedicated tubing hills and outdoor heated pool for the kids to the outdoor hot tub and nightly live music for the adults, this gem should not go undiscovered.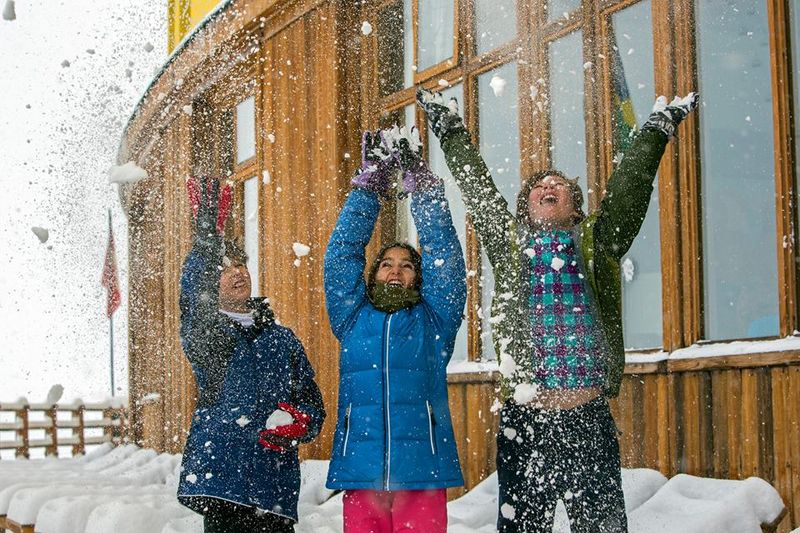 9. Adventure Suites – New Hampshire, USA
Our next destination is truly a kid's paradise. If you are looking for a relaxing, unwinding vacation, this may not be the one for you. But if you are looking for something totally unique that will have your kids begging to come back, Adventure Suites is the place. Named one of the top 10 theme hotels in the world, this hotel offers more than just really awesome rooms. We first need to talk about the suites they offer. From a prehistoric cave suite that features a five-person hot tub in the suite to a jungle themed suite that offers an upstairs for the kids complete with a flat screen TV and PlayStation…it may be hard to want to leave your room. Adventure Suites offer guided snowshoe treks as an add-on to any stay and offers free trail passes if you stay two or more nights. If you are looking to get on your own, Glen Trails Outdoor Center and Purity Spring Resort offer extensive trails to explore.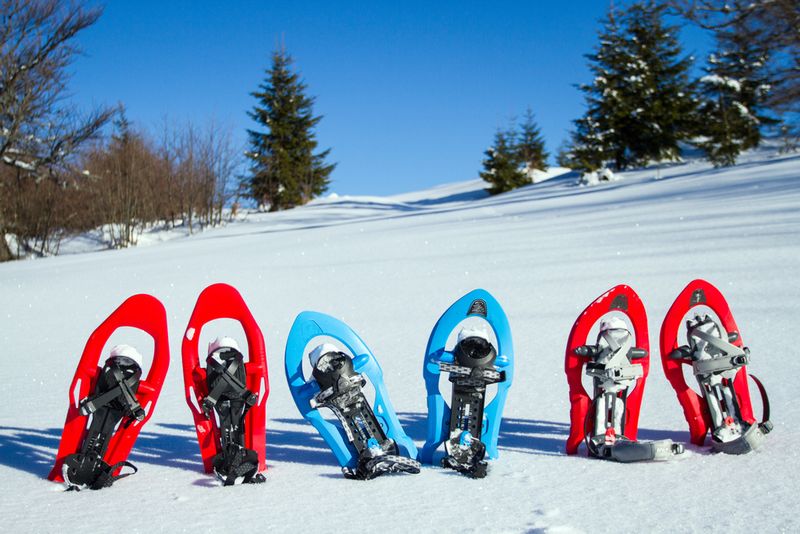 8. Hoshino Resort Tomamu, Japan
A huge resort featuring more than 800 rooms in two magnificent towers, an indoor wave pool, an ice village in the center of the resort (January-March) and unparalleled views of the mountain from your room makes Hoshino Resort Tomamu number eight on our list. Tunnels connect the towers to the restaurants and food court, which allow for warm ease of access during a cold night. Snowshoeing has become quite a popular sport in Japan and visiting the Polar Village Activity Center is where you will find all your snowshoe needs. Equipment rentals as well as maps of the area are provided. Members of the resort's staff are happy to help and if you tell them what kind of difficulty or length of trek you are looking for they will point you in the right direction. With fresh powder, breathtaking scenery and an experience you won't get in North America, Hoshino Resort is a fantastic choice for a family getaway.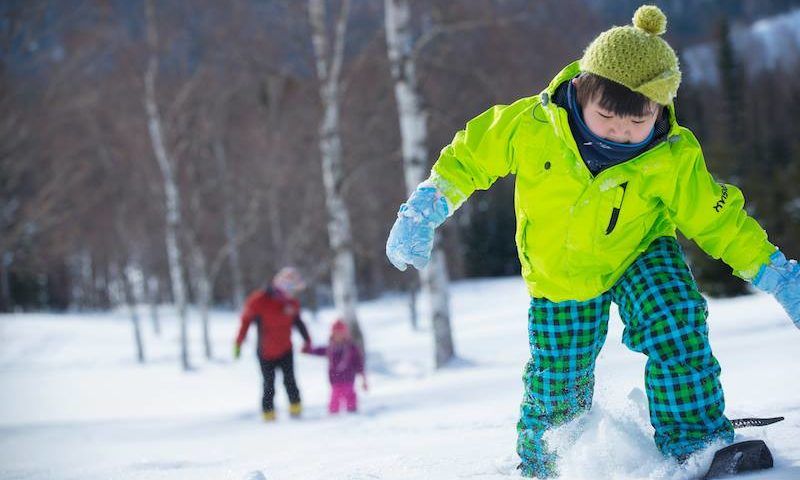 7. Douglas Fir Resort and Chalets – Alberta, Canada
If you are looking for the finest family accommodation in Banff, look no further as Douglas Fir Resort and Chalet is where you want to be. Located a four-minute drive from downtown Banff in the heart of the Rocky Mountains, the views from your patio will take your breath away. All rooms include complimentary WiFi, flat screen TVs, plug-and-play panels for personal gaming systems and a fireplace. What makes this resort even more family friendly is the indoor two-story playground, the indoor water park featuring two giant water slides and a "quiet time" for adults only, and an outdoor hot tub with views of the awe-inspiring mountains. There are unlimited snowshoe opportunities in Banff ranging from beginner to experienced. We highly recommend trekking around Marble Canyon in Kootenay National Park and the Sundance Trail to Sundance Canyon. Parks Canada offers up suggestions here or check out a tour company for a guided experience.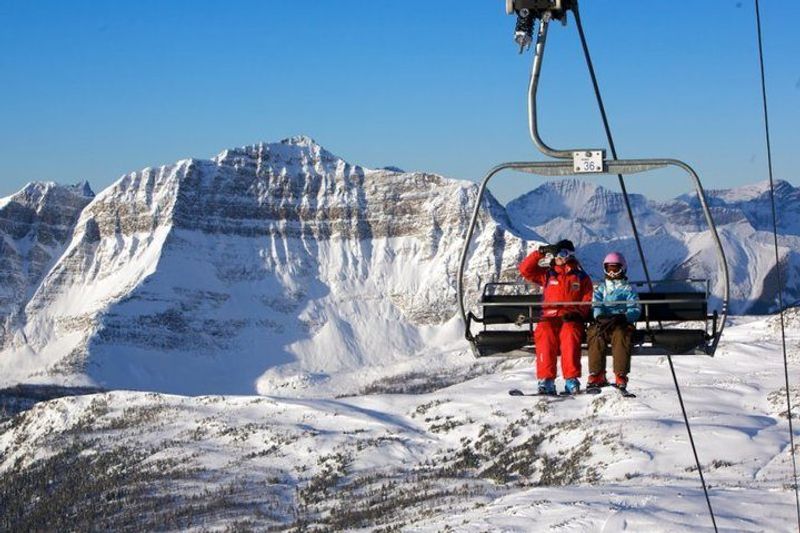 6. Firelight Lodge – British Columbia, Canada
The Firelight Lodge, located in the Silver Star Mountain Village, is one of the newest properties to the village; Firelight is located right next to the skating pond and tube park. With access to 16 km of snowshoe exclusive forested trails, Silver Star Mountain is your perfect destinations. Firelight Lodge offers up your choice of rooms that can include anything from a personal outdoor hot tub to a gas fireplace and patio BBQ. An in-resort shuttle runs through the Firelight and Village areas of the resort making it easy to access all amenities and restaurants. Snowshoe rentals and trail passes/maps are available at Ski Dazzle Rentals or the Village Ski shop. The kids will go nuts for the tube park and mini snowmobiles, or perhaps they will try their hand at the indoor climbing wall or ski-in ski-out bowling alley. Parents can relax in the outdoor hot tub, visit one of the pubs or unwind at the Yoga classes offered next door to the lodge.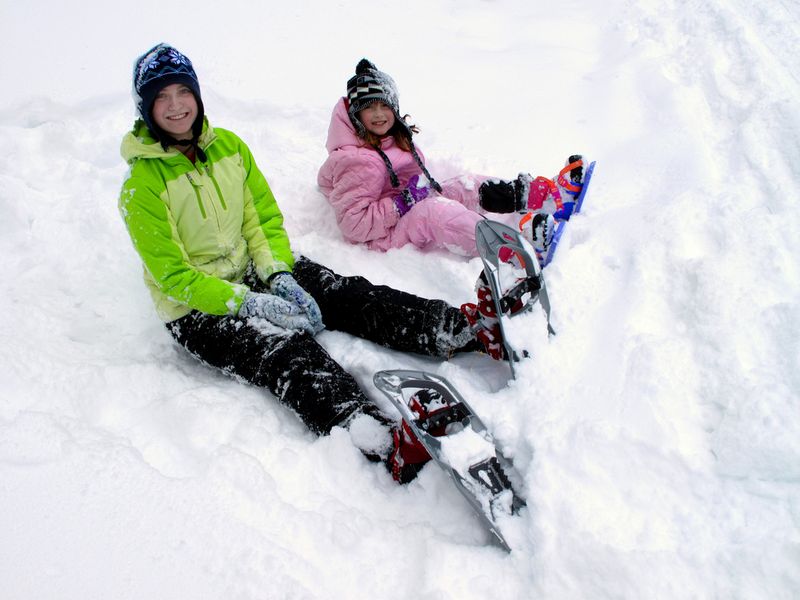 5. Crystal Mountain – Michigan, USA
Crystal Mountain Resort in Michigan is a compact resort that offers older kids a chance for independence as condos, restaurants and amenities are within a five-minute walk. For the wee ones with the tired legs, there is a complimentary shuttle to take you where you want to go. With more than 250 rooms ranging from the standard hotel room to bungalows to full houses, the accommodations at Crystal Mountain are superior. Snowshoeing is permitted on the entire Crystal Mountain property, except for the downhill runs and the cross-country ski trails. Equipment rental and trail maps are provided on-site as well as guided tours. For something a little different take a trek Michigan Legacy Art Park where ice sculptures line the way. Moonlight snowshoe tours are a popular activity at Crystal Mountain and a fun way to explore nature in the dark.

4. The Lodge at Sugar Bowl – California, USA
The Lodge at Sugar Bowl is not your typical family resort. Here you won't find huge flat screen TVs, gaming systems or world-class children's programs. Here you will find the country's only snowbound lodging experience, where you park your car in a garage and whisk up to the lodge in a gondola with your luggage. There are many different room options ranging from standard Mountain View rooms to family suites and adjoining rooms. The lodge also boasts a dining room, bar and new athletic center. But what you are really coming here for is the miles upon miles on snowshoe trails at Royal Gorge. Located right outside your front door you have access to North America's largest cross-country resort that features an array of exclusive snowshoe trails. Rentals and trail passes are available at the Summit Station Lodge where you can also rent a sled to pull the little ones along the trails with you.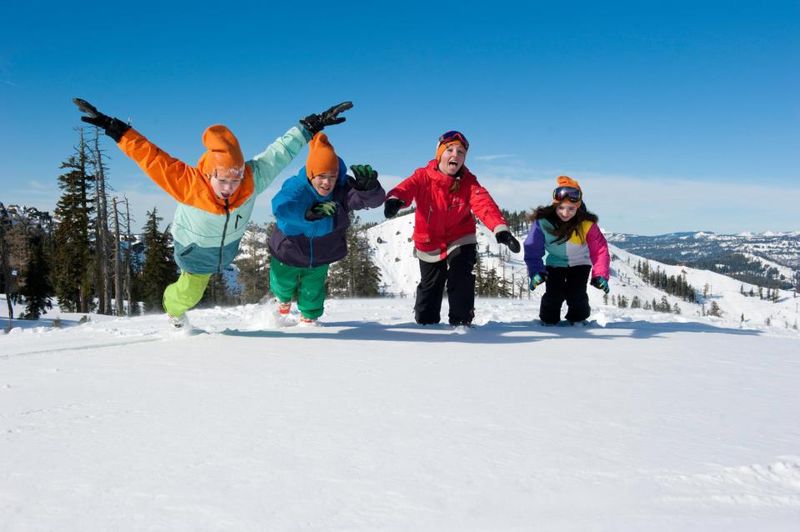 3. Waldorf Astoria Park City – Utah, USA
If you are looking for a luxury family getaway, Waldorf Astoria Park City in Utah is where you will want to head. With more than 4,000 acres of varied terrain in the backyard, this resort was meant to be explored. Dedicated shuttles will take you to local dining, skiing, shopping and entertainment. We do recommend this destination for kids 10 and up. Ranging from standard guest rooms to three bedroom suites with full kitchens, this resort offers such pleasures as upscale bathrooms with hot tubs and TVs, a free gondola up to Canyons Resort and free kids s'mores at night. Guided snowshoe tours are provided at Canyons Resort (a free shuttle ride away) where equipment can be rented. You can also go off on your own around the Canyons Resort and follow the marked trails. If you are looking to explore other areas, we recommend checking out Snowshoe Utah where you will find a variety of trail maps.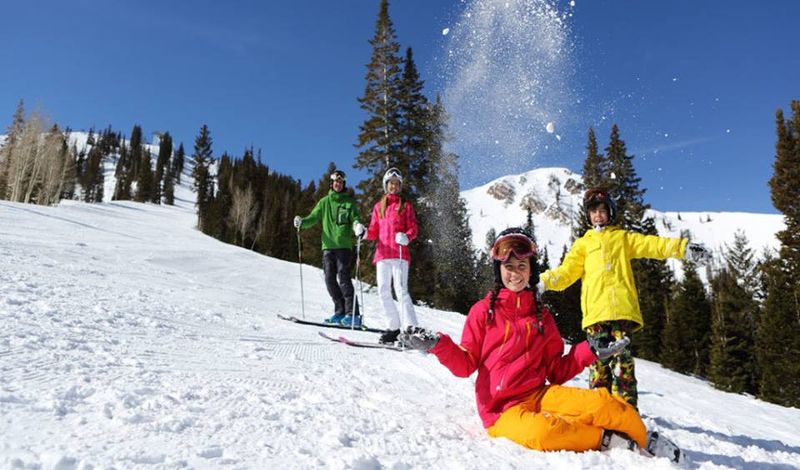 2. C Lazy U Ranch – Colorado, USA
If you are looking for a vacation that combines the love of the outdoors, breathtaking scenery and a chance for the kids and you to learn something new, C Lazy U Ranch in Colorado is the perfect destination. From horseback riding to sledding to ice skating to snowshoeing, this dude ranch is the perfect all-inclusive winter wonderland. Choose from cabins that include refrigerators, stone fireplaces or separate bedrooms for the older kids. Enjoy the personal touches such as daily housekeeping service, bed turn down, coffee and tea, plush robes and a fruit basket that is replenished each day. Now let's talk about the snowshoeing. A popular winter activity at this resort, all equipment is offered for no extra charge and a trail map is provided on request. From beginner to expert, there are trails to suit any level of experience. Other activities include skating, sleigh rides, sledding, snowmobiling, skiing and so much more.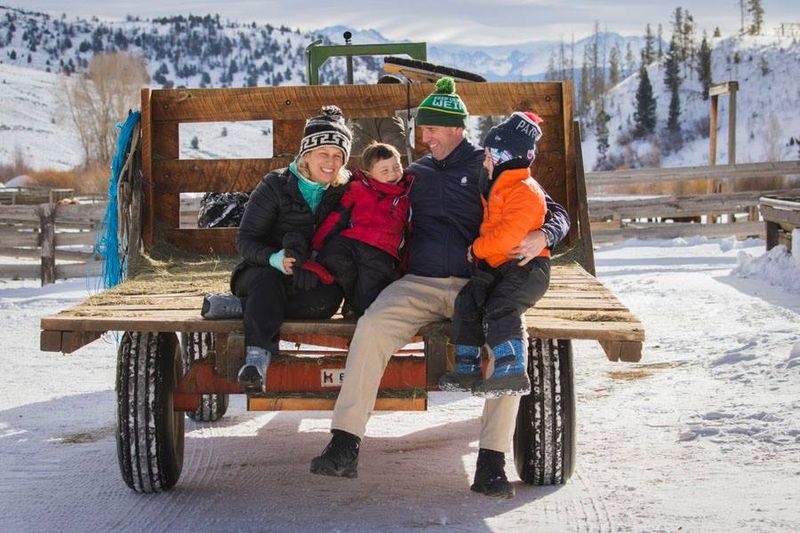 1. Smugglers' Notch Resort, Vermont, USA
Rated as the granddaddy of all family resorts, it is no surprise that Smugglers' Notch Resort ranks No. 1 on our top 10 list. From the huge fun zone offering an arcade, slides and after-dark teen programs to the heated indoor pool to the massages for mom and dad, Smugglers' has gone above and beyond what one expects from a resort. Upon booking your vacation you will have the choice of condominium style lodgings. Each are either within walking distance or an on-demand resort shuttle is available to take you to all the village amenities. The Nordic Ski and Snowshoe Adventure Center is where you want to head for all your snowshoe needs. Here you will find 24 km of dedicated snowshoe trails to explore off the beaten path. If lessons are what you are looking for, they offer both group and private lessons with equipment rental on-site. For a memorable snowshoe experience try the snowshoe adventure dinner; a dining experience atop Sterling Mountain with a 40-minute snowshoe after dinner back to the base lodge.