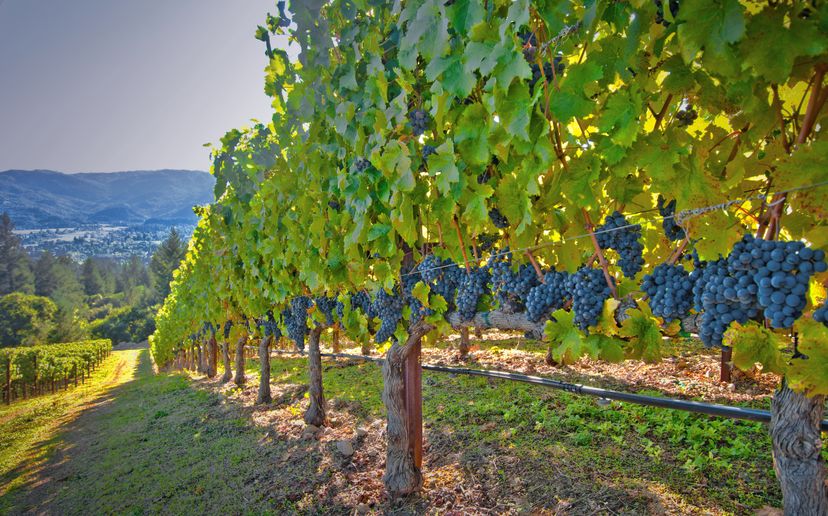 Nearly 4 million tourists visit Nappy Valley, California every year and for good reason. Napa Valley features a stunning landscape and a small-town atmosphere but what really draws in its visitors is the wineries. 
Whether you're looking for an intimate experience at a small boutique winery or searching for an exciting venue that features restaurants, shopping, and more, Napa Valley has it all! While every winery is unique, some do stand out from the rest. Follow along as we uncover some of the best wineries in Napa Valley that you don't want to miss.
Castello di Amorosa
Castello di Amorosa features a 13-century Tuscan-style castle making it one of the most unique destinations you'll visit in Napa Valley. The castle is made from over 8,000 hand-chiseled local stone, and nearly one million antique bricks imported from Europe. The architecture in itself is a sight to see. The winery produces carefully handcrafted wines from Pinot Grigio and Chardonnay to Pinot Noir and Merlot, and so much more. 
When you're ready to explore the winery, you can check out one of the many tour options. Have your choice of the Reserve wine tour, food and wine pairing tours, and a cheese and wine tour. You may also be pleased to learn that the winery is also kid-friendly as they provide grape juice tastings and plenty of space to explore. With over 136, 000 square feet, and an array of tour options, it's easy to see why Castello di Amorosa is one of the best wineries to visit in Napa Valley. 
Del Doto Vineyards
The Del Doto family name has been rooted in winemaking since the 1400s. Dave Del Doto and his wife, Yolanda came across a stunning property in Napa Valley that featured a 1912 Frank Lloyd Wright craftsman house. After falling in love with the landscape, they purchased the 17-acre property and continued the 800-year old winemaking legacy. Alas, you can now explore the lavish Del Doto Vineyards. 
Check out the breathtaking winery for yourself. Here' you'll experience the love and dedication that goes into making their premium wines. Not only can you enjoy an elegant wine tasting but you'll also enjoy the delicious food that brings your glass of wine to life! The winery's executive chef, Joshua Schwartz, is a master in pairing wine and food and will ensure every tasting is a great experience. Del Doto also happens to be one of the Kardashians go-to wineries in Napa Valley!
Chateau Montelena Winery 
Step foot on the grounds of the Chateau Montelena Winery and you'll be welcomed by a breathtaking view. To begin, the Chateau resembles an English Gothic-style stone castle which is stunning in itself. In addition to the architecture, you'll also appreciate the landscape which boasts a beautiful Chinese garden, tall trees, a lake, and vineyards that lead to the base of Mount Saint Helena. 
The winery is well-known for its chardonnay, and cabernet sauvignon and you can try these for yourself with a wine tasting at the Chateau Montelena Winery. Keep in mind that when visiting the winery there are no reservations required for a walk-in bar tasting. That said, all other tastings will require a reservation. If you're looking for an intimate wine tasting experience, be sure to book the Library Tasting. During this tasting, you'll have the opportunity to try and purchase exclusive wines that are not commonly available in the marketplace. 
Artesa Vineyards Winery 
The Artesa Vineyards Winery boasts 150 acres of breathtaking landscape and is located at the southern tip of Napa Valley. The cool, maritime climate makes this an excellent destination to grow and cultivate vines for chardonnay and pinot noir. In fact, 80 acres is dedicated to pinot noir, while almost 50 acres is dedicated to chardonnay. The other 20 acres are dedicated to 12 micro-blocks which is adapted for boutique Estate bottlings. 
Walk-in guests can have their choice of a classic tasting or tinto tasting which ranges between $35 and $55. It's also worth noting, there are select tours and tasting that require a reservation so be sure to call ahead. Spend an afternoon on the grounds of Artesa Vineyards Winery and you'll quickly discover why this is one the most beautiful wineries in the Napa Valley. You can even catch a glimpse of Artesa's scenery in the Netflix film, Wine Country, which was directed and starred by Amy Poehler. 
Sterling Vineyards 
Sterling Vineyards is uniquely placed 300 feet above the town of Calistoga providing you with a magnificent panoramic view of Napa Valley that is quite unlike anywhere else. Guests can ride the aerial tram to the hilltop winery. Here you can take in the stunning architecture that was modeled after the Greek island, Mykonos. 
Guests will have the opportunity to take a self-guided tour of Sterling Vineyards which allows you to explore the grounds at your own pace. Furthermore, you can also book a reservation for one of the seated tasting experiences. Tastings range anywhere between $35 per person up to $100.. You can learn all about the current tasting experiences on Sterling Vineyards' website. 
Inglenook
Inglenook is a historic winery located in Napa Valley. The winery was founded in 1879 and then later partially purchased by Francis Ford Coppola and family in 1975. Finally, in 1995, Coppola purchased the remaining portion of the estate and began restoring the chateau into the beauty it is known for today. The grounds feature fountains, lavish trees, and 1, 700 acres of vines. 
If you're looking for an interactive experience be sure to book the Inglenook Experience tour. You'll be guided on a walking tour of the estate which covers the Chateau, infinity caves, and vineyards. In the private caves, you'll also have a seated tasting paired with a variety of artisan cheeses. There are a few other experiences to choose from too. Check out the full details on Inglenook's website. 
Domaine Carneros 
If a luxury experience is what you desire be sure to visit Domaine Carneros. The estate features a breathtaking chateau inspired by the 18th-century Chateau de la Marquetterie in Campagne, France. Even though the estate is located in Napa Valley, once you step foot on the grounds, you'll feel like you're in a French wine country.
Enjoy the winery's fine sparkling and still wines in the marble-floored salon or on the terrace overlooking the breathtaking view of the vines. Appointments are available daily between the hours of 10 AM and 5:30 PM and reservations are required. From the stunning architecture to the formal gardens, and vine-covered hills, it's easy to see why Domaine Carneros is one of the absolute best wineries in Napa Valley.