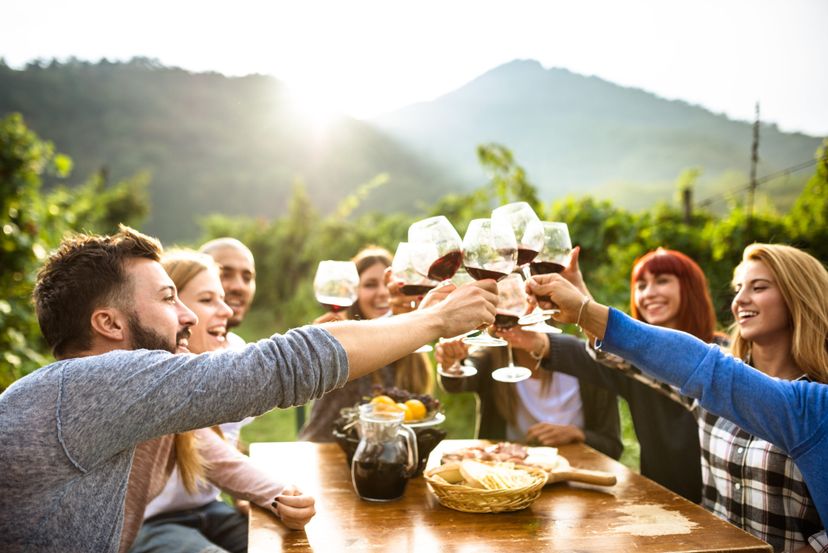 The Napa Valley has been known for its beautiful wineries straight out of a storybook since the 1960s. While there are many popular tourist wineries in the area, there are also a few hidden gems that are more known for their intimate, boutique-style experiences. If you're headed to Napa soon, be sure to add these acclaimed boutique wineries to your itinerary. 
6. St. Clement Vineyards
Despite its storied history, St. Clement has remained true to its focus as a boutique winery in the Napa Valley. The land was first used as a winery in 1878 and the current winery dates to 1976 and, since then, St. Clement has become a staple of the Napa Valley. With both its own vineyards and strong relationships with other local growers, St. Clement has focused on making vineyard-driven reds and crisp whites, without any additives or fillers that detract from the wines. The winery's signature Oroppas, first vinted in 1991, has become something of a legend. Drop-in for a tasting between 11 am and 5 pm daily, or book a private tour and tasting. With a rich history and flavorful wines, it's not a surprise that St. Clement has become a must-visit stop on any tour of the Napa Valley.
5. Del Dotto Vineyards
A small, family-run operation, Del Dotto focuses on producing premium, small-batch wines. Experimenting with both ancient and modern wine-making techniques, Del Dotto sources their grapes from family-owned vineyards scattered throughout the Napa Valley region, making for unique blends and flavorful wines that reflect the region's diversity. Renowned not only for wine, Del Dotto has also become a destination for those seeking a Napa Valley experience because of their award-winning hospitality. At both winery locations, cave tours and bar wine tastings are offered by reservation. You can also sample the Del Dotto delicacies, a food and wine pairing experience curated by the estate's executive chef. Both the food and wine pairing and the cave tour received Cellarpass Destination of the Year awards in 2015. For those particularly intrigued, the winery offers a VIP club, with additional events and special reserve wines for members.
4. Alpha Omega
One of Napa Valley's newer wineries, Alpha Omega opened its doors in 2006. Since then, the boutique operation has focused on creating balanced blends using appellations from around the valley, each reflecting the unique heritage of the region. With a Swiss winemaker and the famed Michel Rolland acting as a consulting winemaker, the vints produced by Alpha Omega have been nothing short of world-class, even as they combine Old and New World traditions. The estate, in Rutherford, is surrounded by mountains and vineyards and boasts a number of panoramic views. The tasting room is open from 10 am until 6 pm every day, with standard wine tastings from $30 per person and a "Red Only" tasting option as well. Private and group tastings can be booked in advance. Make a reservation for a weekday visit and pack a picnic lunch to enjoy during your visit!
3. Black Stallion Estate Winery
Located on the grounds of an old equestrian center, Black Stallion set up its winemaking operations in the remains of the indoor race track in 2007. Acquired by one of the region's family-owned winemakers in 2010, the winery has produced an array of award-winning selections, all while keeping a distinct local flavor and family feels. A trip to the estate itself will only reinforce that sense of rustic charm, as the grounds are surrounded by century-old olive trees situated along the beautiful Silverado Trail. Once at the winery, guests can sample some of the offerings in the tasting bar or relax outside on the terrace. Private tours, tastings, and events can all be arranged, and Black Stallion plays host to a number of special events throughout the year, including luncheons, dinners, and art shows. 
2. Outpost Wines
The fact that tastings are by appointment only and must be booked about a month in advance shouldn't discourage you from taking the time to visit Outpost; in fact, it should tell you something about the operation's reputation! Perched on Howell Mountain, Outpost is a 42-acre vineyard located 2,200 feet above the valley floor. Offering up a peaceful, rural setting, it's easy to see why the winery would want to keep groups small and appointments few to upkeep the intimate feel. Organically grown grapes go into every hand-crafted vintage, so you can be assured of quality and character when you taste one of Outpost's Grenache, Zinfandel, Cabernet Sauvignon, or Petite Sirah varietal bottlings. The process is also important to Outpost's wines, with no fining or filtering involved so as to preserve the full flavor of the wine.
1. Whetstone Wine Cellars
Although Whetstone's operation is quite new, the location has been making waves in the Napa winery industry. With a focus on face-to-face communication and Southern hospitality, Whetstone seeks to make visiting and tasting an experience unlike any other in the Napa Valley. Sourcing grapes from 6 vineyards in the Napa Valley, Sonoma Coast, and Russian River Valley regions, Whetstone has produced luxury wines, with a focus on iconic Pinot Noir blends. A French-style chateau, dating from 1885, serves as the 2-acre estate's tasting room. Fully restored in 2013, the historic distillery is similar to other iconic wineries around Napa Valley, including Chateau Montelena. Wine tastings are $30 per person and the folks at Whetstone request 24 hours advance notice. Why wait to book? Whetstone's unique experience is a must, for both first-timers and experienced Napa Valley visitors.