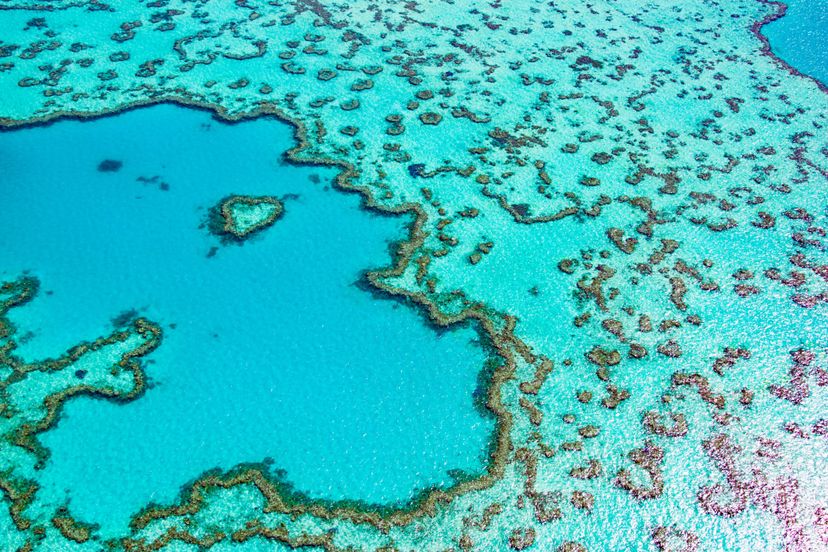 After decades of traveling the globe, always wanting to get to Australia but never quite making it, finally I'm in Oz! And one of the best things I got to do was to dive the Great Barrier Reef – bucket list check!
After a week in Sydney and then 5 days in Brisbane, I headed up to the northern Queensland coast to Cairns, where I had a sweet little artist beach house to call my own for the week. I was trading places by doing a home exchange in Machan's Beach, near Cairns.
From here, I took a day trip with Raging Thunder to Fitzroy Island, to snorkel along the outer edges of the Great Barrier Reef: the largest living organism in the world, that can even be seen from space. Just 45 minutes by ferry from Cairns, Fitzroy is a small island with some pretty good snorkeling and sea kayaking. I started my day with a 20-minute walk through the rainforest to Nudey Beach (not called that for the reason you think!), where it was nice to find some soft white sand — Fitzroy Island is largely made up of broken off coral, and so it's pretty hard to walk on most of it. (TIP: it's great to bring water shoes on this trip!)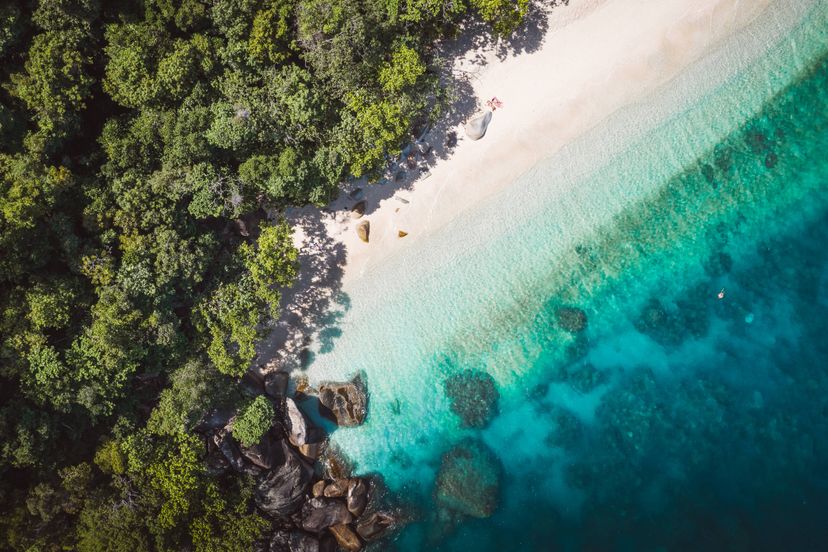 With Nudey Beach having the island's only real sand beach, I did some snorkeling and hung out under a tree to relax and read as well. The short hike through the forest is nice, and you can pass a "Secret Garden" area if you want to check that out.
Afterward, I hiked back to Raging Thunder's activity hut by the boat dock and grabbed my boxed picnic lunch that was included with the tour. Grabbing another shaded spot at the water's edge, I enjoyed my lunch before hiking down the beach in another direction, toward some rocks that sat off the shoreline for a bit and were told to be a favorite gathering spot for sea turtles.
Here I did some more snorkeling — and this area was REALLY filled with broken coral pieces and sharp rocks, so going barefoot is next to impossible. After making my way into the water, I snorkeled around for a while; and while I didn't see any turtles, I did see a lot of vibrant, very large coral and plenty of tropical fish including the colorful, playful parrotfish. But the biggest prize of this snorkel was the white reef shark that I spotted! He was about a meter in length, and I tried to follow him for a few minutes but he got shy and swam off quickly. I was pretty excited to have seen a shark in the Great Barrier Reef though!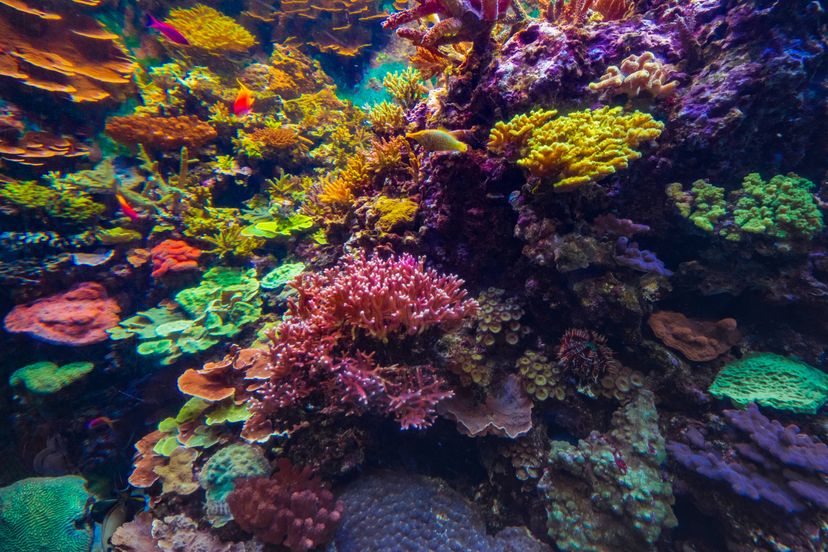 After a week in Cairns, I hopped on a plane south to the amazing Whitsunday Islands — simply one of the most stunningly beautiful groups of islands I've ever seen; the kind that looks like postcards even in person, so gorgeous as to seem almost unreal. The views landing and stepping off the plane were already enough to make me want to stay forever. The Whitsundays are made up of 74 Island Wonders, on the beautiful tropical coast of Queensland, Australia. Right in the heart of the Great Barrier Reef, a visit to the Whitsundays is a feast for the senses. The amazing natural landscapes of coast and islands are dotted with secluded beaches and friendly towns; I landed at Hamilton Island, the most developed of these.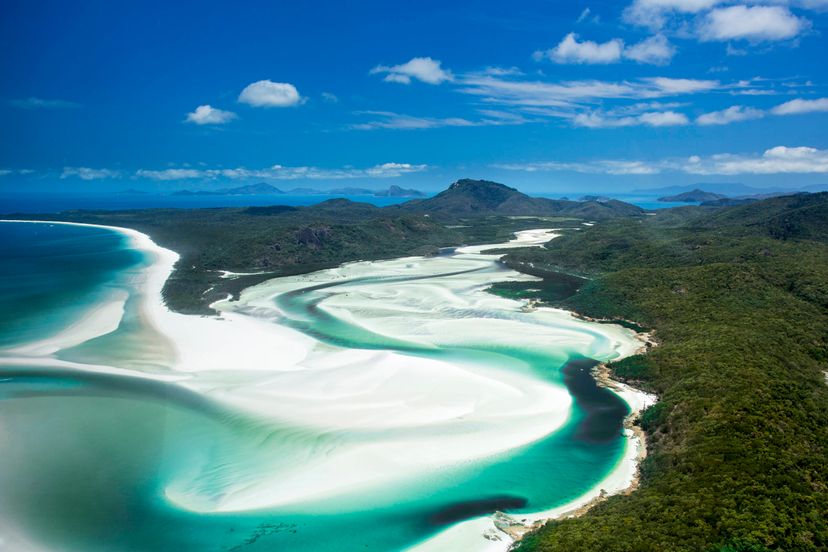 I got checked into the fabulous Qualia Resort, an oasis of luxury on a hill that took advantage of all those jaw-dropping views. I was assigned to my own personal bungalow, and even my own personal electric buggy to drive around Hamilton Island — most people get around by these buggies. Qualia was a very special place; a private world of luxury unto itself. I got to rest up by enjoying a massage, sunset cruise around the islands, and lovely dinner that first day, in preparation for my next Great Barrier Reef adventure.
The next morning I set off with Cruise Whitsundays for a full-day adventure at the reef. This ferry ride was longer, about two and a half hours because we were really going into the reef itself. The ferry took us to Hardy Reef, one of many reefs that comprise The Great Barrier Reef — the world's largest coral reef system composed of over 2,900 individual reefs and 900 islands stretching for over 2,300 kilometers. Here, Cruise Whitsundays has their own anchored pontoon boat 39 nautical miles out, with amenities such as undercover seating and tables, sun decks for topping up the tan, freshwater showers, change rooms, and full access to the air-conditioned comfort of our reef vessel. Most importantly, there's access to seeing the reef and its life: snorkeling gear and stairs down to access the dive spots, a submarine with glass viewing windows that will take guests around the reef, and even an underwater viewing station. All of this makes the reef and its life viewable to just about anyone of any capability, even those who don't get in the water.
A coral wall, home to an ecosystem of magnificent corals and marine life runs adjacent to the pontoon. Hundreds of fish species gather here, giving the reef that magical feel in an intricate garden of hard and soft coral thriving in sheltered lagoons. The bright colors and amusing antics of anemone, parrotfish, and sometimes even turtles and reef sharks, captivate all. It is common to see tusk fish, cuttlefish, morays, barracudas, unicornfish, surgeonfish, angelfish, starfish, feather stars, and much more.
And I was going diving! Thanks to the Cruise Whitsundays Introductory to Dive experience, you don't need to be certified. I'm not, although I have been diving before in similar "learn to dive" programs in Nicaragua. With this Intro package, even people who have never been diving before or are even nervous about it can feel at ease. All of our equipment was provided and taken care of, and the instructors/guides were with us at all times, at a ratio of two divers per guide — meaning they are even available to hold your hand if you need it!
I was in the first group, and after suiting up with equipment we traipsed down the stairs to the underwater pool and access point. Holding on to a metal bar in the center, the instructors showed us how to use our breathing tubes, what to do if we got water in our masks and other fine points of the dive. We all practiced breathing underwater there and set out. Since I had been diving before I felt pretty comfortable; for me, this is just an easy way to dive when and where I decide to, without the hassle and expense of getting certified (because I'm lazy).
It was really magical under the water. The reef was fairly vibrant, and immediately tropical fish surrounded us, including some huge groupers. We swam all around the reef and I felt like I needed to pinch myself. This was truly a bucket list dream come true.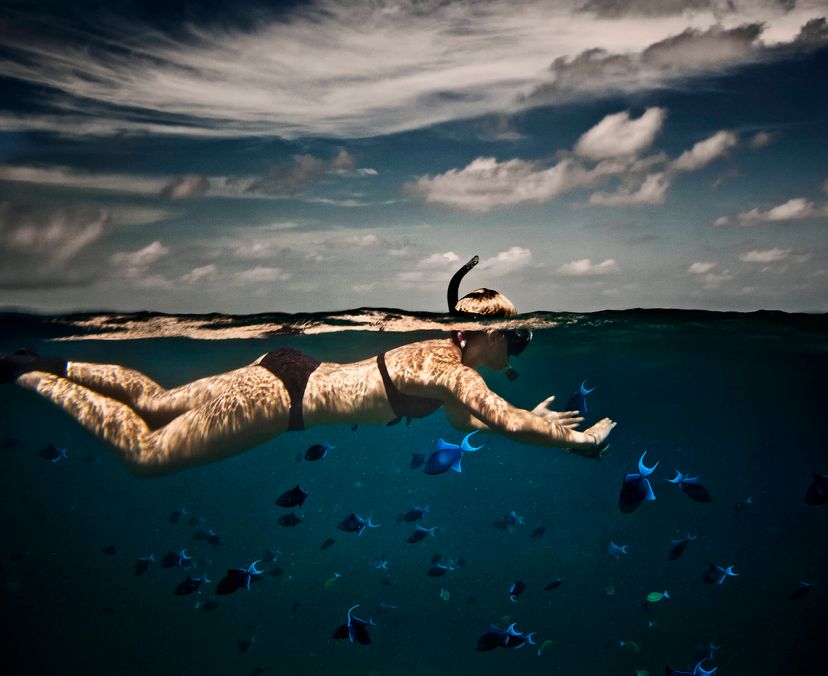 I highly recommend these tour operators if you get to the area to experience the wonderful waters of the Great Barrier Reefs; they were extremely competent, safety-conscious, and fun. And the reef — Australia in general — is pretty awe-inspiring!