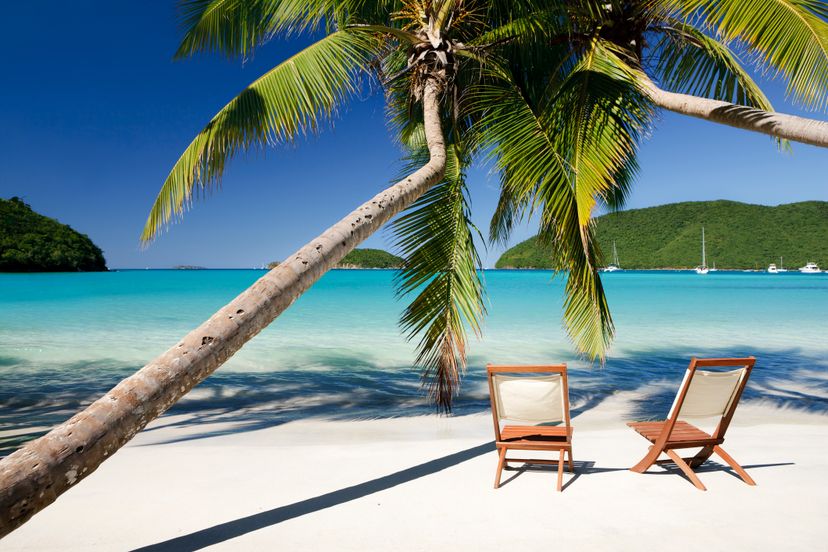 The Caribbean boasts more than 7,000 individual islands and is home to some of the most beautiful vacation destinations in the world. There are 12 dependent territories and 13 sovereign island nations with affiliations to Europe and the United States. With so many stunning islands to choose from it can be hard picking the perfect destination for you. Luckily for us, the Caribbean features vacations for everyone from family-friendly islands to luxurious resorts and beyond. To help make the decisions easy, check out our list of the best Caribbean Island vacation destinations!
St. Lucia
St. Lucia is widely considered one of the most beautiful islands in the Caribbean. It has long been a popular spot for honeymooners. It features many all-inclusive resorts with lots of amenities, a lavish landscape with mountains as well as pristine beaches. The island is also famous for its annual jazz festival which takes place each spring.
Aruba
Aruba offers a diverse number of activities for people of all ages. On the one hand, it's very family-friendly, with many resorts catering to families with kids. On the other hand, you can find many adult-centered activities, such as nightlife and a wide assortment of casinos. Aruba also has a slightly different landscape from many Caribbean islands as it features more of a desert appearance rather than forests.
Jamaica
Jamaica attracts travelers of many different types. Some come to see the amazing flora and wildlife, including many exotic species of birds. Others come to experience the famous Reggae music scene, which had its birthplace on this island. Many golfers come to Montego Bay, known for having the best golf courses in all of the Caribbean. Finally, Jamaica also frequently offers great deals, especially on all-inclusive resort packages, making it a very attractive destination. 
Guadeloupe Islands
Experience French Caribbean in Guadeloupe Islands. Guadeloupe has over 12 radiant islands that cater to every type of traveler whether you're traveling solo, with kids, or with a partner. The Guadeloupe Islands offer everything from relaxing on the beach to taking a dip in one of the natural hot springs, deep-sea fishing, exploring the island on a quad, hiking through the lush jungle mountains, and more. Plus, the new direct flights from the US to Guadeloupe islands make traveling quick, easy, and accessible!
Grenada
Take a trip to Grenada, the spice of the Caribbean where you'll be welcomed by fresh Caribbean air and wafts of nutmeg. Grenada will cater to every type of traveler whether you're seeking adventure or relaxation. You can discover the unspoiled landscapes through hiking, snorkeling, and visiting one of Grenada's many historic sites. When you're ready to relax and enjoy the sun, visit Anse Beach, a popular choice amongst tourists and locals alike. This beach features a 2-mile stretch of luxurious white sand and calm sea.
St. John
St. John is part of the U.S. Virgin Islands National Park which means U.S. citizens can visit without a passport. There are quite a few deals for both St. Thomas and St. John right now, so it's a good choice for travelers on a budget. Snorkelers should not miss visiting Trunk Bay, one of the best snorkeling spots in all of the Caribbean for seeing amazing marine life.
Barbados
Barbados is one of the most multifaceted Caribbean islands, offering a wide range of accommodations and activities. It also happens to be one of the safest islands for families in the Caribbean. It has places to stay for visitors of every budget and a diversity of landscapes and cultural activities. Visitors especially enjoy visiting the lively city of Bridgetown, which dates back to the 17th century. One of the island's most spectacular attractions is Harrison's Cave, an amazing formation that can be seen on a tramway.
St. Martin/ St. Maarten
St. Martin/St. Maarten took a huge hit when Hurricane Irma struck in 2017 but thankfully the island is almost completely restored to its natural beauty. This small island offers an unmatched experience as you can enjoy 3 distinct cultures from Dutch on one side to French on the other, and a blend of both combined with the exotic native heritage. This beautiful island is surrounded by clear, turquoise water that offers swimming, sunbathing, and many watersports.  Stay at a luxury hotel or villas and enjoy delicious food at 1 of the 300 restaurants. Additionally, shopping is also duty-free and if you enjoy the nightlife, both the casinos and nightclubs are open until dawn.
Bermuda
Bermuda is recognized as one of the most elegant of the Caribbean islands and is also on the formal side. The island has a strong British influence. You can still find many places that serve traditional afternoon tea and cricket matches are also easy to find. Bermuda features many world-class golf courses making this a great vacation destination for golf enthusiasts. The island can be conveniently reached from Eastern states in America. A flight from New York to Bermuda is only two hours.
St. Barts
There's a reason why so many celebrities and socialites visit this tropical paradise destination. St. Barts, also known as St. Barths by the locals, is a vacation destination packed with relaxation and over-the-top luxury. This immaculate location is perfect for travelers who are seeking a sunny getaway. You can stay at one of the elite hotels such as the newly renovated Hotel Le Toiny St. Barth that will make you feel like you've stepped into an interior design magazine. You can also rent one of St Barth's villas that offer you a private getaway and be sure to visit one of St. Barts 16 beaches.
Anguilla
Anguilla is famously known for its white beaches. In fact, there are more than 30 stunning beaches to choose from. This island is perfect for people looking for a quiet and less touristy Caribbean experience. It's also one of the smaller Caribbean islands, so you can easily see the whole island if you're there for a few days. At the same time, you can find some interesting nightlife here to stimulate you after a day relaxing on the beach.
Dominica
Travelers who appreciate green, lush natural beauty will surely enjoy a trip to Dominica. The island offers something for everyone. If you're seeking adventure you can enjoy hiking, snorkeling, and sightseeing. When you are ready to relax you can lounge by the ocean or take a dip in one of the many natural sulfur hot springs. Dominica is also home to the Morne Trois Pitons National Park, 1 of 23 UNESCO World Heritage Sites in the Caribbean. They don't call Dominica 'The Nature Island' for nothing!
Grand Cayman
Grand Cayman, the largest of the Cayman Islands is a British Overseas Territory that blends culture, art, and nature to provide you a trip of a lifetime. Experience Cayman Island's most popular attractions, Stingray City where you can get up close and personal with friendly stingrays by swimming, feeding, and taking photos with them. On the west side of the island, you can visit the stunning Seven Mile Beach where you can snorkel and scuba dive around the reefs, lounge by the ocean, or explore the Seven Mile Shops.
Antigua
Antigua is a small island that is often grouped with its nearby neighbor Barbuda. This island is a  popular gambling destination as it has a good selection of casinos. It also has plenty of other exciting nightlife, including great restaurants, cafes, and discos. The beaches are also excellent, and you can find literally hundreds of them, with both white and pink sand.
Vieques
This small island isn't quite as popular as some of its neighbors, and many visitors consider that a good thing. Vieques is perhaps the best Caribbean island for truly getting away from it all. It has fewer than 10,000 citizens, which almost makes the island appear deserted. The island is a popular honeymoon destination and it's also a favorite of eco-tourists, who are drawn to the protected area known as Mosquito Bay.
Curaçao
Head 90 miles north of Venezuela, and you'll find the island of Curaçao, a beautiful destination that offers one of the liveliest urban centers in the Caribbean. Curaçao is a great destination for travelers of all ages. You can enjoy the bustling nightlife, go golfing, go on a shopping spree, experience nature at one of the lush parks, or lounge by one of Curaçao's beautiful turquoise beaches. You can even head to Willemstad, Curaçoas capital where you can take in the Dutch colonial architecture and get a distinctive Euro-Caribbean experience.
Puerto Rico
Puerto Rico is another island that is a commonwealth of the U.S. This means, U.S. citizens do not need a passport to visit this island. This is a bustling island that offers plenty of activities for its guests. Cities such as San Juan and Ponce offer many historical sites as well as great food and nightlife. There are lots of different kinds of beaches, making it equally attractive for surfers, snorkelers or people who simply want to relax. Puerto Rico also has many casinos both large and small.
St. Kitts
St. Kitts is known for its pristine beaches, rainforested mountains, and white, grey and black sands. This Caribbean island would be a great destination for almost any type of traveler whether you'd like to relax by the beach or seek adventure through exciting activities. Consider ziplining through the rainforest, go snorkeling at Dieppe Bay Beach, sail on a catamaran to Nevis, or take a scenic ride on a railway tour that actually used to be an old sugar train.