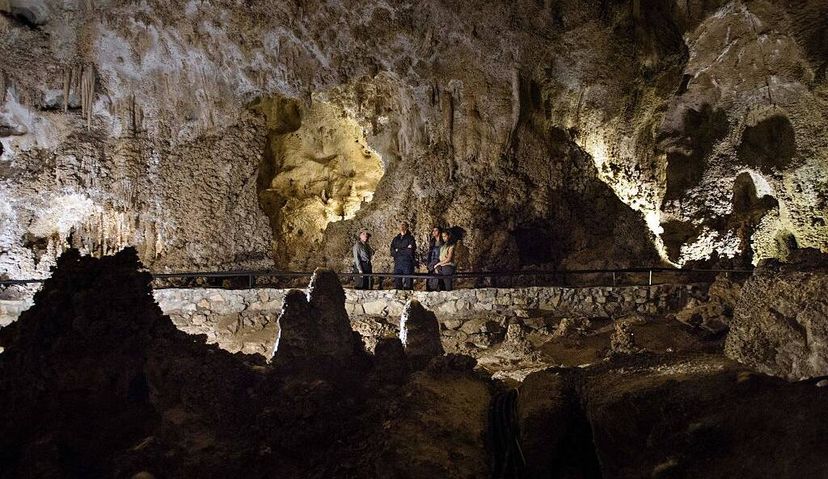 Over 110 Limestone Caves Await Beneath the Surface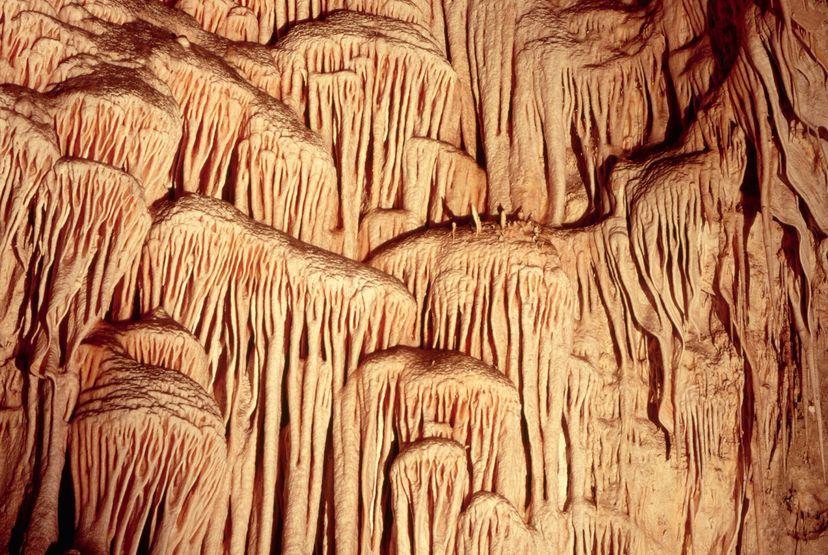 Located in the Guadalupe Mountains of New Mexico, Carlsbad Caverns National Park is named for its impressive network of caves, which are the seventh-longest in the world.
American Indians and early settlers knew about them, but aside from guano harvesting, the caves garnered little interest until a 16-year-old ranch hand dared to venture deeper into their depths. What he found was far more exciting than fertilizer.
The wildly decorated caverns astonished local tourists, and before long attracted the interest of government officials. Carlsbad Caverns would be declared a national monument in 1923, and a national park seven years later. Since then, millions of people have descended deep into the underground labyrinth, a complex natural maze where new discoveries are still being made.
Since 1986, more than 110 miles of new passageways have been mapped in Lechuguilla Cave, a remote cavern in the park's backcountry. Scientists are researching the potential health benefits to humans of certain microbes that live deep in the cave's pristine environment.
But even if you choose not to visit the caves, there's a lot to do at Carlsbad. The park protects more than 33,000 acres of Chihuahuan Desert wilderness, which is open to hikers. Wildlife watchers will delight at the park's impressive bat-out flights, which are supplemented by ranger talks.
Activities in Carlsbad Caverns National Park
Cave Tours
Cave touring has been popular at Carlsbad Caverns ever since the days when Jim White lowered local tourists down in an old guano bucket. Fortunately, visitors these days can either walk down the natural entrance or take an elevator into the heart of the cavern. Ranger-led and self-guided tours of the caverns are available.
The easiest guided tour is of the Left-Hand Tunnel, where a mild, unpaved walk by lantern light leads visitors past a plethora of cave pools and rock formations to ancient, Permian-era fossils. Reservations are highly recommended for ranger-led tours, especially for popular excursions to the magnificent Hall of the White Giant and the rigorous, cramped Spider Cave.
The two basic routes for self-guided tours are the Big Room Route and the Natural Entrance Route. Visitors must pay an entry fee for self-guided tours, which are good for three days.
Backcountry Caving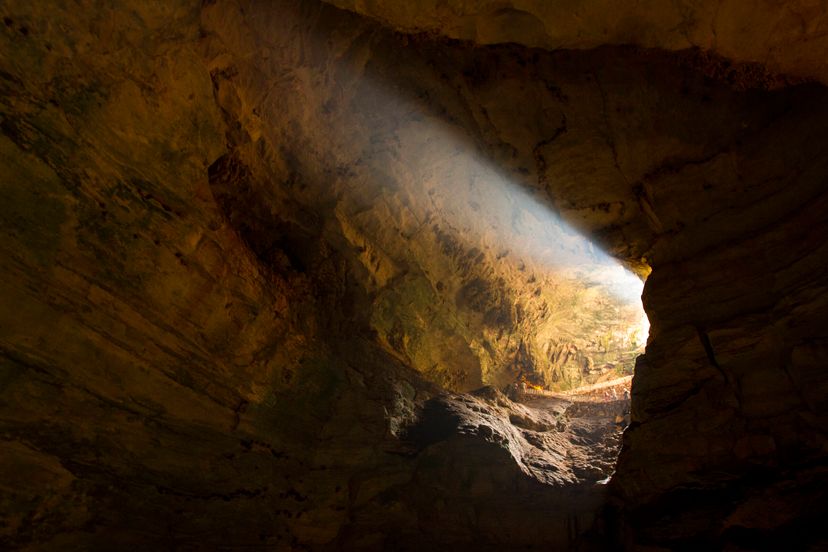 Adventurous types might enjoy exploring the wild backcountry caves in Carlsbad Caverns.  These underground sojourns require the use of vertical caving equipment, which each spelunker must provide and know how to use. In addition to vertical drops, some routes require cavers to squeeze through some very tight spots. Age restrictions apply: one must be 16 years old to participate in backcountry caving, and 18 to lead an expedition.
Ogle, Lake, and Goat caves are all currently closed for bat protection. In recent years, a little-understood fungal infection known as White Nose Syndrome has wiped out bat populations across North America. Cave closures are part of measures being taken by the National Park Service to halt the spread of the lethal disease.
Bat Watching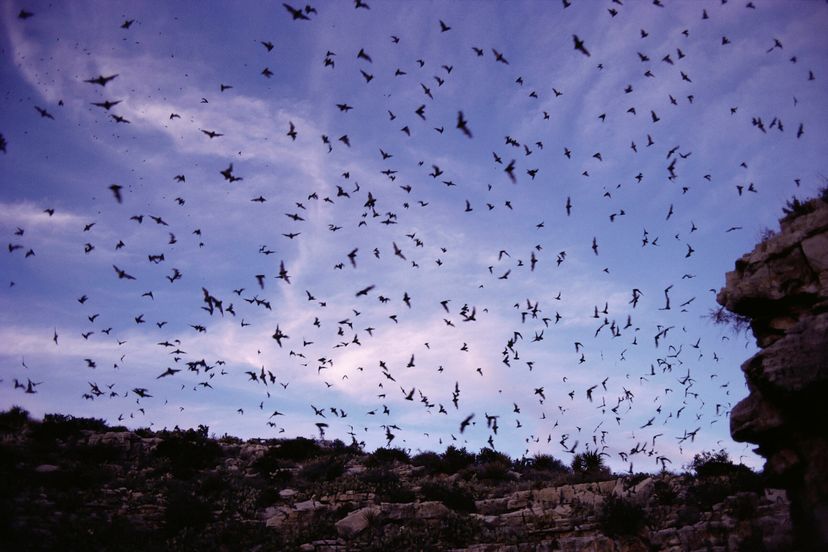 Bat out flights is the most popular wildlife-viewing program at Carlsbad Cavern. These free, ranger-led events take place on evenings at sunset from Memorial Day through mid-October. The program teaches visitors about bat life, migration habits, and the animals' place in the park's ecosystem. Peak times for our flights are in July and August when baby bats born in early summer and bats migrating colonies from northern locations join the display. An estimated 400,000 bats call the caves home during this time. Early risers are also welcome to come to watch the bats fly back into the cave at dawn.
Star Parties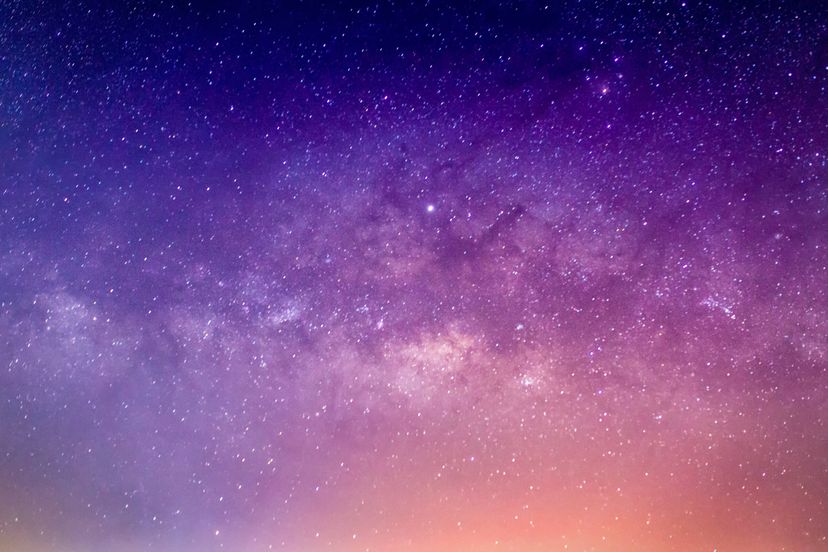 Because of its remote location away from the disruptive pollution of city lights, Carlsbad Caverns National Park is an ideal place to view the night sky, either with a telescope or the naked eye. To encourage visitors to come to check out the cosmos, the park hosts a program of Star Parties on select dates during the summer and autumn, weather permitting.
Telescopes are provided to aid guests in their exploration during peak periods of celestial activity, like the Perseid Meteor Shower. Guests can participate in ranger-led talks about folklore, nocturnal creatures, and astronomy. The program is free and does not require advanced reservations, but neither the caves nor the visitor center is open during the events.
Visiting Carlsbad Caverns National Park
Seasons, Fees, and Reservations
Carlsbad Caverns National Park is open every day of the year except Christmas Day. Hours for cave entry and the park's visitor center vary, but generally, it's a good idea to get an early start. Summer hours are slightly longer. Check the park's website for current conditions and other announcements. The standard entry fee for adults is $6 and is good for three consecutive days. Children age 15 and younger enter free.
There is no lodging at Carlsbad Caverns, nor is RV or auto camping allowed. The only camping that is permitted in the park is in the backcountry. Entrance to the backcountry requires visitors to pick up a free backcountry pass at the visitor center. Camping in the wilderness must be done in accordance with applicable park regulations.
Cave Highlights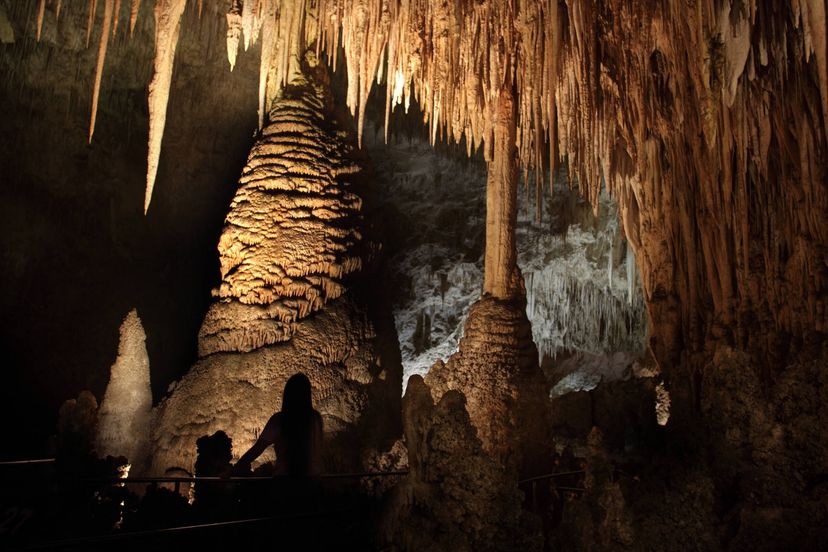 Caving is one of the most popular activities at Carlsbad Caverns National Park. Six ranger-guided tours are offered to Kings Palace, Left Hand Tunnel, Slaughter Canyon Cave, Lower Cave, Hall of the White Giant, and Spider Cave. Expeditions vary in duration and difficulty level, but each presents a unique perspective on the caverns' many famous rock formations. Underground globes of rock populate the Lake of the Clouds, the lowest known point in Carlsbad Caverns. Scenic Queen's Chamber awaits visitors traveling the Kings Palace route.
Rattlesnake Springs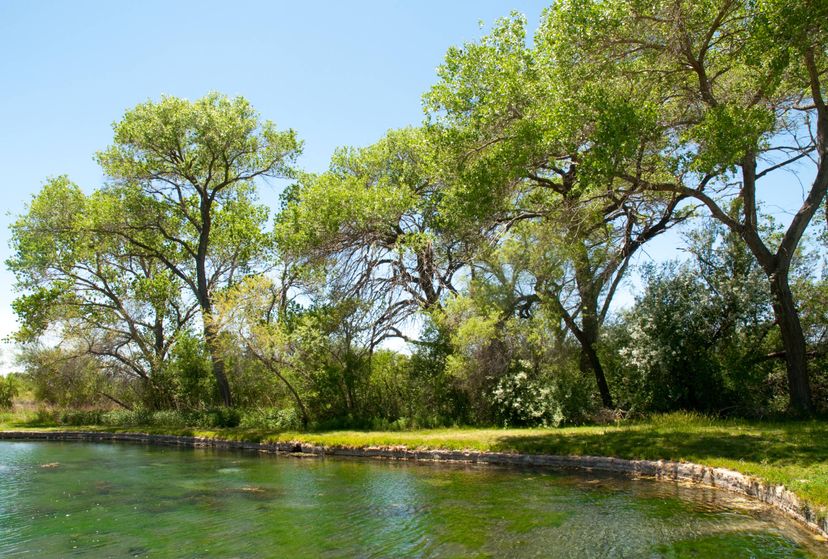 Carlsbad Caverns National Park includes the Rattlesnake Springs Historic District, an oasis in the Chihuahuan Desert that is a great spot for birdwatching. The region's more than 300 recorded bird species have won recognition from the National Audubon Society.
Chihuahuan Desert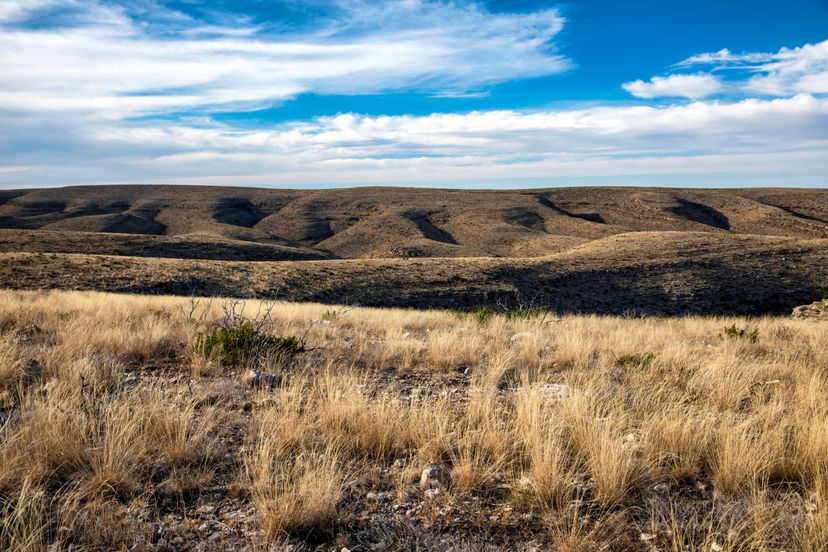 In addition to its famous caves, Carlsbad Caverns National Park has more than 33,000 acres of desert scrubland. It is one of the few places in North America where this kind of ecosystem is protected. The Chihuahuan Desert is the most biologically diverse desert in the western hemisphere and is home to more species of cacti than any other desert. The wilderness is open for use by the public for hikes and backcountry camping. Prospective visitors should familiarize themselves with the park's backcountry use guide before planning their trip. Popular hiking areas include Yucca Canyon, Slaughter Canyon, and Double Canyon.
Wildlife in Carlsbad Caverns National Park
Carlsbad Caverns National Park's cave-dwelling wildlife run the gamut from microscopic organisms to birds and bats that roost on high upon the cavern walls. The above-ground areas of the park are one of the few places in North America where the Chihuahuan Desert is protected. Desert scrubland is home to a variety of wildlife, from elk and deer to javelina.
Mexican Free-Tailed Bat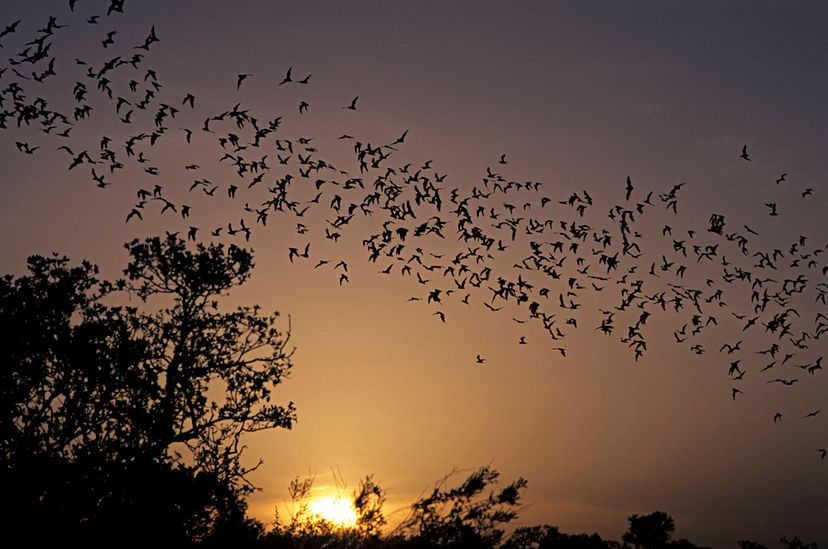 The Mexican (sometimes called Brazilian) free-tailed bat is the park's most famous animal resident. This is due in large part to their amazing outfights from Carlsbad Cavern, which occurs nightly from April through mid-October. The bats come spiraling out of the cave flying in a counter-clockwise direction about 28 minutes after sunset to feed on insects, which they hunt by echolocation. Tourists watching from the amphitheater can hear the noise made by the bats' wings, and even smell them as the giant colony flies into the night.
Cave Swallows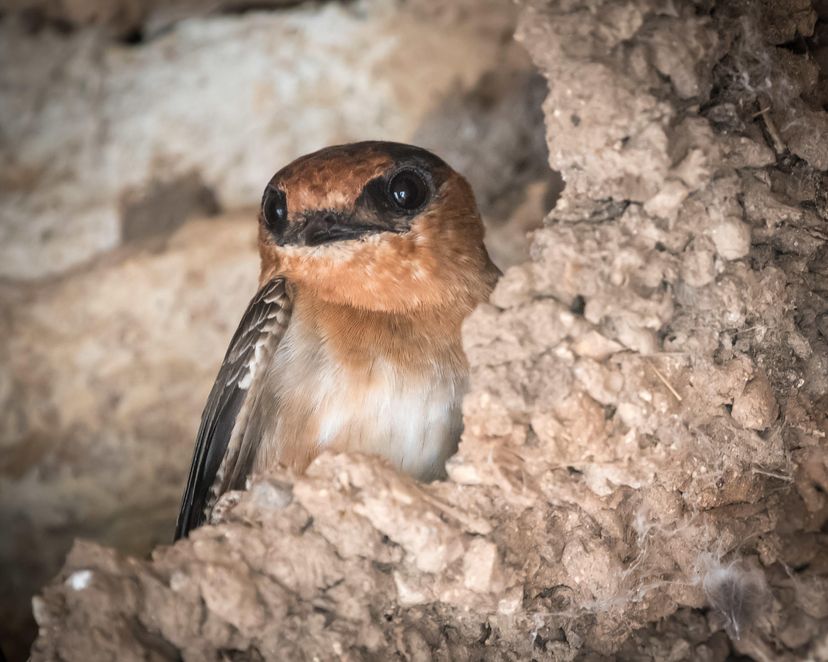 Of Carlsbad Caverns National Park's 357 recorded bird species, perhaps none is more celebrated than the cave swallow. This migratory visitor to the park builds mud nests in the entrance to Carlsbad Cavern from early February to late October. Visitors can see them swooping and diving around the mouth of the cave, where they hunt insects in flight.
The cave swallows, which are closely related to cliff-dwelling North American swallow species, have been the subject of an extensive research project in Carlsbad Caverns National Park. Since 1980, more than 5,000 volunteers have banded cave swallows in the park in an effort to study their lives and migration patterns. The program was started by a local researcher, Steve West.
Javelina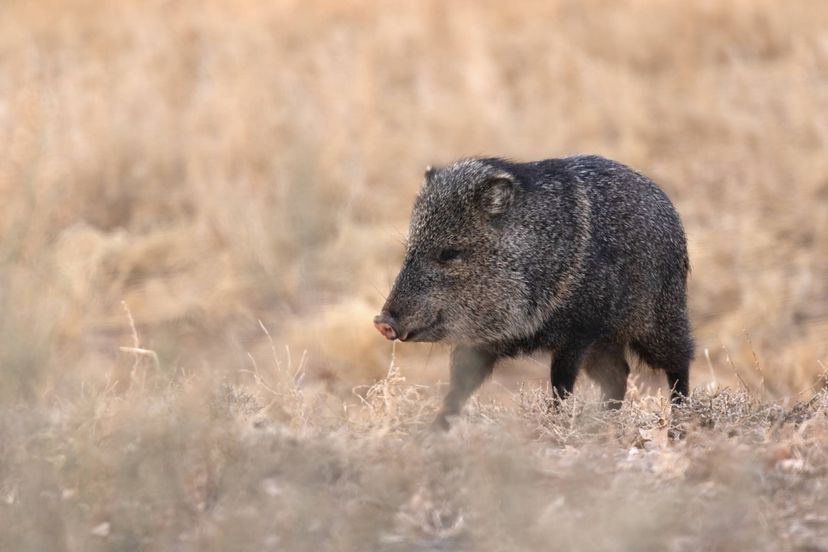 A breed of New World pigs called javelina — also known as collared peccary, or colloquially, skunk pig, for their pungent odor — were successfully reintroduced to Carlsbad Caverns National Park after a period of extirpation (local extinction) due to habitat loss. Historically, these pigs were hunted for their hides, and continue to be hunted for sport in some parts of Texas, New Mexico, and Arizona. In Carlsbad Caverns National Park, look for them early in the morning near water in the park's riparian regions.
History of Carlsbad Caverns National Park
Carlsbad Caverns National Park has a colorful history that spans millions of years, from the formation of the caves from the remains of an ancient reef to their exploration by a 16-year-old Texas-born cowhand circa 1898, to the great lengths, early visitors went through to experience their natural majesty. Geology The area around Carlsbad Caverns National Park was once part of an enormous reef at the edge of an inland sea. Limestone deposits, made from the skeletal remains of marine animals left over the ages, were eroded slowly by sulphuric acid to create one of the world's largest cave systems. Most of the time, caves are formed as carbonic acid, a weak acid present in surface water that dissolves limestone. But at Carlsbad Caverns, there aren't any running steams inside the caves. Instead, hydrogen sulfide from nearby oil deposits combined with groundwater and microbes aggressively carve out the cave system at the water table, along cracks in the limestone. Continental uplift pushed the region higher up in the earth's crust, causing the acid bath to drain away and leaving the caves. Over the past million or so years, mineral-rich groundwater seeped into the caves and left deposits as it evaporated, forming stalactites, stalagmites, soda straws, cave pools, and a host of other brilliant decorations called speleothems. Discovery and Development American Indians and early local settlers of the region knew about Carlsbad Caverns, but history generally credits a 16-year-old ranch hand named Jim White as the first person to thoroughly explore the cave complex. White entered the caves numerous times starting in 1898, and gave many of its chambers and features their names. On one trip, he brought a photographer, Ray V. Davis, who took black-and-white pictures of the cave. These were displayed in the town of Carlsbad to much fanfare. Later photographers of the caves would include Ansel Adams. White began giving tours of the cave to fascinated residents, using pulleys, rope, and a guano-harvesting bucket to lower them into its depths. This mode of entry would not be discontinued until a staircase was built from the entrance to the Bat Cave in 1925 — two years after the caverns were declared a national monument. The caves and surrounding lands were declared a national park in 1930. Additional infrastructure, such as dirt paths, stairs, and later, elevators, would be installed in the caves throughout the '20s and '30s. More improvements would come in the following decades, opening the entire cave to guided tours by 1972. In 1986, additional passageways in Lechuguilla Cave were discovered. As of 2005, the cave has been found to extend more than 110 miles beyond its previously thought limit. Scientists are currently researching the potential health benefits to humans of certain rock-eating microbes that live in the cave.