I had a one of a kind dining experience at Austin's new restaurant, CARVE American Grille, a butcher shop grille concept from Perry's Restaurants. It's located in Southwest Austin, surrounded by great new shops and a beautiful view of the sunset.
Restauranteur Chris Perry was inspired for the concept from his childhood days at the butcher shop of his dad, Bob Perry, which opened in 1979. CARVE opened in December 2019, just in time for great family and friends holiday indulging — which is exactly what I did!
A modern rustic American eatery
CARVE has a very modern rustic feel. Right as you're walking in, logs of cut wood stack the entire front wall, with soft leather seats in the dining room, art-deco style lighting, and a cozy fireplace in the Cedar and Cleaver party rooms for great ambiance. The back patio looking straight into the sunset is the place to be for after work happy hour drinks.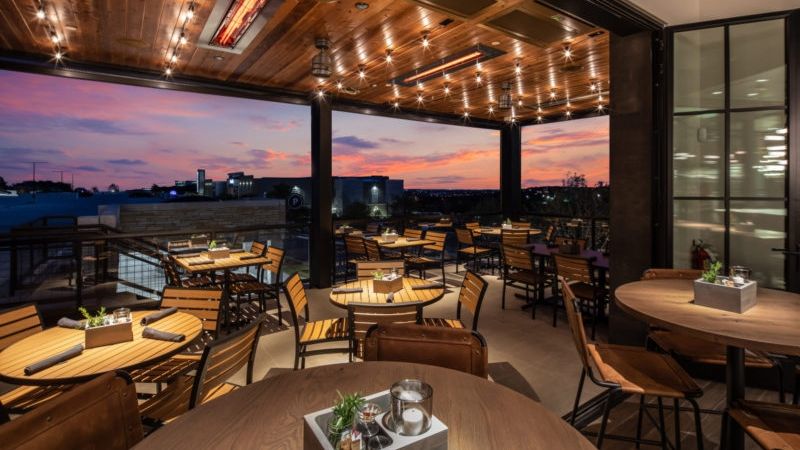 My evening of touring CARVE started off with a glass of wine I'd never tried before, Perry's Reserve Chardonnay, and an appetizer, Vodka Dill Cured Salmon – Atlantic salmon marinated in vodka and dill, thinly sliced and served atop grilled country bread with cilantro cream and sweet onion relish. Right up my alley, the night starting off on a great note. We had a fun demonstration from a team member on the knife work used on their cuts of meat at CARVE.
Bar with wine taps
Our next stop was the stunning bar, equipped with 25 wines on tap. Yep, you read that right! They only serve select few wines from bottles, which means almost zero waste! They have wine kegs which are taken and refilled during the week. We were given a delightful white wine I had never tried before, Vermentino, along with another new taste – lobster corndogs. These alone will get you going back to CARVE as soon as possible.
Cooking in the kitchen
We then went over to check out the kitchen, which is open to the dining room and creates a cozy and intimate dining vibe. We were greeted by Chef Rick behind the line, who came from Las Vegas to help create the menu. He demonstrated how he prepares their Charred Chile Relleno. The poblano pepper is open-flame charred until soft, then the peppers are brined in vinegar and spices. This gave an amazing flavor to the poblano! Then, the peppers are stuffed with cheese and covered in corn chips. Ideas like these are what puts CARVE on the map for Austin's must-try restaurants.
Enjoying the fire
After eating every last bite of my chile relleno, we explored the Cedar and Cleaver party rooms, where they served the "Daquiri Down Under" – which is a one of a kind kiwi daquiri with lavender purée and muddled kiwi – paired with the Wagyu Meatloaf Cupcake with mashed potato "icing" and carrot and pea "sprinkles." I'd never imagine I would eat a meatloaf cupcake – but I did, and it was incredible.
Mocktails and vegan offerings
Now, with all this talk of meat and cocktails, you might think this isn't the place for vegans or non-drinkers. Nope!
CARVE offers three specialty Mocktails, with muddled fruit, herbs and flavored carbonated beverages anyone can enjoy! And if you don't eat meat, they have some delicious vegetarian and vegan options. I am not vegan, but the Vegan Salisbury Steak is something I will be ordering again. The vegan steak patty is made from veggies and even has banana, which made for a great melt-in-your-mouth texture, and is topped with crimini mushroom gravy and cauliflower purée. This was hands-down one of my favorite dishes of the night!
CARVE is the true definition of American grille. There is something for everyone – a relaxing patio, trendy bar with any drink your heart desires, a big comfortable dining area for couples or families, and the Cedar and Cleaver rooms for parties or celebrations. They have happy hours daily, with signature drinks curated specially for CARVE.
And starting this month, January 2020, they introduced weekend brunch! Don't forget to check on their amazing specials, such as Prime Rib Thursdays. This restaurant really thought through Austinites' favorite things. It is a must to stop by here in 2020!