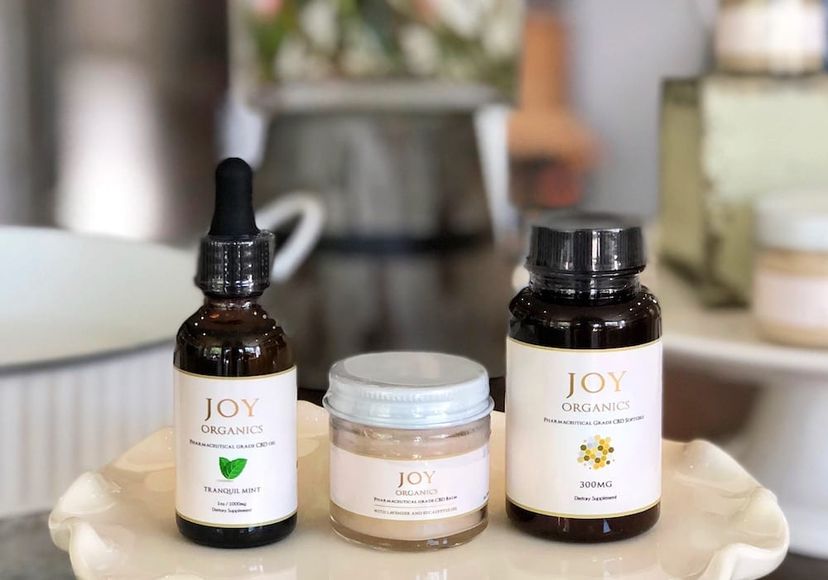 Almost everywhere, you see and hear about products made with CBD oil. Now that 32 states have legalized medical marijuana, it seems to be everywhere. CBD (Cannabidiol) is a naturally occurring constituent of cannabis — but not to be confused with THC, which is the chemical that gets you high. CBD is extracted from the flowers and buds of marijuana or hemp plants, one of at least 113 cannabinoids identified in hemp plants, and does not produce intoxication. The CBD and legal cannabis industry is one of the highest-growth industries today.
Like with anything that seems to trend overnight, CBD begs the question: what's all the fuss about? And, does it really work?
I watched and read with interest as CBD products became more and more mainstream, especially after my state, Texas, became one of those to legalize the use of cannabis only as CBD oil, Then, when I discovered that a company claiming to offer "the world's premier organically grown, full spectrum line of CBD products" was opening one of the first CBD stores in Austin, I jumped at the chance to learn more about it and try out their products.
The company, Joy Organics, opened its second location here in my hometown, Austin, last month (the original flagship store is in Fort Collins, Colorado). I learned a few things from reading the extensive literature available on their website — they even publicize their lab results there (oh, and by the way, their lab is GMP-certified by the FDA) — and from my own research, I discovered a few very important things about CBD products:
Hemp-derived CBD is legal in all 50 U.S. states
Again, it's the THC compound that gives the impairing effect of marijuana; if the CBD product was derived from the hemp plant and contains less than 1% THC (as far as what I found), it's legal. This includes oils, edibles, and ointments. All CBD (hemp or marijuana) is completely legal in the 9 states where the medicinal and recreational use of marijuana is currently legal, and 22 others with a doctor's "recommendation."
Fifteen other states (including mine, Texas) have limited-access laws that allow cannabis only as CBD oil, with restrictions on the levels of THC varying per jurisdiction. This restriction is very important, I found, when deciding what CBD products to purchase — it needs to have no THC, or virtually none. When that's the case, CBD oil products are completely legal everywhere in the United States.
Not all CBD is created equal
Not all hemp is created equal, which means not all CBD is created equal. In this exploding market just taking off, there are LOTS of inferior products out there. Today's CBD oil industry is a mess. There is minimal government oversight. No enforcement of false label claims and a huge variety of ineffective extraction and delivery methods.
There's a lot of information out there, and a huge discrepancy in the quality of products — because it simply is not regulated.
This is an area in which Joy Organics really spoke to me. The family-owned company, started by Joy Smith when she was researching natural solutions for her chronic pain and insomnia, uses a proprietary process technology to remove any unwanted compounds (wax, chlorophyll, plant pigments or trace amounts of THC) from the cannabidiol. The oil is then "washed" and "polished" to create the highest quality, zero-THC, full-spectrum CBD oil available.
Two parts of this were particularly appealing to me: the full-spectrum part, which means the CBD contains all other cannabinoids found in the marijuana plant, not just the cannabidiol, which all work together in synergy — something that isolate or regular spectrum products will lack.
Second, this particular line is bioavailable, meaning that the absorption rate into the body is high. Joy uses a proprietary nano emulsion technology, that transforms the hemp particles into a size of 25-60 nanometers (compared to the average 150-5000 in the industry). So, this much smaller size means they absorb much more readily — four to five times so. It also means, to me, that you can use a smaller amount of the same product to achieve results. Save product, save money.
The effectiveness is mixed, scientifically speaking
Even though a lot of people, including myself, have used CBD successfully to treat a variety of ailments such as depression, pain, anxiety, sleep issues and inflammation — only one, epilepsy, has significant scientific evidence supporting it. Many studies and self-reported research show plenty of promising results and positive effects on these types of issues, and CBD/hemp/cannabis has been used for centuries for many medicinal and healing purposes. But scientifically speaking, outside of epilepsy the hard research evidence isn't in yet.
So, what kinds of products are out there?
The most common CBD products are oils and gel/capsule supplements that can be taken orally or vaped, edibles such as gummies, salves that can be applied topically, sprays, powders to mix in water, and even pet treats!
I decided to try a few things: an oil tincture taken orally by the dropper once or twice a day (I usually do so in the mornings); softgels that you swallow, twice per day; and a powdered drink mix to put in water.
What were my results?
Personal disclosure: I suffer from both anxiety and insomnia, and have for years. For several years I have taken a daily anti-anxiety prescription, and usually take a sleep Rx a few times a week when I have trouble sleeping. Since I've been using these products, I have not needed to take either my prescribed anxiety or sleep medications; basically, within a few days of using them. They have helped me that much. And I love that instead of chemical pharmaceuticals in my body, I'm instead using all-natural products.
My personal favorites are the tincture and the powdered drink mix; which, even though it's called an "energy drink mix" by Joy Organics, it mellows me out instead. It's the perfect thing to drink after a workday and to ease into my evening/night. Of course, products act differently for people, and others I'm sure have different results.
I just received the topical salve, and I'm excited to start using it. Unlike Joy, I don't have any kind of chronic pain; but like anyone, I do occasionally have aches and pains, most notably a stiff back or shoulders/neck from being on the computer so much. The salve smells absolutely heavenly, and I'd use it just for that reason! I also want to try the pet treats for my dog, Selma.
The bottom line
I have personally had really good results with Joy Organics, and I love both the company and that it's family owned and run; as well as the process and extremely high quality of their products. There are lots of different products out there, though — just be sure to do your research and be confident in what you're getting. Like the natural health care or vitamin/supplement industry, the CBD industry is completely unregulated, so it's kind of a free-for-all. Check products, ingredients, processes and companies out thoroughly! And, if you do choose to try CBD products, I hope you have as much success with them as I have!
Store Details:
Joy Organics
902 N. Lamar Blvd
Austin, TX 78703
(512) 992-0288
---
This post contains affiliate links; the prices of all the items are exactly the same, but you can help support Trading Places by using them if you shop! Some or all of the products detailed above may have been provided at no cost or sponsored to accommodate this review, but all experiences and opinions expressed are entirely those of Shelley Seale and have not been influenced in any way.