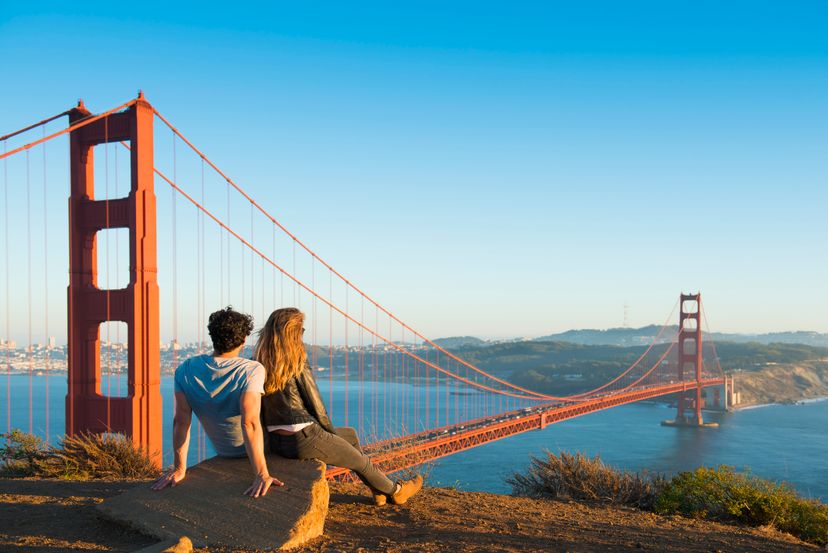 San Francisco is an iconic part of California that draws in millions of tourists every year with beautiful views, unique restaurants, and other classic San Fran activities and attractions. Whether you're a local looking for some cheap fun or a traveler on a budget, there's plenty to keep you busy. So, if your wallet is feeling a little light, we've rounded up the 10 best fun events and things to do on the cheap in SF.
Alamo Square
Head to Alamo Square –  a residential neighborhood in SF – to catch a glimpse of the Full (and Fuller) House house and the "Painted Ladies", a row of colorful houses that are commonly photographed and used on postcards. It boasts a great view of downtown and a picturesque park, so don't forget to pack a picnic lunch for the family!
You can also see Alamo Square as part of the San Francisco Movie Tour, but that's a pricey ticket, coming in at $57 per adult or $35 per child, so you're better off seeing it yourself if you're looking to keep costs down.
Golden Gate Bridge
There might not be anything more iconic than the Golden Gate Bridge! The popular one-mile-long suspension bridge makes for the perfect afternoon or golden hour stroll. Alternatively, you can rent bikes and cycle across, feeling the breeze in your hair!
Stop in at the Visitor's Center to learn some of the bridge's stories and pick up some merchandise, if that's your thing. Finally, grab a drink and a little something to eat at the Round House Cafe or Bridge Cafe (depending on what side of the bridge you end up on!). It may not be a fancy thing to do in the city, but it certainly is free and memorable.
Baker Beach
No matter the weather, this beach is a must-see in SF according to the many Tripadvisor reviews. With a spectacular view of the Golden Gate bridge, this public beach on the Pacific Ocean is the perfect place to tan or just snap a picture! The northern section of the beach is generally bathing suit optional, so if that's not your thing, be sure to stay in the southern section to catch some rays. Like many beaches in the area, swimming isn't recommended because of the strong currents, but despite this, it's truly one of the best things to do in San Fran.
Take in A Festival
SF is bustling with activity year-round and a festival is a great way to have some fun on the cheap! From booze to chocolate to jazz, there's a festival for every mood and weekend in the Bay Area! Why not spend a whole day and make a date out of it? Some of the best include the Chronicle Wine Tasting Event in February, Cherry Blossom Festival in April, and International Beer Festival in May. To see what festivals are going on, check out this complete month-by-month festival list.
Conservatory of Flowers
The conservatory is filled to the brim with blooms and rare plants that you can get up close and personal with. You can check their website ahead of time if you want to know what's in bloom or you can show up and be surprised! It's beautiful on a sunny day but it's also a cozy place to visit on a rainy day. Regardless, grab a coffee and take a stroll around the beautiful gardens for less than $10.
Hike in Muir Woods
This National Monument contains six miles of take-your-breath-away trails through old growth redwoods that you don't have to be a hardcore hiker to tackle. There's a half hour, one hour, and one and a half hour loop so you've got options depending on what your legs feel up to. The views are stunning and there's guaranteed to be at least a few Instagram-worthy photo-ops. Don't miss that chance to walk amongst these giants and take in the fresh air! The smell of California's redwoods are like no other!
Ripley's San Francisco
Tickets are a little on the pricey side unless you head to the attraction after 5 PM, which scores you a discount making this attraction cheap enough. This still leaves you hours to have a little fun and explore all the strange and shocking things the odditorium has to offer, from shrunken heads to Egyptian mummified feet. You guaranteed a gasp and a laugh to two at Ripley's, making it a fun thing to do in San Francisco.
San Francisco Dungeon + Madame Tussauds Combo Ticket
Oddly enough, if you buy a combination ticket for both of these activites, you only pay $12.50 for each, making it a relatively cheap thing to do in SF! That's a savings of $56 per person and one of the best attraction deals you can get. It's worth noting that if you buy a ticket for only one of them, it's a pretty expensive attraction.
The San Francisco Dungeon is a thrilling attraction transporting you to the Barbary Coast's perilous past. You'll laugh and scream at the cast of characters that take you through ten different experiences from  "Lost Mines of Sutter's Mill" to "The Ghosts of Alcatraz".
Madame Tussauds infamous wax museum lets you see celebrities, politicians and world leaders, and athletes up close. Is it cool? Is it creepy? Whatever you think, it's guaranteed to be fun (and with that deal cheap, too!).
Fisherman's Wharf
The wharf has SF's cutest residents – sea lions! In this little district, you can eat all the fresh seafood you want, check out the old fleets of ships (and maybe take a tour!), pop into a souvenir shop, and see picturesque views of The Golden Gate Bridge and Alcatraz. At the Wharf, you can spend as little or as much as you want, making this a great budget-friendly option for some SF fun!
Community Events
While there are many cheap fun things to do that are available year-round in San Francisco, sometimes the best time can be had at a one-time event, concert, or workshop. It's also a great way to meet locals if you're visiting and wanting a more authentic experience of the city. Check out Eventbrite's Things To Do in San Francisco for inspiration.