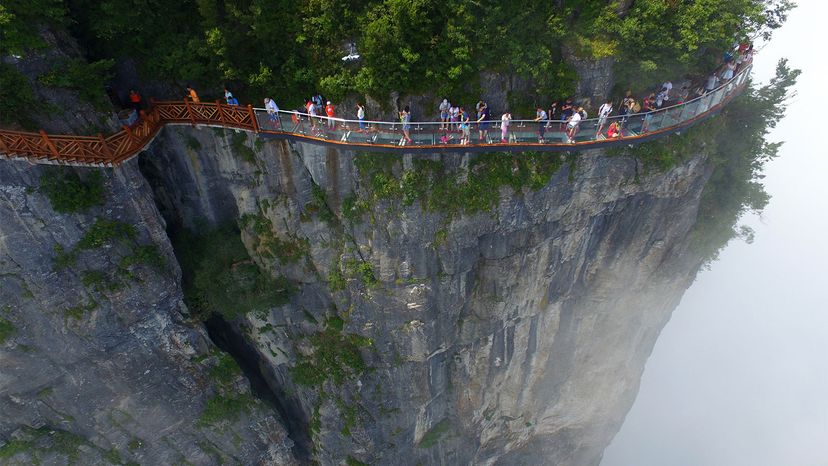 Acrophobia warning: If you're a wary sort of human who gets woozy on a step stool, or if you've ever bargained with God on a selfie type, then the Coiling Dragon Cliff skywalk in southern China may be your ultimate stairway to adrenaline heaven.
Attached 4,700 feet (1,432 meters) straight up the side of Tianmen Mountain in China's Zhangjiajie National Forest Park, the Coiling Dragon Cliff skywalk is almost inconceivable — like something out of a mythical tale about a magical beast who rules over a heart-stopping precipice, luring the intrepid and foolhardy alike to make the daunting journey there to test their bravery and strength.
As if the harrowing height and sheer drops aren't terrifying enough, at 326 feet (99 meters) long and only 5 feet (1.5 meters) wide, the skywalk is made entirely of glass that is — oh, for crying out loud — only 2.5 inches (6.3 centimeters) thick! So whether you faint flat on your face or into a fetal position, when you open your eyes they'll be met with dizzying views of Tongtian Avenue, aka "Avenue of the Sky" — a mountain road with 99 tight turns that snakes up the mountain — and of a nearly one mile (1.6 kilometer) vertical drop directly beneath the clear, glass-bottomed floor.
Opened in August 2016, the glass walkway provides intrepid tourists with an experience quite different from the genuinely dangerous, gulp-worthy wooden walkway it replaced, allowing for panoramic views of Zhangjiajie National Forest Park far below.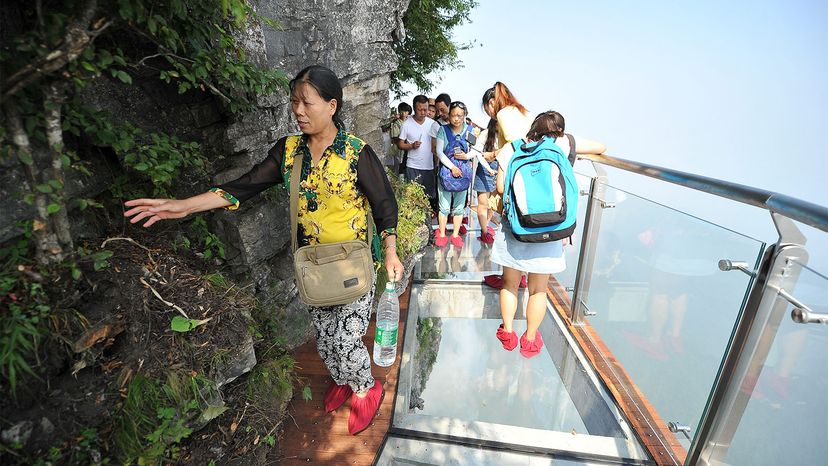 Getting to Tianmen Mountain's skywalk involves a 30-minute ride on the world's longest cable car that slopes more than 4.5 miles (7.2 kilometers) up the mountain, transporting stouthearted adventurers over sheer drops and dramatic mountain peaks and slanting 37 degrees at its steepest point. Keep in mind that if you don't get the optimal selfie on the way up in the cable car, you're sure to get the perfect Insta moment on the ride back down.
And if all that isn't thrilling enough, the gutsiest of visitors to the Coiling Dragon Cliff skywalk can amp up their endorphin rush by taking a zip line flight between the peaks, or (even the mighty can fall?) go bungee jumping.