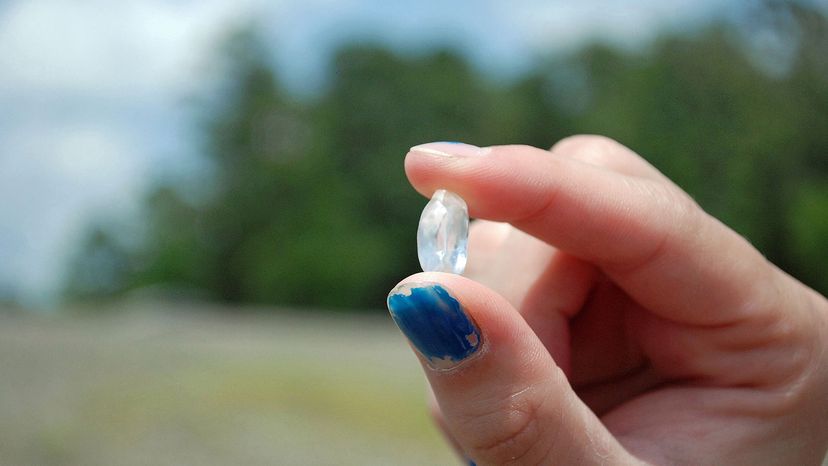 If you're short on cash after the past few months, there's a place in the United States where you can mine for minerals. Crater of Diamonds State Park in Murfreesboro, Arkansas is a 37-acre (15-hectare) park, located around two and a half hours southwest of Little Rock, that allows visitors to search for their own diamonds. And if you find one, you get to keep it!
The land that became a state park was originally owned by local farmer John Huddleston, who discovered diamonds here in 1906. The land was bought and sold a number of times, including to a commercial mining operation, before being passed on to the state of Arkansas. The park is named for the lunar-like landscape of craggy dirt created from a volcanic eruption that left behind an 83-acre (33.5 hectare) crater. This eruption from 100 million years ago, brought minerals and rocks to Earth's surface from the mantle. Over the centuries, the lighter soil removed by erosion and the heavier elements (like the diamonds and other stones) remained, according to National Geographic. Crater of Diamonds State Park, which opened to visitors in 1972, is the only public diamond mining site in America.
Since then, more than 33,000 diamonds have been discovered by visitors, varying in size. Among them are the 40-carat Uncle Sam, the largest diamond unearthed in the United States (found in 1924 before the area became a park), and the 16-carat Amarillo Starlight. On Labor Day, 2020, Maumelle, Arkansas, resident Kevin Kinard found a 9-carat diamond, the second-largest found since the park opened.
"This latest diamond find is a testament to maintaining the diamond search area with a focus on sustaining the resource at Crater of Diamonds State Park, as well as creating the opportunity to find a diamond and make lifetime memories for all of our guests," Arkansas State Parks Director Grady Spann said in a press release at the time.