Crater Lake National Park
PO Box 7
Crater Lake, OR 97604
541/594-3100
Crater Lake -- located about 60 miles north of Klamath Falls, Oregon -- is a startling place because of the intensity of its deep cobalt-blue waters. In much the same way that the area around the Grand Canyon does not prepare you for its magnificence, the mountainous terrain surrounding Crater Lake seems an unlikely location for such a large body of water. To fully enjoy the offerings of Crater Lake National Park, visit it during the warm-weather months.
Entrance fees: $10 for seven days
Visitor centers: Steel Visitor Center is open daily except December 25. Rim Village Visitor Center is open from early June through late September.
Other services: A park lodge, motel, and two campgrounds
Accommodations:
Mazama Campground. Open from mid-June to early October.

Lost Creek Campground. Open from mid-July to early October.

Crater Lake Lodge. Open from mid-May to mid-October. Reservations recommended. 541-830-8700.

Mazama Village Motor Inn. Open from early June to early October. Reservations recommended. 541-830-8700.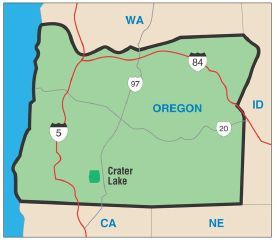 Visiting Crater Lake National Park
One would have to search long and hard to find a blue as intense as the blue of Crater Lake. This phenomenon occurs in part because the freshwater lake is incredibly deep -- almost 2,000 feet! The purity, tranquility, and hauntingly translucent color of Crater Lake has long attracted artists, photographers, and nature aficionados. A rim road completely encircles the six-mile-wide crater far above the surface of the water, and a small village on the rim completes the picture. Despite the modest developments, visitors can still have those peaceful moments of solitude with the lake on hiking trails that wander among the thick quiet forests of spruce and fir before turning suddenly toward the steep rim.
As one would expect, Crater Lake has a number of water activities available to visitors, such as fishing and boating. There are also several scenic trails for hiking and biking. We'll detail the diverse sightseeing opportunities at Crater Lake National Park on the following page.