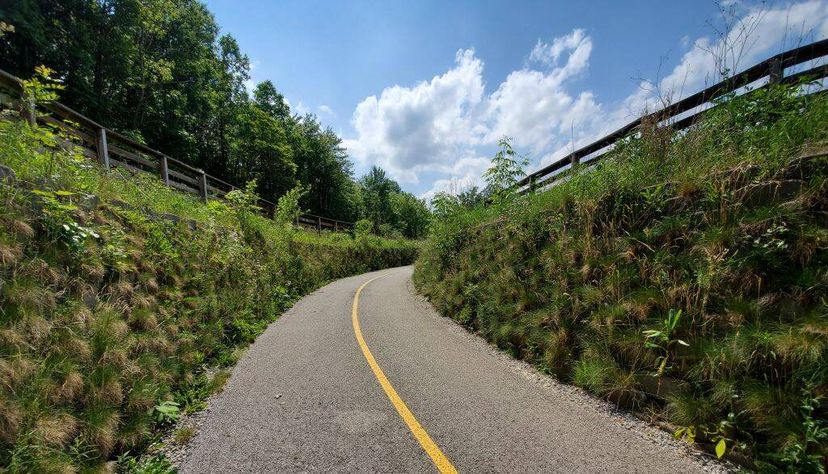 Discover Waterfalls and Caves Along the Crooked River
Cuyahoga Valley National Park is among the smallest and the newest parks in the system, but don't let its diminutive size or recently elevated status fool you. Cuyahoga Valley is a testament to local conservation, a living example of the benefits of habitat restoration, and a site of significant cultural history and preservation.
Many visitors from nearby urban areas enjoy the park for its hiking and biking trails, as well as its ample winter attractions, such as snowshoeing, cross-country skiing, and ice fishing. The area's rich history stems from the early days of westward American expansion when the Ohio & Erie Canal brought industry and a subsequent population boom to a region of frontier farmsteads. Its well-preserved 19th-century villages, such as Peninsula, are robust with examples of period architecture.
The park boasts diverse ecosystems that are home to a wide variety of wildlife. About 240 bird species have been identified in the park. Its wetlands — created to a great extent by the tireless efforts of a reintroduced species, the beaver — are a well-known habitat of the Great Blue Heron. Cuyahoga Valley National Park packs a lot into its 51 square miles. Come experience why more than two million people visit every year.
Activities in Cuyahoga Valley National Park
Hiking
With 125 miles of hiking trails, Cuyahoga Valley National Park is a popular destination for Ohioans looking to take a nice, long walk in the woods — or through a meadow, or even in a cave. These can be simple day hikes, overnight backcountry camping, ranger-led expeditions, or interactive self-guided canalway quests.
Select hiking trails are ideal for families, combining short transit times (generally an hour or less) with opportunities to view wildlife, waterfalls, and other attractions. Some of the park's most popular hikes are to Ritchie Ledges and Beaver Marsh — a must-visit destination for bird watchers. There is also a system of designated horse trails in the park.
Winter Activities
Since Cuyahoga Valley is open all year, there are lots of fun, family-friendly winter activities to try out. Snowshoeing on the park's hiking trails is a popular form of recreation. Some trails, such as the scenic Ledges and Brandywine Falls systems, are not recommended for snowshoes, but they are open for hiking during the winter. Many areas of the park are ideal for cross-country skiing, ranging from 1.5- mile loops to 19.7-mile trails. The Boston Mills Ski Resort in Peninsula offers downhill skiing, which is somewhat rare in Ohio.
Water Recreation
The Cuyahoga River is known to contain pollution from wastewater drainage upstream. For this reason, the park does not recommend recreation use of the river. However, activities like canoeing, kayaking, swimming, and wading are not prohibited. Certain ponds in the park are also open to canoeing.
Fishing is also allowed in the park's waterways, subject to state regulations. Due to water contamination, the park recommends limiting your consumption of sport fish. Catch-and-release practices are encouraged to help maintain local fish populations, such as steelhead trout and bullhead. Ice fishing on the park's pond is popular in the winter.
Visiting Cuyahoga Valley National Park
Seasons, Fees, Permits, and Lodging
Cuyahoga National Park is open all year, but certain attractions have hours that vary with the season. There is no fee to enter the park, but some programs and special events, like concerts, may charge admission. Donations are accepted. Permits are required for weddings, commercial filming, and select other activities. Year-round lodging is provided at the Inn at Brandywine Falls and Stanford House. Backcountry campsites are available for hikers and bikers by reservation.
An Urban Retreat
Even as far back as the 19th century, Ohioans from Akron and Cleveland escaped to Cuyahoga Valley when they tired of urban life. Today, the park remains a respite for city dwellers, many of whom enjoy walking the park's 125 miles of hiking trails or biking the historic Canal Towpath Trail. One unique attraction lets visitors bike the trail one way, and ride the park's scenic railway back, or vice versa.
History Comes Alive
Cuyahoga's historic structures keep the past alive. Many buildings in the 19th-century town of Peninsula are included in the National Register of Historic Places, although most of them are privately owned. Among those historic buildings is the Boston Store Visitor Center. Originally a warehouse adjacent to the Ohio & Erie Canal, and later the building now hosts provides information for visitors and is home to exhibits on topics like the history of canal boat building. Elsewhere in the park, you can tour some of the area's historic farms, such as the Conrad Botzum Farmstead, built by an immigrant family from Germany in the 19th century and preserved by descendants of the original settlers. The Everett Road Covered Bridge is the only one of its kind in Summit Country, Ohio. The bridge is a popular subject of amateur photographers.
Scenic Vistas
Visitors can ride a scenic railway through Cuyahoga Valley, or stop by Brandywine Falls and hike the 1.5-mile Brandywine Gorge Trail.
Wildlife in Cuyahoga Valley National Park
Bald Eagles and Peregrine Falcons
For a park that's virtually surrounded by urban areas, Cuyahoga Valley National Park has a surprisingly diverse roster of wildlife, including many state- and federally endangered species and species of concern, such as the peregrine falcon and bald eagle. It is a nesting site for both of these majestic birds of prey. The local rebound of the bald eagle, in particular, is thought to be owed at least in part to a corresponding resurgence in local fish populations. To date, there are two known pairs of peregrine falcons that nest in Cuyahoga Valley National Park.
Great Blue Herons
The successful nesting colonies of Great Blue Herons in the Cuyahoga River Valley are the result of several factors linked to conservation. Increased numbers of fish have helped fill a crucial gap in the herons' diets, and dams built by a thriving beaver population have created habitats conducive to nesting. Great Blue Herons — the largest heron species in North America — like to build their nests in high trees near wetlands, and beaver dams help create and preserve wetlands. Some heronries (heron nesting colonies) in Cuyahoga National Park can be found in Mudcatcher Ravine, near the Station Road Trailhead, and on Bath Road.
Beavers
Beavers have made an amazing comeback in Cuyahoga Valley. Once extirpated (made locally extinct) from the Cuyahoga Valley as a result of hunting and habitat destruction, these industrious, semi-aquatic rodents were the focus of some of the National Park Service's earliest repopulation efforts. Their return has had a positive impact in the park, as their dams help create and regulate wetland ecosystems, to the benefit of fish and bird populations.
Bats
Seven species of bats have been identified in Cuyahoga Valley National Park, including a federally endangered species, the Indiana bat. The bat population of northeastern Ohio is threatened by a deadly fungal disease called white-nose syndrome. To help prevent the spread of the disease, the park has prohibited visitors from entering Ice Box Cave.
History of Cuyahoga Valley National Park
Cuyahoga Valley is one of America's newest and smallest national parks, but the region has a long and storied history of human habitation, development, and conservation.
Native Americans began farming in the Cuyahoga Valley as far back as 800 B.C., planting corn, squash, beans, melons, apples, and other produce. When American settlers came to the region, they pursued an agrarian lifestyle as well. Corn crops were of particular importance, as were fruit orchards and the raising of livestock.
Industrial development helped the Cuyahoga Valley prosper, beginning with the construction of the Ohio & Erie Canal in the 1820s. Canal construction brought immigrant workers from Germany and Ireland to the region, creating boomtowns that precipitated the rise of small factories. Trade flourished as the area's robust economy grew, forever transforming what had been the American frontier into an idyllic haven of small towns and family farms.
By the late 19th century, railroads supplanted canals as the transport of choice for people and goods. However, the Cuyahoga Valley remained a destination for urbanites looking to escape the pressures of city life. The early 20th century saw the first attempts at organizing the scenic valley into a park. The first major contribution was a donation of land by the estate of a wealthy Cleveland businessman, Hayward Kendall. Named Virginia Kendall Park after his mother, the 430-acre land grant was outfitted with a lodge and shelters by the Civilian Conservation Corps in the 1930s.
As the population of Ohio continued to grow throughout the mid-20th century, residents felt that industry, urban sprawl, and pollution had begun to encroach on the valley. Local activists and government lobbied for the protection of its natural beauty, an effort that culminated in the establishment of the Cuyahoga Valley National Recreation Area in 1974. However, conservation and restoration efforts would not stop there.
In 1985, the National Park Service acquired the 45-acre Krejci Dumpsite, intending to reclaim it for incorporation into the Cuyahoga Valley National Recreation Area. However, soil analysis by the Environmental Protection Agency proved it to be one of the most toxic sites in the region. It was declared a Superfund site and has been the subject of an extensive decontamination project since 1987. To date, significant recovery has been made, with much of the site restored to its original wetland ecosystem.
Cuyahoga Valley was made a national park in 2000.