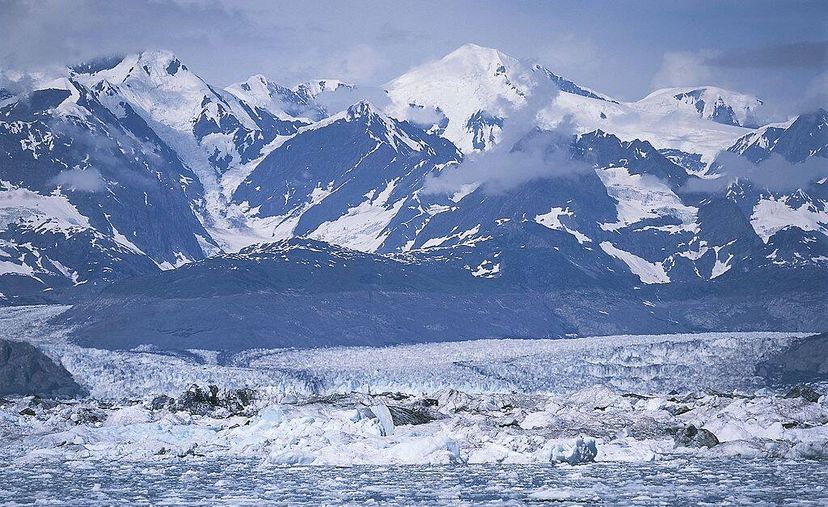 Home to the Highest Peak in North America
Denali National Park and Preserve is a wild, wonderful place. Located in central Alaska, Denali is a protected area about the same size as the state of Massachusetts. Its more than 4.7 million acres are served by a single, 92-mile road that is mostly made of gravel — a rustic but vital artery that brings travelers deep into the heart of the wilderness via bus and bike.
Here, the opportunities for spectacular scenery, solitude, and adventure are second to none. Visitors can climb Mount McKinley, the highest peak on the North American continent, go mushing with a team of sled dogs, hike the extensive, wide-open backcountry or just sit back and take in the glimmering celestial beauty of the northern lights.
Mount McKinley is called Denali, "The High One," by the Athabascan people native to the region. The park helps maintain their way of life by allowing subsistence hunting on parks and preserve lands. It is also an important wildlife refuge, home to herds of free-roaming caribou, grizzly bears, wolves, moose, and 169 bird species.
Activities in Denali National Park and Preserve
Hiking
Marked hiking trails in Denali generally cover areas close to visitor centers and points of interest. Many of them are located near the Denali Visitor Center near the park entrance and connect it with the dog sled kennel, Riley Creek campground, and the Wilderness Access Center. Other trails deeper inside the park can be found at the Eielson area, the Savage River day-use area, and at Wonder Lake, near the end of the Park Road. These areas can be accessed via shuttle bus during the summer months.
Hiking Wide Without Trails
Off-trail hiking at Denali is another popular activity. Although the lack of a marked path can intimidate some hikers, proper preparation can open up opportunities for awesome, one-of-a-kind adventures through the tundra. The park service recommends hiking in groups and mapping a route before setting out on a hike. Other recommended safety measures for off-trail hikes include bringing plenty of water and carrying water purification tablets, as well as respecting wildlife closures.
Shuttles and Bus Tours
The park road is closed to most private vehicular traffic beyond Savage River, so from May through September, the most convenient way to venture deeper into Denali is by shuttle bus. Fares vary according to passenger age and destination. Kids younger than 14 rides for free. Tour buses are also available through the park's concessioner and offer a series of narrated trips with themes like natural history or tundra wildlife. Bicycling is a fun, challenging alternative to exploring the park road, either as a day trip or an extended bike-and-camp excursion. Backcountry permits are required for bike camping. Bikers can hop on select rack-equipped shuttle buses, too.
Backcountry
Denali National Park's open backcountry is subdivided into 87 units, 41 of which limit the number of hikers that can camp in them per night. You can't reserve spaces in advance, so make sure to come prepared with several itineraries when picking up a permit at the park's backcountry office, particularly during peak summer visitation periods. Backcountry permits aren't required for day trips, even off-trail hikes. Visitors should review the park's tips for backcountry travel when planning a trip. Bear-resistant food containers are necessary when camping in the wilderness.
Mountaineering
The history of mountaineering in the Denali region predates the establishment of the park, but not by long. Several parties of brave individuals attempted to summit Mount McKinley before the Stuck-Karstens expedition succeeded in 1913. The struggle to ascend the tallest peak in North America speaks volumes about the challenge involved in the task.
Temperature, altitude, wind, and equipment are just some of the considerations that have to be addressed when undertaking a mountaineering trip in Denali, whether you're planning to scale Mount McKinley, Mount Foraker, or the rock-and-ice walls of Ruth Gorge. Visitors must obtain special mountaineering permits and pay special use fees ($250 or $350 per climber) if they are planning on climbing Mount McKinley or Mount Foraker. If you choose to book a guide, make sure that it is through one of the park's authorized services.
Looking for a shortcut to the top? Consider booking a "flightseeing" airplane or helicopter tour through one of the park's concessioners. On a clear day, expect spectacular views of the Alaska Range and the many small glaciers that cover approximately one-sixth of Denali National Park.
Visiting Denali National Park and Preserve
Seasons, Fees, Permits, and Reservations
Technically, Denali National Park is open all year round, but visitors during the winter should take the region's lack of daylight, low temperatures, and extreme weather into account. Once heavy snow starts to fall, the road is only plowed to the park headquarters, restricting access to the interior. Visiting in the shoulder seasons of spring and fall means waived campground fees, but limited services and the possibility of sudden snow.
Late spring — from the end of April to early May — tends to have more high-pressure days, which makes for calmer mountaineering weather than summer, even if the average temperature is colder. The Fall Road Lottery is a popular event that gives visitors the chance to explore Denali Park Road by private vehicle.
The standard entrance fee is $10 per person, but visitors younger than 15 pay no fee. The park's six auto-friendly campgrounds are organized into different categories, with fees and reservation structures pertaining to each. Backcountry camping requires a permit and should involve more than a little planning on the park of the visitor.
Visiting in Summer
Summer is a short season at Denali, lasting only from late May until September, but the days are long and many activities abound. Bus trips during the summer months are a great way to take in Denali's scenery and wildlife. Because private vehicles are generally not allowed past the 15-mile-mark of Denali Park Road, tour and shuttle busses accommodate travelers, providing guided day trips or just dropping them off at various rest stops, overlooks, and points of interest.
Hiking and backpacking are also popular during the summer months. Wildlife and their young come out with the warmer temperatures. Due to wind and elevation, mosquitos tend to be less of an issue at Denali than elsewhere in Alaska, but be sure to bring some repellent if you're visiting at the height of summer.
Visiting in Winter
Denali's long winter might seem inhospitable to most, but the adventurous at heart will find a variety of soul-stirring activities in the park during the winter. Peak winter activity for visitors and researchers alike occurs at the end of the season, around late February into March. Answer the call of the wild on a dogsledding expedition, provided through a local concessioner. The park also maintains its own kennel, but those dogs are specially trained to help patrol the park and aid researchers. Winter is also the best time of year to see the Aurora Borealis, or Northern Lights. Activities like snowshoeing and cross-country skiing are popular, and particularly hardy sorts may enjoy the rigor of winter camping.
Wildlife in Visiting Denali National Park and Preserve
It's easy to picture Denali as it is in winter: stark, windswept, and frozen. But while that realm is famously harsh, it's not the totality of this northern refuge. While the subarctic tundra isn't everyone's idea of diverse and flourishing habitat, a wide array of specially adapted plants and animals call it home. On your visit, see if you can spot the "Big Five" animals — moose, caribou, Dall sheep, wolves, and grizzly bears.
Dall Sheep
Dall rams are notable for their large, curling horns. These high-mountain dwellers can be found on crags and ridges on the park's eastern and western-most edges. When they are about to bear lambs, ewes will retreat to the most inaccessible ledges to isolate themselves from potential predators. Rams vie for mating dominance by butting heads. The sheep are named for William Healey Dall, an American naturalist and preeminent authority on living and fossil mollusks.
Grizzly Bear
Grizzly bears are generally loners that can be spotted near food sources such as salmon runs, but a female bear will keep her cubs with her for about three and a half years. During mating season, which occurs for bears in Denali during June and July, a male will follow a female around for a period of up to two weeks. Grizzly bears can be distinguished from black bears (which also live in Denali) by a hump of muscle at the shoulders and a dish-shaped face.
While there as never been a grizzly bear-related fatality in the history of Denali National Park, there are rules that the park asks visitors to respect to keep it that way. Visitors are commonly asked to put a minimum distance of 25 yards between themselves and a wild animal. For grizzly bears, the minimum distance is 300 yards.
Caribou
The range of the Denali caribou herd is almost exclusively within the park and preserve. Caribou roam wild north of the Alaska Range and east of the Foraker River. Sometimes, caribou can be found south of the mountains during calving season. Like all of Denali's year-round residents, caribou have special biological adaptions that have helped them thrive in the harsh subarctic tundra. For example, the caribou's large hooves leave wide, almost circular tracks that keep them from sinking into the snow, much like snowshoes.
History of Denali National Park and Preserve
Denali National Park and Preserve sit roughly in the geographic center of Alaska. The peak itself — known officially as Mount McKinley, but called Denali, "The High One," by native Athabaskan people — sits higher than any other mountain in North America, at 20,320 feet. The first human inhabitants of the region were likely hunters that crossed over the Bering land bridge from Asia during the last ice age, about 11,000 years ago. The fossil record suggests that they hunted giant Pleistocene beasts like mammoths in the region.
The interior of Alaska, where the descendants of those hunter-gatherers settled, was devoid of the resources needed for pastoral or horticultural society — no large animals to herd, poor soil that froze most or all of the year. Thus, with some regional deviation, the native lifeways remained similar to that of their forebears until the 19th century, when Europeans made contact.
The waters of coastal Alaska were first exploited for sea otter pelts by Russian trappers in the early 1800s. Later, British trading posts were established by the Hudson Bay Company along rivers like the Yukon in the interior. These passed into American hands with the Alaska Purchase of 1867. Settlers enjoyed a good trading relationship with the native peoples of the interior, who brought pelts and other animal goods to the posts and precluded the need to push further into the interior.
The Klondike Gold Rush in 1897 would change that, as more than 100,000 prospectors from San Francisco, Seattle, Canada, and beyond stampeded into the region. A later gold rush in 1905 would draw additional interest to the Denali area. This era would see the first extensive non-native exploration of the Alaskan interior. Early explorers were almost always on practical missions — the USGS made topographical maps, the army made reconnaissance excursions. Soon enough, the region's natural majesty won it more casual admirers, especially mountaineers and hunters in search of Dall sheep.
The Denali region was first protected as the Mount McKinley National Monument in 1917. Road construction in the mid-20th century made the region more accessible, connecting George Parks Highway to the old mining camp of Kantishna. Only small sections of the 92-mile artery are paved, due to the high costs and difficulty of building and maintaining a road on the ground that is prone to freezing or nearly always frozen. The name of the park was changed to Denali when its lands were expanded in 1980. The combined park and wilderness preserve are larger than the state of Massachusetts.