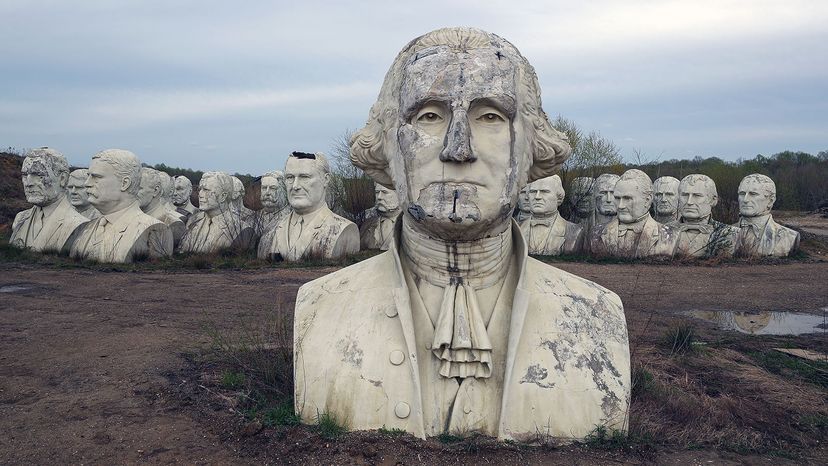 In case you're scrambling to put together last-minute Labor Day weekend plans, perhaps you might consider a trip to rural Virginia where you can frolic amongst the giant, decaying heads of 43 United States presidents.
Oddly specific premise for a horror movie? Nope — just a description of the uniquely weird sight in a Croaker, Virginia field that includes decaying busts of all the presidents, from George Washington to George W., watching over a 400-acre (161-hectare) family farm.
If you're wondering how — and why — a collection of nearly 20-foot (6-meter) high, concrete-and-steel heads of so many American leaders came to land in this place, you have to flip the calendar back to 2004. For six years, these concrete and steel busts created by Houston sculptor David Adickes were the main attraction at a place called Presidents Park, just a few miles outside of Croaker in Colonial Williamsburg. Thousands of people visited the 10-acre (4 hectare) attraction until, well, they didn't.
Eventually, in 2010, owner Everette "Haley" Newman had to shut the park down due to lack of interest, and sell the land to a developer. The heads — each weight about 12,000 pounds (5,443 kilograms)! — had to vacate the premises.
Croaker farmer Howard Hankin had helped construct Presidents Park, and while he wasn't necessarily in the position to inherit 43 humongous heads, he didn't have the heart to destroy them, either. So Hankins spent $50,000 of his own money to move the busts to his nearby family farm, hoping to eventually restore them and create a new park. "My plan is a real White House, actual size, with tours, a ballroom — every event the White House has, I'm going to have it," Hankins told Travel+Leisure magazine in 2016.
Three years later, just one head has gotten the restorative treatment: Andrew Jackson. The rest of the motley crew are in rough shape. For starters, a massive hole had to be drilled into each one to allow a crane to transport them to the farm.
Many of the decaying sculptures are missing portions of their noses, and their frozen faces are stained from exposure to the surrounding elements. Ronald Reagan' bust was hit by lightning and Abraham Lincoln's statue is missing the entire back of its head, which is more than a little disturbing, given his tragic demise.
And while the field isn't open to the public, interested parties can in fact make a pilgrimage to the site via a private tour organized by Hankins and rural explorer and photographer John Plashal. Tours are on the books through September 2019 and must be booked via Plashal's Facebook page. They include guided narration, and even an opportunity to tour and photograph the statues at night.
But September could be your last chance to see them up close. In April, Plashal told Lonely Planet the busts would "soon be gone from Virginia," although he didn't say where they'd be going or when.